Thanks Lynn
Thought I'd put up a little on what we've done gardening. We've planted numerous fruit tree, Mango, Annona, Manderine, Limes, Hawaiian Papayas, Pineapples, Prickly Pear (edible pads, yum), sour orange, 3 or 4 types of bananas. So far we've only picked Papayas. Hopefully get some citrus fruit soon as the trees have grown a good bit.
Preparing a hole for planting is quite a chore as the soil is at least 2/3 rock and 1/3 soil. I collect our kitchen compost and bury it under plants. seems to help and I've purchased habono de borego at the Cancun Home Depot which I use as fertilizer. I use anything I can get as mulch, leaves, wood chips, old grass from the roof etc. thinking about bagging seaweed at the beach and starting a compost pile with it. I wish I could find someone who'd deliver truckloads of manure for a reasonable price. I have a neighbor with ducks and chickens that sells me their compost/manure. He also sometimes has duck eggs, oh my god are they good.
Prepped a large vegetable garden area this past year. the backhoe working on the humidal loosened the rocks and stumps for me. still a huge chore removing rocks and roots. Burned the roots and used big rocks for garden borders for raised beds and small ones for gravel paths.
Here's a shot of the digging and burning
It took weeks to finish this garden area. Sifted soil from the hole dug for the humidal to fill the raised beds. We planted tomatoes, peppers, pole beans, basil, cilantro and other perennial herbs in this bed. Where it borders the road we put in a hibiscus hedge and a sour orange tree. Here's a shot of the tomato plants late during the visit.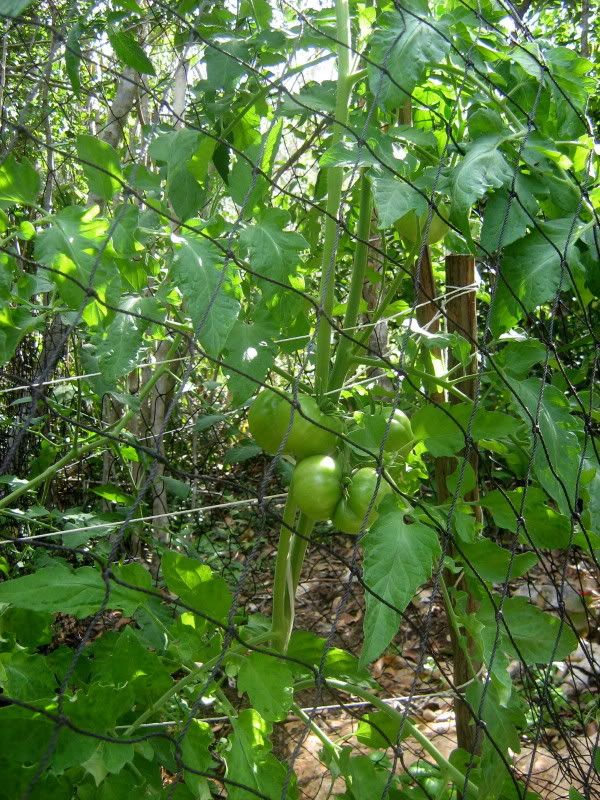 Tried cucumbers and squash as well but there is some little worm that burrows into them and ruins them. Plan to try chard this coming year.
Tomatoes and peppers do great and produce well, but I had to find Tomatoes resistant to Tomato Yellow Leaf Curl virus as it is common down there and stunted and killed my plants a few years back. I grow 2 varieties now, Champion II and Margo and they do fine.
Below is a shot of cukes and squash we grew. Grew well but couldn't shake the worms.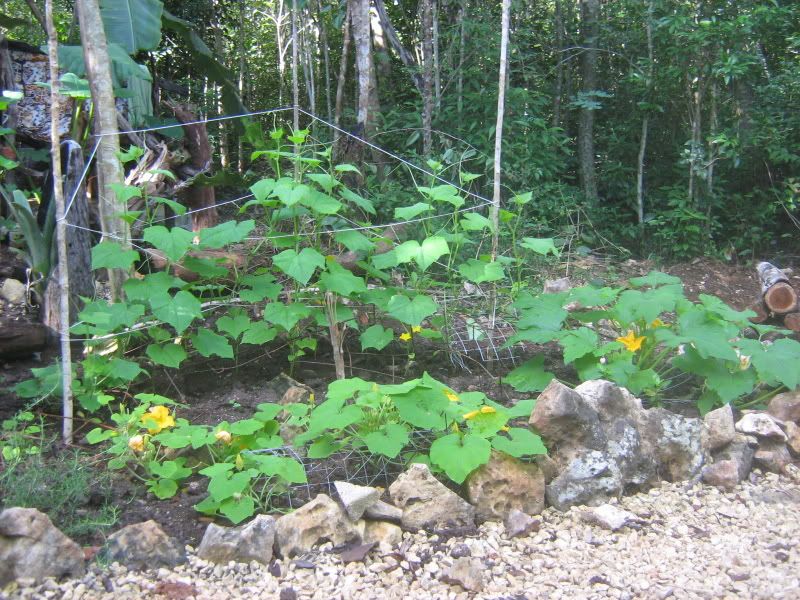 Last shot is of our dog Kizzie who is being trained as our designated driver for returning from Mom's and Manne's Beergarten.