Monday, December 5th
Monday morning found us with no luggage and a little bit of a hangover for our somewhat late 10-ish breakfast meet at La Cueva del Chango.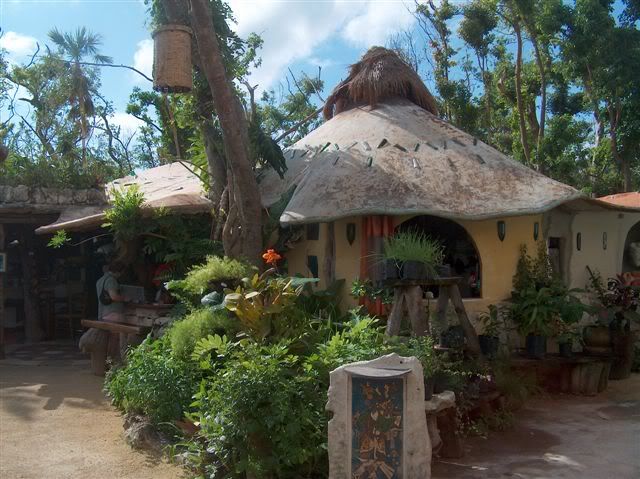 Tyra and Michael were both hung up with other commitments but Mary, Paul and Shammy were there and all bright-eyed and bushy-tailed in comparison to us. (well, in comparison with Brian, to be more specific.) And, not that we are complaining or anything, mind you, it was very sunny. And HOT! And did I say that we were just a little hung over? We had to keep shifting in order for Shammy to be out of the sun. They brought a fan out into the back yard where we were seated and directed it...on the couple behind us...Brian's chair then almost toppled into the little stream as we shifted out of the sun again. Really, this is one of our favorite spots and we had a wonderful breakfast here. Scrambled eggs and chaya, fresh squeezed oj for me and more chaya (juice) for Brian. I've always thought it to be a great hangover cure....After a leisurely breakfast while Shammy kept us all entertained we jumped in the car and dropped Shammy off at the entrance to Mamitas and drove on back to the condo to hang out with Mary and Paul a bit and give them the grand tour, and, see if our luggage was there...
After a nice visit and a few beers Mary and Paul sauntered off up the beach with a promise to meet up later. We finally met Larry, who had left a few business cards/notes in our doorway since we'd been in town and we welcomed his offer to call the airline in our behalf to figure out where our luggage was! His Spanish helped a lot and he got through to the right people, who claimed to have left our luggage off at the condo the previous afternoon...(not!) Okay, then, si, we'll call back in another half hour for
an update.
Larry took off with a promise to offer any news as soon as he heard anything, so we hung around by the pool and then took a lunch break outside with some grilled cheese sandwiches. Eeeeek, those agoutis are pretty brave. The little one jumped up and tried to climb under the railing after mine, which gave me a bit of a start.
Xaman Ha pool area with the newly reburbished Continental Plaza (Playacar Palace?) in the background-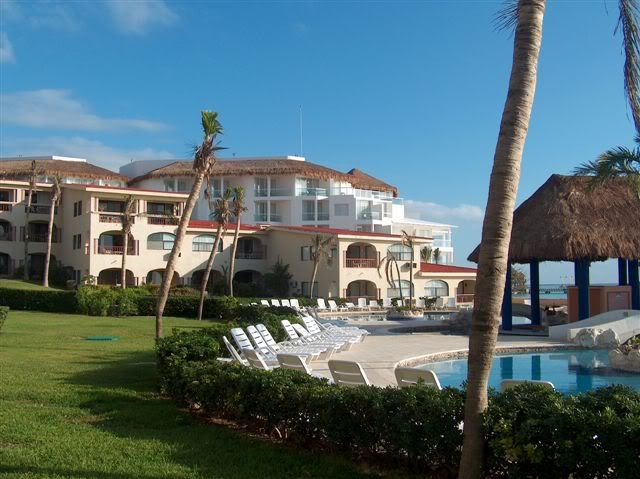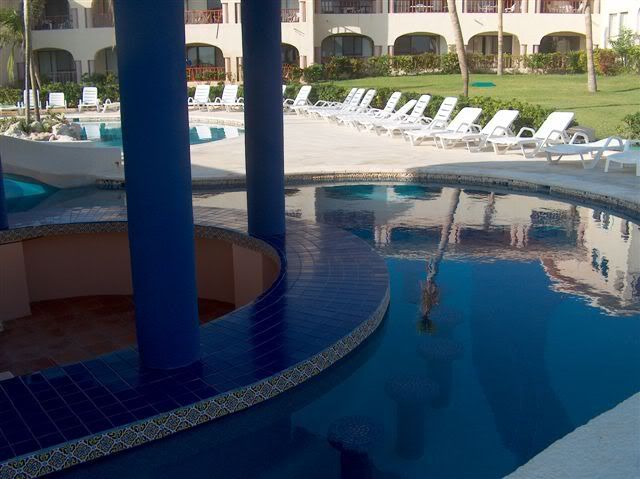 Our hungry little friend-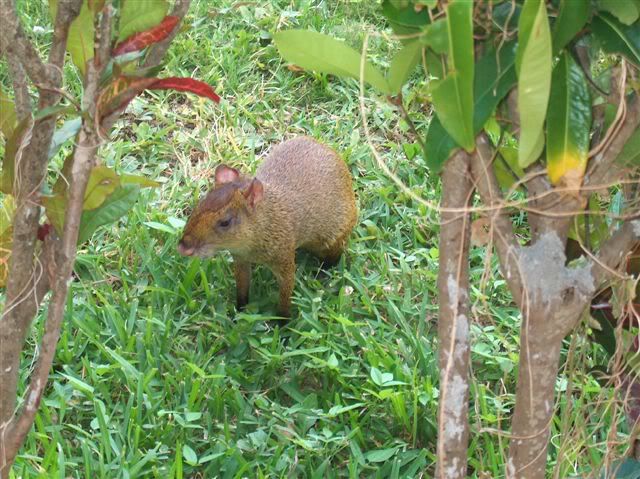 Larry stopped by about 4:30 to say that our luggage was actually just sitting there by the Mexicana claim desk, apparently had been for some time, and would arrive at our condo by about 6:00. At 6:30p.m. the bags arrived, 2 days and 5 hours late, and it felt like Christmas. We unpacked a little (and it at least almost seemed like everything was there) so we changed and hit 10th with a first stop at la Taberna to have beer and check our email.
If it's not one thing it's another. I should mention that this morning I had begun to notice that my ankles had swollen up, quite a lot. And my ankles and up the back of my calves, to the back of my knees, had started to develop a mysterious red rash. At this point I tried not to think to much about it. Nothing else was going to put a damper on my vacation. The swelling will surely go down, and the rash doesn't itch.
We were out on the town, wearing different clothes, and it felt great. We'd had such good luck with Chicago Don Jose the night before we decided to try another restaurant we hadn't been to yet- Yaxche. It was another great choice. The garden setting was beautiful and the service impeccable. I ordered a frosty mango daiquiri and Brian a Chayanade. (We both can't get enough chaya while in Playa.) For dinner I had the cochinita pibil while Brian had the blackened stuffed turkey- very interesting dish and tasty too. Can't say it was the very best meal we had of the trip but excellent and highly recommended.
We were seated next to this fountain-
After dinner we wandered out onto 5th and immediately ran into Michael, Tyra, Shammy, Mary & Paul and met SarahB. We took Mary & Paul up on an offer to check out their digs at the Eclipse and a short while later met up with the gang at La Ranita. Again it was like hanging out with old friends and the time just flew by until before we knew it we were walking back to Xaman Ha as the streets were again folding up.