Woke up early and I knew Josh would sleep for a while so I laid in bed for a little bit. Realized that I was not going to be able to go back to sleep cuz I am so excited to be in Playa my mind is racing-I wanna get up, I wanna get up I wanna get up. But I know it is early, so I thought I might go try the 8:30 yoga class at A<?xml:namespace prefix = st1 ns = "urn:schemas-microsoft-com:office:smarttags" /><st1:City w:st="on">lhambra</ST1:p</st1:City> down the beach. I get up and walk over there and when I arrive there is no one there…uh…hello? Here comes someone, she smiles and I ask about the class. She says yes it starts at 8:30. I said yes, um, I thought it was 8:20
-oh s#@t I forgot about the time change…it is only 7:20AM! Boo! I feel a little silly, but oh well I tried. So I walk back to the hotel and on my way stopped to get a fresh squeezed OJ from the guy on the corner of 5<SUP>th</SUP> and Calle 6. Yumm! Go back to the room and Josh is still comatose. No sign of movement so I nap a little. I Woke up hungry. PUSH CARTS here I come! I go and get 2 tacos, eat them sitting on 5<SUP>th</SUP>, and then go back and get 2 more for Josh. I figure he might be up and hungry by the time I get back. For those of you who have not had them they are delicious little pork tacos in a fresh tortilla…so good and only 6 pesos a piece.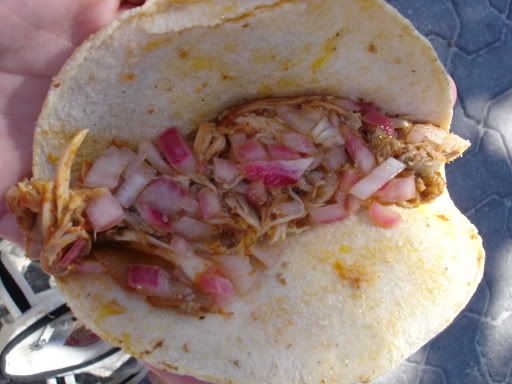 The push carts are on Juarez and 5<SUP>th</SUP> just toward the beach a little. They serve them usually from 8:00 to 12:00. Great breakfast.
Off to the beach. They have new chairs at the Fusion and they are very comfortable compared to the hard plastic ones they had last year. They are also building a new deck and staircase there too. The new owners are nice and they said it will be a whole new hotel next year. This is good as we are planning on returning for sure next year. fo shizzle! We catch some rays, people watch and enjoy paradise
Lunch time! We walked down the beach to La Tarraya at Calle 2. We enjoy eating there not only for the view, but also for the well priced fresh seafood. We shared shrimp ceviche, guacamole, and the fish a la Tarraya. The ceviche was awesome,
guacamole was okay and the fish was very good. It had a tomato, onion and what I think was marjoram sauce (Mexican oregano) The fish was very tasty and at 45 pesos for a fish fillet, rice and tortillas who can complain. <O:p></O:p>
We went back for some more rays.
Note:
be careful when walking on the beach down there, lotsa rocks hidden in the sand. OUCH!<O:p></O:p>
Siesta time…<O:p></O:p>
About 3:00 we head down the La Bodeguita del Medio in the mall for their mojitos. They have 2 for 1 all day on Thursdays. They are better than what I remember. Not as sweet as Babes. Very refreshing so we have two a piece. Also good souvenirs are the Havana Club sticks that came in the mojitos- Josh liked them. We also tried their Cuban mixed platter. Very good, but everything was fried. Not a bad thing, just not what we expected. There were some meatballs that were very tasty, fried cheese, some meat ragu on a fried banana that was awesome, also a lot of banana chips that were good. The chicken croquettes were interesting and tasty as well. We get two more mojitos to go. Off to get more money from the ATM (best exchange rate) Chico Latinos was our next stop to have a caipirhina say and hi to our Italian friends (brothers who own the bar). We tried them several places last year and we think they have the best ones here. Chico Latinos is on 5<SUP>th</SUP> upstairs a little north of Calle 6.
The caipirhinas were good and it tasted like they maybe added a little vanilla. It was a nice touch we thought it took the bite of the lime out a little. Great people watching from this bar too.
Next we thought we should stick to drinking rum to help avoid a huge hangover the next day so we went and bought a bottle of Bacardi Limon to mix with some yes, Red Bull again. Man, I gotta get off that stuff, but it does the trick when you wanna go on and your body is draggin' <O:p></O:p>
Made some cocktails back at the room (We love the location of the Fusion for this reason and many others of course) And we are off down fifth again. As we are walking I notice a woman who looks very familiar…could she be a peep!? She sees me staring at her and she stops… YES! It is our first Peep encounter!! Maestranba (Nancy) and Sarah. We chat for a little while and meet up with them later at the Tequila Barrel.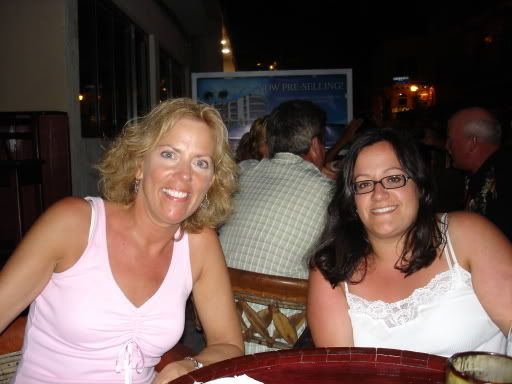 We have some beers, tequila –wait what happened to our Rum plan? Out the window! Anyway beer, tequila and Josh is intoxicated again. I am too, but not quite at his level. After hanging out with Nancy and Sarah and running into a few more peeps I decide we need some fuel of a different sort. We head out to Gialle Limone. Of course I pick a spot that is waaay down fifth. At least that is how Josh described it to me at the time. "Oh look Josh is drunk…let's drag him down to the restaurant a mile away". If it is not funny now I assure you it certainly was funny at the time. <O:p></O:p>
When we arrive Josh immediately orders an espresso. Then he gets another.
The waiter gave him a look like "another?" Again, it was funny. Anyhoo, dinner consisted of homemade ravioli with gorgonzola and asparagus sauce which was very flavorful and delicious. The ravioli was a little thick for my taste, but I will admit to being picky, okay a lot picky, when it comes to fresh pasta. Hence the screen name. But I have to remember I am not in <st1:country-region w:st="on">Italy</st1:country-region>. I would definitely eat here again. Don't get me wrong. I just feel the need to add some anility to my comments for you fellow foodies out there who enjoy details such as these.
We also had prosciutto and melon which was also very yummy. Sorry, I forgot to take pictures of the food, and I also don't remember how much it was. Again didn't matter we would definitely eat here again. The service was great and they were also very friendly. Of course we are in Playa right? We walk back down 5<SUP>th</SUP> and wave to Nancy who is still hangin at the TB. Enough for us today…tomorrow is whole new day of opportunity in Playadise.<O:p></O:p>