Day 3, 3/10:
Friday morning and we're once again awake at 6:00am. That's 7:00am Michigan time, which doesn't sound quite so extreme. I have gained some insights into myself during this trip. Before we arrived I declared that
this
year we would not be asleep by 9:00pm... by golly, we would stay out, drinking and socializing! But you know what? We both
prefer
to be early risers and early retirers. By 9:00pm, we're tired! I think the latest we ever stayed out was 10:00pm. Sad, I know, but it worked for us.Even though we had paid for three nights at the condo place, we decided to leave after two and just forfeit the cost of that third night. So we left before anyone else was awake and walked with our belongings to Los Tulipanes again for more magic coffee and the best hashbrown cakes ever! I know it's silly to be excited about potato cakes, but these were even better than McDonald's.
The upside of all this wind and unusually cooler temperatures is that it made being in town very pleasant. Whether it was an outdoor breakfast, a midday lunch or a lingering dinner (all the way till 10:00pm, one night!) we were never hot and sticky. We really had a chance to explore and enjoy the town this year, which was wonderful.
A little after 7:00am we strolled over to the Luna Blue to drop off our luggage and get passes and towels for Mamitas. The night before we hadn't even had to ask Tony if we could do that... he just volunteered, "Tomorrow morning come by and drop off your luggage. We'll give you passes and towels to Mamitas and when you return, your room will be ready.". That worked out just wonderfully!
By 8:00am we were huddled up under our towels at our front row palapa... debating whether it was raining or if that was just spray from the ocean. We amused ourselves by quoting from various television shows/movies... "The sea was rough that day, my friend!" (Seinfeld)... "I'm from Krakozia... unacceptable!" (The Terminal)... "This is all going into my report!" (The Out-of-Towners).
We learned another important lesson... don't bring along library books for your beach reading material. Between the blowing sand and the blowing mist and/or rain, we will be buying some new books for the library.
Finally the sun came out and we soaked it up like lizards. I was concerned that we'd arrive back home as pale as when we had left! Since the weather wasn't sweltering this year, I suggested that we walk into town for lunch. We went to the
Crepe Factory
where I had the yummiest spinach/gargonzola crepe and a refreshing melon juice. It was so good that we had the same lunch two days later.
As we were sitting at the Crepe Factory enjoying our lunch, a man on a bicycle rode by... heading south on 5th. He wore a bucket hat and had a darling blonde toddler in the baby seat on the back of his bike. I thought... Was that
James
and baby
Elsa
?? This was Friday, March 10th around noonish. Did we just have a rare James sighting? Whoever it was, he sure had a cute baby!
After desperately trying to soak in more sun on the beach, we headed to the
Luna Blue
around 4:00pm to check in. Our room was ready, so we went up the stairs and into our room. It was neat as a pin, but one thing was missing... where was the television? Now, we're not addicted to television, but we liked to watch a little when we return from our late night dinners at 9:00pm. Ooh... but what's this?? A lovely balcony that overlooks the gardens! Maybe we could sit here and actually talk to one another, instead of watching television? Interesting idea!
Here is the entrance to the Luna Blue and a picture of our balcony...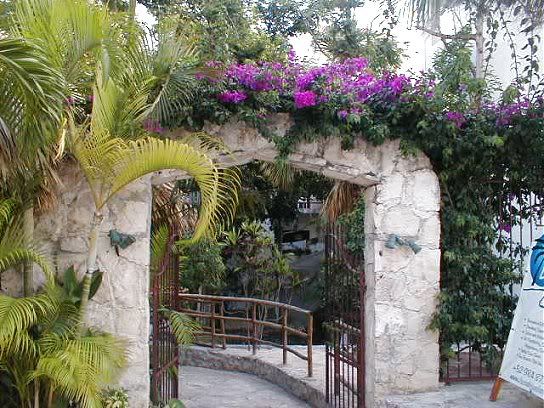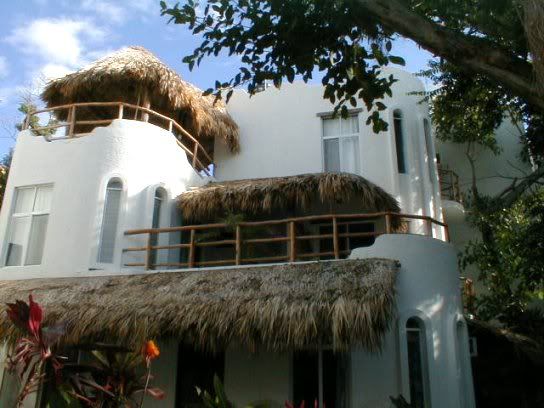 Since this was a Friday during Lent, we needed to have a meatless dinner. That was just fine by me, but hubby was a little less than thrilled. We went to
Babe's
and had
delicious
crab rolls with peach sauce, cheese rolls with mint sauce and we split a salmon entree. It was
way
too good to be a Lenten sacrifice! I'm certain that the enormous blueberry margarita I had wasn't in the Lenten spirit, either. I decided that being pummeled by wind and sand at the beach had made up for any indulgences at dinner.
Hubby said that the next night we should have a meat-heavy dinner, did I know of any places? I said that I had heard of
El Fogon
... it was highly recommended by the Playa board. I didn't know much about it... we would ask Tony later... but I imagined that it was a cozy, romantic restaurant a little north of town. But that was for tomorrow... right now it was after 9:00pm, so surely it was time to end this day!