This was our first trip to Playa!
I'll preface this by saying, this is my first report, so bear with me, but it won't be my last report! We will be returning to Playa again and again and again.
I know it's a given, but I just have to say it:
I love Playa!
It is Paradise!
Day 1~Thursday-Travel Day
Totally ridiculously excited "touristas" headed to the Houston Airport with big smiles plastered on our faces for our 10:40 flight to Paradise! Left early to fight the morning commuters. It took us an hour and 15 minutes to get to the airport, but no problemo as we left in plenty of time to fight the crazy freeway traffic. Smooth sailing parking the car, shuttle bus right there to pick us up to drop us at the airport, sailed through the e-ticket counter, showed our documents and made it to our gate in plenty of time to chill out, have a jalepeno pretzel and diet coke for breakfast and people watch. Have to mention at this point, we did not check bags. We each (my husband and I) had a backpack and a rolling piece of luggage. I was bound and determined to not have to check a bag. Per the advice of so many Peeps, it just sounded so much simpler to not have to check luggage. When we were packing for the trip and I told my husband that we were going to not check any luggage and just bring one suitcase and backpack each, he actually laughed out loud that I actually thought that I would be able to pull that off. So you know, ladies, I had no choice but to fit everything in that roll-on suitcase and backpack come hell or high water. And I did it. Granted, it took me awhile, but I'm proud to say I did it. And actually, to tell you the truth, next time I go, I can easily pull it off just with one suitcase. Everyone was right, you don't need alot of stuff when you go to Playa. I should have listened to the all-knowing Peeps! Now I know! Anyway, my bag was stuffed and I had to sit on it to zip it, but I did it! My honey couldn't believe it. He was quite impressed. Anyway, you'll see why I mention that here in a minute.
Here we are waiting for our flight. Can you tell we're a little excited to be Playa-bound? PS - Check out the stylin' Nerak-ware!!
Traci
Mike & Traci
Okay....so, they call our row and we're getting on the plane. Mike gets his roll-on suitcase loaded in the overhead bin and takes mine to get mine loaded in the overhead bin as I am taking my seat and getting my backpack situated under the seat in front of me. Well, I notice he's really shoving my suitcase, trying to get it in the bin. It's not fitting in the bin!
Here comes the stewardess....people are building up behind him. He moves out of the way so they can get on by. Okay, just let me say, we are NOT "those people" that hold up lines on planes. Just one of those things. I'm dying...immediately I'm thinking, "Oh (fill in word), they're going to put my bag on another plane...I'm screwed!)" The stewardess is telling us it has to fit in the bin...is there anything we can take out and put in the backpacks, etc. Well, backpacks are crammed full as well! So here I am in the middle of the plane unzipping my suitcase and pulling out underwear, shorts, whatever I could grab and stuffing the shorts in the chair pocket of the seat in front of me and squeezing the underwear in the backpack. We also brought a float...we took that out and threw it on the floor under the seat. People were looking at us like we were nuts! It was quite humourous! I was going to do whatever I needed to do to make sure that piece of luggage got in that overhead bin. We'd take something out and we'd try it again. After a couple of attempts.....yes, it finally fit in the bin! We made it! I'll just have to repack when we land in Cancun! No problemo! After we got it to fit, we thought it was quite humorous. Not sure anyone else did, but that's okay. We didn't hold up the aisle traffic and we kept to ourselves, except for the grunting and shoving going on in the several attempts to get that suitcase in the bin! We triumphed in the end, though! Okay, off we go! We are Cancun bound! The actual flight was uneventful...made it just fine!
More to come...arrival, bus to Playa, events of first day after arriving in Playa w/pics!
Okay, here's a little tease...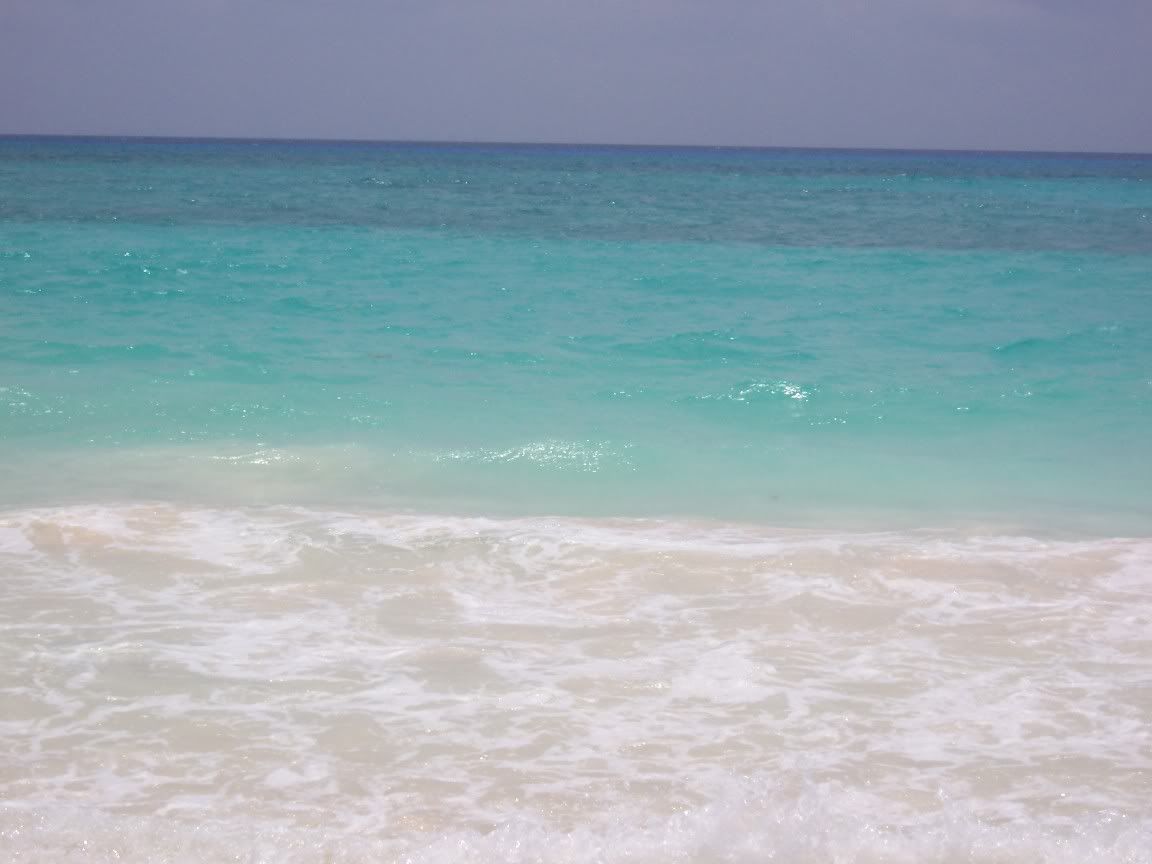 More to come........