Our good fortune continued as we pulled up to the dock and were mmediately whisked onto the 1:00 ferry, which was just about to depart. Five minutes later (and just about an hour and a half since we'd landed in Cancun) we were sitting up on the top deck basking in the sunshine drinking a couple of Dos Equis. Ahhh, sun. What are those dark clouds in the distance?
No worries- it's never rained on us in the past four years. Even if we get a passing shower, so what?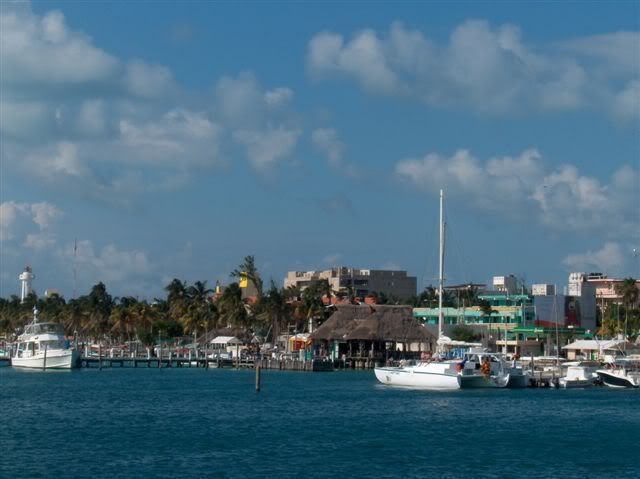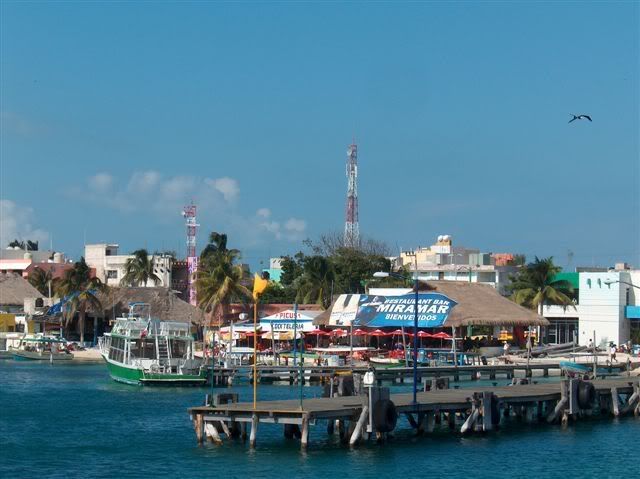 In no time flat we disembarked and walked across the street to rent a golf cart. They didn't seem to have one available for us to use for a couple of days so before I knew it Brian was being whisked away on a little motorcycle up the street to another location while I waited with the luggage, taking it all in. What a cute little town- I liked it already.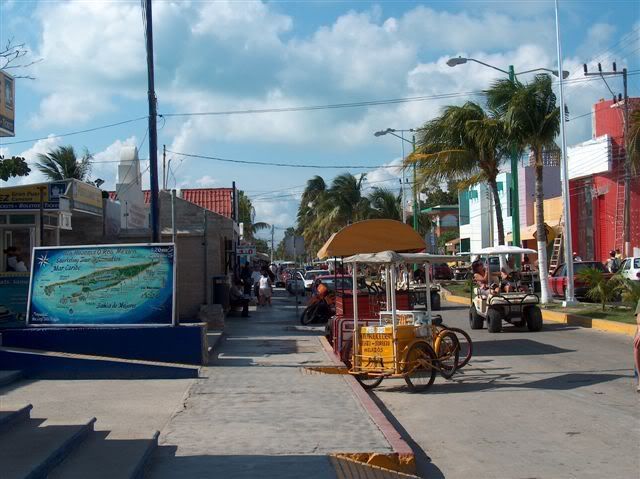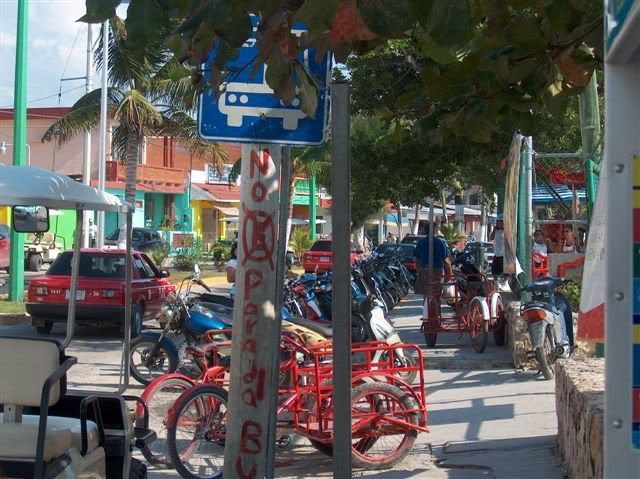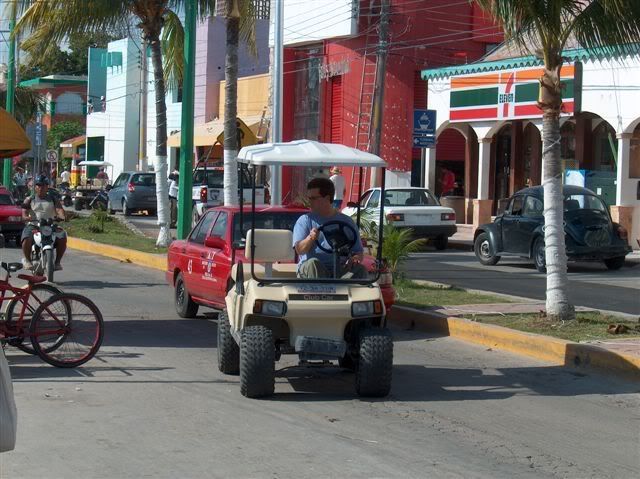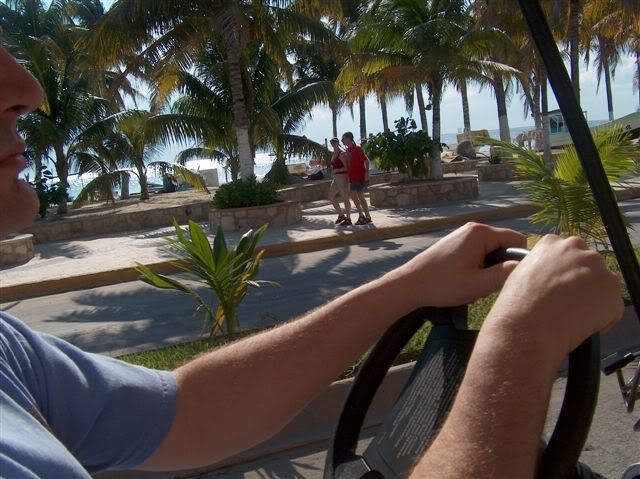 A short time later I see Brian sputtering down the road in our cart and we load our things on to the back and head off to Na Balam, our home for the next two nights. What a beautiful hotel and grounds. By 2:00 we had checked in and, after freshening up a bit and changing into bathing suits we sauntered out to the beach bar and pulled up a swing. We drank a couple of muy fuerte margaritas and just chilled out. I forgot to mention that we'd had only about one hour of sleep the night before, and so it didn't take long to feel a bit punchy. Tired as we were we could feel a night of exploring coming on so we needed some sustenance other than alchohol. We ordered a lunch of guacamole and fish tacos, which were excellent, and just sat awhile longer enjoying the breeze.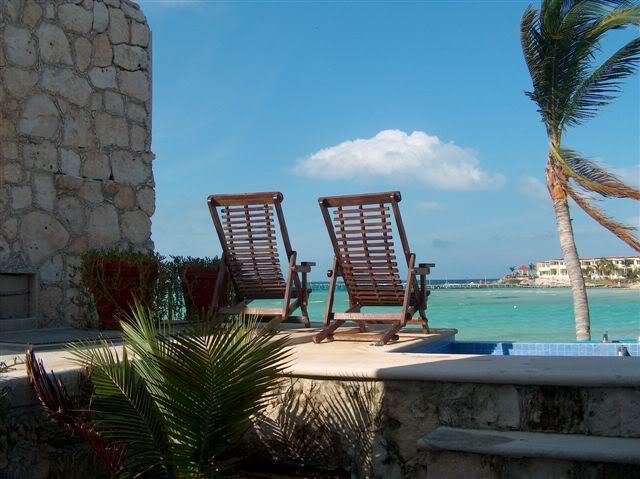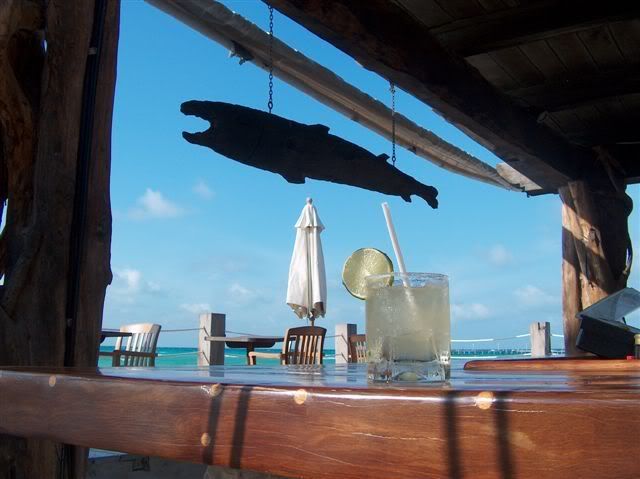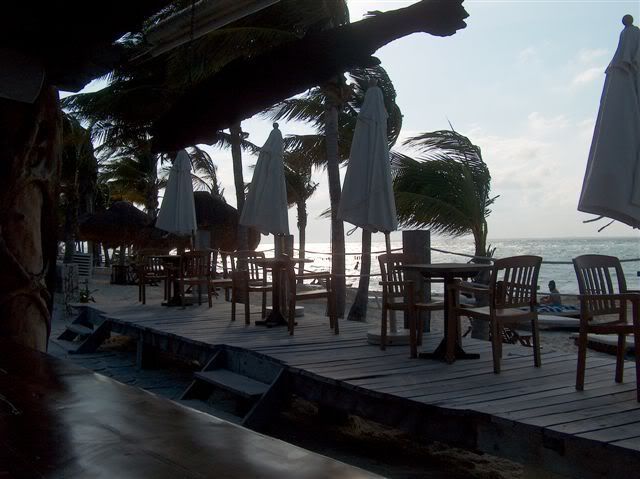 Did I say breeze? Before we knew it, umbrellas were falling over and the seas were getting choppier. We decided to walk along the beach and check out some more beach bars and made it no further than Bruho's. We sat at the bar and ordered margaritas that were just okay, and struck up a conversation with a guy from Chicago who did nothing but complain that he couldn't even go visit his friends in Playa any more because Playa was just built up so much, and oh, you should have seen it in the late seventies- it's just ruined now. Boo hoo.
We hightailed it out of there and retreated back to Na Balam, enjoying an absolutely beautiful sunset along the way and grabbing a couple more margaritas from the beach bar before being blown off the beach.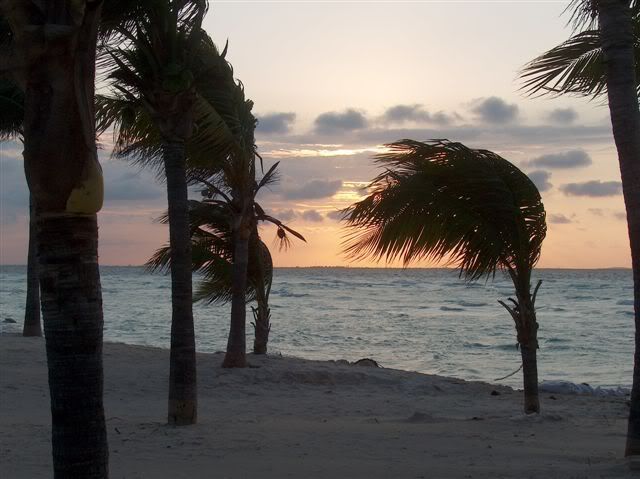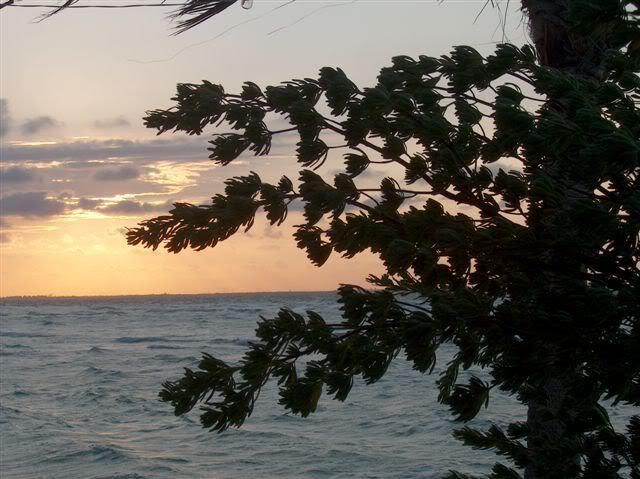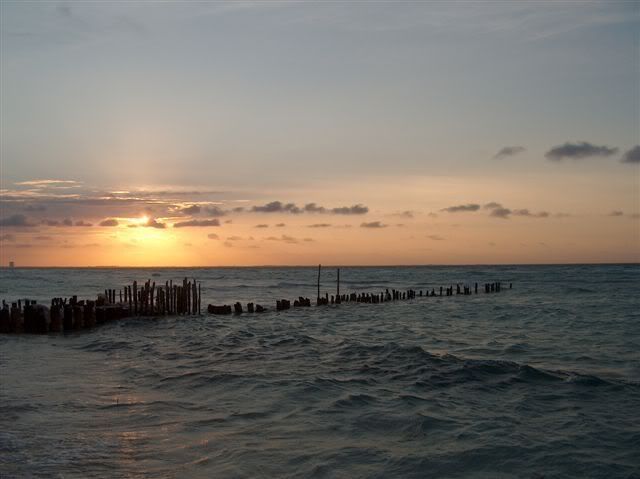 We brought the drinks back to our room and hung out for an hour or two, before we decided it was time to hit the streets. Now, I don't condone drinking and driving, even in a golf cart, but we were no longer feeling punchy and headed out for a little cruise around town. After a while we parked on a side street and walked to the main drag, Hidalgo Street. It was like a mini Fifth Ave.- much smaller but also a pedestrian walkway filled with little stores and tons of restaurants and bars. We walked up and down checking everything out and came upon Don Chepo's where we stopped for a couple margaritas. Actually I had stopped dead in my tracks there as there was a musician sitting on a stool across the street who was playing a guitar and singing a song (can't remember what, but I recognized it immediately from one of Los Lobos' recordings) that just sounded, well, heavenly! I swear that this was the absolute best street musician I have ever heard anywhere in Mexico, and he held me spellbound for some time. After a while Brian walked over and slipped him fifty pesos to sing Sabor Ami, one of my faves, which actually brought a tear to my eye. Silly perhaps, but it really was a special moment.
After sitting at the bar a while longer listening to a drunk guy telling Brian that he could do much better than that singer, we decided we needed to eat and wandered off in search of food. A restaurant with brightly colored chairs and oilcloth covered tables, with painted, ordinary kitchen graters holding candles caught my eye and we plopped down and ordered some tasty arrachera tacos. And more margaritas. Or beers.
And then we wandered on to the zocalo where we were drawn in to a big Christmas celebration with live music and lots of excitement. At this point I can't remember much else about this evening except for laughing our way home down some deserted little roads in our golf cart.