This year we decided to return to Ixtapa/Zihuatanejo, on Mexico's southern Pacific coast, in the state of Guerrero (same state as Acapulco) for two weeks. Don and I have been there once before, for a week about 3 winters ago, and we loved it.
This year for the first week we traveled with three other couples and stayed in Ixtapa- this is sort of a Playacar-type resort area, a three mile beach lined with high rise hotels with great views, mostly are non All Inclusive though. We stayed at the non-AI Dorado Pacifico on the fifteenth floor; it's location is perfect, right in the middle of the strip and across the streets there a fairly large shopping and restaurant area, with about 30 or so restaurants and a big artisan's market.
View from our room: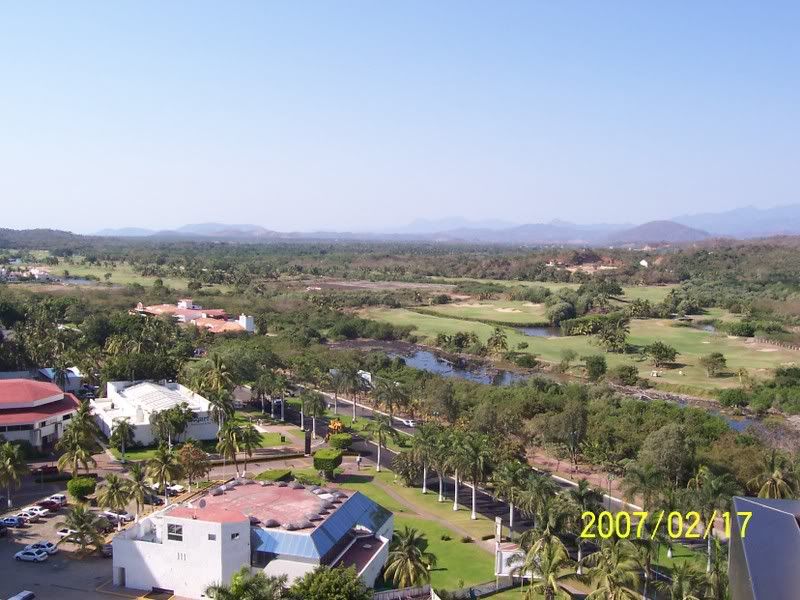 Now, some may think this sounds like Cancun (perish the thought!
) but it is on a much smaller scale than the strip in Cancun and (somehow
) seems more Mexican and less glitzy or commercialized.
Our trip there (and home again) was uneventful. We booked Air Canada Vacations packages on
www.Escapes.ca
(Total for 2 week airfare and one week hotel for Don and I was $2900 and then our hotel for the second week we booked online on our own, it was $80 a night. Total spent this whole trip was more than we usually spend for sure- about 5000 CAD$.)
Here we are at the airport, all pasty and white!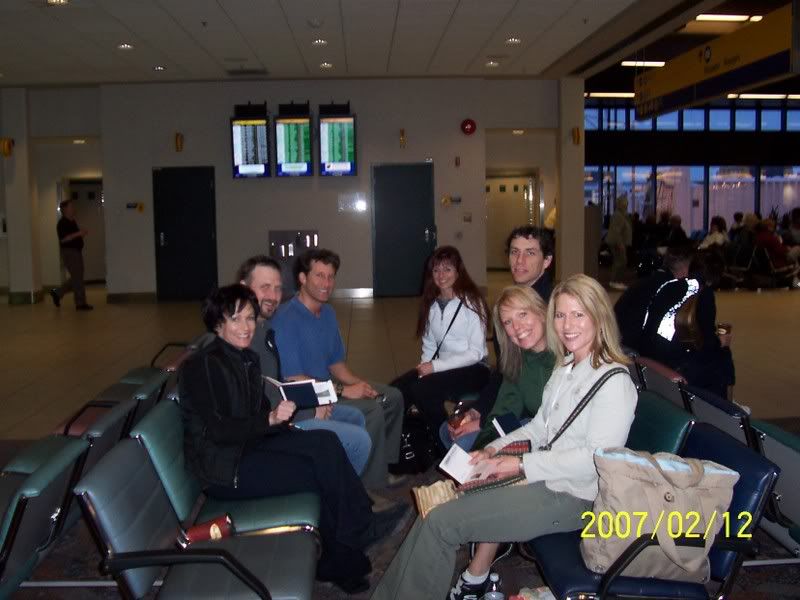 We flew to Calgary (45 minute flight) and then connected to a direct flight on a nice roomy 767 for the 5 hour flight to Zihuatanejo. The airport is quite small and only about ten minutes from Zihua and 20 from Ixtapa, so that was nice too. We still managed to pound back a couple Sol each even on the short trip to the hotel, so when we arrived we were raring to go.
The hotel was very nice, the staff were super friendly and efficient and it has a nice big pool with a swim up bar, great to have when you are there with a group.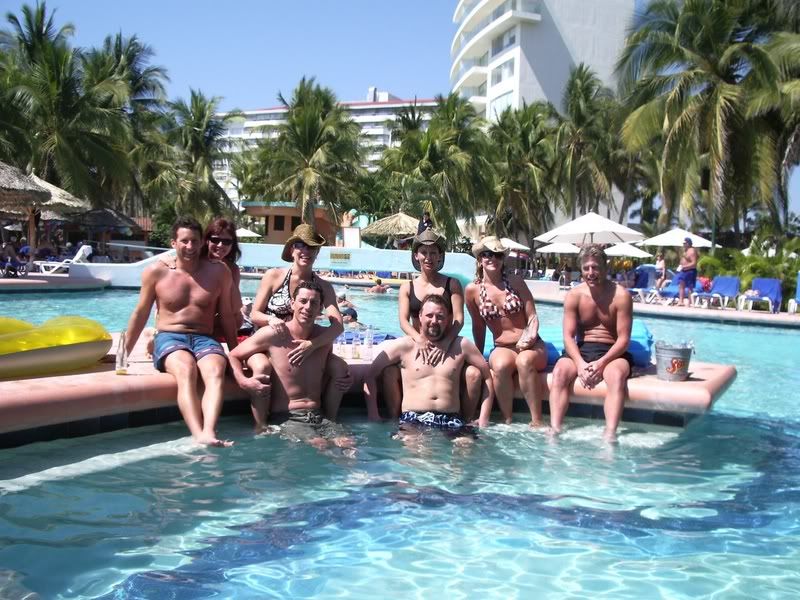 A leaving group even left us their air mattresses, so the days we were at the hotel consisted of- going across the street for breakfast (good 'raunts were Chili Beans, Mama Norma y Deborahs, la Panateria the bakery, and several other places I forget now)....we girls going for our morning speed walk on the beach....lying in the sun until we were sufficiently hot, then laying in the pool on the mattresses 'til we were sufficiently thirsty...then paddling over the pool bar around 11 (it's noon somewhere right?)to order up the first cerveza/Caesar/pina colada of the day. Rinse, repeat.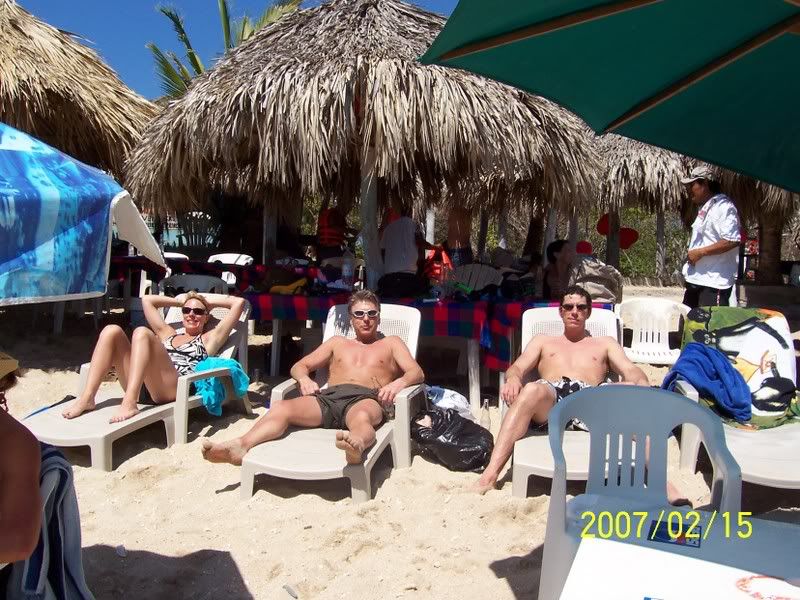 Speaking of hot...the weather was PERFECTION.
This is the best part of the southern Pacific coast for us.
Every day it was between 30 and 33 Celsius (90-ish F). Humidity seemed fairly low, my hair wasn't as frizzy as it has been on other trips
, and the hills were pretty dry, one local told me they hadn't had rain since September, just sprinkles here and there. We saw not a drop in 14 days, it was 2 weeks of utterly perfect weather. And just gentle breezes off the ocean, very little wind, just enough to cool you off a bit.
One morning I looked up and joking let out a scream; my GF Tracey was like, "What is wrong??" "A cloud!" I said, pointing to the white fluffy thing I hardly recognized.
Pure heaven.
And at night, you never needed longer sleeves or a sweater, it was always so comfortable...now why can't I live in a climate like this?
There was an added bonus of $115 a week per room for a food/beverage credit which was nice, just signed for our drinks all week, they were reasonably priced (25 pesos a beer and 35 for cocktails) and when we checked out we only owed about 200 pesos.
There is also a marina at the far north end with hundreds of fancy sailboats and cruisers. We walked there for breakfast a couple mornings and Don got to dream and drool over the fancy boats.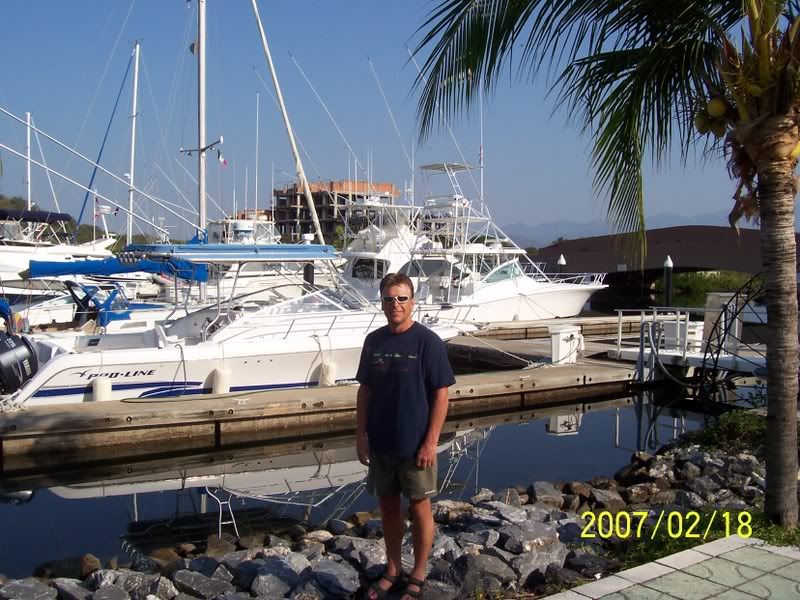 There is also a Senor Frogs across the street and a Carlos and Charlies on the beach. Sounds horrendous to some I am sure, but we went one day and watched the sunset (6:30-ish) one evening at C&C and had some happy hour drinks, it was fun.
The beach at Ixtapa is nice, very wide and three miles long (we women went for power walks every morning after breakfast), and the surf can be a bit wicked (and LOUD, even on the fifteenth floor with the window closed and the A/C on, when we woke up it sounded like a blizzard raging outside
). And of course, parasailing.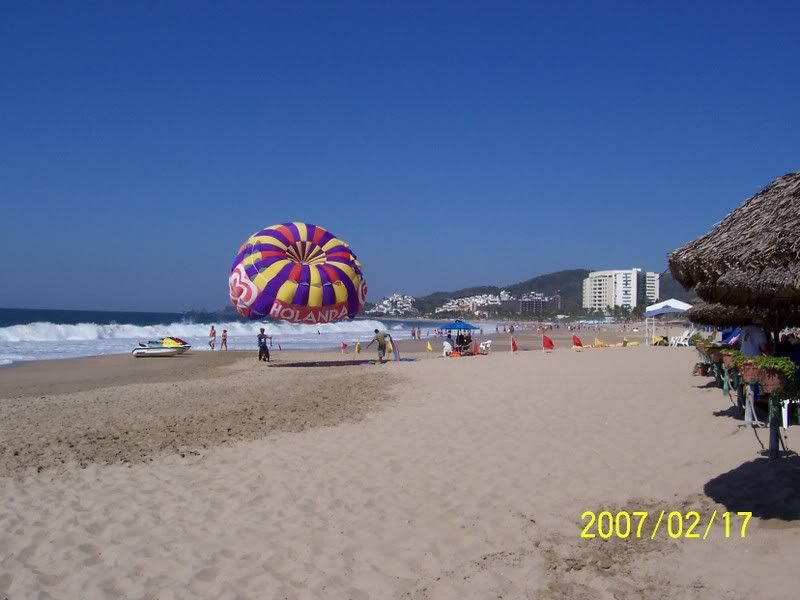 Most days the black flags were up in the morning and about noon they changed to red. For strong swimmers it can be a lot of fun. Here are the boys bodysurfing and boogie boarding...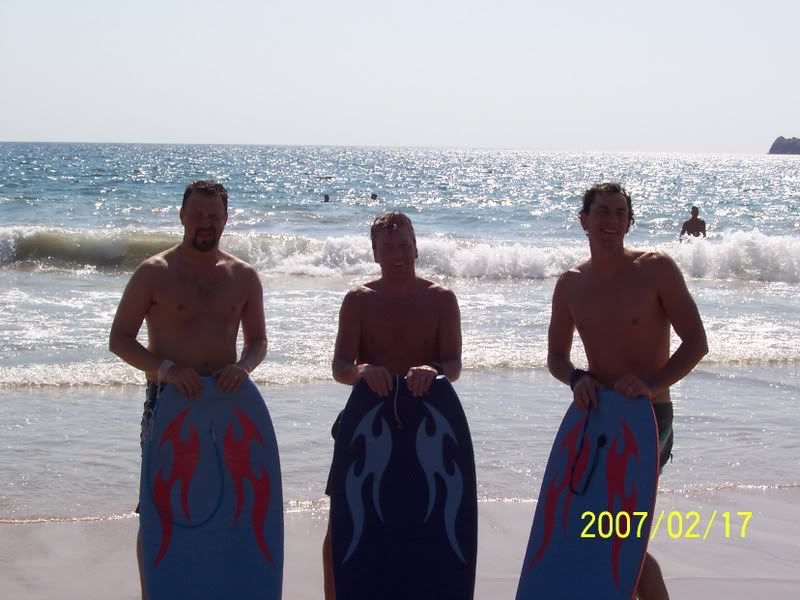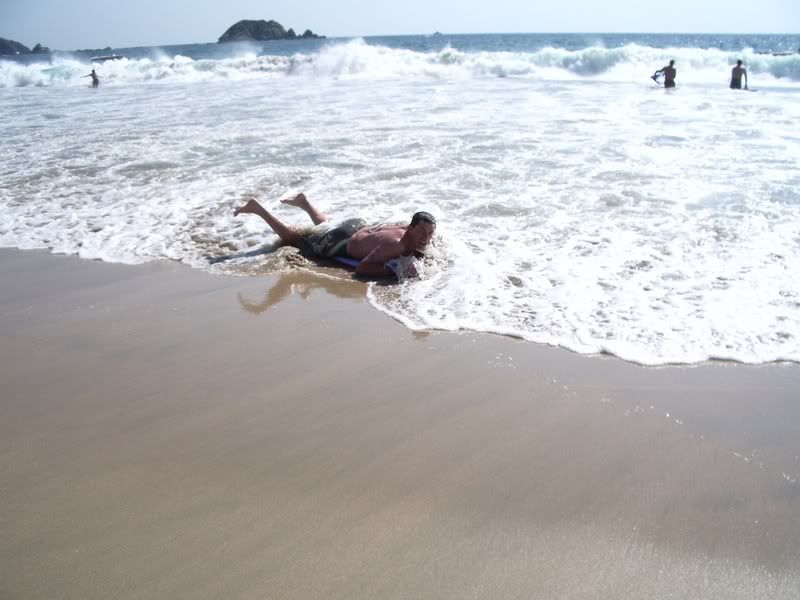 And playing some volleyball....
And look at these two dorky women...wonder who they are.....