I usually travel with my sister or my daughter and we all know that there is no other place on earth to vacation! Playa is our first choice hands down. I have only been to Mexico with my husband three times (in 36+ years!) so at this point until he realizes that the Yucatan is really the destination of choice, I will make reservations to anywhere as long as I get to go to Mexico...
Here are a few more photos to add to the report.
My sister bought me a sunflower sink over a year ago from a Telavera factory somewhere northeast of Manzanillo. It is still in the box. I found some ideas for the bathroom in PV.
And at the same store, I found my kitchen! ok, maybe not in bright orange...
as opposed to this kitchen we saw at the Hacienda Jalisco.
While in the old part of downtown Puerto Vallarta, we took some photos of the road construction. These roads are not easy to walk on when wet and we did have a couple of rainy days. It was interesting to see the construction detail.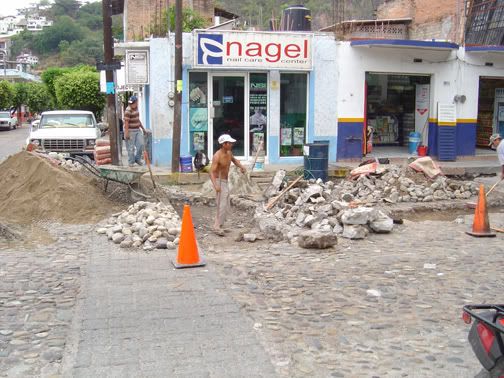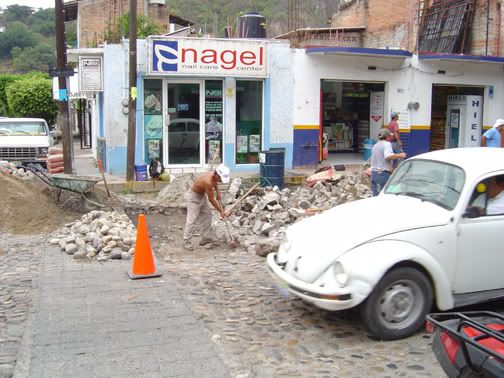 We did have some really wonderful weather too.
the ocean view at Boca de Tomatlan
view from the malecon in Puerto Vallarta
On the way to San Sebastian del Oeste we thought the scenery was quite reminiscent of the Okanagan Valley in British Columbia and Washington state, except I have never noticed agave growing up here.
I like to take photos of doorways too...
in El Tuito
at the Hacienda Jalisco
This was my new best friend, Fili (sp?) He had horses for rent under the bridge in Mismaloya and it was his son who was the van owner/driver for our trip to San Sebastian, although we didn't know that at the time. I didn't ride his horses but talked to him most days even though my Spanish is very limited and his English is non-existent. I was very glad on our last day that I do not have breast implants - his hugs goodbye would have popped them! Yes, that's HuGs, one apparently wasn't enough!!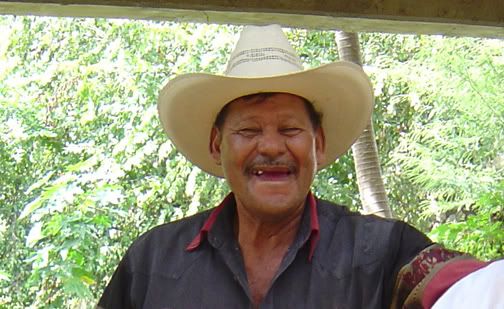 And finally, another meal shot! we ate a lot of seafood on the West Coast. Quesadillas con camarones. Quite delicious!