When I opened my present on Christmas morning and found travel brochures, I was thinking Playa here I come. Sadly, himself doesn't quite have that 'must go back now pull' towards Playa and really hoped to see somewhere different this year. Big sigh.
I set about trying to find a suitable replacement but nowhere compares! We finally settled on Puerto Vallarta because of the 4― direct flight from a small airport close to home, Abbotsford. As I could not see myself at a large, all inclusive hotel anywhere, I looked for a hotel that might remind me of anywhere on 5th Avenue. While the one I chose didn't quite remind me of anywhere Quintana Roo, I did enjoy it.
Our holiday was with Air Transat Holidays but they use Westjet aircraft for the flight. More leg room! and each seat has its own little tv screen with satellite tv and pay-per-view movies. The lunch was delivered in a box, sandwich, cheese and crackers and a piece of butter tart cake. The flights leave Abbotsford at 2 pm but with the two hour time difference and the journey to the hotel, we didn't arrive in Mismaloya until after everything had closed! remember that lunch box? that was it til morning, except we did manage to buy a couple of bottles of water from the hotel restaurant that was actually closed.
We stayed at the Casa Iguana Hotel is Mismaloya which is a 20 minute local bus ride south of Puerto Vallarta. Each room is actually a 2 bedroom suite (3 - 3 bedroom suites are available) and all rooms look out onto the pool area. The beach is a short walk away. The hotel backs up to the Sierra Madres and the jungle with a river flowing by just across the road. The town of Mismaloya is famous for a couple of movies, 'The Night of the Iguana' and 'Predator' were filmed closeby.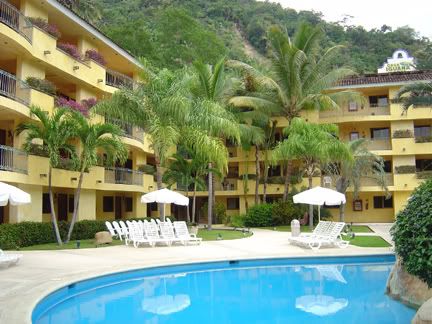 We loved the hotel, it was great having the extra space and the kitchen which was well equipped, except it did lack a microwave, toaster and blender which I probably would have gone to Walmart for if we were staying any longer than two weeks. There were very good restaurants in the immediate area so we didn't feel we had to go in to Puerto Vallarta for dinner every night. The restaurant at the hotel was very good and we had a couple of dinners there as well as breakfast several mornings.
Of course the towel sculptures were the highlight of our return everyday!!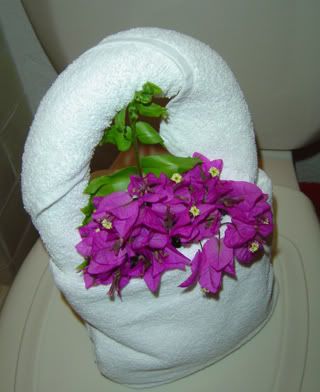 The town of Mismaloya was just a short stroll up the road, all three or four blocks of it. Everyone, or so it seemed, has chickens and at least one rooster and mornings could get a little noisy after the church bells rang, waking up every rooster within a two mile radius! It was quite a chorus that we soon got used to and just went back to sleep - 5:30 am being a tad early to wake up if we weren't included in the call to mass. There was a religious 9 day celebration happening in the town, honouring Guadalupe I believe and the church bells rang every morning and several times during the day.
We did have a couple of overcast days with some rain but the temperatures were incredible, absolutely bearable, about 80F most of the time. It didn't get too cool at night, so no need for the jacket I had taken with me. A couple of nights I wore a long sleeve t-shirt but would have been just as comfortable with short sleeves.
As the shops in Mismaloya are all very small, we did our major grocery shopping in PV at Rizo, a good sized grocery store. I like to have lots of fruit, avocados, manchego cheese and buns (I love Mexican bread), as well as snacks when we have a kitchen. That way I am not tied to a breakfast time and we can have our own snacks by the pool when we want them.
We had our first drink on the beach in Mismaloya, and got royally ripped off! $8 USD each and they weren't even good! My first Margarita, however, I wondered if I would have to be carried home.
It was at a restaurant called Tony's, run by a family, I think Mom cooked, Dad greeted everyone at the door and ran the bar and sons were the waiters.
Their menu consists of a large tray of all the meat they are offering for that night. I chose coconut shrimp with mango sauce. Good choice! Martin has pulpo (octopus, which he found a bit too salty for his taste). The flan for dessert was a large triangle piece cut from a flan pie and it was great. To get to Tony's we walked up into the town and then took the only road that branches off upwards.....it does curve back around to the main drag, Cinco de Mayo. It was quite light out when we walked up but when we were leaving, quite dark. There are a very limited number of street lights in Mismaloya...one at the end of the upper street and one and the corner of the main street. Cobblestones and dirt make up the road... they don't really mix with lots of tequila!
I had been to Puerto Vallarta before and knew that there was lots to see but the actual city can be done in a day or two. The big church in the centre of town is worth seeing, the malecon is worth walking, the old part of town is a great place to shop if you don't have enough of what tourist shopping has to offer already... and then you need to think about either tours or sightseeing on your own. We chose to do the latter. One day was spent going by local bus to the 'end of the line', a small town on the way to Manzanillo, El Tuito. Of course, there is a church there, and a square in the centre of town with little shops clustered around it and not much else that we could find walking. We did buy some coffee that was being roasted in a small store and watched a family making tortillas in a large machine, loading a huge lump of dough into the top and watching flat, perfect tortillas coming out the other end.