Hi Andy,
Wow you really have a house full of beautiful babies! It's amazing how quickly you got the shelter going....lots of hard work I'm sure.
Below are some photos of sweet little Ellie during her stay at my house. The only difficult part of fostering her was the heartbreak of saying goodbye (terribly difficult for me).
She is a phenomenal little girl.....so affectionate, playful, smart & fun. She loved our walks & walks absolutely perfectly on the leash. It's like she's been to obedience training (go figure). She will sit before you put her leash on. She also started to give my her paw before getting a treat. She jumped on the couch just once & when told no...she got down & never attempted it again. She's perfectly house trained (You, Jen, Zena & Spud did a great job). She's an incredibly easy, well behaved girl. It seems all she wants in life is to please you & be with you. She also has a lot of puppy playfulness in her. She loved her duck toy (I'm going to try & get a video loaded). Because she wants to please you, she's pretty much a natural to fetching toys. She's a riot to play with because she constantly does the "play bow" & gets kind of all silly happy. On her final day here, I allowed Ellie in the bed to take a nap with me. She's a real cuddler & fell alseep with her head on my chest.
The person that adopts Ellie will be very fortunate indeed. She is such an easy dog & will reward them with years of affection, loyalty and companionship.
Sweet Ellie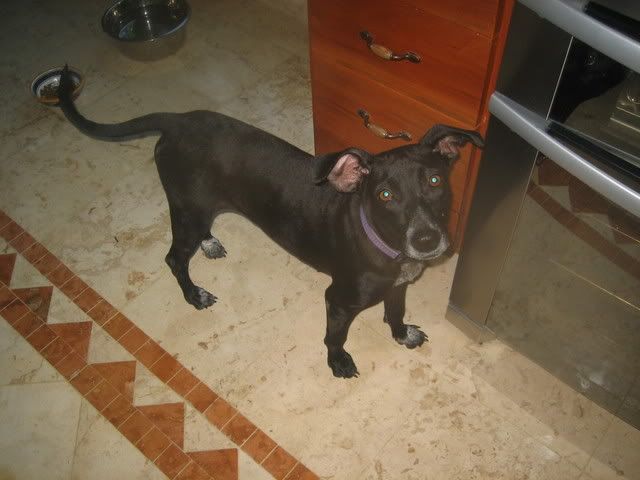 Ellie & her Duck
Ellie Smiling
(yes...she really does smile)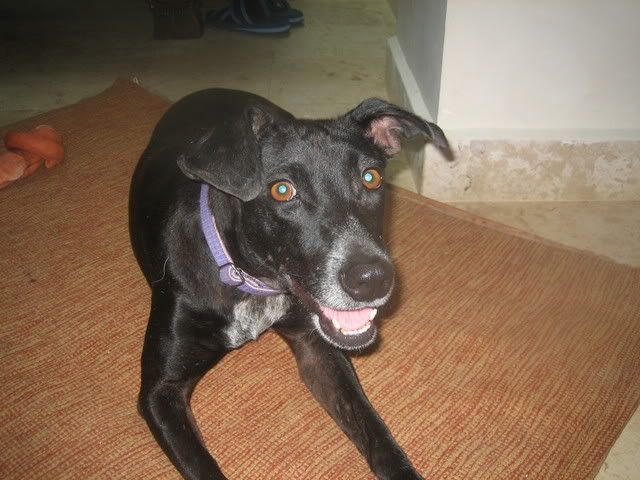 Ellie resting (She loved my dog's bed)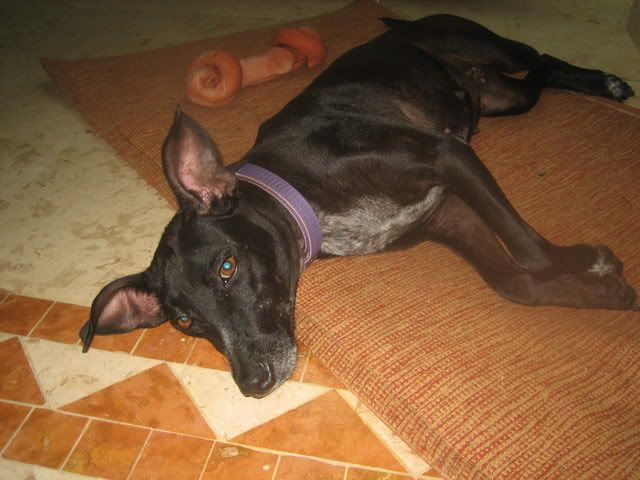 It was so nice to meet you, Jen & your very nice daughter! I applaud your efforts & wish you much success in finding homes for all your guests (
especially...Ellie!
...sorry that's a bit selfish). We're going to match our previous support because it sounds like you have a lot more vet visits coming up.
I'll be in touch. Thanks!
Maureen