I'd done so much research about spending time in Playa and the surrounding area, that I felt I knew it well. Out of the 10 people going on this week long trip (5 40 something couples), my husband and I were the only people ever in the area, having been there on a couple of cruises for a day, Cozumel and Cancun for extended vacations, so were the "experts" so to speak….yeah right, all the help from all the experts online was where we got our knowledge. We started the planning stages back in November and by January, we had 4 couples booked and one later in April. There were the passport "freak-outs" and the "I won't be able to fit into my shorts" discussions, but in general, everyone was totally excited to go!! I picked the resort, IB Quetzal, and had no worries about how it was going to be.
FRIDAY May 4th. We were being picked-up by another couple at 3:00 am to drive 40 minutes to the airport in MKE for our 5:30 am flight. The other two couples were leaving from another house. I was early getting ready as usual, so I decided to check our flight online before we left. To my horror, the word "CANCELLED" was under my flight number. What??? It couldn't be. Not after all this organizing and planning. I tried again hoping that I put the wrong flight number in….CANCELLED. Panic set in. I called to my husband who was in disbelief, and doesn't handle the stressful situations quite as well as I do, but this time he was a real trooper. I immediately called the FUNJET number and they had no record of the flight being cancelled, but said they generally don't. I called Continental and yes, indeed it was cancelled. I explained the situation and she said we were "rebooked" on a flight on Sunday…..WHAT??? Now our 7 day trip, fully paid for would turn into a 5 day trip……Absolutely not. I told her we had 8 people traveling today, with two already in Playa and that we needed to get from Milwaukee to the Cancun airport today. Since I didn't have everyone with me, she told me to go to the airport and see what they could do. After a good stressful hour and a half, we were all finally rebooked, for the same day, but on two different airlines, through two different cities. Originally were to fly through Houston, now 4 were flying Northwest through Memphis and the other 4 on Delta through Atlanta. Guess what….We all arrived at the Cancun airport within 5 minutes of each other, AND about an hour earlier than we would have if we took our original flight. Now that's service on Continentals part. Our vacation was about to begin. Immigration, claiming of our luggage and finding our friends all went extremely smooth. Then, we approach the stop and go lights. None of our friend had seen this type of thing before and got a great laugh out of it. Of course that's because we all go the "GREEN GO". Probably wouldn't have laughed so hard if the red came up. We gathered ourselves and started out through all the timeshare people, ignoring as many people, yet still being polite as possible. We did have one porter take our bags and take us all to the Lomas shuttle area. I had a wad of bills (mostly singles) in my hand for tips and as we passed the women's restroom right near the vans, I decided to turn in. I gave the wad of cash to my husband so that he could tip the 1 porter who helped us. When I came out and met up with everyone, I asked for the extra tip money back and he said, "You told me to give it to the porter". Yeah….a couple of bucks, not the whole wad of cash. I still don't know how much I had in there, it was small bills I know that, but I would imagine the porter got over a $20 tip for pulling 1 rolling suitcase that day. Uggh. Oh well. In another 10 minutes or so, we were aboard air-conditioned vans, fully stocked with Coronas (2 for $5) for the ride to the IB Quetzal.
Upon arrival at the hotel, the wonderful PR dept. that I had previously contacted has put us into the exact rooms that we requested. Building 22, Top floor (3rd) right near the pool and the ocean.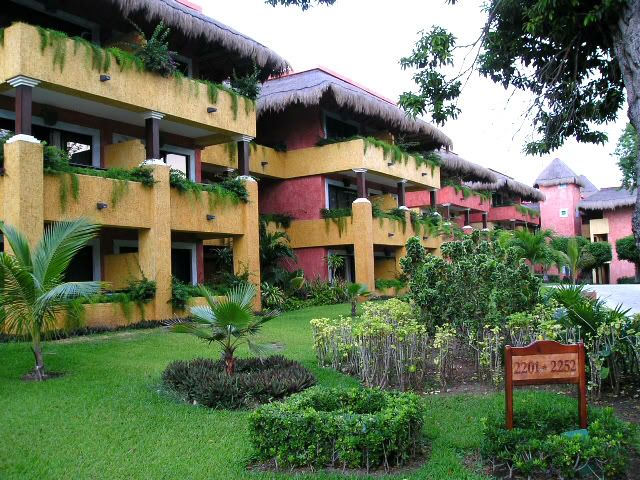 It was a perfect location for us. 3 rooms had pool/ocean view and 2 had jungle/ocean view. Everyone was happy and the resort was beautiful. Time to hit the swim-up pool bar and find the other couple who had been there for two days already. I won't go into gory details, but the margaritas, mojitos and dos equis were flowing and by about 6 pm we were all involved in the topless belly-flop contest. The topless photos will remain in my album.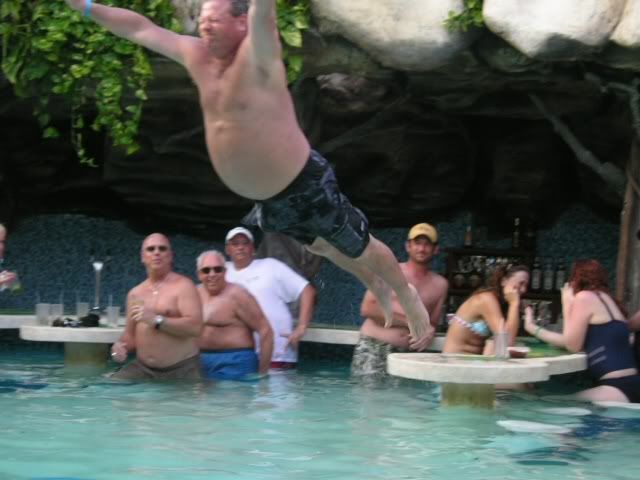 OOOOhh, it was a long night. Most of us made it to dinner, some made it to dinner, but didn't make it through, one didn't even make it out of their room. Fun, Fun, exhausting day. We all hit the hay by around 10 pm.
SATURDAY May 5th. We were awoken by the loud screeching of the friendly neighborhood peacock at around 4 am. This guy could squawk! We found out throughout the week that he liked to hang out right in front of our building and was there almost all day long.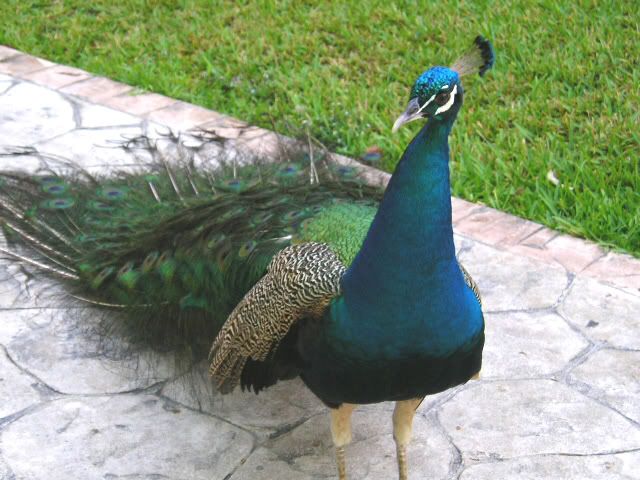 He also had some loud lungs at 4 am and about every 5 minutes after that. We didn't care. It was funny to us, and as we are early riser and got up by 6 am every day, it just was a little like a snooze alarm for us. We were anxious to get out into the sunshine and see the beautiful blue water and walk on the beach.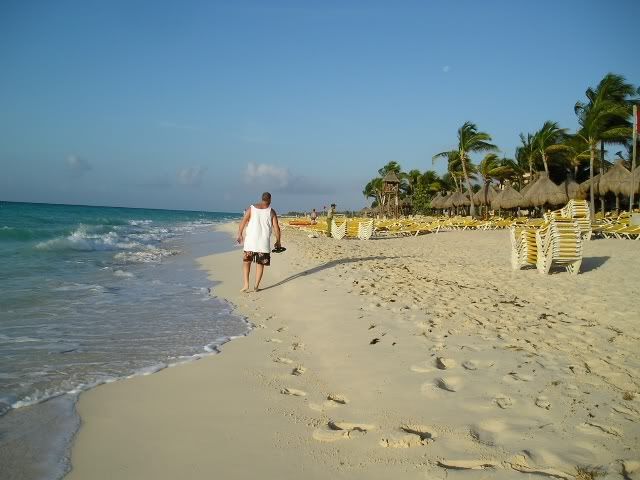 We did just that. Walked north and saw the sad condition of other resort beaches and were very happy that we booked where we did.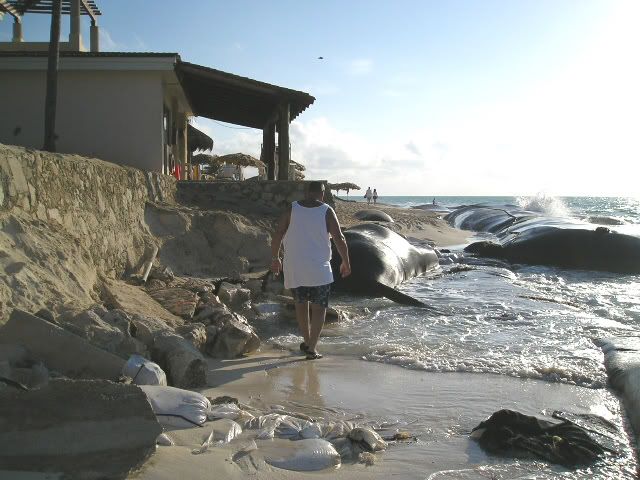 The ocean was rough with big (well, I consider them big) waves crashing into shore, so back up to our room to fill our inflatable boogie boards and get out there in the water. We were out boogie boarding by about 8 am and stayed out there until about 11 am.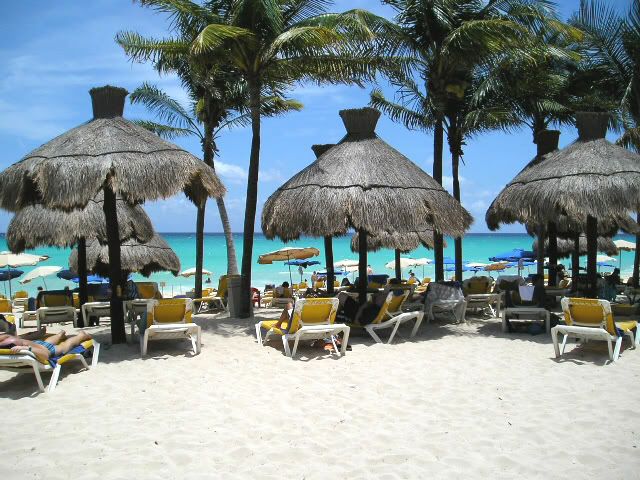 The waves were a blast and we were really happy we took them along. Slowly throughout the morning the rest of the crew joined us at the beach and at 11 we headed to the pool for lunch, and the beginning of the next day of cocktails.
Our cocktail cups were a hit. I had purchased the cups at Walmart in Fall and had engraved each of our names into the cups (each couple had their own color), the date, the location and a couple of tropical pictures. People asked us at least 10 times a day….where did you get those, I want one of those! We felt very special….and lushy. The bartenders knew us well by the end of the week, no wait, by the end of the second day!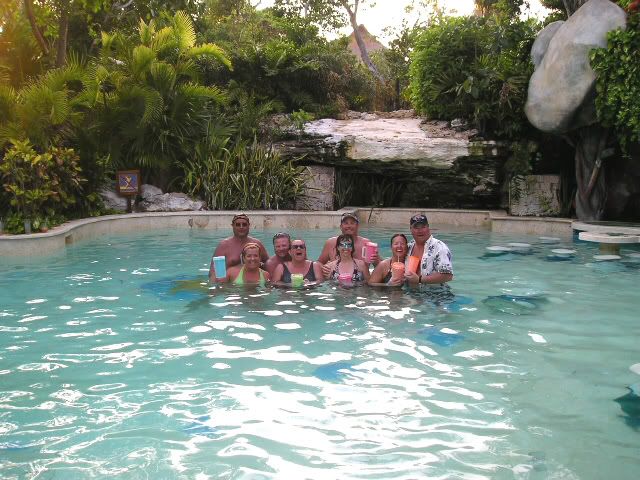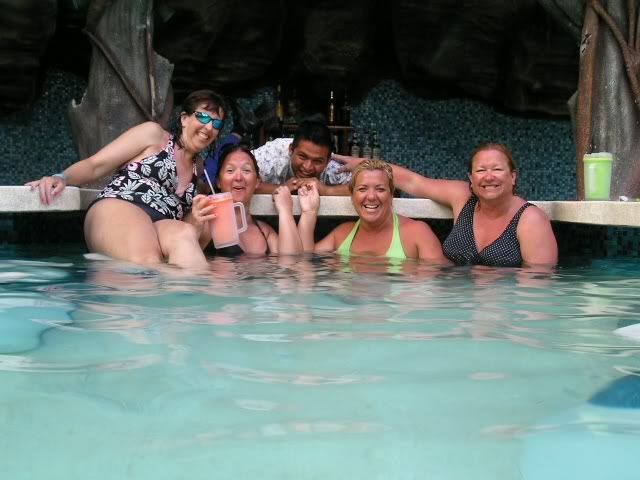 The rest of the day was spent lazing around the pool, wandering around the beach and just plain relaxing. This was nice. Good friends, cold cervezas and a beautiful resort.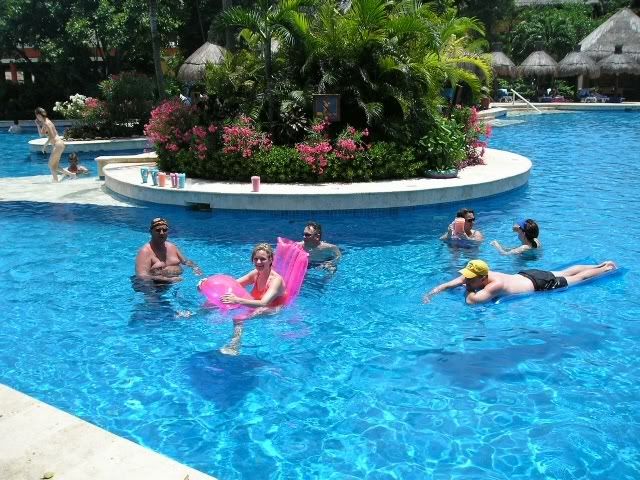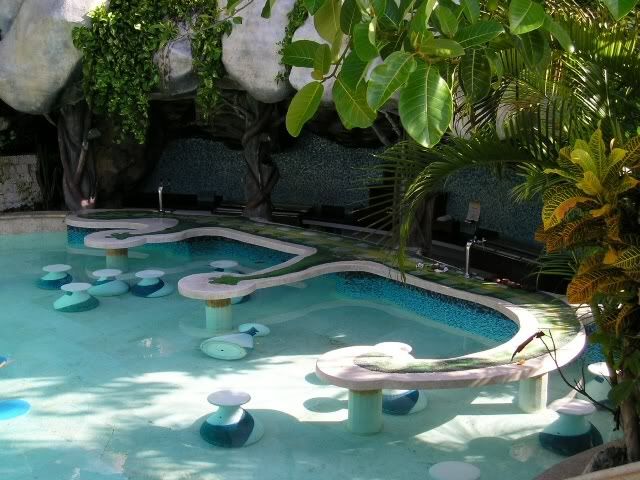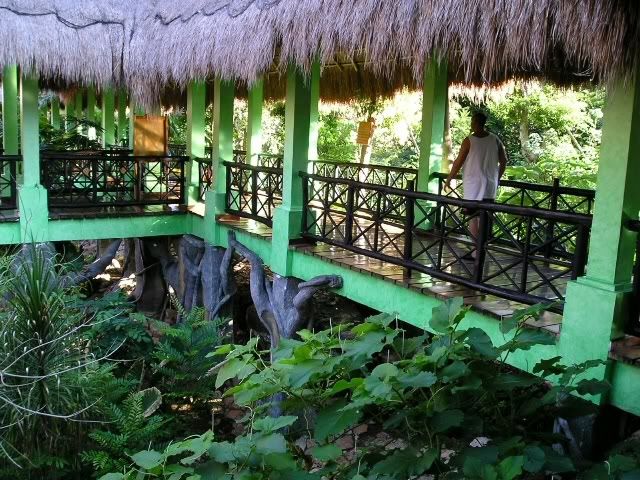 SUNDAY May 6th, 2007. More of the same today. Waves were great again, weather was great again.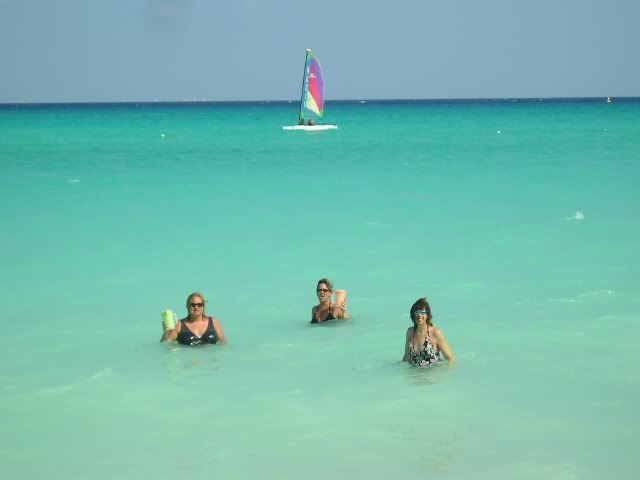 We were out of the room for breakfast by 7 am and decided to try the "small" breakfast in the Marimba restaurant at the pool. It was fine. All we really needed for breakfast. The fresh orange juice was excellent and the warm breads they had were terrific. It was very basic, scrambled eggs, hash browns, sausage, bacon, muffins, toast, cereal fruit. The funniest thing about eating in this area, are those darn brown birds. They just swoop in and take whatever they want. One morning, one bird came in and helped himself to a very large piece of watermelon right off of the buffet! We were laughing, but not as hard as when the gal set her full plate down, turned her back and walked over to get some juice. While filling up her glass, one of those crazy birds hopped right on her plate, pecked at her eggs until they were all over the table and then flew away with some in his beak. It was a show for us all sitting there, and when she sat down at the table and dug right into those eggs…..hysteria! Of course, none of us got up and told her what had happened, we just laughed as quietly as we could and made our exit. She was obviously none the wiser. Walked the beach today to the south past the Sandos resort and the "posted" Sandos land. Saw a Portuguese Man-O-War on the beach. My husband was convinced that it was a condom!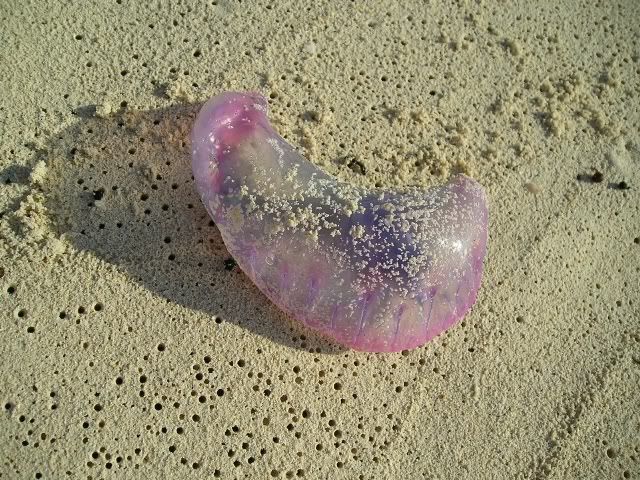 We went as far as the rocks jutting out into the water and then turned back. It was almost 10 am and it was time for a Pina Colada! There was a pretty good ledge in the sand today and you had to step down about 18 " to get to the water. Not a big deal at all compared to the resorts to the North where you needed a ladder or step of some kind.
Resorts to the North...YIKES.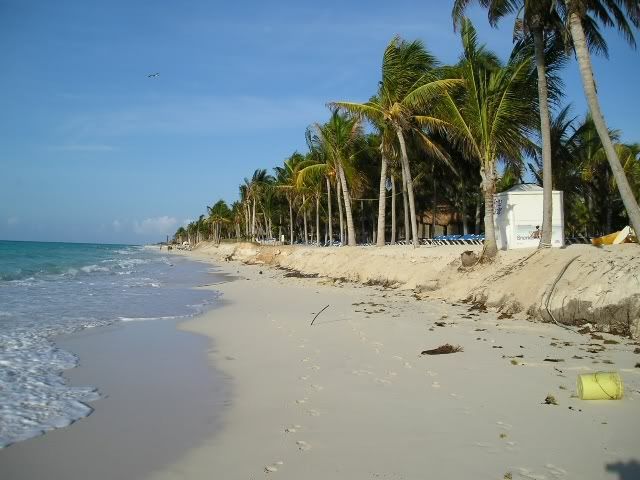 The little ledge actually made a nice little seating area for those watching to fools (us) in the big waves. We had a ball watching people try and get into the water when the waves were crashing at them. We must have seen 10 people who could NOT get out deep enough past the breakers to enjoy the show. Some of them tumbles 5 or 6 times before they gave up. It was great entertainment. It almost turned into a game and we, in the water, were cheering those poor souls on. It was like a great initiation into the "ocean club". If you could make it past the gauntlet, you were in! We had so much fun. I would say about 1/4 of the women were topless. All at the beach, all very discreet, most in the water. Not may kids there this week. We did take a break from the fun in the sun to talk to the tour desk guys and book a tour for Monday. More on that later. On this day, they brought out a boat onto the beach and filled it with charcoal and sand and did a fish BBQ.
It was fantastic. If you wanted a fish for lunch, you just took your plate to the beach and they plopped an entire fish right on you plate. Now, there were no small perch. The fish were about 14" long and hung off the plate. Wish I would have taken a photo of it on my plate, but I was way to busy eating!! It was delicious! I know I have some photos, but they don't seem top be loaded, so I will insert them when I find them. The rest of the day was pretty much of the same, sun, fun, pool, ocean, cocktails and finish the afternoon in the pool bar area! Dinner tonight we had reservations for all 10 of us at the Tropical restaurant. Ilse in the public relaciones dept. was kind enough to pre-reserve our reservations so that we didn't have to go and wait in line.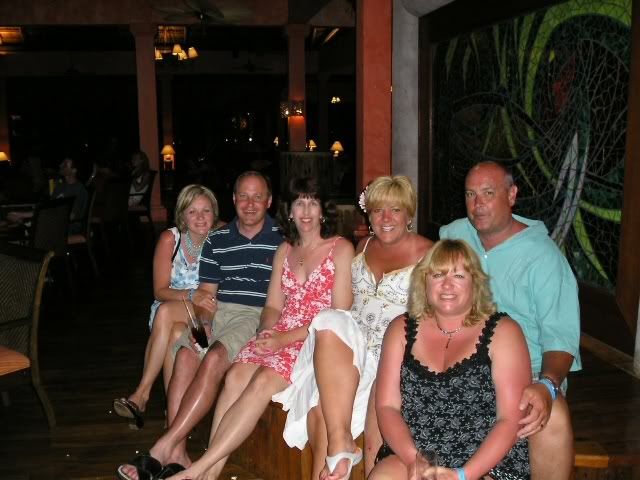 Our reservations were for 8:30 pm and when we arrived at about 8:25, there was a private wedding party there and we had to wait at the bar…..darn. The bartender was great and we had a blast there and didn't really want to go and sit when the time arrived. Food was excellent. Outstanding dishes were the cream of spinach soup (sounds gross but it was great), the appetizers were all seafood and excellent and the food was good, except the lobster spaghetti turned out to be shrimp spaghetti when the wedding party ate them out of lobster. Not a big deal. For the life of me I cannot remember what I had, but I know it was good and it wasn't the lobster spaghetti.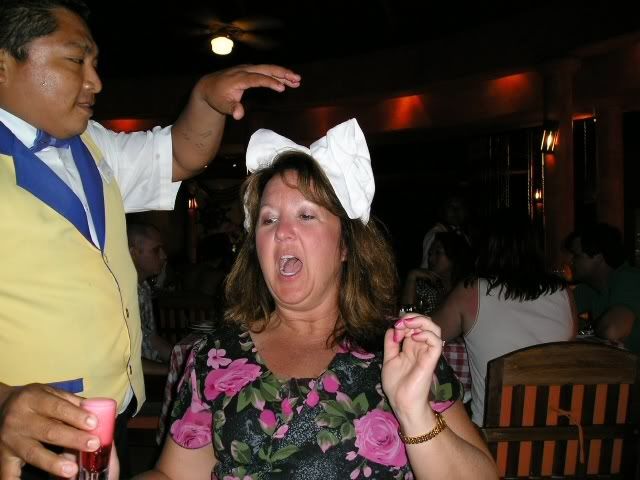 After the dinner which included a couple rounds of tequila poppers, and great desserts, we headed to the disco to find it was closed for that same darn wedding party. It was about 10 pm and the disco was opening to the public at about 10:30 so we just kind of snuck in and made ourselves a little area in the back where no one really noticed us. I went to bed at about 11 pm as I was exhausted, but rumor has it, it got pretty crazy there that night. I know my husband didn't get in until 3 am after a swim in the sports pool with a couple other guests. OK, I'm going to try and post this now.
Stay tuned...