Its time to update you all on the comings and goings this week at the Peanut Pet Shelter, as always we seem to find a home and straight away a replacement comes along to take thier place, so firstly the adoptions....
We have found new homes for a few puppies this week including Buckley,
the little guy that our friends Steve and Sara Moen brought to us. (he is the little brown n white pup in the pic)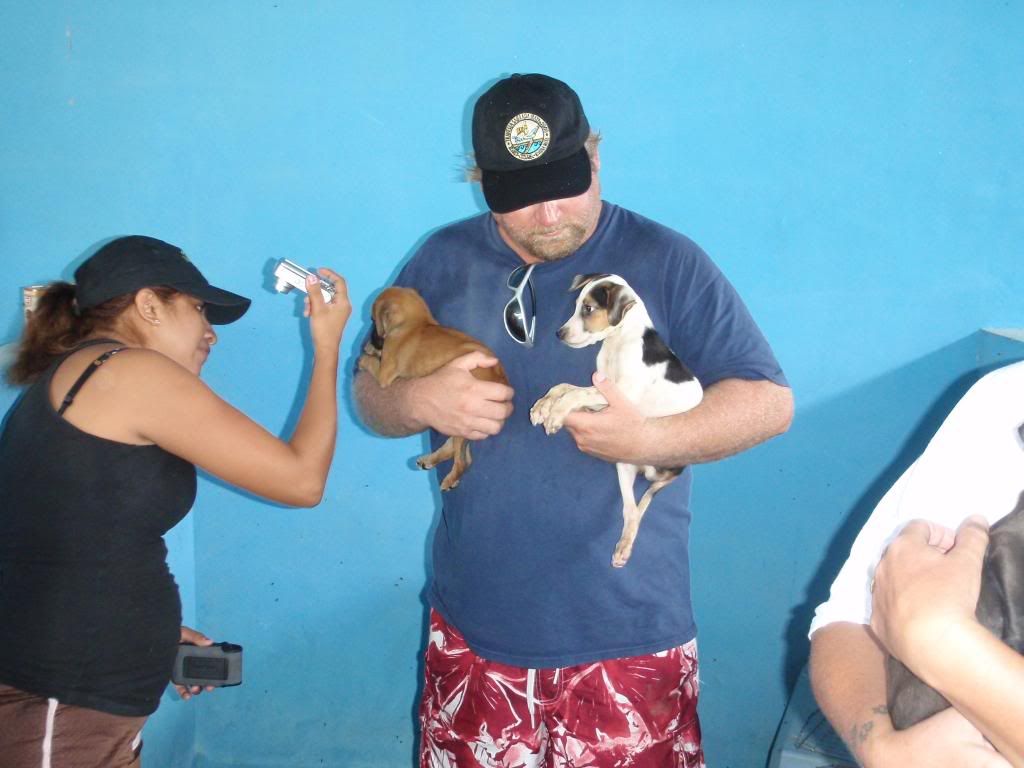 He was followed by Poppy, one of little Becky's 6 puppies that were living at the menagerie erm house
with us.(only 2 left guys
)
Next was Missy a little snauzer cross that was also at the house (please excuse the pic )
As usual here at the shelter when one goes another comes and this week was no exception, we had two new arrivals
The first was this young girl who we have in quarentine for a couple of weeks to be sure she is ok, she is a bit thin but has a healthy appetite
Next up is this poodle cross that another friend Christine brought to the last dog wash. This is Hope (yes he is a boy) and he is very calm and gentle
Then came Sabrina, i had a call from a French guy who had been hare on vacation and had found this skinny but very friendly girl lying at the side of the road, he took care of her for a week but had to return home, he called us and i went straight round, he thought Sabrina had been in a recent accident as she couldnt walk properly, after x-rays she appears to have an old leg injury that has long since healed, she stands ok but when she walks she puts one of her rear legs up and gets about on three paws, it gives her no pain and she doesnt seem to notice it at all.....
We really...really need to find this little girl a home before i fall for her, i am attatched already
And finally we have Frodo.. we have a policy of not paying for dogs (you can imagine the queue around the block ) but we had to make an exception with this baby, he was living accross the street from us tied up in a courtyard with no shelter and at the time we took him had no food or water, we have heard him crying day and night for over a week but could never find anyone to speak to.
Well now he is safe and happy with a bunch of puppy friends to play with, he seems very healthy apart from some skin problems, he cost us $200 pesos but he is worth every centavo !!