Alright I can continue, Colts have a bye this week, but still keeping an eye on the Dallas/ New England game. Not sure who to root for...
anyway here comes more trip report!
Wednesday September 26, 2007
Tummy not feeling too good this am…stupid pork tacos-or the RBV's who knows
Breakfast was at Soup Nutz and Java Jazz…a funky little joint we would probably hang at during the evening. Huge sound system and Polaroid pics of patrons everywhere. I had a Bonnie omelet-goat cheese, spinach, tomato and onion-served with potatoes…Good, but not great. I actually had a latte to help wake me up from last night's Tylenol PM
Josh had a Spanish omelet-chorizo and cheese-too much for my gut this am
More laying out and relaxing at the hotel pool. We did A LOT of this the first 3 days we were there. Trying to unwind from the wedding
More pics of the Hyatt grounds:
Some Thai sculptures representing Mercy, Harmony, and I forget the other
This was a fantastic restaurant in the Hyatt called the Swan Court
[IMG]
And the view looking out onto the grounds from the restaurant
Doesn't really do it justice though...you just have to go there
We did some walking up the beach and enjoyed the fabulous view of Lanai and Molokai across the channel:
Lunch was in Lahaina at Thai Chef…fantastic Thai food!!
We split the summer rolls (rice noodles, mint, bean sprouts, pork):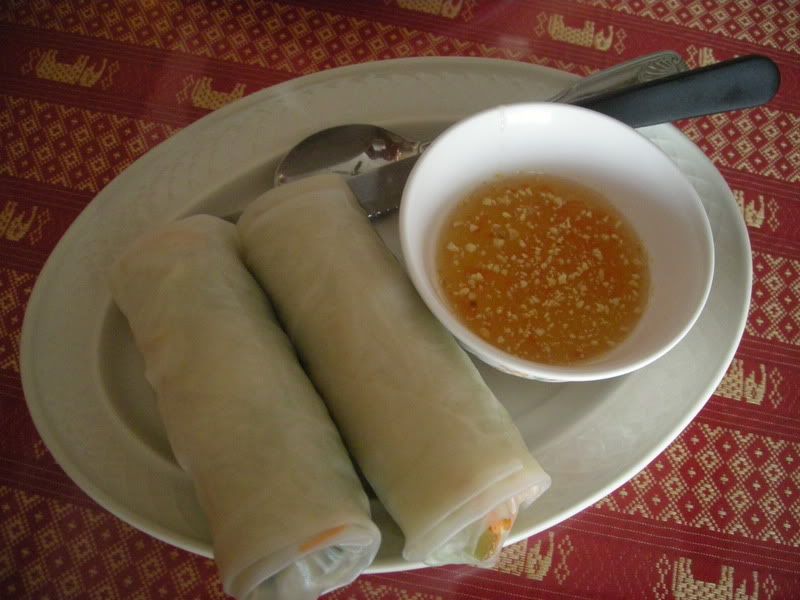 I had the Pink Snapper with ginger and garlic sauce- this was delicious. I was so happy after I ordered this. The menu is huge so was not sure, but it was some of the best Thai food I have had:
Real quick- I have to share this story-
There was a crazy local there that had a little episode while we were eating. He kinda looked like one of the surfer/bank robber dudes from the movie Point Break. We was ranting and raving to himself while he was eating. We tried to ignore him-He said he didn't have any money to pay for the meal he just ate, but was asking for more fried rice.
He then said he could apply for a job and wash dishes to pay for the meal-the waitresses were looking at him like whatever dude, and he continued ranting to himself. I tried to ignore, but Josh kept his eye on him-not sure what to expect.
We continued our meal...The crazy Point Break dude then decided to get up and pick some of their beautiful orchid flowers they had growing in the restaurant, took them back to his table and made earrings out of them…uh okay…time for us to go-we're outtie
Weird little event I had to share-
Oh yea, Josh had the yellow curry shrimp-also delicious.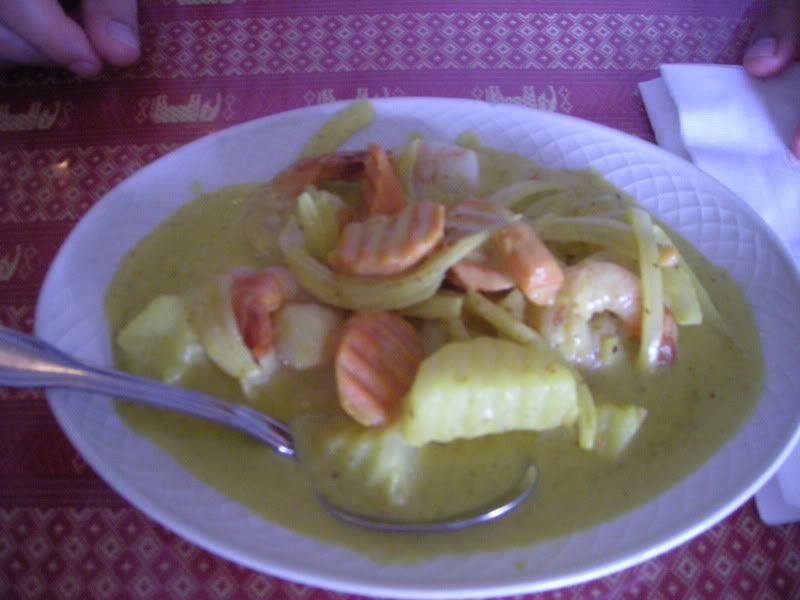 We walked around Lahaina for a little while, pretty touristy with lots of shops and restaurants. There was a cool thing we saw; a Banyan tree infront of the courthouse. They said it was the biggest in Hawaii. Mind you this is ONE tree- see how it extends all the way in the back? One photo could not capture it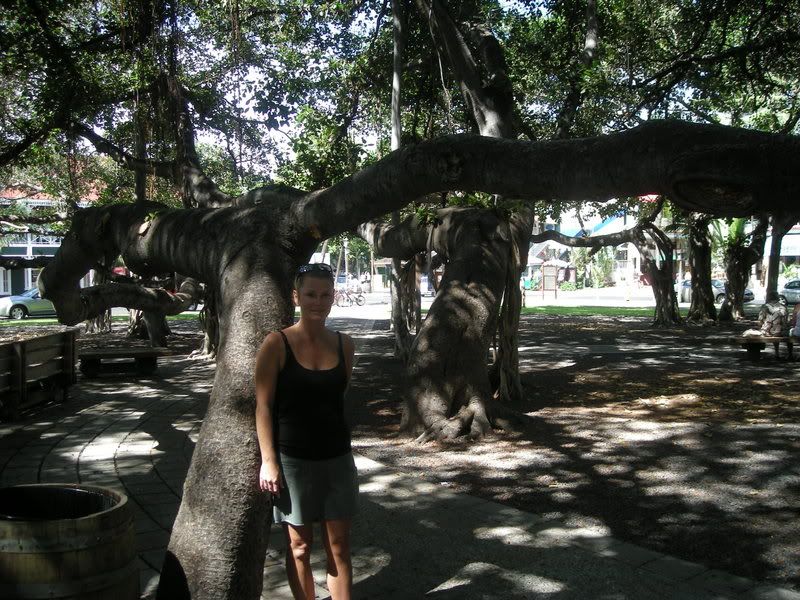 Crazy huh?
More relaxing a the pool….
Last night at the hotel already! Had a couple of drinks at the Hula Grill and the Rusty Harpoon. Now THIS is the place where we need to ask what time the Colts are playing on Sunday-lots of nice plasma's everywhere. We asked the bartender and he said either 7:15 or 10:15 (AM mind you)
thank god it was the late game! 10:15am they are showing it-we ponder on whether we need to be watching the game or enjoying Hawaii-we figure we can do both
What would we do if it was the early game just outta curiosity? The bartender says they open the doors at 7:00am but don't serve anything until 8:00am. That time change is a b**ch huh?
While we were there Josh tried the local brew:
And off to bed…