Day four - From Xpujil (cat's tail...as in the reed)
Before we checked out, I decided to count our money. Every trip to Mexico, it is guaranteed that I will tear a bill. Some businesses will not take torn pesos. I will be damned...I tore a 500 peso note or bill. Curses! While I was checking out, I asked if there was a bank in Xpujil. It's a village, I know, but it doesn't hurt to ask. The closest thing that there was to a bank was a restaurant with a Western Union office. We went to this restaurant and planned to eat breakfast there. At the Western Union counter, I asked if they could please exchange the bill and they politely said no. We sat down to eat breakfast. Dave had chorizo and I opted for cornflakes and milk...cold Lala but it was fine. After we finished eating, I gave the waitress a different 500 peso bill. Promptly she returned to inform us that they could not accept it because it had a miniscule tear and a teeny tiny piece of tape. I just shook my head in disbelief and Dave began to laugh. He explained that they probably thought I was trying slip them the damaged bill. I told him that it was a different one that I showed them. Whatever.
We had to drive east, out of town, to get gas. As I had mentioned earlier in this report, the Pemex station was out of Magna and only had diesel. A little boy who was selling tortas to truck drivers directed us to guys in a Toyota pickup selling gas. I knew it was expensive but better than nothing. I wanted to have a near full tank before venturing on to Palenque. One of the gas men speaks fluent English and this surprised the heck out of Dave. Since we left Playa, he had not heard anyone speak English except me...I hadn't realized this. The gas merchant is an interesting fellow, he sells gas and gives tours of Calakmul. After getting gas, we had to go through the police checkpoint once again. It was a very brief stop and we were off.
We left Xpujil and headed west to Palenque. The day before, as we were driving to Calakmul, we saw a pyramid poking out of the tree tops. This was in the village of Becan (ravine made of water). We decided to stop to take a look at the site. Becan is a cute little village. The houses are very neat, there is hardly any trash, and the dogs are fat. As we drove up to the parking lot, I noticed that there were several children hanging around. Park security. As soon as I parked, we had offers of having our car watched. One of them offered to give us a tour. I asked him how much, and he answered, "Whatever you will give me." After guessing what was what in Calakmul, we decided to hire the young man to show us around. When we went into the park, I used one of the torn bills, the least torn one, to pay for the entrance. I got my change back...bill accepted.
Our young guide's name is Rubén. He is twelve years old and has lived in Becan all of his life. He informed us that a lot of people speak Chol, a dialect of Mayan, but he does not. This little boy gave us one of the best tours we have ever had. He was very professional and know all sorts of information about Becan. It is a very compact site, so it took us about an hour to see it all. I really enjoyed this site because the ornamentation on the buildings was quite different from any other that I have seen. Also, the edges of the pyramid and other buildings are rounded instead of being squared. Rubén explained to Dave and I that this is the Río Bec style and that we would see something similar to this in Uxmal. He also told us that no monkeys or jaguars lived in that area because of the lack of water. I was truly impressed with Rubén's knowledge. Also, it was very apparent that he is very proud of his village and of the archeological site.
Rubén and Dave. It was a chore to get Rubén to smile. He is a very serious young man.
Some pictures of Becan
The ball field. As in many places, the rings had been stolen. In this particular place, the captain of the winning team would be executed. It was an honor to die after winning a game.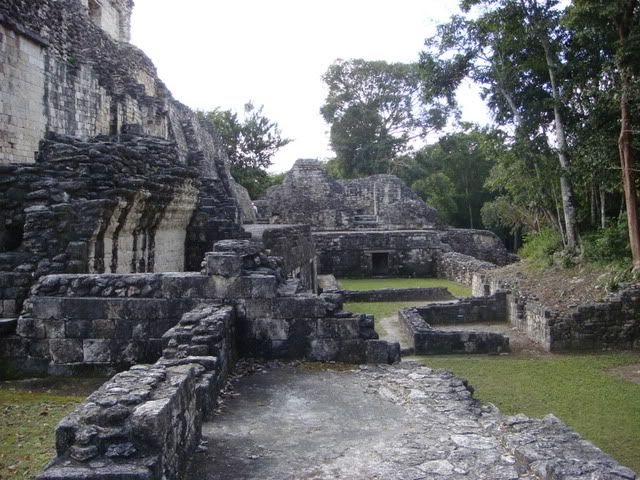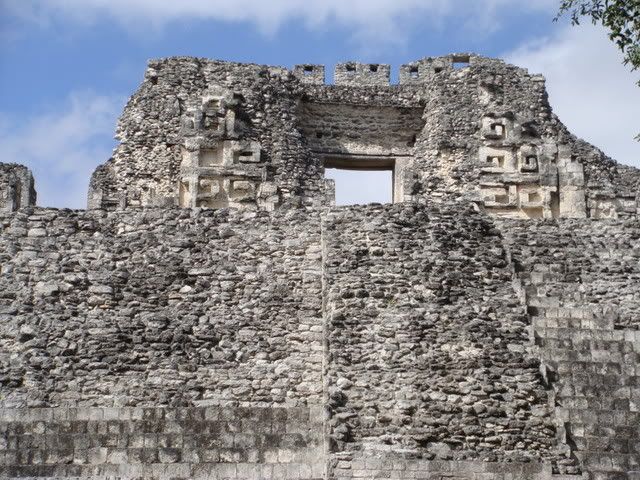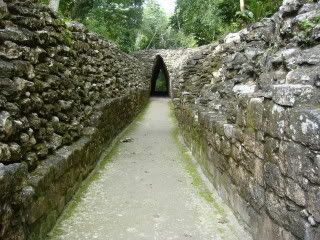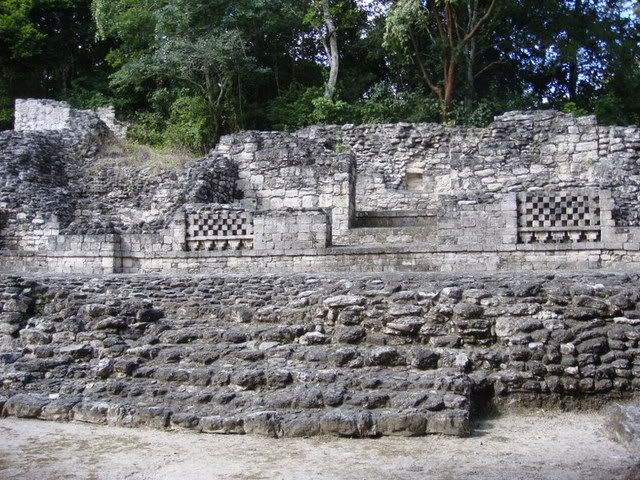 This tree is called a mata palo (stick killer). It will grow around a tree of any sizeand kill it. Kind of a blurry picture, but I think the tree was unique because I have never seen anything like it.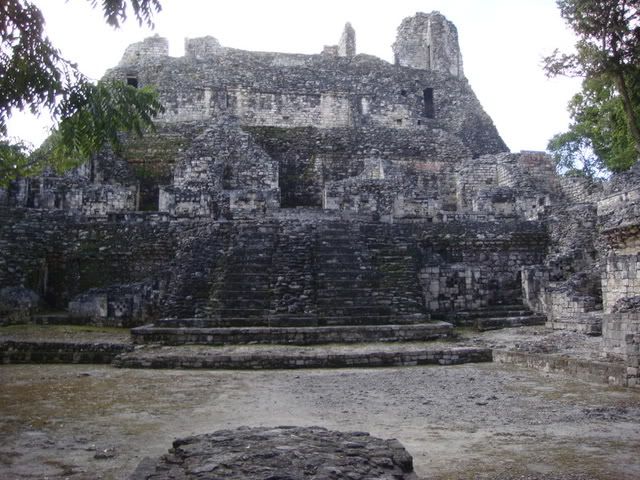 After touring Becan, we left for Palenque. The drive to Escárcega was nice. We saw several storks and a small fox. Our stop in Escárcega was to get gas and use the rest room. Outside of Escárcega, we stopped at an open air restaurant that also served as a truck stop so that I could get a bit to eat. I ordered some comida corrida (blue plate special) which was carne al pastor. It was very flavorful but tough. The slices of avocado that accompanied it were divine. The rest of the drive was OK except that we had to stop while the road was cleared of debris and cars from an accident. Two small cars similar to ours and a semi and two large trucks had collided. One of the little cars looked like a smashed tin can. The people in that were involved in the accident were fortunate that there was a power plant on the edge of the road and the employees there quickly got some help. Luckily, no one died or were injured badly. Dave got out to look and in the meantime, I had a conversation with the people in the car ahead of us. They were returning from Playa and on their way home to Chiapas. Nice folks with a cute little baby.
Here is a shot of Dave and the countryside. There are a lot of cattle in this area.
The accident didn't stop people from driving like bats outta hell. The traffic starting getting worse and there were more potholes in the road. We crossed into Tabasco, then into Chiapas and finally arrived in Palenque. I was surprised at the size of Palenque. For some goofy reason, I had imagined that this city would be quite small. We arrived at our hotel the Chan Kah which is a small resort near the ruins. I was pretty happy that I had scored a room there. They had been sold out for several months in advance, but then I found a British travel site similar to Orbitz. Through them, I got us a room. We got a budget room which is similar to the cabañas near the pool except we had more privacy. Check in was easy. The grounds of this property are beautiful. The restaurant was a bit pricy but the food and service was very good. Breakfast was the best meal there. They had a huge buffet with the usual continental offerings as well as regional food like tamales, black beans, barbacoa, puntas (beef tips with bell pepper) and tortillas.