Monday, December 03, 2007
Got up on time this morning, thanks to our trusty cell phone alarm. Got ready and had breakfast downstairs at Chill Awhile. Both the Frisbee playing guy (Steve) and his wife (from Des Moines, IA of all places!) and the family with the kid and mother-in-law in tow (from South Carolina) were leaving this morning to go home, so it was a lot of long faces at breakfast.
Went to the office to wait for our pick-up for the Mayfield Falls tour. Asked Natefa to check into prices for a bamboo rafting trip down the river. She called for me, and the cheapest price was $165 per person. I did not reserve it, and probably won't. That is money I can spend elsewhere and besides…I really am a beach person and love just lying on the beach. Booking another tour would cost me another day on the beach. So…we'll think about it.
Our pickup for the tour arrives around 9:30AM. We hop in the van and take off. We are the last couple to be picked up. There is a woman and her older Aunt, and another single lady, so a total of 5 guests plus the driver.
We head out on the drive to the Falls. As we were driving into town, before we got to the Round About…who do we see walking the street? Yep. Our buddy, our pal, Jonathan. I swear! It's becoming like a "Where's Waldo" game!
The drive took just about 1 hour, 20 minutes. Certainly not because of the distance, but more because of the condition of the roads that you must travel. *Note…if you are even THINKING about renting a vehicle and making this trip on your own, PLEASE DON'T! Besides the roads being so bad (we had to literally slow to a crawl too many times to count, just to pass a section of road that just wasn't there! Besides that though, there were numerous turns and different roads to take to get to the falls. I'm usually a pretty good navigator myself, and I was definitely lost after the fourth turn…and never could have found my way back.
Anyways…so the trip up was interesting. Aside from the road issues and the crazy Jamaican drivers, it was interesting to see the residential parts of Jamaica, away from the resort areas. This really is a country with a lot of poverty. I thought most interesting was that many of the small houses had an even smaller store in front, selling probably beer, sodas, chips, etc. The houses, I would guess, are on average maybe 600 square feet, total, with the stores being even less than that.
So. We get to the falls, and we are the ONLY group there. It is around 11AM. We park and have to walk down to get to the park, if you will. We check in, change, get our locker, ($5US per locker for a group) and get our tour guide. He brings us in…and the fun begins. It is truly an amazingly beautiful sight to see. Aside from the tour guide who was very nice, helpful, knowledgeable and just plain old fun, there was another young boy that came along with us, he had a video camera and a digital camera. He was taking pictures of each of us (Chuck and I together, the woman and her aunt together, and the single lady by herself).
At the end of the tour, we were able to view the photos. Options are: Buy one picture for $10US; buy all of your pictures on a CD for $40; buy a DVD of the whole tour for $45; or buy both the CD and DVD for $60US. I chose to buy just the CD with all of our pictures and, aside from me not being completely happy about the extra 30 pounds that a camera adds to you, think that the pictures came out really great and so beautiful. Along the tour, whenever we would stop to have our photo taken, our tour guide would take our camera (we had brought an underwater disposable with us) and take the same picture for us on our camera. I chose to buy the CD of pictures anyways, because about half-way through, our disposable one quit working and I won't know until we get home if the pictures we did take will be any good and I didn't want to risk not having ANY pictures of this amazing place!
After walking all the way up the falls, we then take a short little nature hike back to the park area. Along the way, our tour guide stopped to show us banana trees and the fruit, different types of plants, and other things along the way.
Our tour cost $65US per person (around $9100Js total) …we tipped our tour guide $1500Jamaican, I hope that was enough?? I never know how much to tip for these things!
When we arrived back at the park area, we had a chance to collect our stuff from the lockers, change, walk around a bit (there are several shops there selling stuff).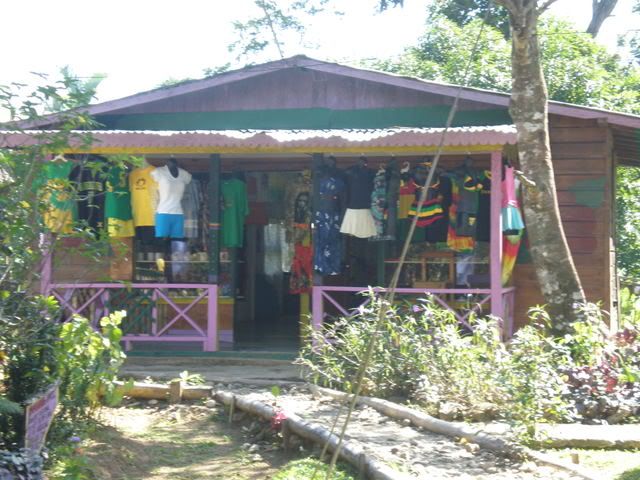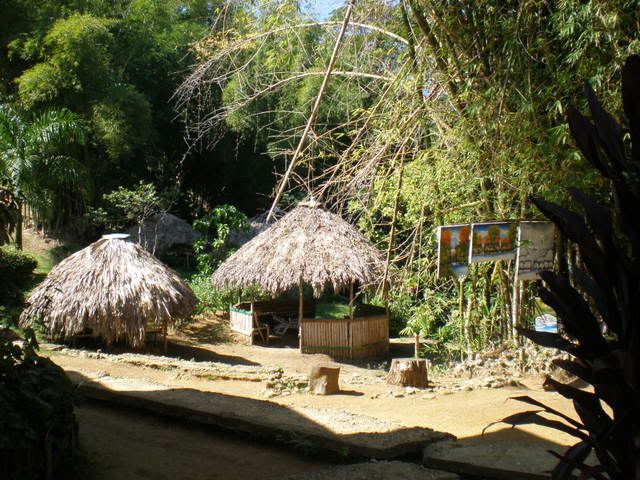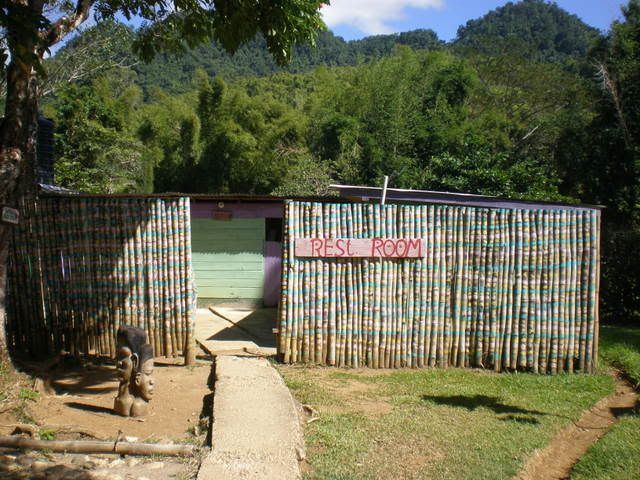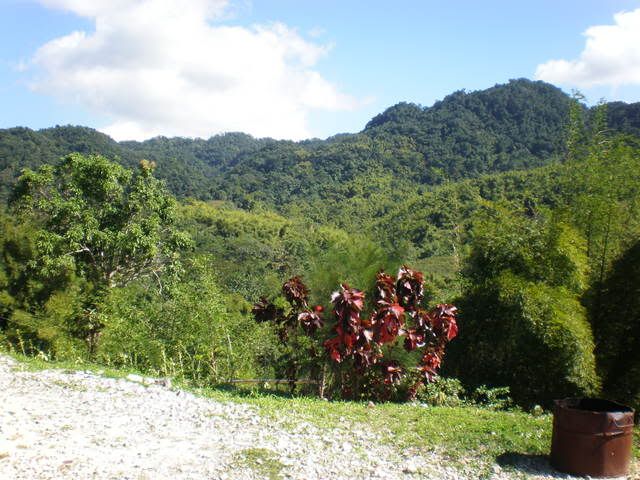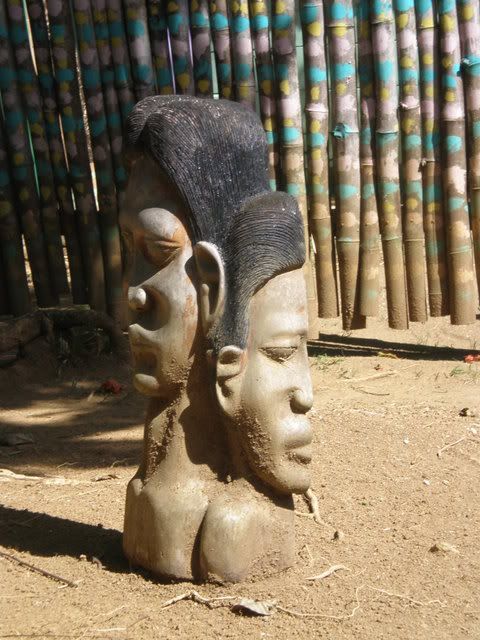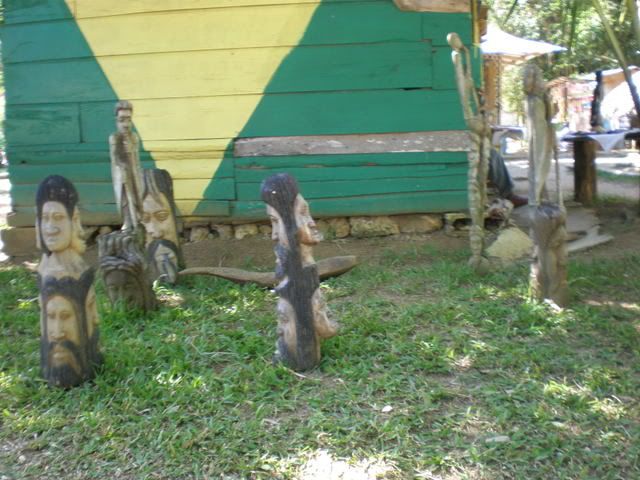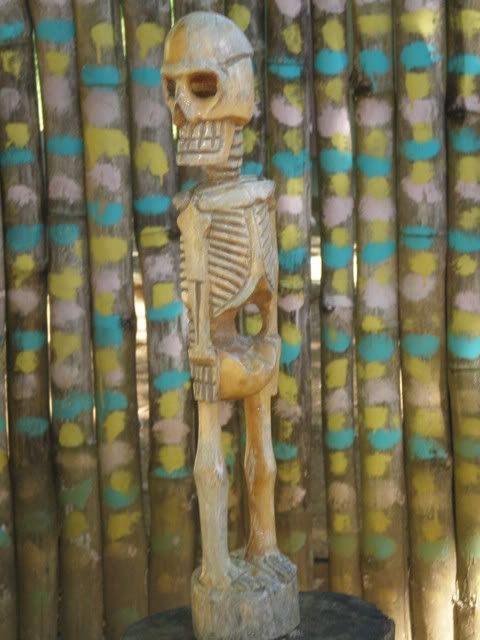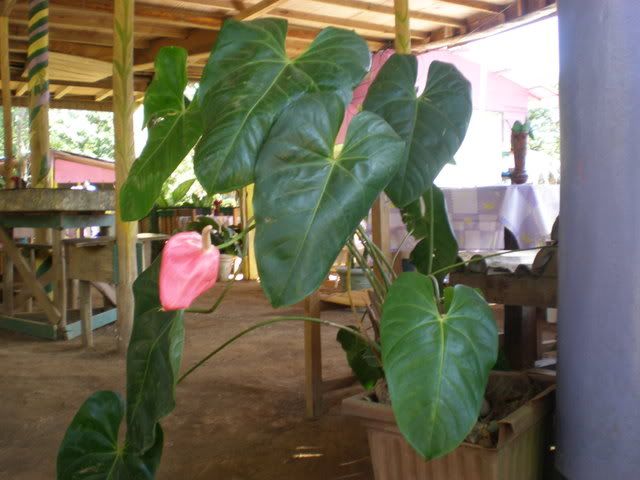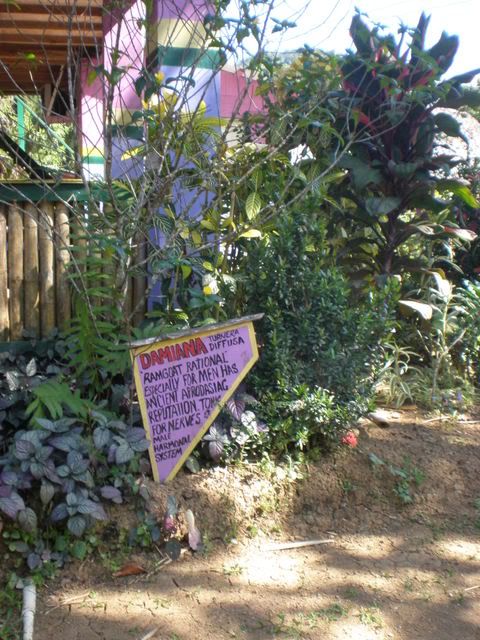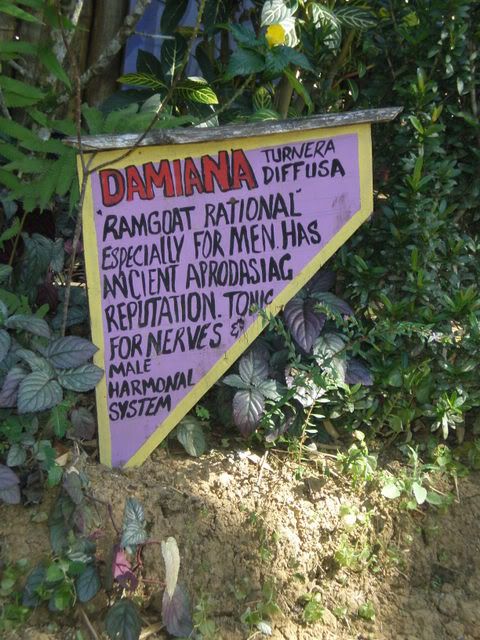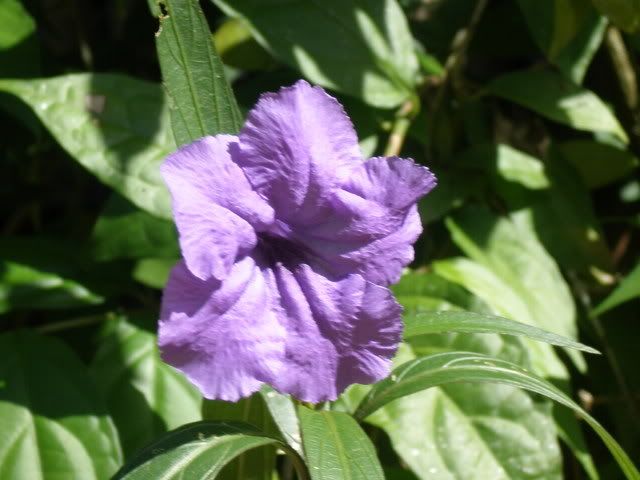 Then we sat down for lunch. I had ordered the Blackened Chicken, and Chuck got the Vegetable Stirfry. Both were good…not great, but good. NOTE: If you don't pay for lunch in your tour price, you can still get it there. The choices and costs were: Chicken $10US; Fish $12US; Vegetable Stirfry $10US. They served it with rice & peas and cabbage, along with water and REALLY YUMMY Fruit Punch!
After we were done eating and walking around the shops, we headed back. Again…just about 1 hour 20 minutes of driving. This time we went through the towns as school was letting out, so we got to see lots of children dressed up in their school uniforms. I cannot tell you how beautiful these children are! We also passed some road construction crews…nothing like what you'll see back in the States, that's for sure! We ended up tipping our driver $1500J's…again…not sure how much you are supposed to tip these guys??
We arrive back to our hotel around 3:30PM. I head out to the beach for the last few hours of sun and to watch the sunset. Chuck comes down with me, gets a burger, then heads back up to the room to take a nap. I watch the sunset, take the obligatory pictures.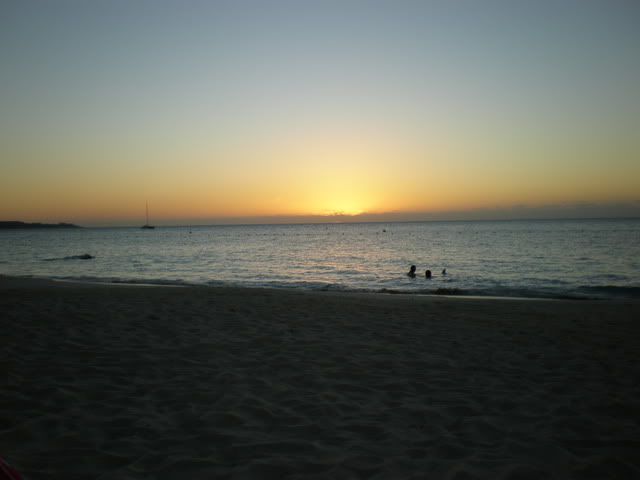 We then head back upstairs to shower and change. I take my dear sweet time, read a magazine, tidy up…just giving Chuck some more time to nap.
We run across the street (did I mention there is a little store right across the street in Chippewa Village that sells beer, wine, soda, water, snacks…if that is all you are going for, no need to run all the way into downtown to the supermarket) and buy some more Red Stripe and Water.
We head out around 7:30PM for dinner. Decide we might as well try Kuyaba.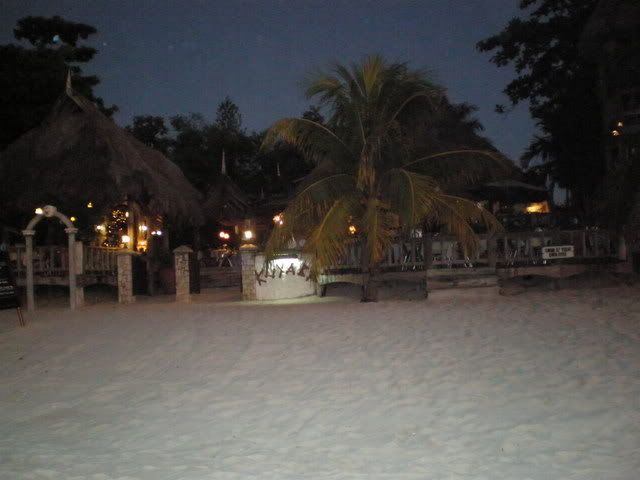 I've been putting this one off, thinking we'll make it there around 5PM one night so that we can enjoy the sunset, but I just don't think that is going to happen. So we walk there down the beach. Again…so strange not to see anyone out! No one walking the beach, no one in the bars or restaurants…it is just so strange. It is almost like this place is deserted!
We get to Kuyaba, get a table and enjoy our dinner. I ordered, for the first time this trip, so Blue Mountain Coffee. I've heard all the hype about it. I gotta say, people, I don't get it. Granted, I am not a big coffee drinker. I do drink coffee on occasion, but I am more likely to order a Grande Iced Café Mocha with Non-Fat Milk than I am a black coffee. However, I do enjoy a good cup of black coffee every now and then. I just didn't think it was that great, or that different from any other coffee. A little bit of sugar and it was good. But…to each his own, right?
I ordered the Penne (I am about chicken and porked out at this point) with the homemade tomato sauce ($12US) and Chuck gets the Jam-Asian Steak ($17US). Talk about sticker shock! I'm so used to seeing $300 Js or $650 Js, that these prices at Kuyaba shocked me! All the way up $24 for one entrée! But, then I think about being at home and it's about the same I would pay there.
Anyways, food was good. Chuck LOVED his steak (minus the peppers) and my pasta was just OK. FOLKS - I REALIZE I AM NOT IN ITALY AND THE PASTA WILL NOT BE GREAT IN NEGRIL! I just really needed something light tonight. I ate about half, and it did the trick for me. Total bill - $41US, $2800J's. This place adds a tax AND a "10% Server's Tip" right onto the bill. We still tipped on top of that anyways.
This restaurant is really nice, especially when compared to some of the others we've gone to. By nice…I mean modern. And the prices reflect that. Really cool here with waterfall, swings at the bar, tropical feel. Just a bit more pricey than other places. It's like complete opposite of Mama Flo's from the other night!!
This is a question we have been asking ourselves this trip…when does the nightlife here REALLY begin? We are by no means old, we're both 30 (I mean…I'm 29). But we are not huge partiers and we don't stay up all night. But we do like to go to a lively bar and chill out and talk with other people. Other than Bourbon Beach the other night, we really haven't seen a bar with more than 10 people in it at a time…and usually it is more like 3 or 4 people in it.
While at dinner, there were 3 people dining near us. I overheard the girl say that she was going to go back to her room and take a nap before going out later tonight. I looked at my watch…it was 8:31PM! So…she is going to go back to her room, nap (which is a minimum of 2 hours, right?) then you'd want to freshen up, or even shower, then head out for the night? So that would make it 11? Before you even leave for the night? Does this sound right people? If so, I guess I am really getting old! I just couldn't do that! Besides, if I did, then I would most likely not get up until noon the next day, and then I'd miss out on 3-4 hours of perfectly nice beach weather! And I can't have that happening!
Anyways….walked back to the hotel along the beach (again…no one out….no one in the bars) and chilled in the room for a while before passing out from another long, yet awesome,day in paradise.
ROOMS AT IDLE AWHILE
In case anyone is interested:
There are three buildings here at Idle Awhile. The first building is closest to the road. It has the main lobby where you check in, an office area behind there for employees, and one room and the very back of it, facing the beach. I'm not yet sure what type of room this is, or if it has an ocean view or not, or even what that room number is, but its there.
The second building in towards the beach is the building we are staying in. There are 8 total rooms. 4 on the first floor and 4 on the second floor. 2 rooms on each floor face the ocean and the other 2 rooms on each floor would be garden-view. Room numbers: First Floor: 1st door on right is 101, 2nd door on right is 103, 2nd door on left is 103, 1st door on left is 104. 2nd Floor: same layout, but rooms 201, 202, 203 & 204. We are in 203.
101, 102, 201, 202 are gardenview rooms.
103, 104, 203, 204 are oceanview rooms.
The last building is the closest to the beach. Between this building and the beach is the restaurant, Chill Awhile. I believe all four rooms in this building are one-bedroom suites. There are 2 rooms on each floor, one on each side, for a total of only 4 suites in this building.
105 & 106 are on the ground floor, 105 being oceanview and 106 being gardenview.
205 & 206 are on the 2nd floor. 205 being oceanview and 206 being gardenview.
Overview of rooms: My guess anyways:
101 - Ground floor, gardenview, deluxe room
102 - Ground floor, gardenview, deluxe room
103 - Ground floor, oceanview, deluxe room
104 - Ground floor, oceanview, deluxe room
105 - 1st floor, oceanview, one-bedroom suite
106 - 1st floor, gardenview, one-bedroom suite
201 - 2nd floor, gardenview, deluxe room
202 - 2nd floor, gardenview, deluxe room
203 - 2nd floor, oceanview, deluxe room
204 - 2nd floor, oceanview, deluxe room
205 - 2nd floor, oceanview, one-bedroom suite
206 - 2nd floor, gardenview, one-bedroom suite
(Don't Know Room Number?) - 1st floor, one-bedroom suite, may be oceanview???