Friday, November 30, 2007
I woke up and looked at my digital watch…I thought it said 9:09…apparently it said 6:06. HA HA HA! I got up anyways and got ready. We walked out around 7:30 for breakfast…and realized that not much was open until 8AM.
This is the pathway from our room walking down to the beach. Just beautiful!
I noticed that there were not that many people out, either. Oh, yeah, my "aunt" came for a visit. You know her…her name is Flo…what a bummer. But, I was prepared and had packed the necessary items and pills to deal with her.
We walked the beach down to Alfred's for breakfast. I had the banana pancakes and Chuck had the French toast, both served with fruit. Food was good and inexpensive (1020J's) but service was so-so. Our waiter did not speak a word to us, other than to verify our order.
While we were waiting for our breakfast, we did see some sand crabs playing in the sand right in front of us.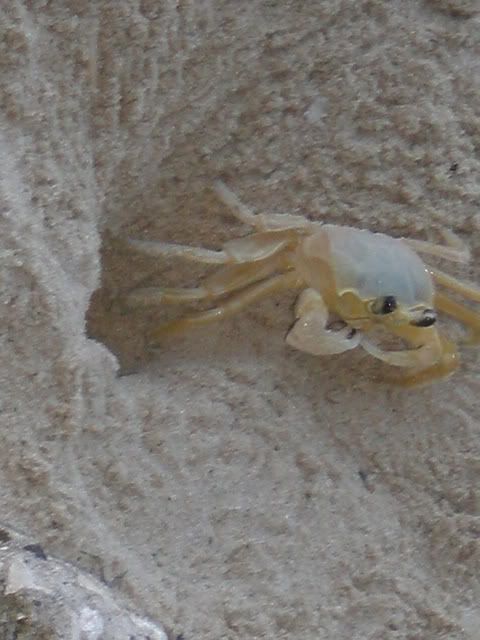 After breakfast, we walked back to Idle Awhile. We did a little shopping on the way. We got back and got ready for the beach. We spent the entire day on the beach.
I did get bit by something, I don't know what, but I had a big red welt on my lower right back. Luckily, being the over-packer that I am, I had brought along some anit-itch cream and spray. So I applied that it was fine for the rest of the day, but still red and bumpy.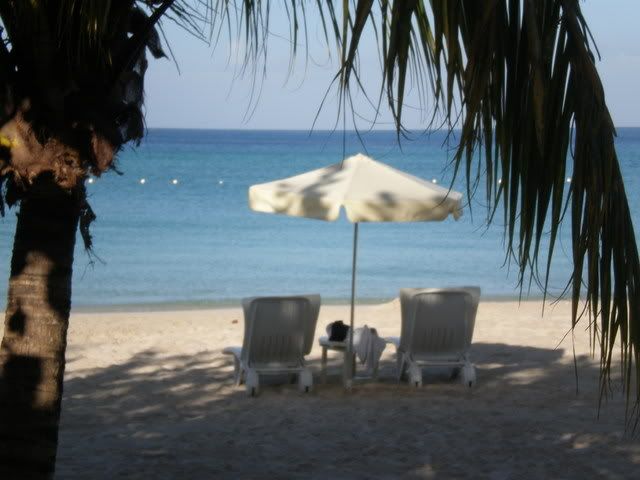 We wanted to go to Best of the West right across the road for lunch, but didn't. Instead we just ate at Chill Awhile. I didn't get anything (still planned on going to BOTW later.) Chuck had another cheeseburger for lunch, and I tried my first Pattie from a vendor on the beach. It was a vegetable patty and SOOOO GOOD! Got the first one for $2US. I had to have another one, so I found another guy and got two more (one for me, one for Chuck). This guy sold them for $1US each. I got a beef one for Chuck and I had another vegetable one. Both were DELICIOUS!
Two local Jamaicans started playing Frisbee right on the beach next to us. They played for probably 3 hours straight! They included some tourists whenever they wanted to join in. One guest from Idle Awhile played with the two for a very long time. They did things with the Frisbee that I never knew was possible! Throwing them like boomerangs…different ways of catching them…skipping it onto the ground…all sorts of things. It was really awesome to watch.
There was also a family staying here that I thought was just adorable! There was a Mom, Dad, and three young boys, maybe 4, 8, 10…around those ages. The dad was out with the three boys building a sand castle while mom took a nap on a chair in the shade. He was like their servant…getting them sand, holding the bucket, pouring the bucket of sand where they directed. It was just a great thing to see. It brought a tear to my eye.
We stayed on the beach until sunset, since we missed it last night. It was beautiful. Took lots of pictures. Here is just one of many: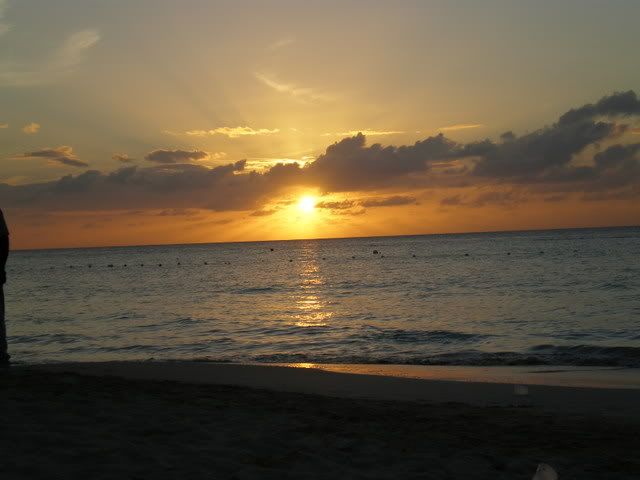 After watching the sunset, we went in, showered, changed and went to Best of the West for some famous Jerk Chicken. We got a ½ chicken to share. It was delicious! We decided to keep walking to find somewhere else to get a little something to eat. We came upon Jah B's, so we went in there to eat.
We were the ONLY people in there the entire time! We both got ¼ Jerk chicken here to eat. Except…we didn't realize it came with coleslaw and rice & peas!! Chuck ate about half, me not even that much. Not nearly as good as Best of the West. All that, plus a papaya daiquiri (not that good) and a couple of Red Stripes came out to around $14US
We kept walking down to Alfreds, since we saw that they would be having live Reggae tonight. We didn't know what time it would start, figured around 9PM. It was about 7PM now. We got there, to find out it started at 10PM!! We decided to hang out and wait. I had several Dirty Bananas and Chuck had a few Red Stripes. We were so tired that by 9:30 I couldn't take it anymore and we decided to leave. I know…I know…we are old and tired! We don't stay out late much anymore and just couldn't do it. 4 Red Stripes and 2 more Dirty Bananas, came out to around $18US
Oh, yeah. When we sat down at Alfred's in the evening, a local guy came up to us. He said "Don't you remember me, Mon?" We both looked at each other and said "no". He said "I only changed my shirt". He was our server from this morning here at Alfred's. I lied…said Oh…we were both half-asleep…sorry. He said no problem. He told us that he had worked late the night before, then was called in to work the morning shift. He didn't sleep well last night, and didn't want to be there this morning. Then he had to work his afternoon shift, and finally the guy he was covering for came in around 5PM. So now he was just here hanging out with some guys for a little while. I feel better now about him not being super-friendly this morning. He was certainly a chatty Kathy with us now! (I'm also glad that we still left him a decent tip this morning)
We walked back along the beach and noticed all the stars out. We stopped to get another Red Stripe to go - $100J's. We noticed that there was hardly anyone out! We only passed about 4 total couples walking between Alfred's and Idle Awhile, and the bars we passed only had a handful of people in each of them. This must really be their low season here. So different from Playa!
We got back to Idle Awhile, and decided to go upstairs, grab our sarongs and lay out on the beach for a little bit. We did. We found a nice a nice quiet (and dark) spot not far from Idle Awhile. We layed out our sarongs on the sand and laid down, looking up at all the stars. We stayed for about 15 minutes. It was really a beautiful night. (I tried to take some night-time photos, but of course they didn't come out.)
Coco La Palm, which is right next door to Idle Awhile, had a live band playing, although they were playing some cover songs, like "Hot Hot Hot" and "Let's get this party started". I was disappointed…was expecting some real Reggae! After hearing this band playing cover songs, I started to be glad we left Alfred's when we did. If we had stayed there for all that time waiting for the live band to play, and then for them to finally start playing, only to have them play bad cover songs, I would have been so disappointed!
I was still not able to connect to Wireless. I kept getting a error message that said "Limited or No Connectivity". We messed with it for a while, but couldn't get it to connect. It was too late now to go down to Front Office…only open from 7AM - 9PM. I will try to get down there tomorrow. I hope no one at homes thinks we're dead! We are not turning on our cell phones and we told everyone we'd email them once we got here…that was over 24 hours ago. I know some people
"named MOM"
may be worried sick over this…but I am NOT paying another $15 for a 2-minute phone call! Not when I am 30 years old!! Oh…wait…I mean 29 years old. Yeah. I am 29. Again.
We called it a night and went to bed.

I find myself comparing Negril to Playa. I know you really can't…but I do. The water in Negril is just as beautiful as in Playa (Playa may have a slight edge, though, due to colors of the water), the sand here in Negril is very nice, soft, not hot. Going into the water is nice here in Negril, not as big of waves as in Playa (although the waves in Playa really aren't that big to begin with), but there are more rocks in the water in Playa then here (in some sections of Playa). Here…just sand. The water clarity in Negril is awesome. Even when we swam out past where we could touch, I could still see through the water to the very bottom.