Yesterday we started the day at 6:30 to get ready for our Tulum and Beyond Tour we booked through playa.info. We had to be at Java Joe's ata 7:20, so we basically dressed and headed to catch a taxi from the lobby. It was about a 15 minute ride to Java Joes, and the taxi cost us $14 there. We got to Java Joes, and had some Java, while we waited for the bus. They make a good Mocha and hubby had a blended iced coffe, which was awesome, too. We met the rest of our group that was on the tour and all go to know each other a bit before the bus came.
The ride to Tulum was about 45 minutes, but our guide, Eger, was fabulous. He told us some of the history of the area, and answered any questions we had. We got to Tulum and he took care of us and gave us an AWESOME tour. Here are some Tulum photos:
Some kind of mushroom at the beginning of the tour: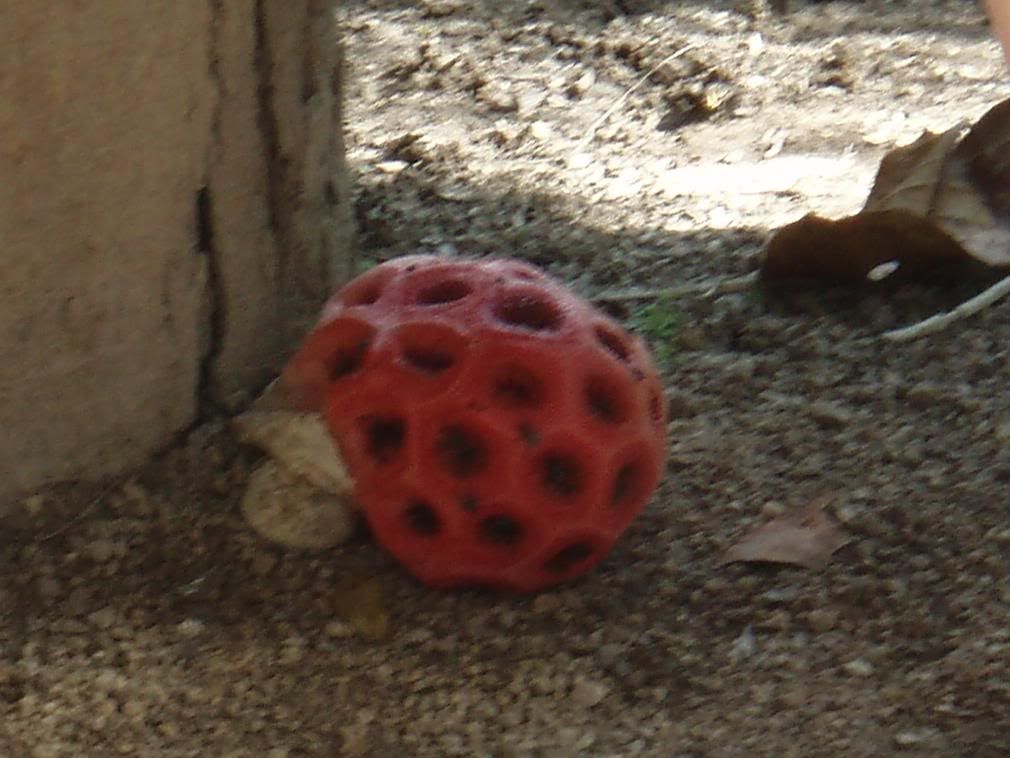 Iguanas everywhere:
This one is climbing a tree. I can't flip it...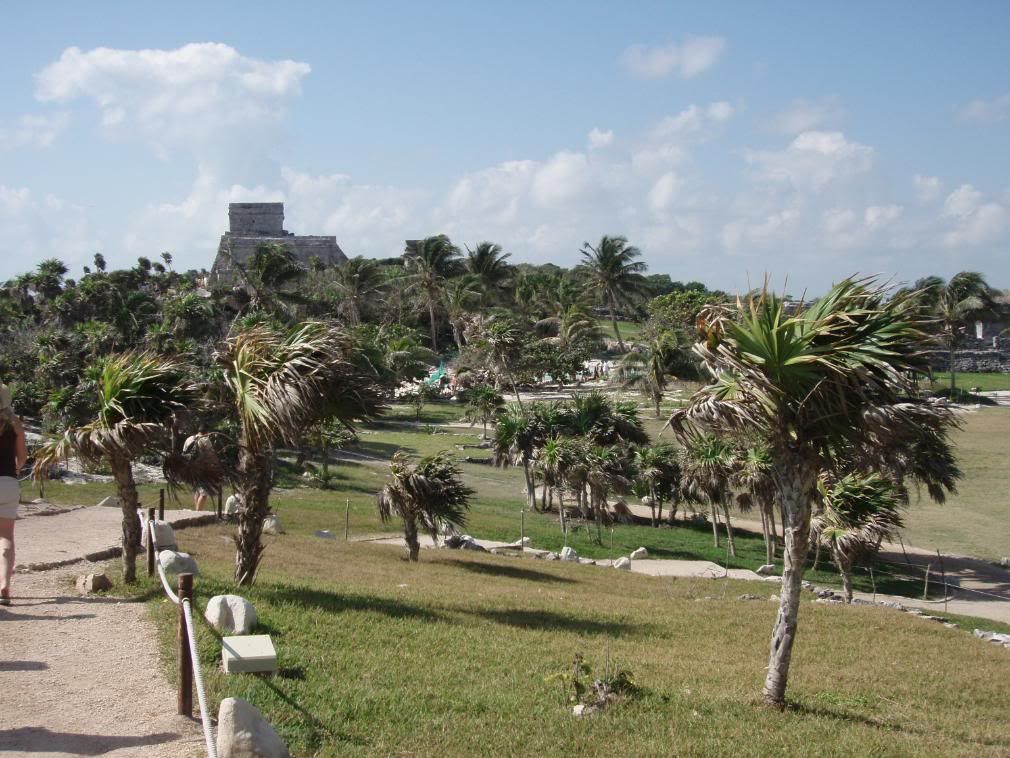 Cocoa Beans. Brown is unpealed, Black is pealed. We got to eat them. MMMMM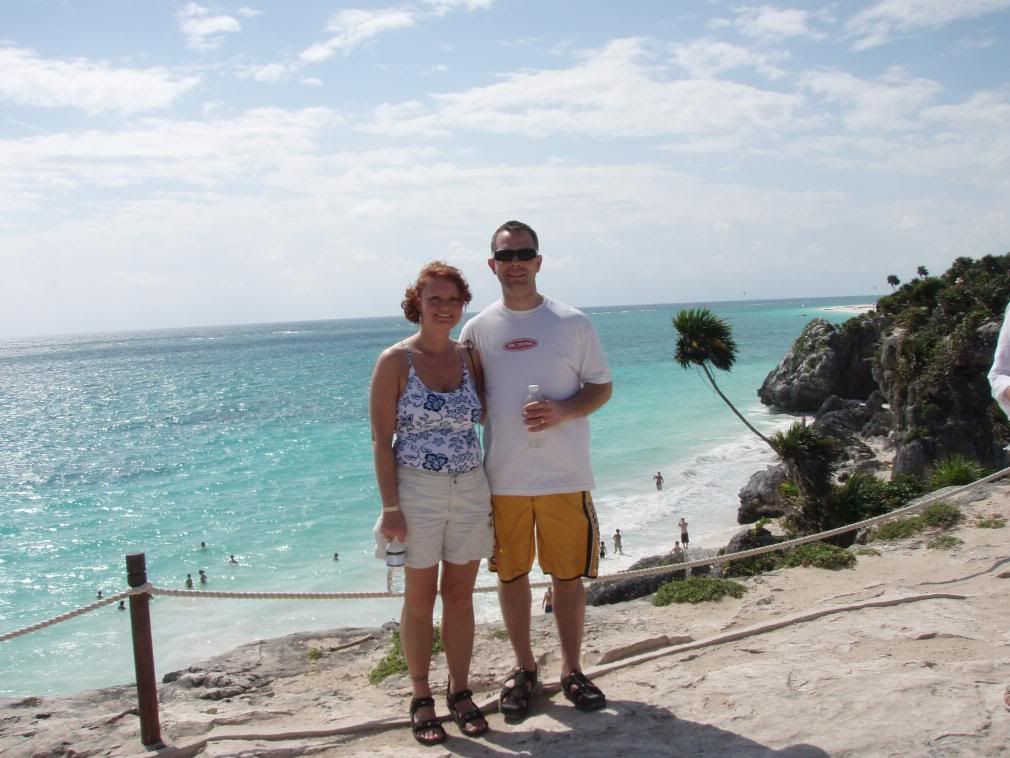 See the face?? VERY COOL.
Then we were off to swim in the Gran Cenote.
The Cenote was beautiful. A tad chilly when we first jumped in, but we got used to it quickly. Here are some Gran Cenote pics: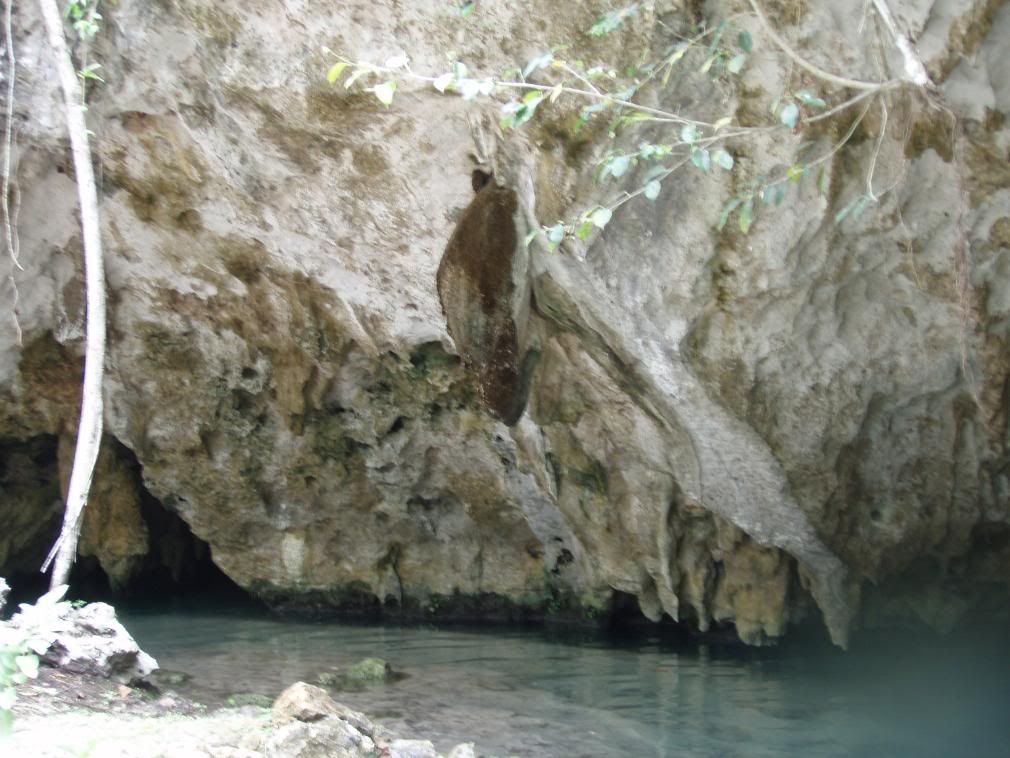 Some flowers at the cenote site: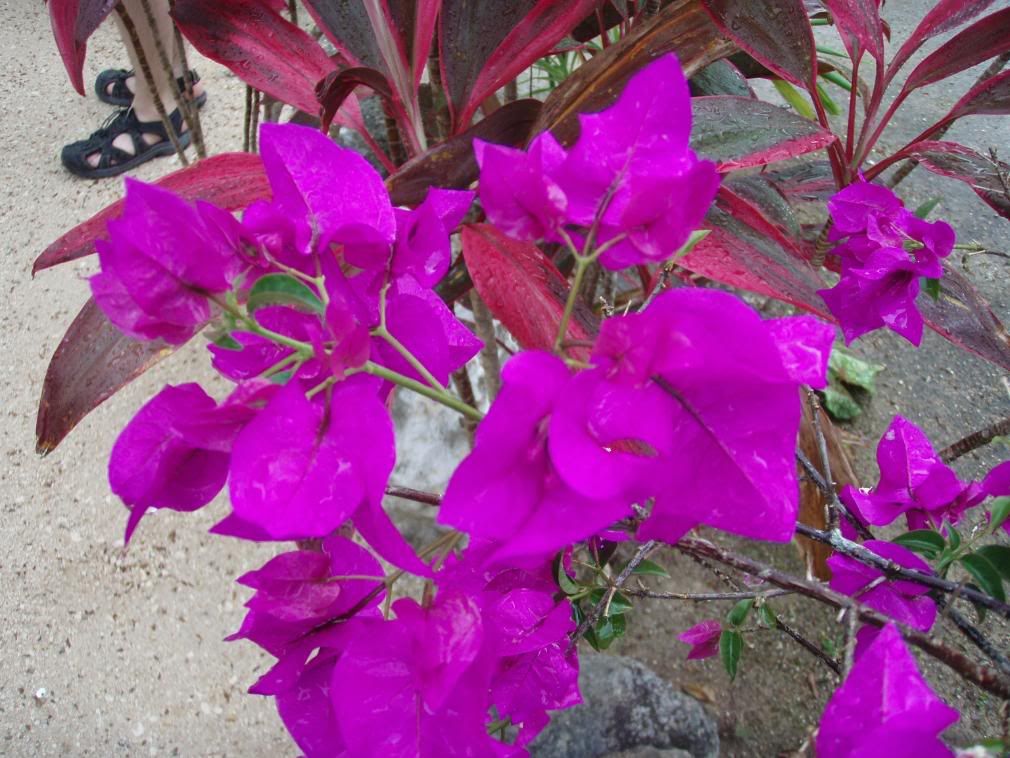 We snorkeled for a bit, but then it started to rain. The rain only lasted about 15 minutes, though, so it wasn't bad. When the rain stopped, we were ready to head to the beach. Crap, I can't remember what it is called, though.
I got to say, this was THE BEST beach I have ever been on. The water was blue, the waves were perfect, the sand was like walking on flour. It was so soft, I can't believe it. I swam with Michelle and Steve for a bit, while Korey finished his beer.
Here is Michelle and Steve:
Then he joined us. We swam in the ocean (or should I say did some wave jumping/floating) until our lunch was ready. Here are some hippie beach photos: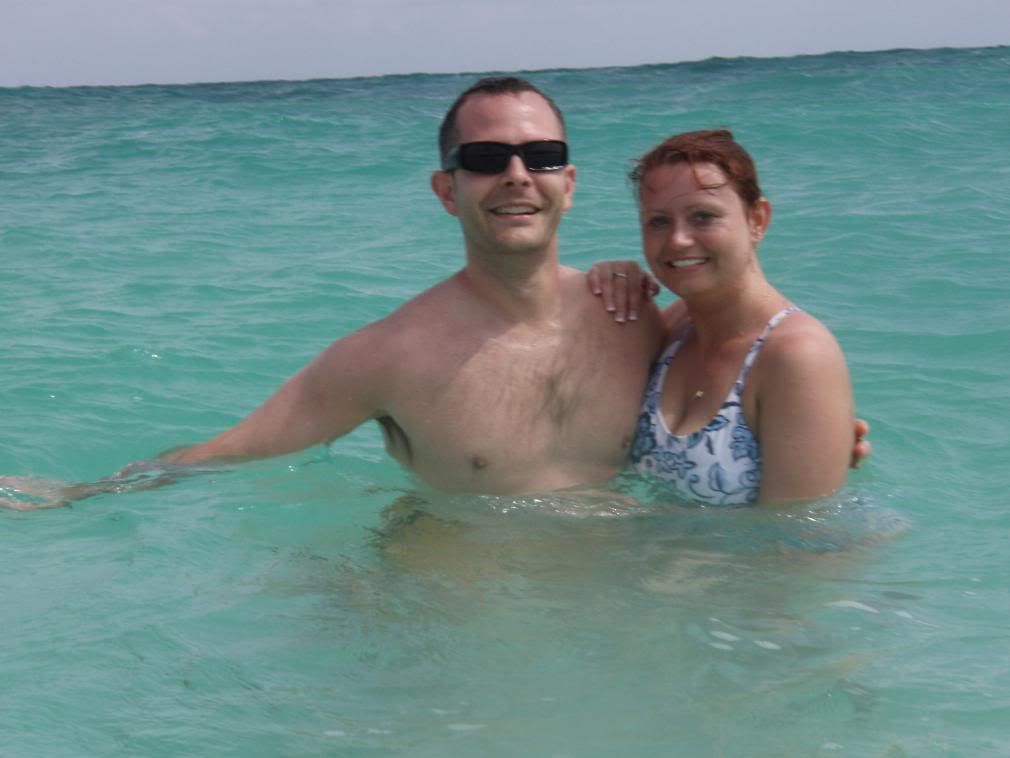 We had an awesome lunch of grilled chicken, tortillas, rice, mashed potatoes, chips, salsa, guacamole, cabage, and beans. And watermelon and bananas for desert. It was all really good. We ate, drank more beer, then headed back to the water. I just couldn't get enough.
I did make one small mistake, though. I didn't put sunscreen on. It is recommended not to wear it in the cenotes, so I didn't put any on. I told Korey I didn't get fried in Tulum, so my month of fake and baking must have paid off and maybe I wouldn't need any for this vacation. WRONG!!! I started feeling my skin fry on the bus on the way back home.
After the beach, we made our way to Azul Cenote.
This one we got to jump off the cliff into the cenote. Korey was the first to jump from our group. How brave he was.
It took me about 10 minutes to work up the nerve, then I screamed the enitre way down. The water was cold. I jumped, got out, and just watched others.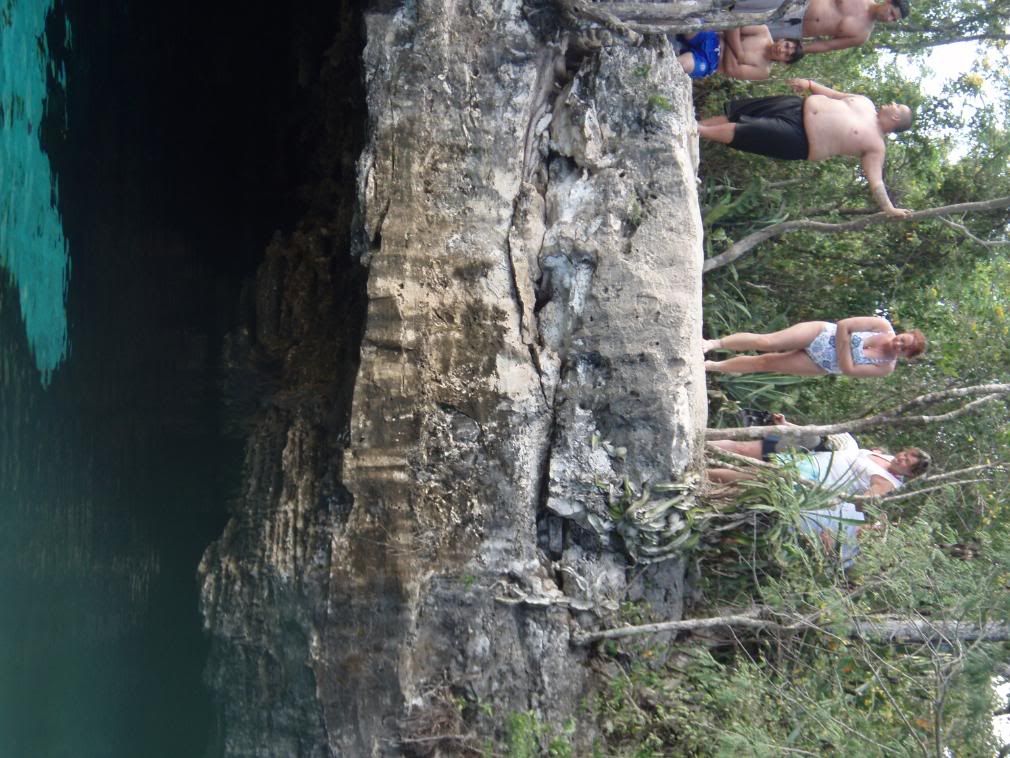 The cenote was beautiful, but IMO, the tour could have stopped after the beach. It was making for a long day, and I think everyone was getting tired. Not too much swimming in that cenote for our group.
We got back into playa and it was just a bit after 5 pm. Our hotel has a free shuttle at 6, so we thought we would wait for that vs. take another taxi to the hotel. We didn't know where the pick up was, but thank goodness Eger did. What an awesome tour guide. We had about 45 minutes until pick-up. First we had to find an emergency bathroom for Korey, as he drinks 2 drops of water, and must pee. Finally found one in the mall. We made our way back to the pick-up spot and decided we wanted to do some shopping and would catch the 8 pm bus instead. First stop, the farmacia, so I could get a hair pick to brush out my wet and icky hair. Then a beach bag, as we forgot ours. I had to get a picture of the tree. It looks like a gigantic lit up penis...
We made our way up and down 5th and got a couple souvenirs for the kiddos. Such a beautiful place, Playa is. We did someshopping and just looking and made our way back to the pick-up about 7:55. We waited, and waited, and waited. Finally at 8:15 we took a taxi. Only $12 for the way back. We went to the concierge and asked about the shuttle to find it only did a 6 pm pick-up. Not sure where we figured there were two pick-ups. Maybe we thought since there were two drops (10am and 12pm) we thought there would be two pick-ups, I don't know...
Back to the hotel about 8:30. We stopped in the buffet and had dinner. It was yummo once again. They had Ribeye, pork, tamales, and some of the more general stuff. After chowing, it was back to the hotel and a SHOWER. I had so much sand in my suit from the beach, I am surprised it didn't fall out with each step I took. After the shower, I relaxed with my book for a while and then hit the hay!
Today is day three, and I will post todays activites after they happen. I am off to breakfast.