We went into Playa del Carmen on Friday to book our bus for our overnight Valladolid trip. The ADO first class bus only had a bus going at 8am, but the second class had one at 6:30, so we booked that for our trip out, and the ADO the following afternoon for the return. Notes to self: 1. second class bus doesn't have reserved seating; 2. Get there more than 1/2 hr before bus leaves if you want a seat. 3. Second class bus has multiple stops and takes 4 hrs, 1st class bus doesn't stop and takes 2 hrs. 4. It's not worth saving $10 pp to take the second class bus for a long trip.
Seats became available after 2.5 hrs. It was a fun ride, however, as we got to meet local people, who are very warm and friendly. We met a man who works at the Blue Bay who was going home to see his family for the day, and he offered some very helpful tips for our Valladolid stay.
The bus dropped us in the town near Chichen Itza. Unsure how to get there from that point, we hired a cab to take us. For those who are interested, it's about $11 pp for entrance to the ruins. A man met us on the steps and offered to be our guide for 2 hrs for $40. He's a retired school teacher who actually works as an official guide. We agreed and it was well worth it. Although hubby and I had been to this ruin twice already, the girls hadn't and we felt a guide could give them lots of insight we might have forgotten. As with all our previous trips, we learned more information about the ruins we hadn't known. There was a sign inside stating that official guides could be hired for $60 for 2 hrs, so I guess we got a deal.
The main structure is fantastic.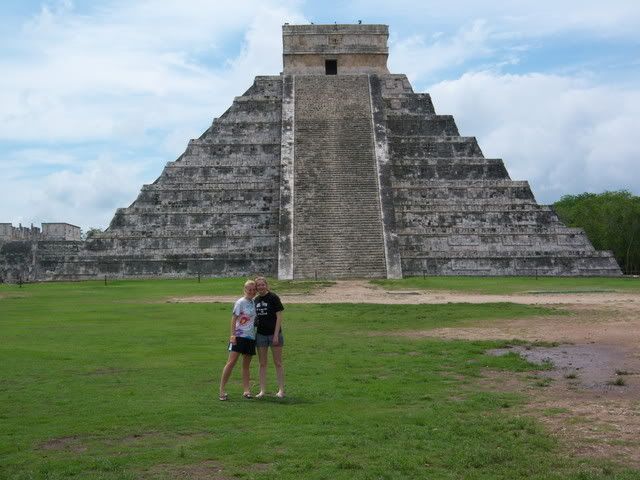 Nearby structure with figure at the top - our local library has a copy out front.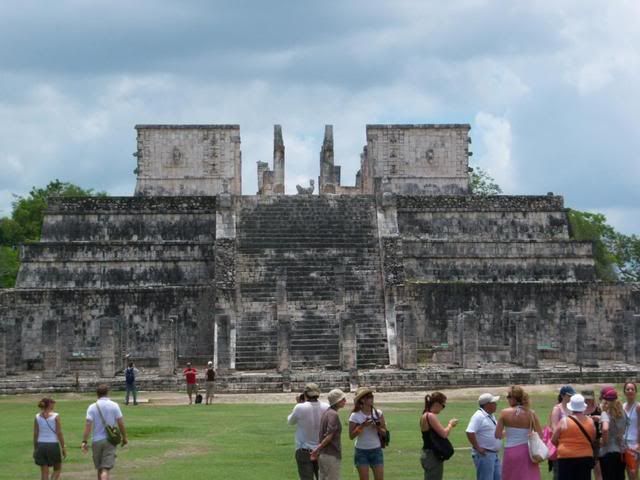 One of the many crumbling buildings with the observatory in the background.
After our tour, we hopped into a cab to Ik-kil cenote, which we had seen from the bus enroute to CI. For those who are interested, it costs $6 pp to get into Ik-kil now, the buffet is an additional $15 pp plus drinks. They do have life vests available for those who are interested.
For some reason I don't have any pictures of the cenote, but it was fantastic. Large fish swim around you, and the water was cool, refreshing, and exceedingly clear. Someone said that it was 50 meters deep. I'll hit my daughter up for photos and post some.
This tour, while costly, was well worth it, and it was a great, cool break during a hot day.
We took a cab to Valladolid, where we planned to spend the night. We had booked a family suite at hotel Maria de la luz, and it was a lovely place. Here it is from the front.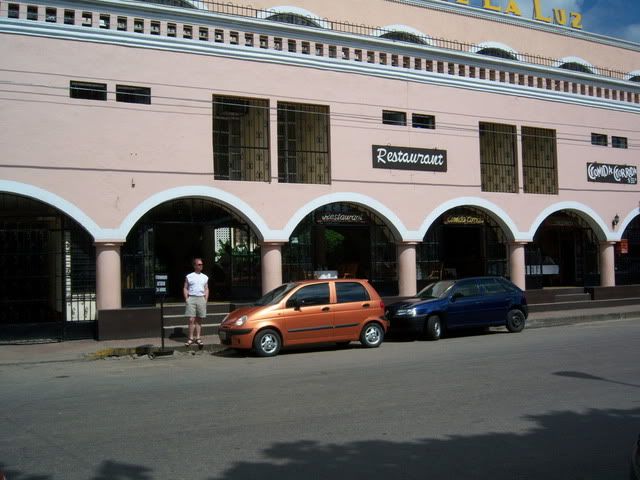 The hotel is situated right in the middle of town, across from a pretty park where locals gather in the evening to stroll, kids fingerpaint, and eat ice cream and corn on the cob on a stick.
The park: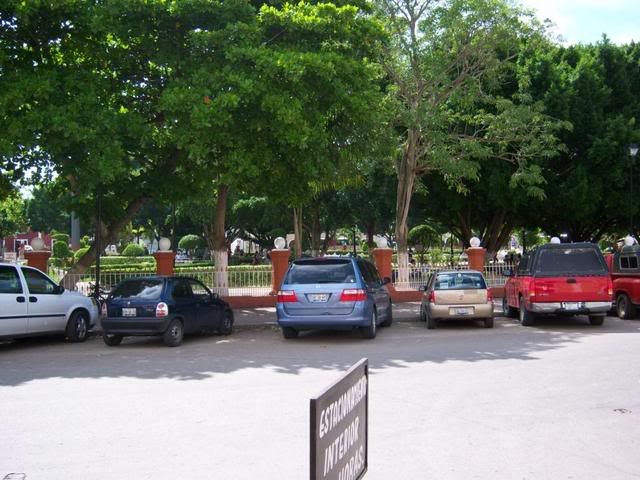 Here's a view of the beautiful old church, which you see as you exit Maria: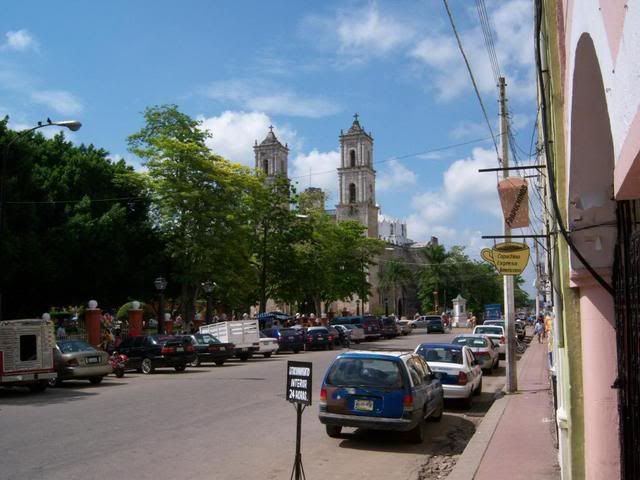 Our room, room 21, which was on the back of the building. I've heard that the streetside rooms are loud. Actually, there is the normal traffic and sounds you'd expect from a small city, as well as the gongs of the church bell calling the faithful on a regular basis.
Front desk staff: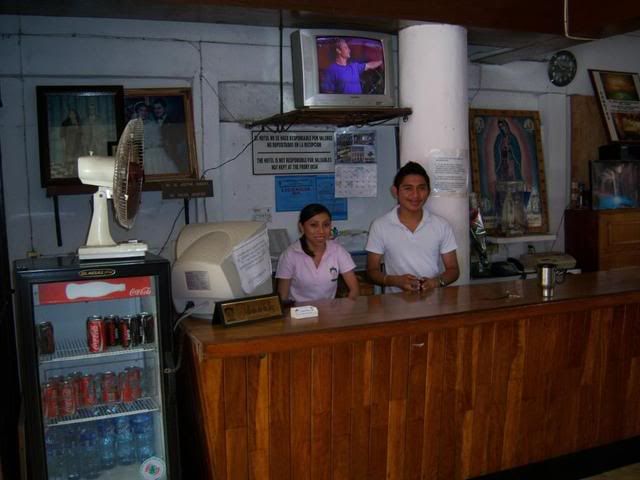 The refreshing pool: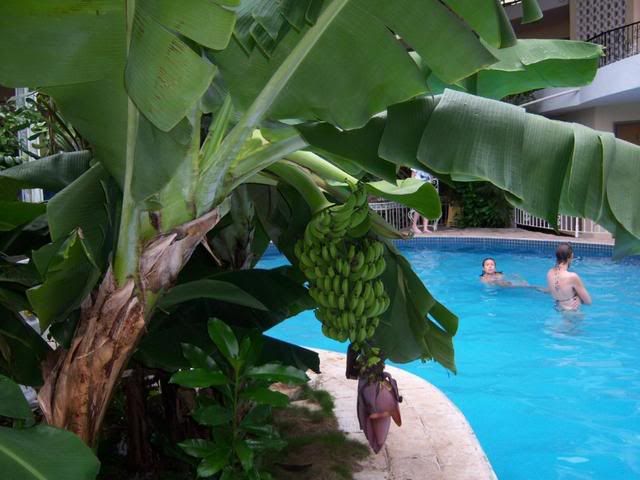 View of the open air restaurant: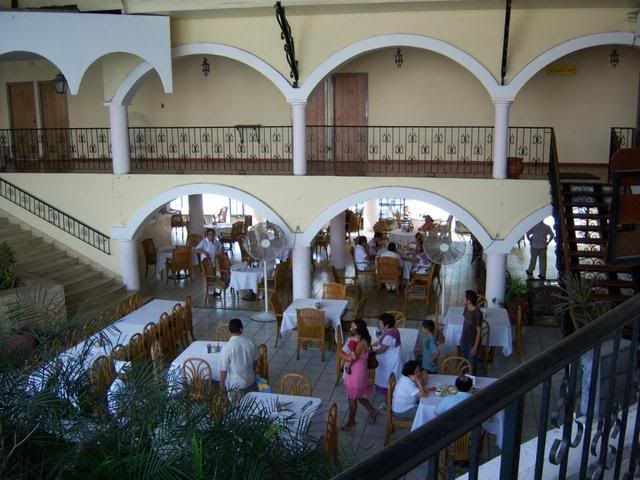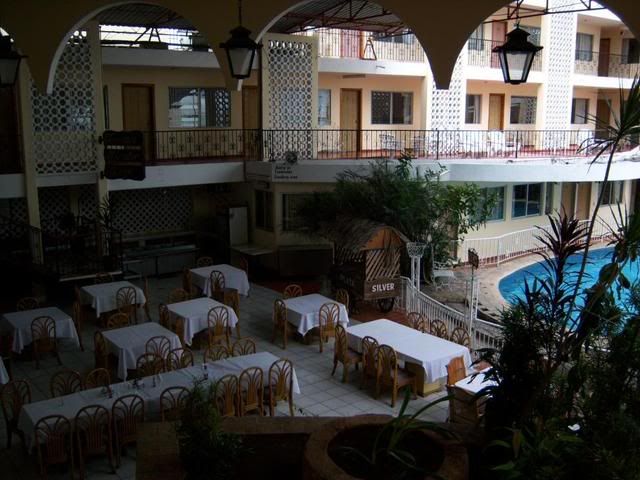 We ate in the restaurant for dinner. Food was tasty, well prepared, promptly served and very inexpensive. The girls had pancakes and sandwiches, served up with a large pitcher of lemonade. Hubby and I had pork and chicken served with veggies and hot tortillas, washed down with cold beer. Meal included salsa and chips and cost $26 total.
Our room, which was clean and a welcome haven after a tiring day hiking ruins.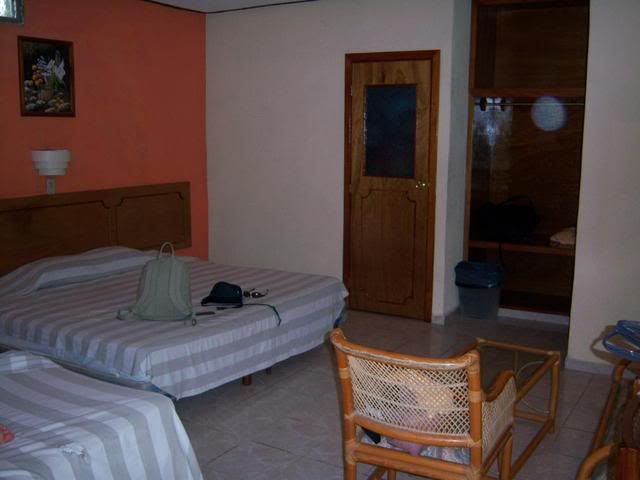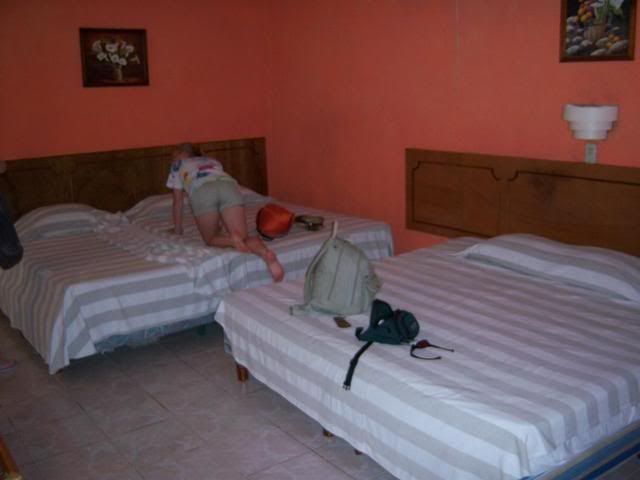 Water is available in many locations in the hallway: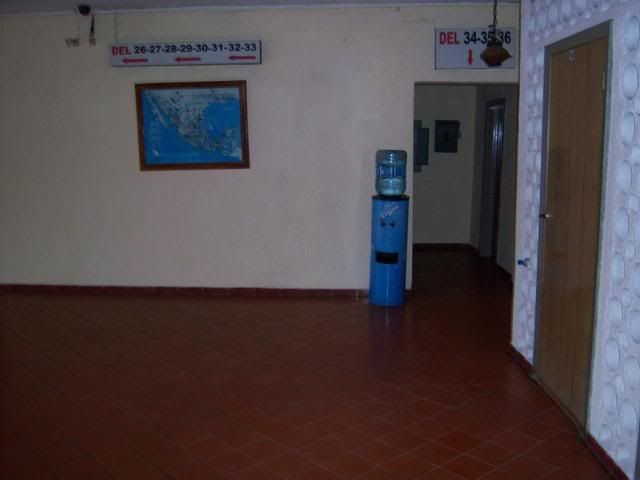 We never made it to the rooftop balcony, but I bet the view was great:
The next morning we slept in a bit (hard to get teenage girls going in the morning, isn't it?). After a buffet breakfast (which was included in our $70 hotel price) of bread, fruit, eggs, beans, sausage and tea, we headed to the front desk to see if we could arrange a way to Ek Balam. Our waiter from the night before had a friend who was willing to take us out and back for $40, so we hopped into his cab. 20 min. later we arrived.
Let me tell you that Ek Balam is fantastic and and an undiscovered (at least by most tourists) treasure. We paid our $2.90 entrance fee and walked down the short path to the ruins.
Entering into the ruin area:
You're able to climb just about all the structures. Roped areas are clearly marked and unavailable, but you can see that they're working on those areas. No doubt they'll unveil treasures for future visitors behind the ropes.
A main structure looking across the ruins: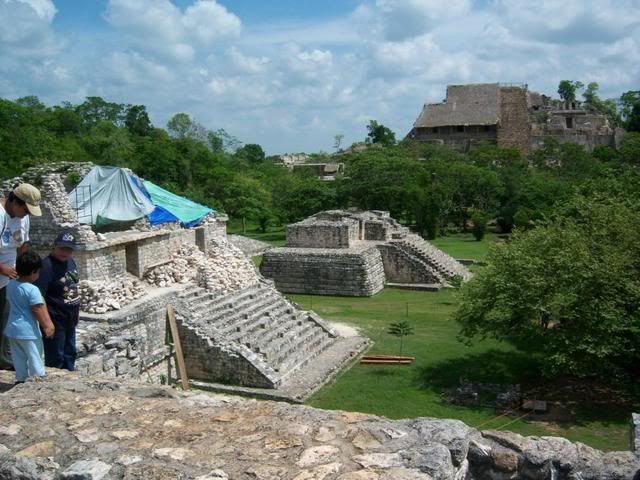 Climbing up: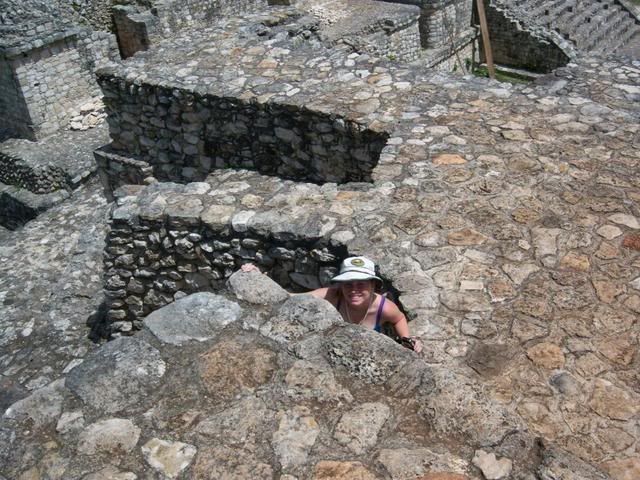 A view from the Shaman's seat of the small ball field: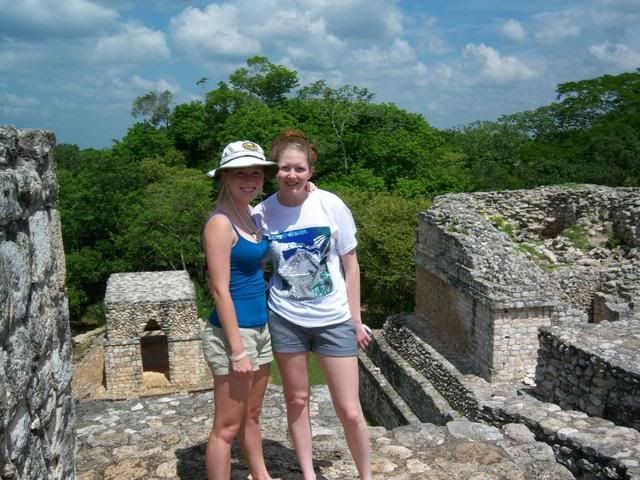 The main structure:
About 1/2 way up the stairs on the left is a carved wall unlike anything I've seen here in the Yucatan:
In the center is a huge mouth with teeth. This structure and wall face toward the center of the ruins. There's an entrance through the center of the mouth and I would have loved to go inside and see what was there.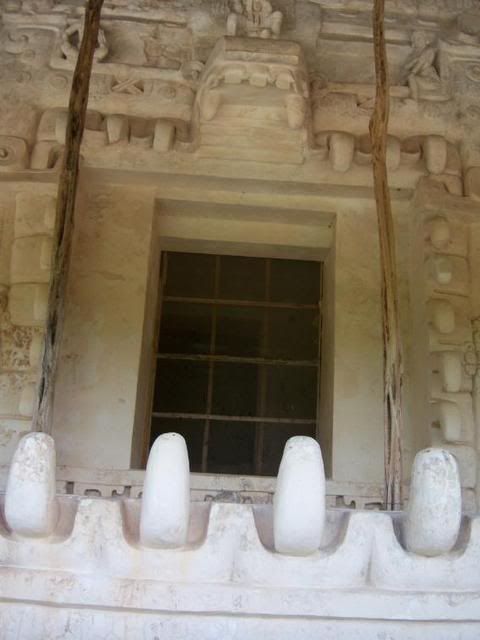 Like at Chichen Itza, the stairs are steep. The view from the top of the structure was unbelievable. Jungle covered mounds in the distance must be other ruins, waiting to be uncovered. Far in the distance was Coba.
Funny thing. As we were winding our way down the stairs, someone started up some music down below. The theme from the Indiana Jones movies lilted through the area, which was a perfect way to end our tour.
We only budgeted one hour for Ek Balam, and wish now that we had set aside more time. We will definately return in the future and explore more of this ruin area.
We headed back via our cab to Valladolid and our ADO bus back to Playa del Carmen. As I said, within 2 hours we were back to the plush resort we had booked, missing the ruins already.