Day -2
There we are drinking merrily away to celebrate the boyfriend's dad's birthday when I for the first time am shown the holiday tickets. "You have not booked seats together". The world stops turning. Panic sets in.
We paid £60 (roughly $120) to not only sit together but choose the exact seats we wanted on the plane, we did this about eight months ago. This can't be happening, if they've not got our booking down, by now, the best seats will be all booked up. Off we toddle to find a phone and phone the number on the tickets…
"As it is outside office hours we are now shut. Office opening times are Monday to Saturday, 9-5pm."
It's Saturday, 7pm, we go on Monday first thing in the morning. Chuffing wonderful.
After several hundred more phone calls to any phone number I can get my hands on, I finally get through to a human
who tells me don't worry just take your print off to the airport proving that you have booked the seats. I hang up, and proceed to still worry
, as if they haven't got our booking down, someone else will have already booked those seats, and what good is a piece of paper going to be then.
Also the tickets inform us that check in is 75 minutes before depature, which sounds somewhat ridiculous, being that it's always been 3 hours before, and that my mum went on holiday only the week before and it was 3 hours before then, so we decide to ignore this and go three hours before, especially due to us needing to sort out the seat fiasco.
Day -1
Ste+packing to be done=not a pleasant atmosphere.
I'm aware of this from past years and make the educated decision to vacate his house and vow only to return once he has packed his case.
Cases packed, I decide it's time for the pre holiday diet to come to an end (I lost 1 stone and 2lbs) and order possibly the nicest burger in the world, a pizza between us, chips, onion rings and garlic mayo. Yum yum.
The only food my body has known for the past month is ryvitas, salad and pitta bread.
Update my ipod (it chooses tonight of all nights to go crazy on me so takes longer than expected) and add some more music to my boyfriend's phone, pack the hand luggage and we're all ready to go so we try to get some sleep!
Day 1
Our flight leaves at 9:30 so we decide to get to the airport for 6:30, luckily we live like ten minutes away, so I get up at 5:30, do my hair and make up even though I know it won't endure a long haul flight (I can but try!) have a cup of tea (the last I'll have for two weeks!) and off we go. We used to think it was early getting up at this time for the airport, but since my boyfriends crazy shifts have started this is in fact a lie in for him!!
We get to the airport and the seats show up on the system…sort of. We had booked seats 43A and 43B – the very two back seats on the plane. Since I am a decent human being
, I have not, and will not recline onto people even on a longhaul flight, as I could never be so selfish to the person behind me to do that (unfortunately, the people sat in front of me on every flight I've been on, do not live by the same mentality
). With the back two seats I was looking forward to reclining and possibly for once getting a little comfortable. We are told there is no row 43, but we are booked for 40A and 40B. The back ten rows or so of the plane are 2-3-2 formation, rather than 3-3-3 so we are glad that we are still at the back (no one next to us) and that we are together but a little disappointed that we didn't have the back row (we were second to back) since that's what we paid for before I doubt anyone else had even booked the holiday let alone seats (we did it early!). Anyway, never mind, we're together, and after experiencing a long haul flight apart once, that's all that really matters!
Onto the airport routine of having a wander around the shops and getting a full English brekfast, and before we know it it's time to get on the plane.
Last year we went with First Choice for the fancy flights, this year we couldn't afford to so went with Thomas Cook (same holiday £1000/$2000 cheaper!) and I was pleasantly surprised by the flight. The seats weren't leather but that is neither here nor there (my boyfriend doesn't like leather seats) but other than that it was largely similar. Seat back tvs, identical to that on the First Choice flights. The meals were actually a little better (although let's not go over the top now!) and we got two meals rather than one and a snack, as well as a free Mars Icecream. To upgrade the TVs for more choice in films and for games etc it was £10 which is a bit cheeky and we didn't end up doing. I was going to but I ended up watching Juno (one of the free options) and a few of the free programmes (Victoria Beckham goes to LA – well there wasn't an abundance of choice okay??
, Friends and How To Look Good Naked – or as I like to call it, "how to look good with a sheet/wall/bed covering you up"
), and with all the pausing you have to do for them coming around with food/drinks/your boyfriend rudely interrupting you
etc it took forever to watch them. Add to that reading our last English trash newspapers (I mean this in a positive way, I love a bit of trash
) and doing a few puzzles together and the flight actually went really quick, I for once, on a longhaul flight can say I wasn't bored!
The airport at Mexico has all changed since last time. I don't know if it was due to it being a busier time of year or if it was due to the change in the airport but after the flight we got into a queue that rivalled that of something at Alton Towers (UK Theme park for those of you who don't know) only with something less exciting than Nemesis at the end
, instead, someone looks at your passport for a few seconds. Long, long queue. At times I wonder if I'll reach my next birthday stood in it
. Eventually we make it through and get to press the dreaded button. We've "passed" the button test every year so I figure this will be the year our suitcases get rifled through, but luckily we pass again (actually my boyfriend passed, I just walked past it un noticed
). Speaking of suitcases ours came of the carousel pretty quickly so I was able to breathe again knowing my precious clothes, and more importantly make up (there's shows telling us how to look good naked, but none telling us how to look good without make up!
) have arrived safely.
Onto the coach and we are surprisingly the first drop off. We decide that it feels like longer from Cancun to Playa Del Carmen than it does to drive the 4 hours to London from Manchester back home, and swear we are not going to Cancun this trip (hmmmmm
) and eventually we arrive at the hotel.
Check in is at the Sandos Riviera lobby and I am almost stunned
by how much nicer it is than what I have seen photos wise on the internet. Blame the tiredness, in the face that I didn't take a photo, so you will have to take my word for it, but it was lovely.
Whilst checking in I'm approached by a lady who asks if I am "missixty", this is my first ever case of "internet fame"
and I realise it is "ellesmere" from the playa.info forum who had said they would be on the same flight as us.
At check in it suddenly dawns on me I never brought my Sandos4U card which could have entitled us to a free upgrade "subject to availability" but since the upgrade would be to a Hacienda building, further away from the beach, we hadn't been sure whether we'd want to or not. I had figured I'd take the card and take whatever we were given as I couldn't make the decision myself. As we'd forgot it we were in the main Sandos Beach area, and we hadn't requested any particular room as they all surround the pool and are close to the beach, so we didn't really mind which room we were in.
After check in we are taken on a golf buggy thing to our room, and I take this photo:
When we rented one of these buggys on Isla Mujeres last year the sign had tickled me, especially since we nearly did get ourselves killed on it but at the time I forgot to take a photo so was glad to see this.
On the way to the room we pass a peacock who lost a tail feather, the man driving the buggy picked it up and gave it to me, and I risked the bird flu
(do they have that over there?) and decided to have it since it was so pretty. I did plan to keep it and bring it home but our room quickly became quite a mess
and it got pretty damaged so I ended up leaving it behind.
The room itself is lovely. Probably bigger than the Tucan, definitely bigger than the Allegro. All the rooms we've had have been lovely but at the time I think this is "definitely the nicest one" but then, I always think that!
Despite not having requested a particular room, the one we are given has these views so we are more than happy: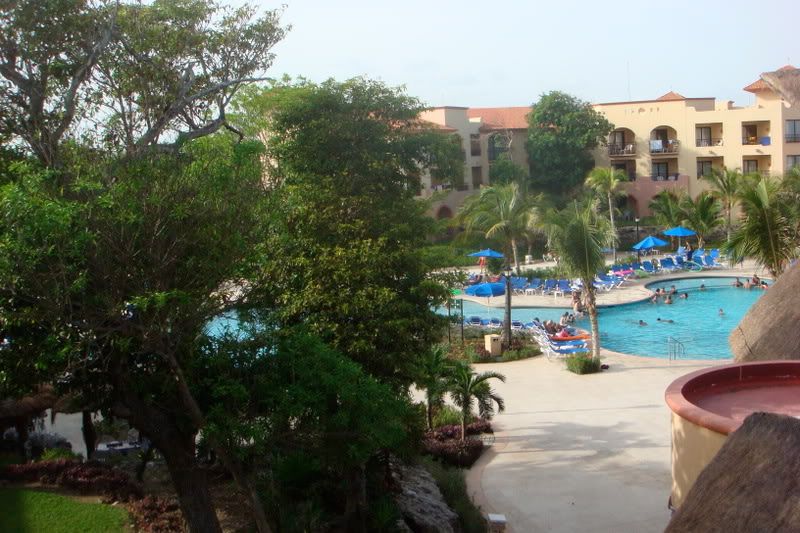 The bathroom is without a doubt the nicest, with a funky modern sink, huge wooden worktop(?!) area, perfect for all my girlie stuff, and with a huge glass shower with wooden floor and even a seat in it. Despite there being not much reason to sit down in the shower, we do anyway, just for the excitement of it having a seat!
I proceed to take photos of the room, to which my boyfriend soundtracks "Look; we had a bed! Look; we had a table! Look; we had a shower! Look; we had a sink!" His teasing distracts me and I forget to take a picture of the inside of the shower, which really was lovely.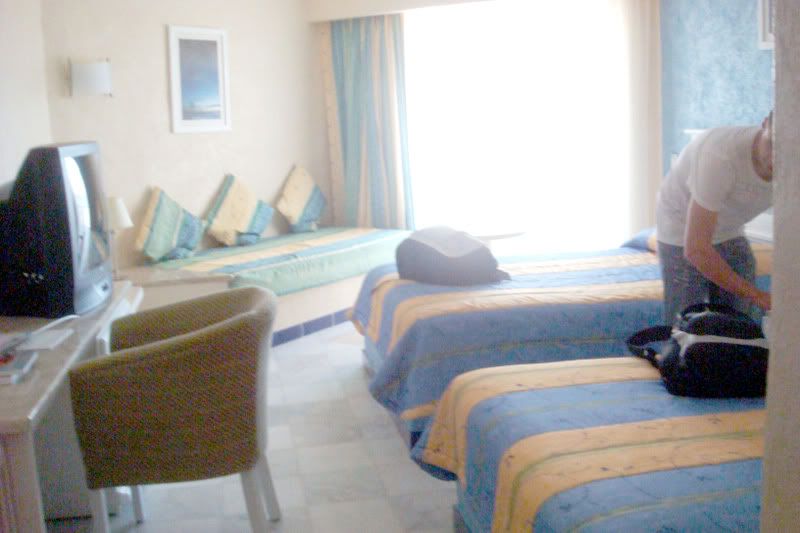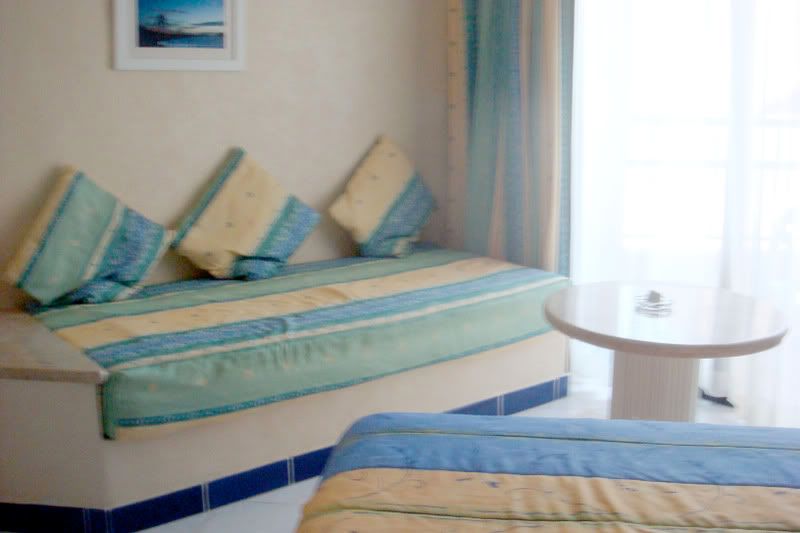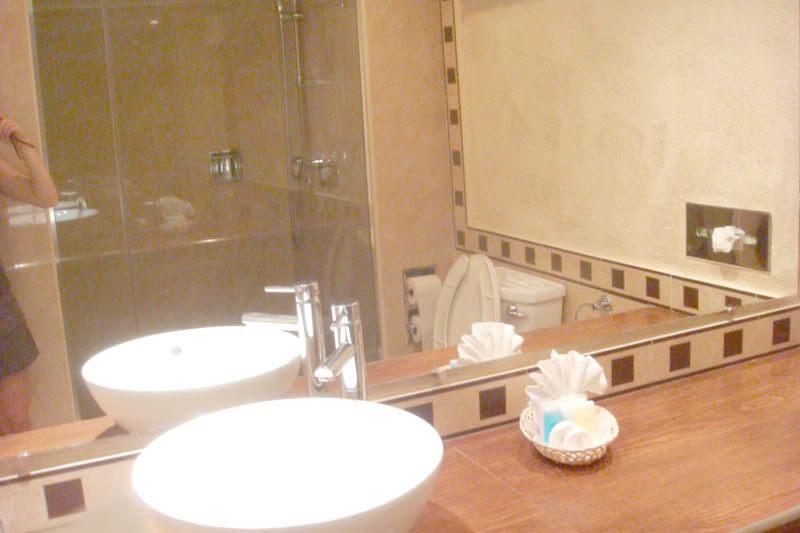 We have a quick wander around and I jump on one of the beds by the pool for a quick photo, as I did this last year under the assumption that it would be my only chance to (and I was right). This year however, there were some of these beds free all day every day so I needn't have bothered!:
We are told there are four buffet restaurants at the hotel, which initially sounds very good, since in the past there has been just one at the Allegro and two at the Tucan/Quetzal. We go to the main one and are shocked at how little food there is there. At the Allegro and the Tucan there was SO much choice we had always wondered at how people could say there wasn't much choice and the food got boring after a few days etc. Here there were 8 dishes, 2 of which contained chips, and then a brief selection in the other 6 of things like veg, beef etc.
The food we did get was nice enough but there simply wasn't much choice. I reasoned that the choice in the one buffet resteruants at the other hotels, was probably split between the four here. The choice of desserts was great and all the desserts I tried all holiday were delicious (although many times with a few complimentary flies garnishing them).
After tea we went for an early night, all that travelling takes its toll!