Wednesday, July 2
We were picked up bright and early in a van to take us to Edventure Tour headquarters. Took the tractor shuttle to the entrance of the Tulum ruins and explored around the ruins for a while.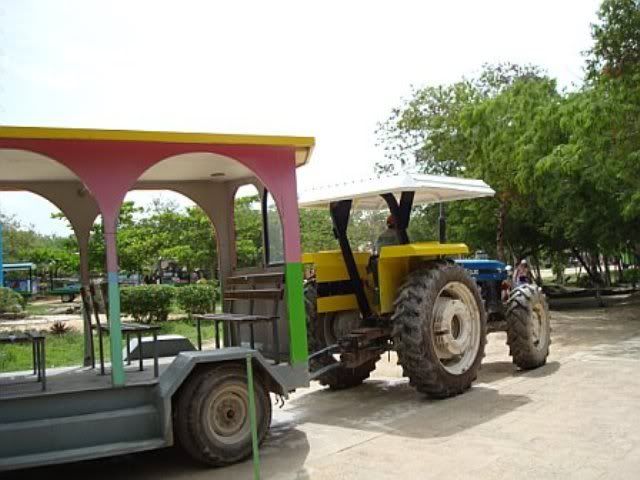 [/IMG]
They truly are a sight to see. I'm somewhat fascinated by ancient history and I could imagine the daily life and ceremonies……even sacrifices! Heads rolling down the long stairs of El Castillo!
[/IMG]
[/IMG]
I've never seen such a beautiful sight as the beach below the cliffs that the ancient city of Tulum stands on. Absolutely breathtaking. Lots of Iguanas at Tulum too.
[/IMG]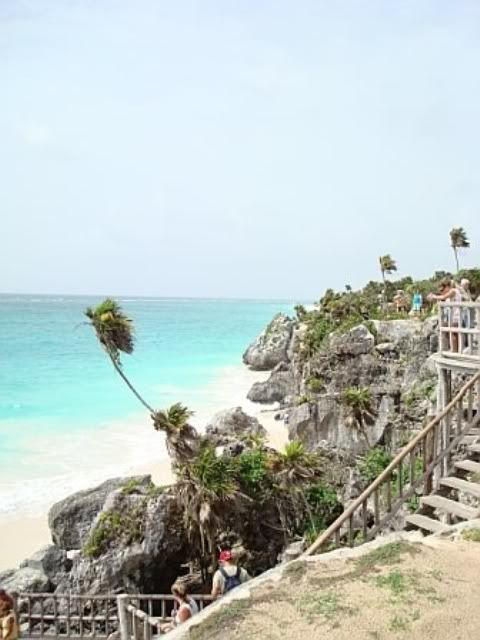 [/IMG]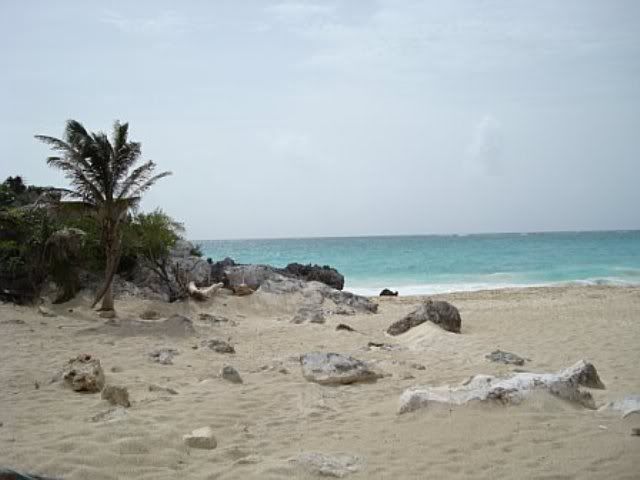 [/IMG]
[/IMG]
[/IMG]
[/IMG]
Made our way back to the Edventure Tour headquarters after stopping to briefly watch the performance of Mayan pole climbers. We found our guide – it was Ricardo! We'd heard wonderful things about Ricardo and felt fortunate to have him for the day. He had already stopped and picked up the cervezas and water (Amazingly – Ha! We never touched the water) and had them loaded in the ice chest. We climbed in to his SUV and were off for adventure. He drove through a long dirt road through the jungle and parked to let us all out to walk a ways to the lagoon. Zip line time! We each strapped in and zipped over the jungle canopy. Then we walked a little further and zipped across the entire lagoon – it was So. Much. Fun.
Ricardo "tested" it for us first
[/IMG]
Brad zipping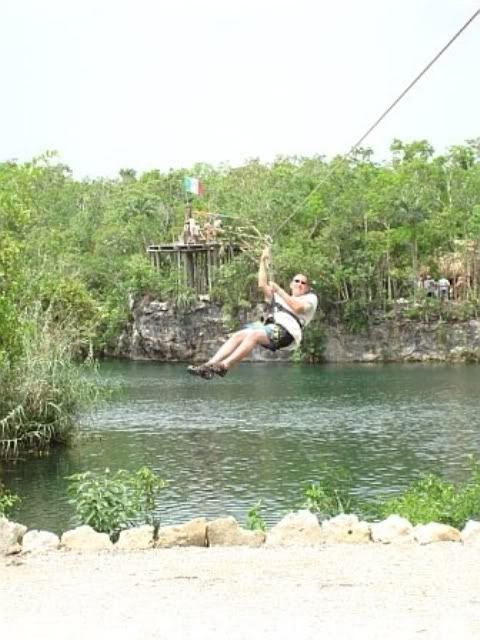 [/IMG]
Then Ricardo had us get in canoes (me & Al in one; Alison & Brad in another; Ricardo in his own) and paddle across the lagoon. Ricardo kept splashing us with his paddle and we ended up having a bit of a water fight.
[/IMG]
Soaking wet after the water fight Ricardo initiated
[/IMG]
From there we took turns jumping off a 25 foot cliff in to an open cenote. The water was COLD and crystal clear. First Brad jumped, then me……then Alison after 3 almosts, made the jump. Al walked to the edge of the cliff, looked down and said no way. Brad and I each jumped three more times.
Me "walking" on water
[/IMG]
Brad and I jumping for the 3rd time
[/IMG]
From there we drove to Dos Ojos Cenotes. We put our fins, goggles and snorkels on and entered the water in the cave. The freshwater is cold at first but you get used to it immediately and the water is so incredibly clear. We were amazed at the formations under water and above us. Stalagmites, stalactites, rocks, crevices, just the amazing natural beauty. We snorkeled all through out the cenote, often having to be careful not to hit our heads on the ceiling or stalactites. Ricardo had us all lift our heads out of the water at one point and look up. We were in a bat cave! Dozens of bats hung from the ceiling of the cave over our heads. It was really cool – we were going one direction snorkeling on the surface and there were scuba divers going the other direction down on the bottom of the cenote! We ended in a large room of the cenote with a small dock where a local Mayan family was enjoying the day. The kids were jumping off the dock in to the cold water of the cenote while mom & dad prepared ceviche for lunch. Can you even imagine growing up with that kind of natural wonder at your doorstep? On our way out of the cenote the Mayan man, who obviously knew Ricardo, gave him a couple of spoonfuls of the ceviche in a cup. After a bite, Ricardo's eyes had teared up and he could hardly speak the stuff was so spicy. It took him a full minute or two to recover. On our way out of the Mayan community in the jungle, we stopped to feed a monkey. The monkey belongs to a Mayan family and he is on a chain under a palapa. There is a large piggy bank for visitors to drop "tips" in. We were more than happy to drop in twenty pesos. Ricardo led us to a couple of tree stumps under the palapa and we each took turns sitting on one with a couple of Hot Nuts in our palm. This adorable little monkey comes up and hangs on to your arm and gently eats Hot Nuts out of your hand. Someone had left part of a banana there and I tried to offer the banana. No way, Jose. Hot Nuts are DEFINITELY preferred over bananas.
Brad posing with our monkey friend
[/IMG]
Seriously ~ there aren't any more Hot Nuts, especially down her shirt!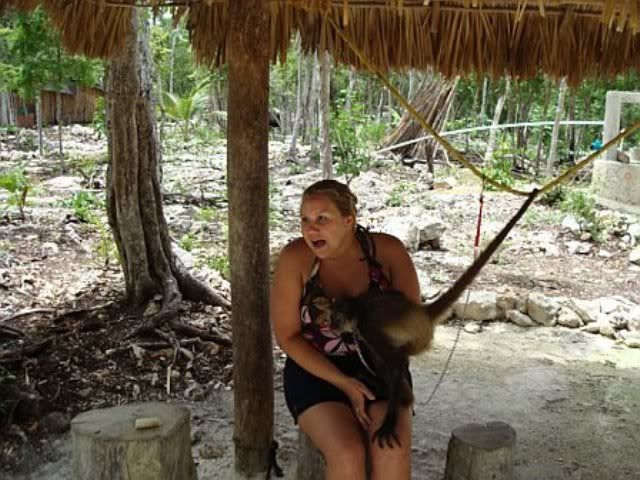 [/IMG]
And I just have to tell you about Hot Nuts…… Ricardo had picked up a small package when we made a quick stop and gave us each some. Ate one…..Eh, okay I guess. Ate another…..hmmmm, pretty good. Ate one more……okay, I'm hooked. They are addicting. We ended up making another quick stop somewhere along the way and Ricardo bought two more packages and we all quickly finished them off.
Then it was off to Akumal Bay. We met up with our boat captain and another couple joined us – I'm pretty sure they were newlyweds. We fought the waves and got pretty far out in to the deep water and turned to come upon a reef.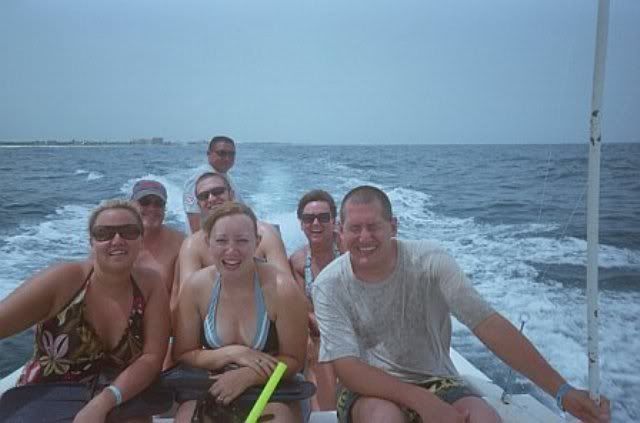 [/IMG]
We spotted a sea turtle on the side of the boat as he came up for air. With a few instructions from Ricardo about not touching the reef, not bothering the sea turtles, etc – we all went over the side of the boat in to the water. We followed Ricardo in a line to good turtle water and I have to admit, it was very different from snorkeling in the cenote. Snorkeling in the ocean is more of a workout, for sure. We had quite a distance to travel and bless his heart, Al's legs had about all they could take. One knee replaced last August and the other one replaced two months prior to this trip, all the walking on this vacation, he was worn out. He told Ricardo he couldn't go any more – that he was completely worn out. Ricardo quickly got him to a small red buoy and called the boat captain who maneuvered the boat to pick up Al.
[/IMG]
When Al was safely aboard, Ricardo again led us to Turtle Territory. We saw some fish here and there but when you spot one of those big turtles swimming along by you acting like they could care less if you were there, freakin' awesome!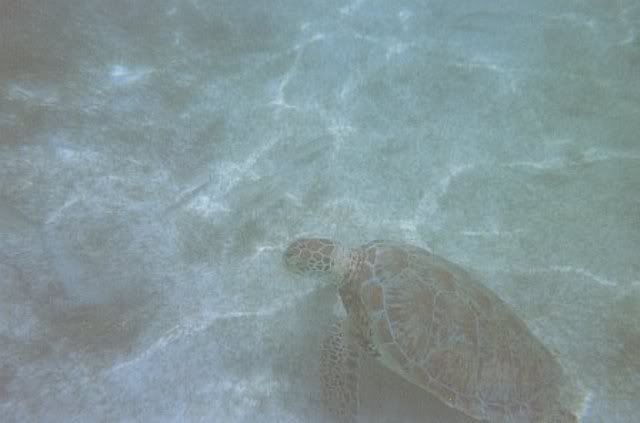 [/IMG]
[/IMG]
We swam about for a bit and happened on several turtles and a sting ray before heading back to the boat and back to the beach. Got back, rinsed off the salt water in the small cleaning pool and headed over to La Buena Vida for lunch. Nice little beach club/restaurant. Palapas with tables/chairs underneath, even some crows nest tables with buckets hanging over the side to take stuff up and down. We shared a fantastic lunch with Ricardo.
La Buena Vida crows nest
[/IMG]
La Buena Vida "patio" from the beach
[/IMG]
Shot of Ricardo with a full belly
[/IMG]
Al had grilled lobster, Ricardo had fish tacos, Brad had Cheyenne's Tacos (grilled Angus beef), and Alison and I each ordered the same thing – can't remember what it's called but it came on a large platter with individual little pie shaped dishes, each filled with something wonderful. There was grilled chicken, arrachera, pico de gallo, beans, melted white cheese, guacamole and maybe something else. Plus tortillas. Everything was DELICIOUS but there was way too much food. I caught Ricardo eyeballing my food and quickly told him to dig in and help me finish. He had no qualms and finished off my plate for me.
Then it was off for more snorkeling. A short drive brought us to a magical lagoon. I swear if I didn't know better, I'd have thought the place was created by the folks at Disney. It was so beautiful and amazing that it almost seemed fake!
The only lagoon picture
[/IMG]
underwater photos of the lagoon. We put our gear on and slipped in to the cool, clear water of the lagoon and couldn't believe what we were seeing through our masks. Fish everywhere – schools of BIG flat purple fish, striped fish, fat fish, skinny fish, fish between the rocks, even fish with chicken pox love hot dogs, Armour hot….. sorry – I'm showing my age and it just flowed so well. We spent quite a bit of time exploring the lagoon – Al too; he had recovered by now and was thoroughly enjoying the lagoon. At one point I met up with a school of about 30 of the big flat purple fish and swam right next to them all throughout the lagoon for about 4 or 5 minutes. They didn't mind my presence they just swam along. It was so much fun. Ricardo had explained to us that we would be able to see when the fresh water and the salt water came together in the lagoon because they don't mix – kind of like oil and vinegar. I didn't quite understand what he meant until I saw it. The water was actually a little oily looking and there were bubbles in it. Very odd. It was finally time to go so we loaded back in to Ricardo's vehicle and started the trek back to "Feeshermahn" – that's how the taxi drivers say it. Ricardo drove us back to Playa and to the resort. We got along extremely well with him and we tend to be sarcastic and have fun so we hit it off fabulously with Ricardo because he is just the same. We taught us a few phrases in Mayan including a very dirty curse word. :P We bid him adieu at the entrance of the resort, hugs all around, gave him a nice tip and headed to our room to change and relax.
At some point in the evening, Alison and Brad decided to hit the Chedraui grocery store but their taxi driver just couldn't understand where they wanted to go. "Will you take us to the Chedraui?" "You want go to 5th?" "No, Chedraui – the grocery store" When the driver still didn't understand, they asked him to go to Mega. It took a while but he finally got it. Unfortunately Mega didn't have the wine they wanted so they walked to Walmart. They brought back beer and wine for the room for later since the bar downstairs closes at 10:30pm.