Saturday was our third day and it was full of scheduled activities. At least for SOME of the group. Mike and Pat and the 3 big kids went to do an ATV tour that morning while Riley G and I hung back at the hotel. Last year Pat and I took the big kids to Xcaret, while Mike stayed at the resort with Riley, so this year was Mike's turn for an excursion. Fair's fair. That's how we roll.
So they got up and were gone by 7:00 since the van was coming to get them at 7:45 and they wanted to eat breakfast. Riley and I slept in til about 9:00 and then we got dressed and went to breakfast ourselves. I only got lost once. I knew which building breakfast was in; I just didn't know specifically which room. But we made it and ate without incident.
On the way back to the room after breakfast, Riley wanted to see the birds in the enclosure again until I said, without thinking, "You want to go see the birdies and the iguanas?"
She came to a dead stop, closed her eyes, shook her head and turned around. Guess she still wasn't over the sight of the iguanas yet. So we wandered back to the room and on the way she was looking around to see if she could see any of the kitties that were always walking around the property. You could hear them meowing their very deep throated caterwauls every so often.
I figured I'd help her out by calling the cats, "Here kittykittykittykitty... here kittykittykittykitty..." and sure enough two of the cats suddenly bounded full force out of the bushes right in front of Riley... scaring the ever living crap out of her. Her whole body did that spazzy, startled thing and she screamed and burst into tears. Okay. Episode Number Two of Animal Freakout. Guess we'd better wait a few years before we do one of those Wildlife parks. Can you imagine how scarred she'd be if a giraffe suddenly appeared in the sunroof?
When we got to our hallway, I could see that housekeeping was just about ready to do our room, so we got into our suits and I took Riley to the little private pool that was only supposed to be used by the people staying in our set of buildings. I guess any Maya guest could use it, but since each set of buildings had their own pool, I can't imagine why they'd come use another one. Unless someone stinky was using theirs.
We had the whole pool to ourselves: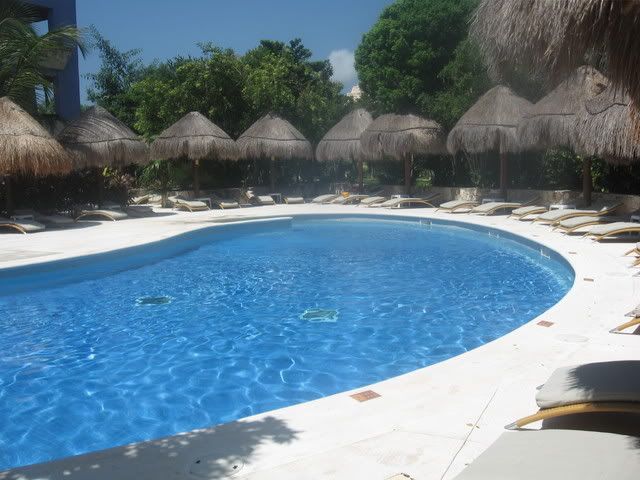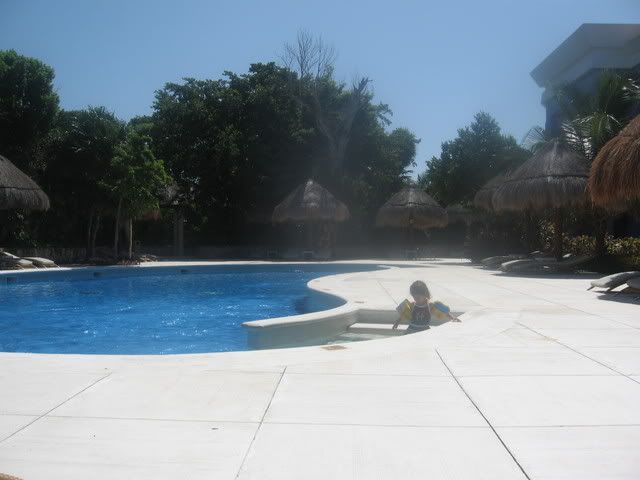 So we swam for a bit and then Riley got out to eat the plum she had dropped in my bag at breakfast. That was before we saw the sign that said No Food around the pool area. Oops.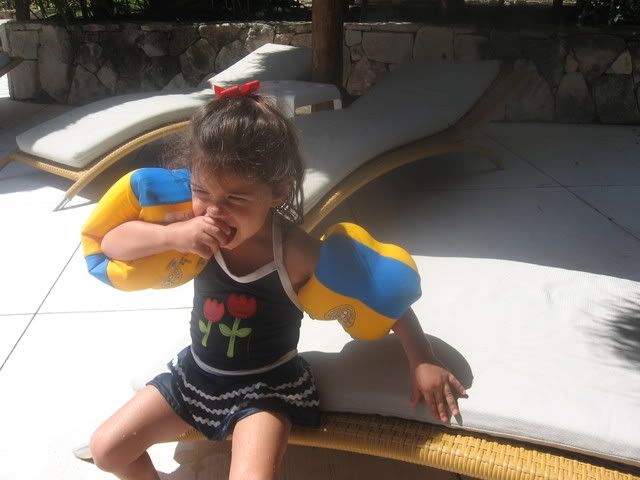 We wandered around the pool area and Riley entertained herself with the clean up shower area: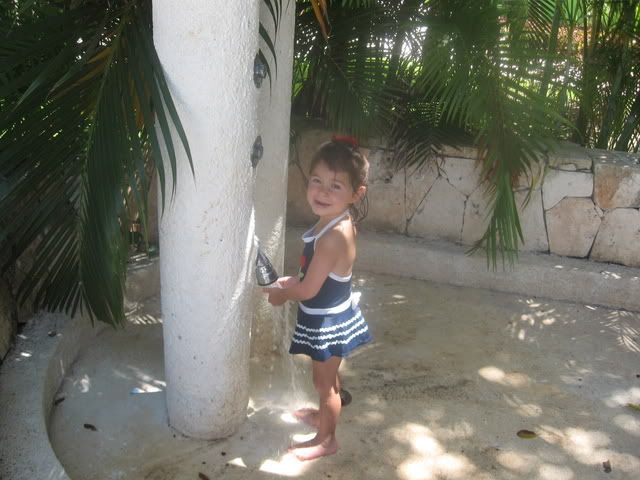 And we saw the White Peacock (Peahen?) that was in the bushes: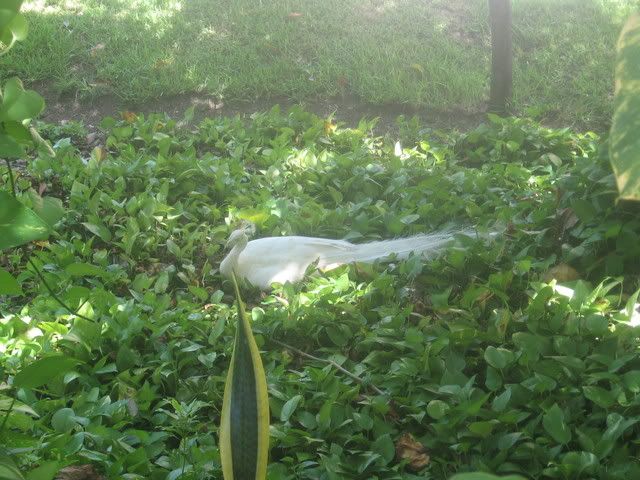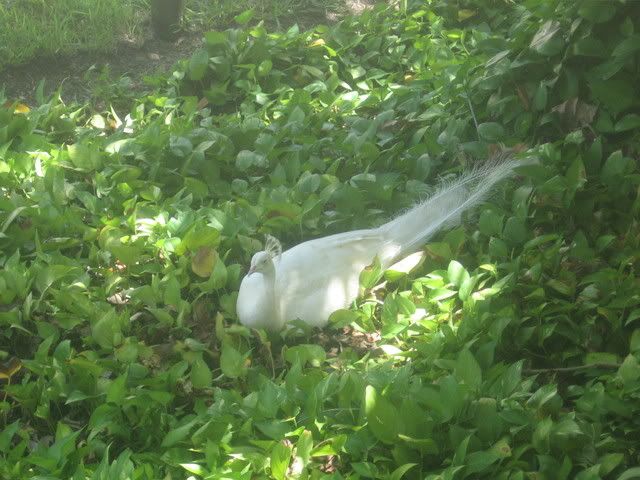 We stayed for an hour or so then went back to the room. We found this on the bed: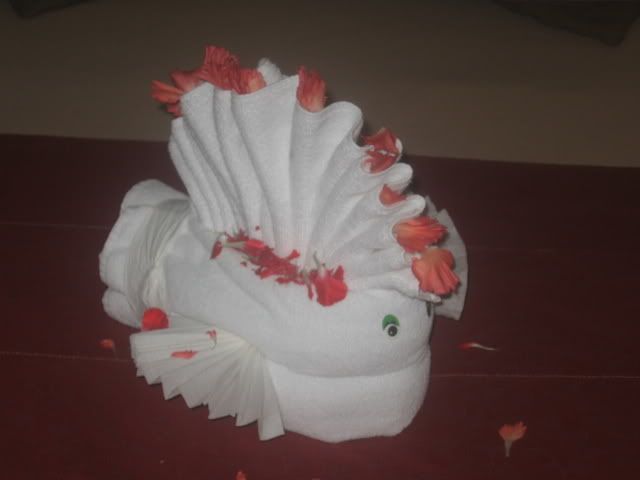 Pretty soon after that, the gang came back with their ATV stories. How Lauren was supposed to drive, since she's 12, but that Jason was a better driver at 11, so she let him drive while she hung on the back. And how the ATV people were fine with that because EITHER of them were better drivers than the German couple who were part of their group. How the woman kept veering off the path and the man actually wrecked his ATV, bending the wheel rim and everything. How there weren't very many fish to see in the cenote and the cenote water was COLD. How Jason had brown teeth because he kept opening his mouth when they were driving in the dust and dirt. They were all filthy dirty, as they were expected to be, so they all went up to shower and then we went to eat lunch.
After lunch we went swimming in the pool and I had a Dirty Monkey. I had heard about those on the forum and wanted to try them. My my, they were QUITE tasty. And, as the kids kept chanting whenever they swam up to order a fruity drink or a coke, they were FREE!
That afternoon, Mike and Pat took Lauren and Jason parasailing. They were supposed to have done it the day before, but when they got to their appointed time, they were informed that "it" was "broken."
I said, "What 'it'? The boat? The jetski? The parasail?" I think they said it was the boat. So it had been rescheduled for this day. I didn't go to take any pictures, as I was on baby-nap duty, but this is the parasail they used. See, it looks just like Lauren and Jason riding along there, doesn't it?
That night we had reservations at the Steakhouse. Yum. Here's me all ready to go. Dang, I look a little constipated or something. Which I wasn't. Not that you need to know that: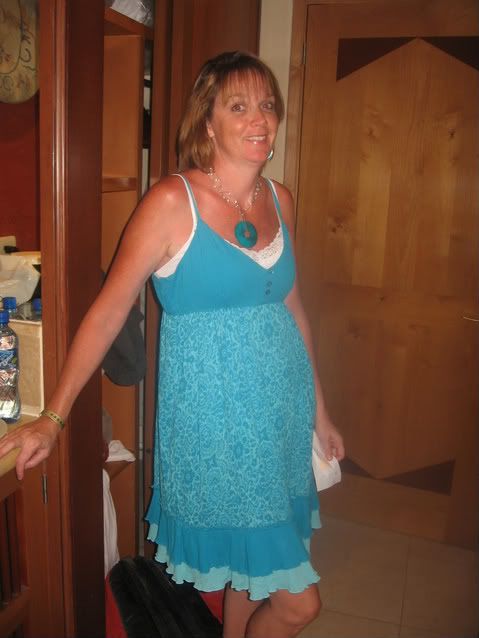 And here's Riley getting a ride from Mike to the restaurant: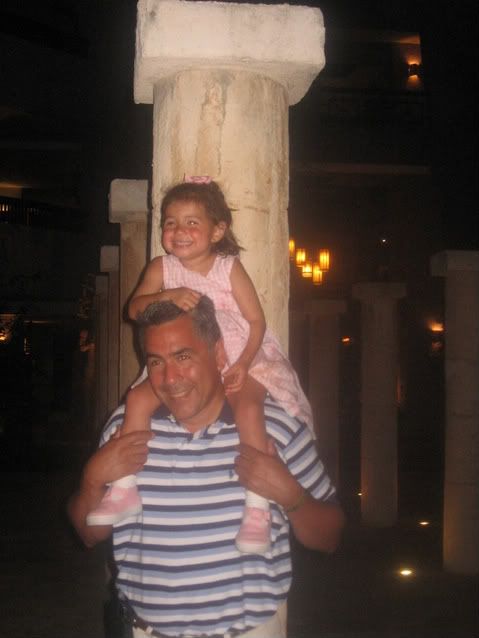 So we got to the restaurant and got seated and ordered our drinks. After looking at the menu, Pat said, "Why is there only one kind of steak on this menu if this is a steakhouse?"
Hmmmm. Good question. I said, "Well, they didn't say it was a COMPREHENSIVE steakhouse. Maybe it's a one-steak steakhouse."
Or maaaaaybe we were in the wrong restaurant.
Yeah. That one. We were in the International restaurant. But by the time we realized our mistake, our reservation had expired at the Steakhouse, and we didn't know where it was anyway. So Pat and Mike ordered the Prime Rib, the lone steak on the menu. And the kids had pizza and spaghetti and I had some kind of scallop dish. The lobster bisque was not good and the scallops were okay. Pat said his steak was good. And of course the desserts were always good.
Here's Riley doing who knows what at dinner. If you look closely you can see she's got some calimari in her hand. She ate it, too: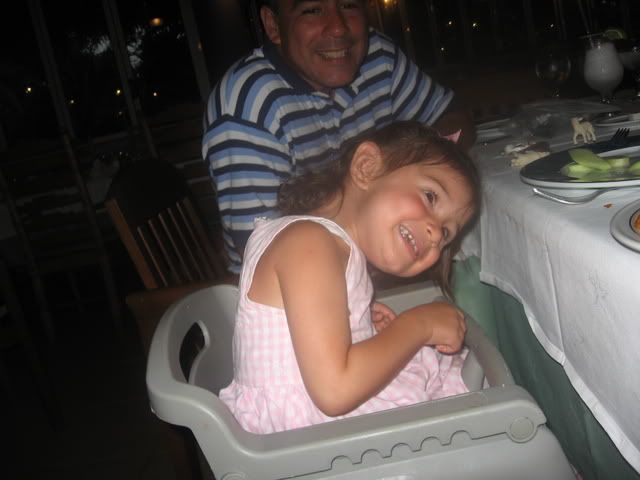 After dinner we went up to get out of our "dressy" clothes and into something comfortable to watch the night show. That night the theme was "Hollywood" or something like that and they showed snippets of popular movies on the video screen and then the Starfriends would perform a dance number related to that movie.
Pat liked the Dukes of Hazzard dance number best because it consisted of girls in Daisy Duke shorts dancing with their asses falling out of the shorts. Although that was just barely his winning entry, with a close second place going to the Tarzan number wherein "Jane" went Cheeks To The Wind every time Tarzan flipped her over during their dance, being as she had on a g-string under her loindress. It was a veritable Assfest for Pat with the Starfriends.
Then it was back upstairs for more Charlie's Angels, and the kids ordered room service, just because they could and it was FREE!!!