A Short Trip Report on "A Long Weekend in Provincetown, MA"
Preface:
First let me preface this by letting those of you that don't already know.........Provincetown, or "P-town" as the locals call, is a very diverse and very
openly
gay friendly cosmopolitan community.
Put it this way.........as a heterosexual couple, Kenny and I are
definately
the minority when we're here.
If you have a problem with this or are offended in any way.........don't bother reading this or commenting, please.
That being said...........on with the report!!
A little background........
P-Town has long been a place very close to my heart. As a young girl, my childhood friend Dori and I
(recent pictures in Playa):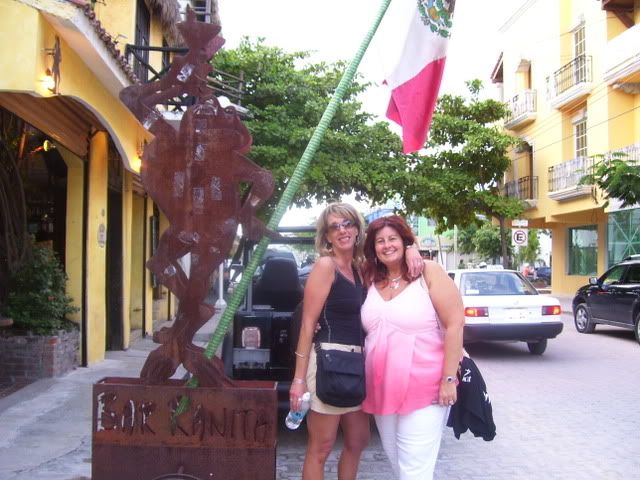 We were lucky enough to visit there with her family during our summer vacations as kids
. Her family is of Portuguese and Italian decent and have long been in the fishing industry having their commercial fishing boats docked here in P-town.
Dori's "Ti Marguerite" (Aunt Marguerite in Portuguese) had the most beautiful home right in the center of town which has sadly now been sold for a very pretty penny and turned into a rental property.........much like most of the family homes there. Real estate is incredibly valuable here.......especially if its right "in town" and near the water.
We would stay at her aunt's house in the upstairs spare bedrooms that had adorable little dormer windows over looking town. We'd walk into town and to the beach with our spending money and actually be able to come back with bags and bags of penny candy........which really cost pennies!!
We'd get our Cape Cod Rope Bracelets and be free spirits walking and shopping, hanging out on the wharf eating foot long hot dogs and giggling lots.
Town consists of a main street called "Commercial Street. Similar to 5th Avenue in Playa whereas there's lots of accomodations, shops, bars, restaurants and artsy places and its all in walking distance. The side streets off Commercial Street offer Inns and bed and breakfast places as well as private homes. The street is maybe a few miles long and people watching in the center of town at the Town Hall is something that never gets old to me.
One of my favorite stores was the Army/Navy store.
A dusty dingy store that had everything from old fashioned toys, metal lunchboxes, sea shells and skeletons, swords and all sorts of knives and clothing..........some used army and navy stuff as well as fashionable clothes of today.......even leather jackets. This store is something else! Hopefully this trip around I'll be able to take some pictures.
We used to
love
to walk by the infamous "sex shop" where you could see the whips and leather attire hanging in the window. You had to be 18 to enter and of course we were not, so everything else was out of our site............but not anymore!!!
We used to watch the people that went in.....still do!
Amazing I tell ya!
Now we watch the people that come out with the little black bags!
There also was a store..........one of the more famous ones on the strip called "Spank the Monkey".
I think this had to be my all time favorite store.
The rumor is that the owner of this shop is also the owner of this awesome house with all the inlaid purple amethyst in the stone wall. These pictures are from two years ago:
A closeup of the inlaid purple amethyst. And check out that wrought iron kitty fence, Nerak!:
If you look closely, you'll see a glass mosaic snake creeping up the side of the front door:
More beautiful amethyst: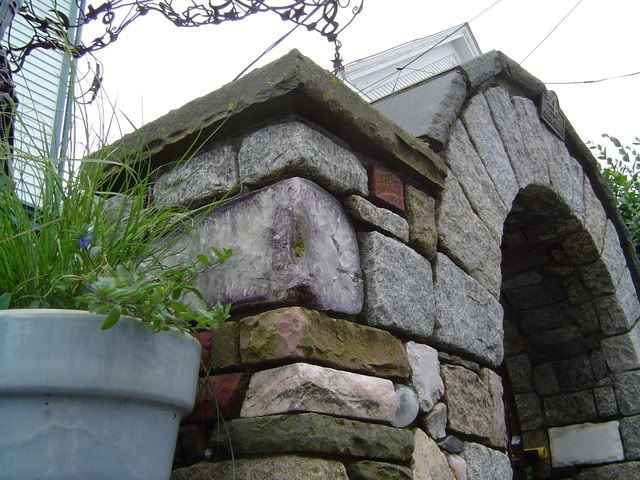 A better shot of the snake: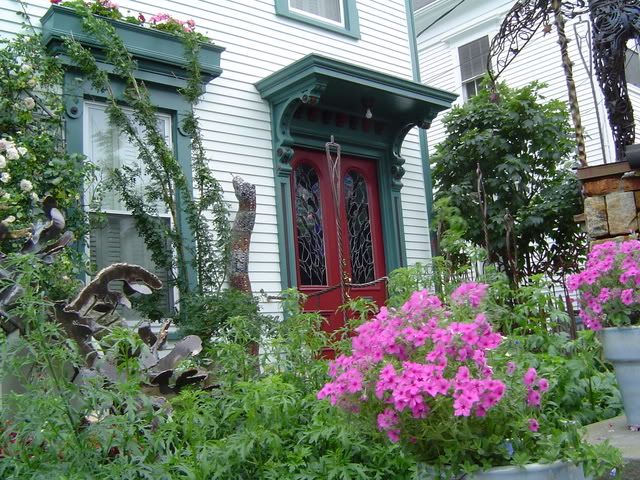 That snake wraps around the entire side of the house thru the gardens. You've got to look closely:
The side of the house and gardens: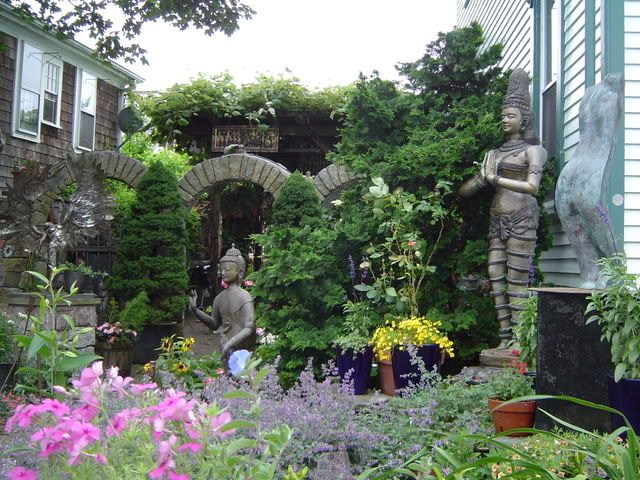 Gargoyles at every turn: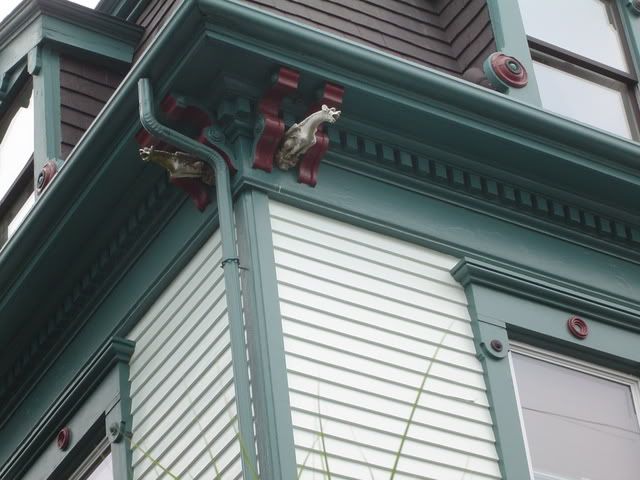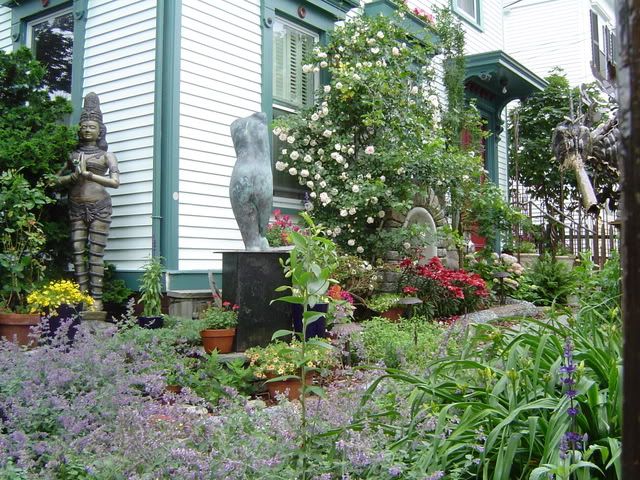 Back to the store.........
This is the funkiest scariest store you've ever seen! I definately will try and get pictures this trip. As you walk past.........the smell of weed...........marijuana.........pot........is overwhelming.
You look all around and can't figure where its coming from. It took me forever to find out that its a "hemp incense stick" about a foot long and maybe 1-2" thick burning in front of the store to attract people's attention.
Ah, yeaaa it does!!
Inside the store is lots of stuff imported from India.........clothing, pocketbooks, jewelry........tons. There's toys and tricks.......I used to love these.
Like the stick of gum you offer someone and it snaps like a mousetrap on your finger!
Or the smoking fart that you light.
Whoopie cushions, sparklers.........tons of stuff. As you walk towards the back it gets a bit scary.
There were live pythons in cages and lots of knives for purchase. Signs near the stairway forbid anyone under 18 to go upstairs........but its pretty clear whats up there.
There must be a million of them!
All shapes and sizes........and I do mean ALL!!!!!
Electric ones, battery ones, glass ones, rubber ones...........YIKES!!!!
And it only gets crazier when you dare venture up there.........CRAZY I TELL YA!!!!
The store also has the biggest "head" shop I've ever seen.
Actually........its the
only
one I've ever seen
........but its huge.
Papers of every flavor and color.......pipes of every shape and size..........bongs galore........clips.......the list goes on and on and on.
This shop will put the sex crazed, pot smoking, Indian import wearing person in sheer ecstasy!
It is definately not for the meek!
Now in P-town there are sand dunes. These sand dunes are as high as what seems mountains especially when you're trying to make your way up them........and the best fun we ever had in our lives.
You could climb up and just roll or slide or run down the dunes until your legs gave out.
And you think walking on the beach is a workout?
We had the best fun ever.
That is when I began my love for Provincetown.
Thanks to Dori and her mom!
We also went to visit her sister in a hippy commune in Nova Scotia oh, maybe when we were 14 or so..........but that's a whole other trip report!!!
Here's some past pictures near the sand dunes:
You can see the Provincetown Monument way off in the distance:
My kids were convinced there's a serial killer living in this shack!
They were scared out of their minds........and try to run away thru the sand.........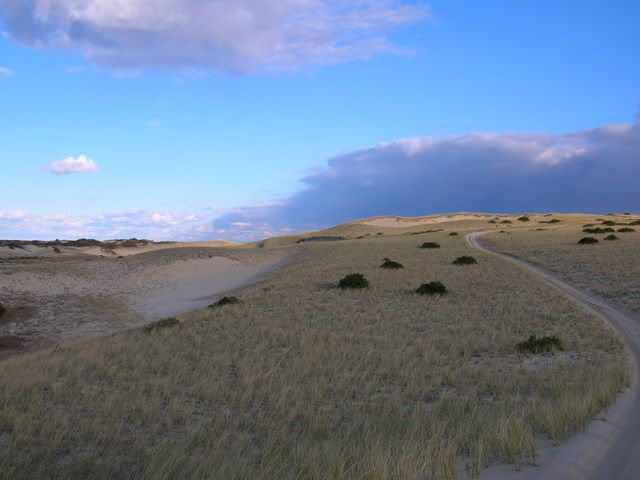 So, as time went on, we both went our seperate ways, married, had kids but always had the ties to P-town. It has always been and still is Dori's place to "chill" and "re-group" when life gets her stressed and has become my favorite place to go, at any time of year, to celebrate any holiday or just come up with an excuse.......to people watch and relive my childhood.
Now, I just drag Kenny along.
There are people from all walks of life here. The majority of them being very openly gay or lesbian. And then there's the Harley riding crowd. From one extreme to the other. There are tattoos and piercings like you've never seen before.Some subtle, some not so subtle.
Men that dress and do makeup better than me!
And they can sport the stilletos like nobody's business!
There are shows that are just incredible and some that are down right raunchy.
The Inns and Bed and Breakfasts and restaurants have the most breathtaking gardens I've ever seen.
They're decorated with the most beautiful antique furniture and accessories........ simply jaw dropping.
Gas fireplaces in accomodation rooms, television in the bathroom with jacuzzi tubs and towel warmers in some rooms. The finest linens on the beds.........so cozy in fact we had to buy some similar for home.
There is a complimentary wine and cheese hour each night before dinner and breakfast served each morning. How can you not love this place? Its so diverse and there is really no place I know of that you can get all this in one place! We got the last room available after calling around to 10 places we're familiar with because once again.........we booked last minute, so not sure what it will look like, but I'll be sure and take pictures.
Last time we went to P-town, which was two years ago, there were lots of families and we had brought ours too. I want my kids to be respectful and accepting of others just as they want to be accepted and respected in this crazy world. The penny candy store is still there........but of course for two kids I dropped maybe 20 bucks! Worth every dime to see their faces and remember grabbing the basket just as they did to fill it up with all those old fashioned kinds of candy and goodies.
The last time I climbed the sand dunes was 15 years ago. Once again this trip was with Dori, but this time we had our first born sons with us (our only children at the time). We had a wonderful time staying the night at her grandfather's condo with our kids.
It brought back such memories and was awesome to share them with our kids.
The kids were fascinated just as we were with these monster mountains of sand. I tried my best to climb but didn't get very far.
Go figure.
Max had to go on without me. Actually, I thought I was going to have a heart attack and die trying to climb the dunes.
I wasn't 13 anymore!
Funny thing........I didn't know it, but I was pregnant with Zak at the time!
So its our Anniversary on Sept 6th . Even though we're a week early, I can't think of a better place to celebrate it and end the summer season, than in a place so close to my heart and now one of Kenny's favorites too.
We'll be leaving on Friday for our long Labor Day weekend, but thought since this preface is so long winded, I'd start my trip report...........pre trip!
Hopefully.........I'll finish upon return.