First off- my husband Don is a manic fisherman. Manic outdoorsman, all around, really.
Hunting, fishing, slow pitch, golfing, biking, hiking, whatever.
Makes for a very long winter cooped up with the man, lemme tell you.
So he crams all of his outdoor activities into the summer and fall, so much so that almost every one of our precious summer weekends hinge around some sort of trip or tournament. Even in winter he is off ice fishing and playing INDOOR ball, so he doesn't go stir crazy.
For our seventh wedding anniversary this year we were trying to decide where to go. I am busy saving my pennies to take my mom to Playa in December, so since I wasn't able to contribute much for this weekend
, my vote (to go to
Temple Gardens spa
down in Moose Jaw) was soon overturned in favour of a weekend at a northern lake fishing, staying at
Dore Lake Lodge
. Yay.
I am kidding (mostly). I actually love it up north in Saskatchewan, the pine boreal forest, all the lakes, fresh air, wildlife.
All the cabins are two bedroom, so we decided to ask Don's neice and her new boyfriend, since he is a slow pitch buddy of Don's and we all get along well.
I am going to apologize in advance if the date stamps are wrong. We both have this bad habit of being careless when setting it after we change the batteries. We have tried to set the default as so date stamp and it keeps screwing up.
We are in the market for a new camera, and if I can ever stop saving for a vacation long enough to buy a new one, I will be happy.It is ancient Kodak Easy Share, sorry about the picture quality too. I am no photog.
We left at noon on Friday (September 12th). Don is Mr. Organization (among his many other nicknames I have for him, they aren't all quite that flattering) so we were all packed up and ready to go Thursday evening.
Basically when we go on a fishing weekend (this is about my fourth this summer and his tenth or so) Don does all the work- he organized his tackle box, makes sure the reels are good and the boat is stocked with sunflower seeds to bug spray (even though this year we have had almost NO bugs!) and he also plans the meals, buys all the groceries and packs them. I am responsible for packing my own clothes, etc. Lucky me.
So Friday so we just had to come home from work at noon, grab our bags and drive the 4 blocks to Angie's and pick them up. We pack up at Angie's place and get ready to head out.
She is Don's older sister's daughter and the new boyfriend is Graham. Here we three are (my sunglasses big enough you think?
)
and here is Don loading the truck and Graham had the first casualty of the weekend- a dropped Coke.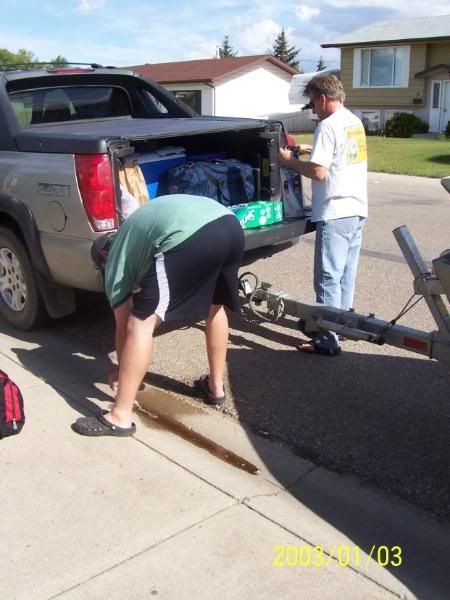 and we get on the road.
Note Don's Pacifico tee shirt.
(again- sorry about the date stamp!)
The drive was about 3 and a half hours, total. Expensive in an Avalanche and towing a boat - the price of gas is about 6.50 per gallon equivalent here right now. It was a pricey weekend. Good thing I wasn't paying!
We stopped about halfway in Shellbrook to pick up lunch at Subway and then soon after Big River we hit the grid.
But then......