Monday morning we went out deep sea fishing. Don had booked two fishing trips a couple months before the trip through a woman we met through TA who was the Barra de Navidad expert.
He loves to fish, here at home we have a 16' Lund with a 90, and if he is not golfing in the spring/fall/summer, we are off to some northern lake to go fishing. I go along and fish a little, but mostly read....and later, cook. But NO filleting, thanks!
The captain was a young guy named Miguel (with another helper dude, very quiet guy) who had lived for ten years in Vegas, so his English was great, and we had a nice visit with him....good thing because the fishing sucked. We had no luck until near the end of the trip when we caught a 15 pound
dorado
(mahi-mahi, or dolphinfish).
They are one of the most prolific and fast growing fish, so we always keep them as opposed to catch and release, to eat. Plus they are dang tasty!
Along with tuna it is my favourite fish.
Seeing all the long liners out in the bay really was depressing.
We saw about 4 different long lines set in the bay by the area's commercial fishermen.
Long lining
has been partially or mostly banned in some areas, like Los Cabos, to protect from overfishing endangered species and bycatch, and we have never seen them in Huatulco or around Zihuatanejo (which has a thriving sportfishing business) but here they were everywhere and it was a bit depressing. At least they are only allowed to do it Monday- Friday. Especially when we saw the dorado that was caught on one hook, he was jumping about 6 feet in the air, over and over and over....so sad.
Also- there was a sea turtle caught on one. We couldn't free it (if they came along, which they did later, and saw us messing with their lines, who knows what they would do).
I suggested we free him and Miguel looked terrified....so we left him
....Miguel assured us they check the lines every three hours. I sure hope so.
At one point one of our trolling lines snagged in their line, and a boat zoomed up with three guys in yellow slickers...they shouted at Miguel who had the gaff and was calmly untangling us....he calmed them down soon enough but they sure looked serious. So things are not too peachy by appearances between the long liners and the sportfishers. (This was later confirmed by Nan.)
I bet they kept that
green sea turtle
.
They often kill them and eat them because they are many who still believe they improve male potency and also the eggs are a delicacy.I hope they let him go (it is illegal to keep them but the often do anyway, Miguel said.)
Miguel filleted the dorado and we took it to the chef at the hotel restaurant right after we got back. We invited the two wild women I had sat with on the plane on the way down to join us, and it was great- garlic butter and Veracruz style- yummy!
oh, I almost forgot- here is what else we caught!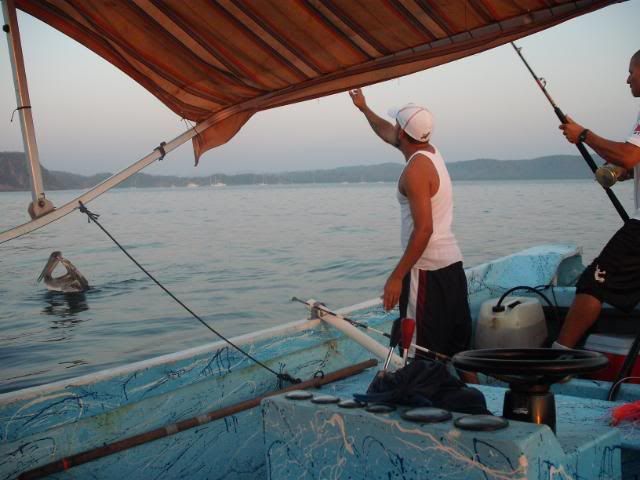 A pelican!
It was kind of funny actually. it happened early in the day.
He didn't have the hook in him, just the line was wrapped around him somehow....so Miguel carefully and gently 'reeled him in'....he stayed so nice and calm!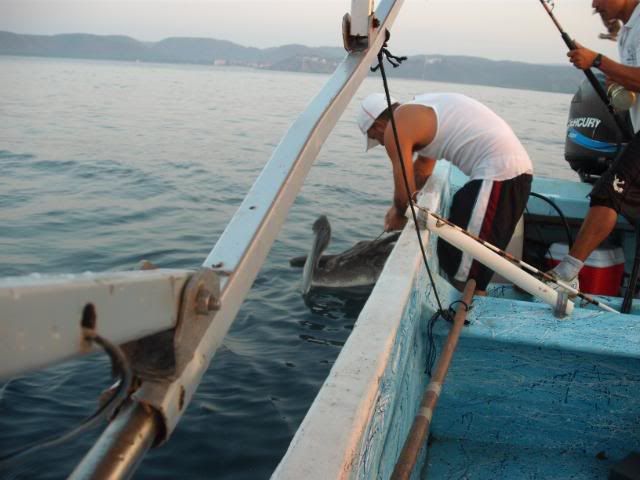 and here he is, safe and sound, swimming away.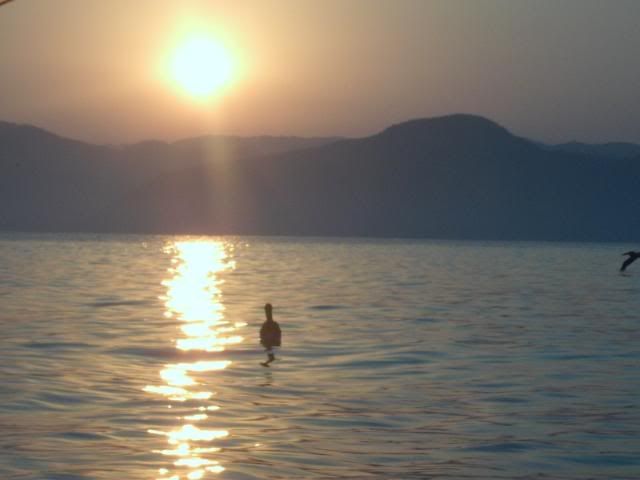 It was cute, a bunch of his buddies all gathered around to watch.
Here is the swanky hotel I talk about later in the report with Jesus, the El Tamarindo. These are the buildings that were built not to spec and will fall down with the next big earthquake, apparently. Or so someone has said. Who knows. Note the morning humidity haze, it's about 8 AM here.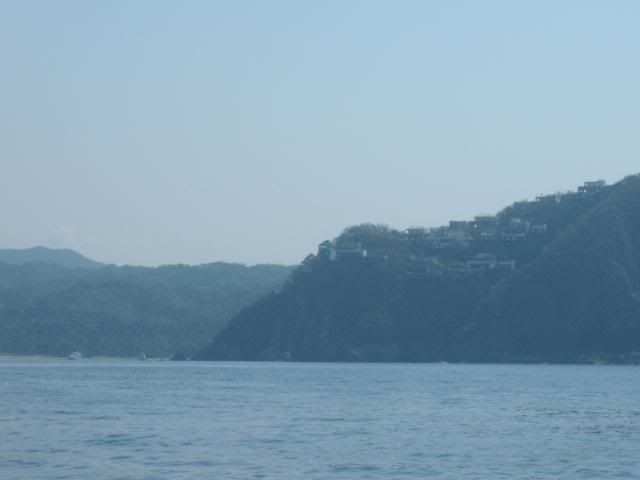 We hate to be 'trapped' at a resort, and this place was by far the most remote we had ever stayed at. The nearest town was La Manzanilla and it was a 300 peso cab ride away, ONE WAY....yikes.
In part because they have their own 'Blue Bay taxi' service at the hotel so they have guests over a barrel somewhat, you don't have a choice but to take their taxis...but also I imagine because they are very slow, so they DO have to make a living (each cabbie might only get a couple calls a day) and also the roads are so bumpy and rough that the cars must have to get constant repairs and maintenance.
Tuesday morning we decided to take a hike and see if we could find this supposed little gem of a hotel called
Coconuts by the Sea
in the area of the next bay over called Boca de Iguanas.
According to Google Earth, which we had pored over before the trip, it wasn't too far from the hotel main road in.
We made the mistake of starting too late in the day and the walk was HOT. But we took a couple water bottles with us and tried to stay in the shade as much as possible.
This was the view at the top of the hill.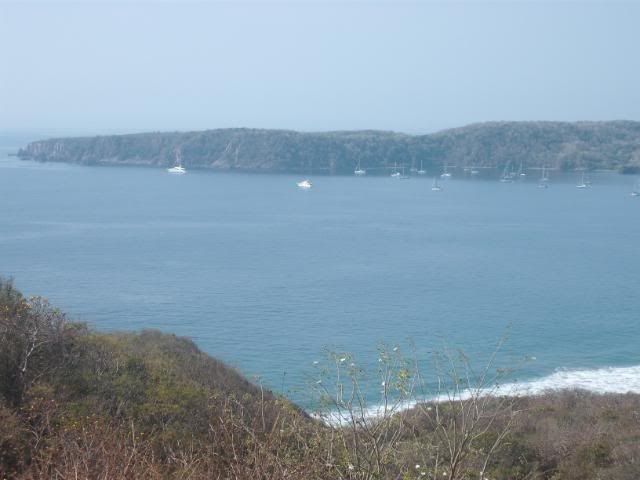 There was a little restaurant there and we stopped and bought some more water and sat and enjoyed the view of the bay.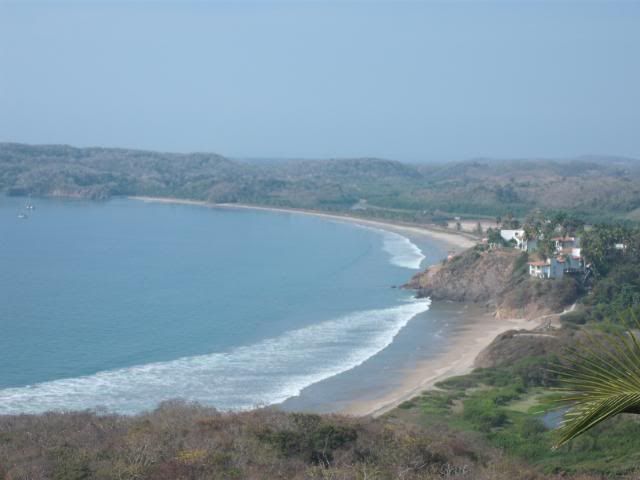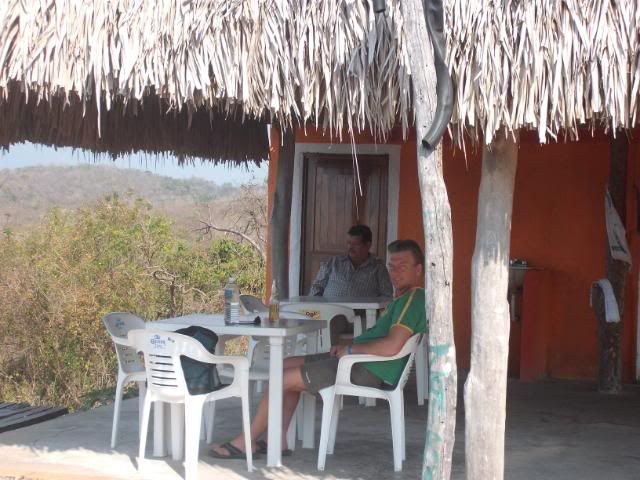 After that we carried on and after another 40 minutes or so of walking up and down hills, we arrived at the sign for Coconuts and a dirt path down a steep road...oddly enough, this was the RIGHT road, as it turned out
....
We took the other one without the chain and ended up at someone's private house, the 'No' road was the right one...went back and went down it, then...and saw this...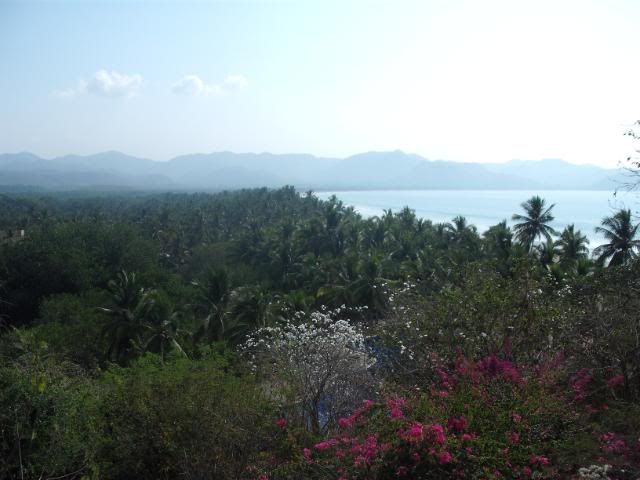 inland...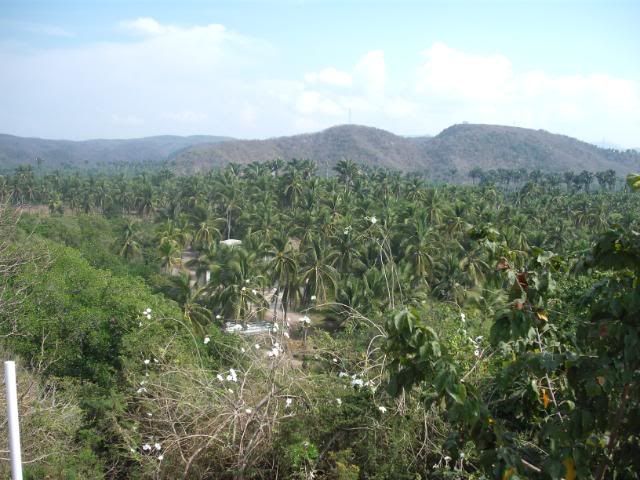 the pool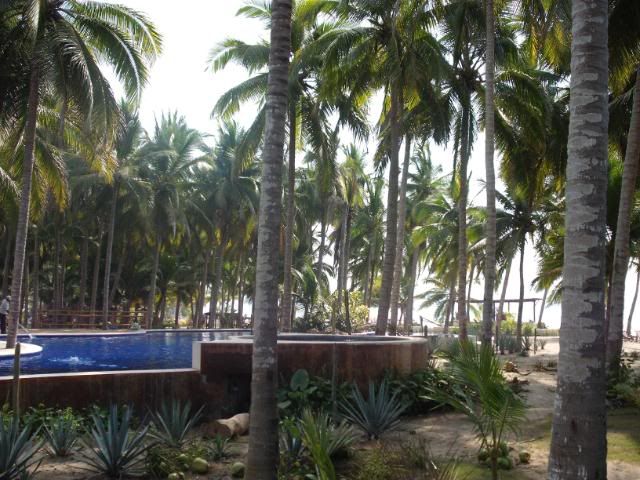 All those coconut palms!
They were collecting them too. (See the guy up in the tree?)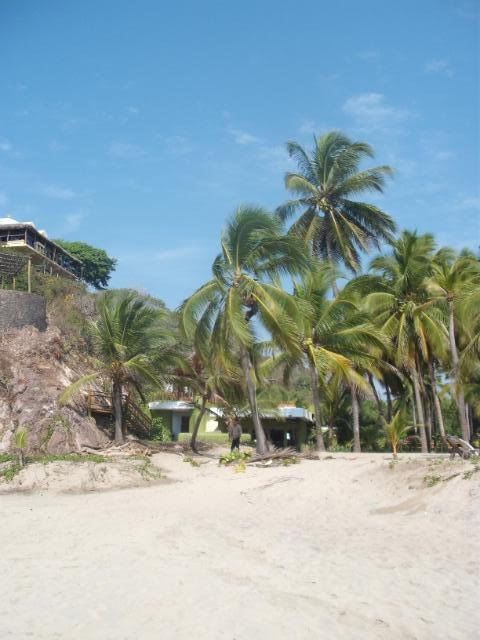 There was a bar/restaurant there and then a few building with suites. We had a beer at the bar and the guy said to feel free to use the pool, since it was so slow. We ended up spending a couple of hours there and having a snack too. Very nice place.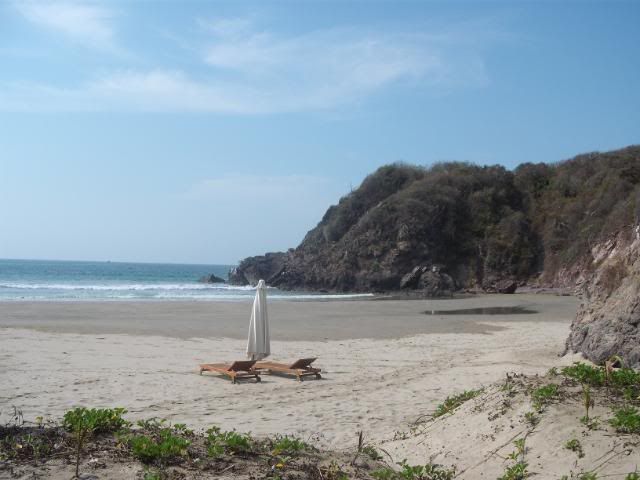 We noticed this cave with an altar/memorial inside...
And down the beach a bit was a trailer park. Nice, with all the palm trees!
And a great beach- some people were surfing and boogie boarding, others swimming. It was VERY quiet, at the hotel we only say about 4 guests around.
This is in the far northwest end of that bay, all the way down at the other end is La Manzanilla, where we were headed to to meet my GF Krista Friday.
DAY TRIP TO TENACATITA
On Thursday, we had a hankering to head to one of the few good snorkel spots in the area, Playa Mora at Tenacatita. Tenacatita is a small town of sorts, with a string of rustic palapa restaurants and cheap hotels. Nice atmosphere.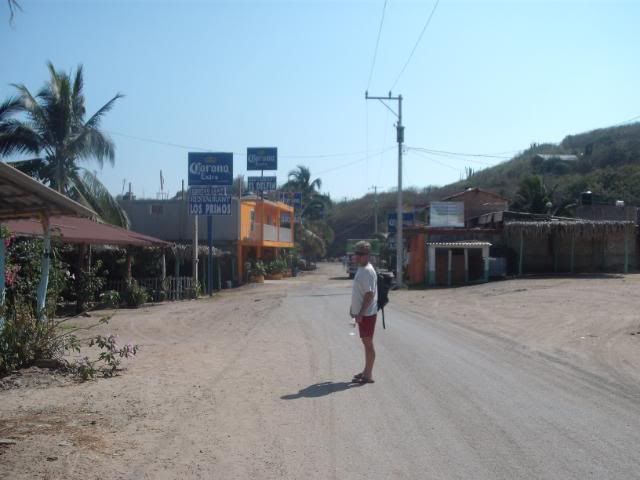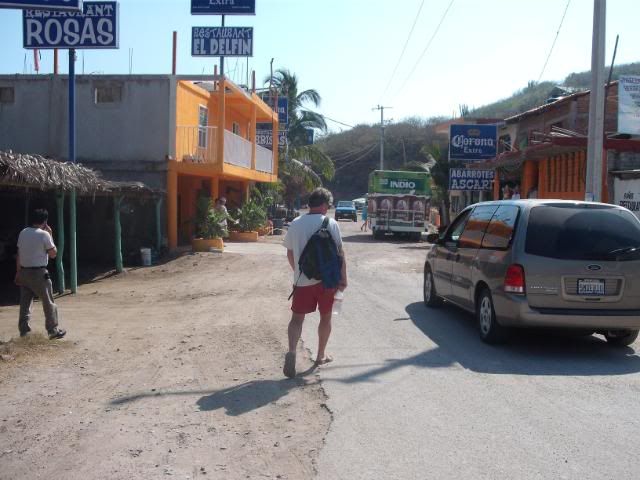 And by 'rustic' I don't mean fake Mexican contrived-rustic with $200 a night hotels, I mean
actual rustic
with 200
peso
a night hotels.
and since this area is so fertile, the fruits and vegetables we saw were all amazing, fresh and colourful. Lucky locals!
Possibly there are dairies nearby too because all the milk in stores was 'real milk'.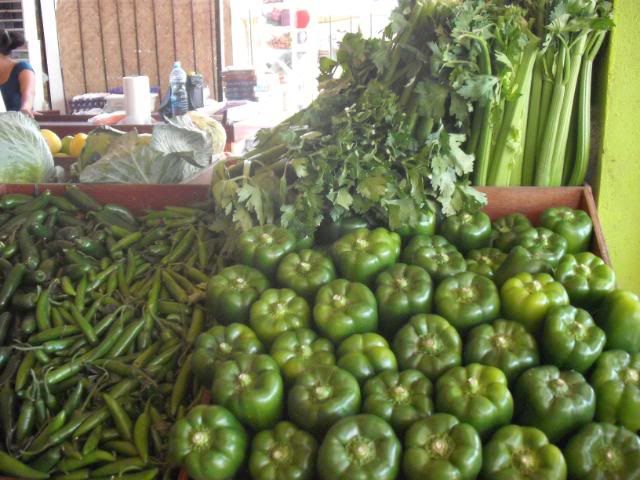 You had to go over this steep hill to get to spit of land where the snorkel beach is (Playa Mora), with a nice beach also on the other side.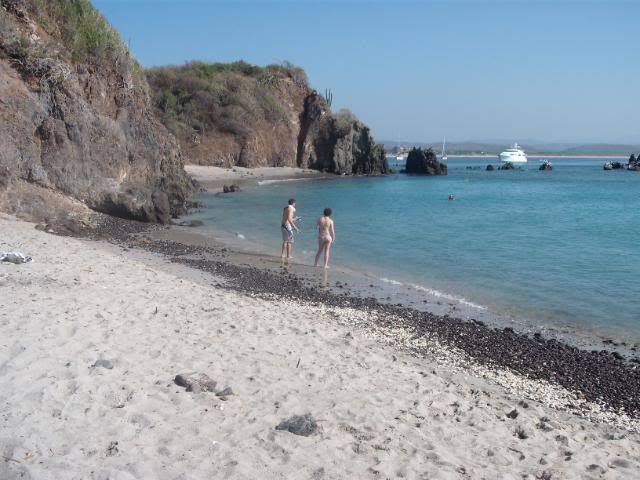 There was about a dozen smaller motor homes and trailers parked there and we got to chatting with a nice guy and his wife from Abbotsford, BC. Now, I gotta say, I cannot imagine sitting there in a trailer in the blazing sun on that beach for months on end....no sewer, no electric, no water! Not for me.
But for a day trip it was a cool place.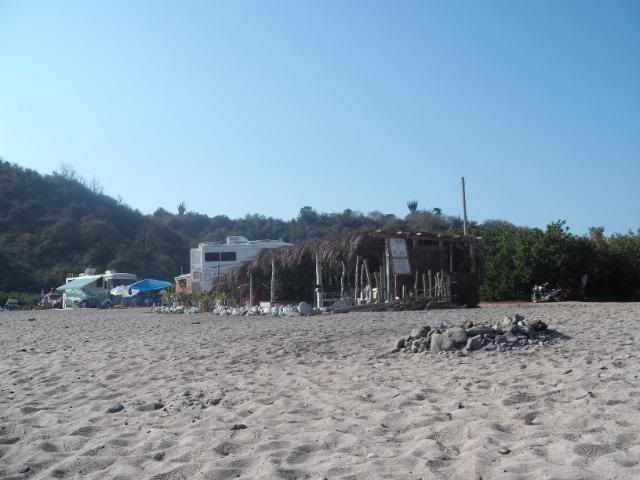 The beach sand was coral and black volcanic sand mixed...salt and pepper...cool.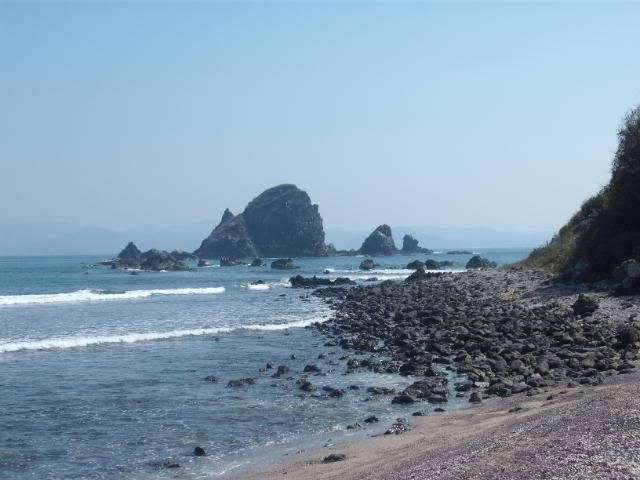 We snorkeled for about an hour together (it was so quiet and our buddy was right there, so we went together and just left our stuff on the beach). We saw tons of different fish, and SO many needlefish....it was needlefish heaven!
Nothing big, sadly. And the coral was not in great shape. But it was decent snorkeling for the Pacific coast, and very good visibility.
The beach reminded us a LOT of Playa Coral on Isla Ixtapa, if anyone has been there. Except the trailers were where the restaurants are there, and the snorkeling was better here.
We saw this young guy, early twenties maybe, with two other girls (his sister and his GF, two are in the top pic of the beach), and talked to them...lo and behold, where are they from? Saskatoon. Too funny, small world. They were staying in Barra and assured us we would love it there.
We climbed the hill to get the view, which was spectacular. You can see how there is beach on both sides?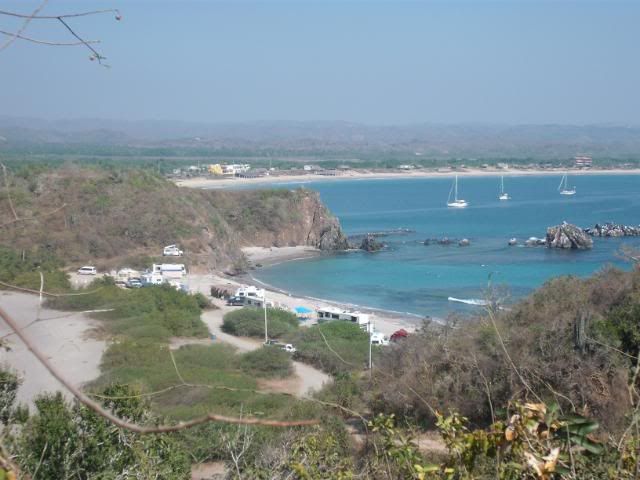 This huge cactus was just so ....so.... huge!
and this one looked a bit pornographic to me.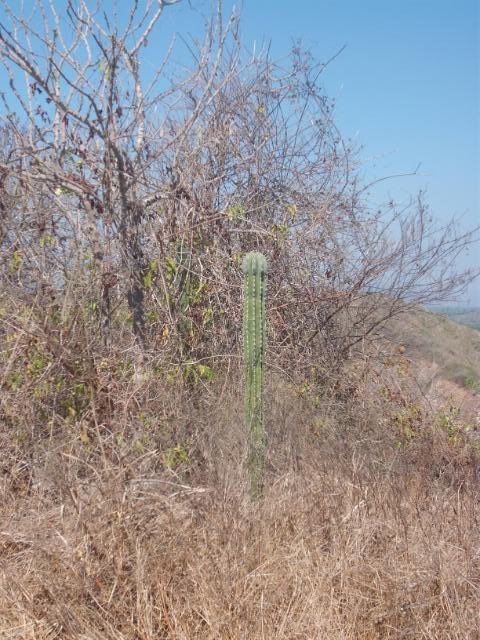 It sure would be a lot nicer in the rainy season in this area. Since they get little to aboslutely ZERO rain on this side, especially from here and down, things get so brown and dry.
Some rocky islands (island rocks? just rocks?)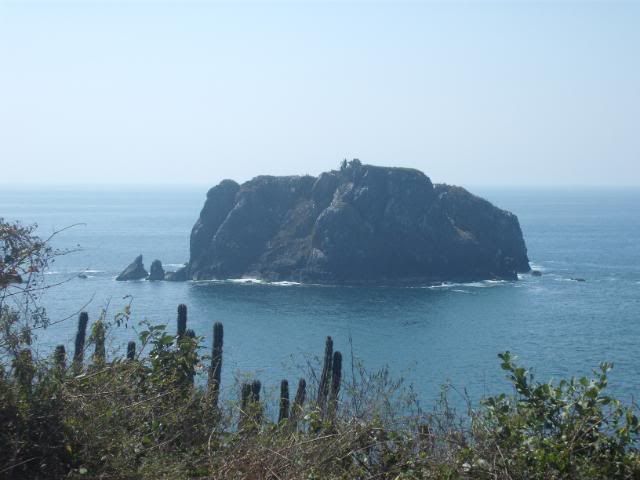 After another snorkel, we had had enough sun so we went back into town for lunch. We went to a place called Chitos, it was recommended to us. We had shrimp ceviche and shrimp tacos, both very good. Beers were 15 pesos each (as they were pretty much everywhere).
the beach at Tenacatita was quite nice too, lots of people there, sunbathing and swimming.
The guy cracked us up. He was American, we think. He had two canaries in this cage (Sol y Luz) and a box of 'fortunes'. You pay him, whatever you like (we gave him 20 pesos each) and he lets one of the canaries out and they 'peck out' a single fortune.
So enterprising!
The restaurant also had a resident parrot. It had his own table but I saw a woman who looked like regular go over and get him and take him back to her table and let him hop around. After she returned him, I did the same.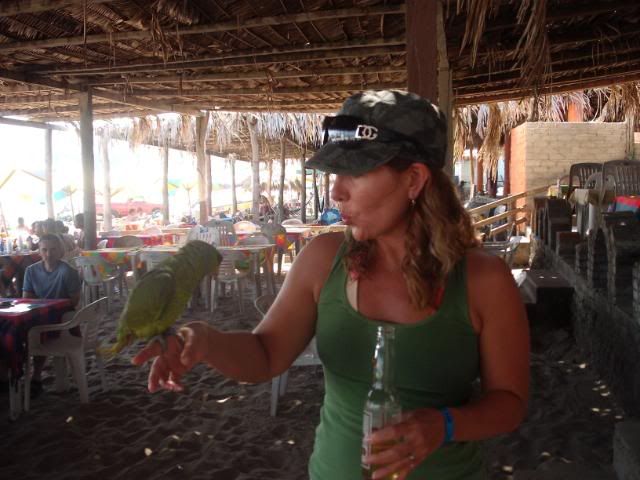 Then I put him down on our table. He ate a chip and then did the cutest thing. He hopped over to my water bottle and started chewing on the cap! So I removed it and filled it with water and he drank four capfuls! "I'm thirsty!" They should teach him to SAY that, maybe.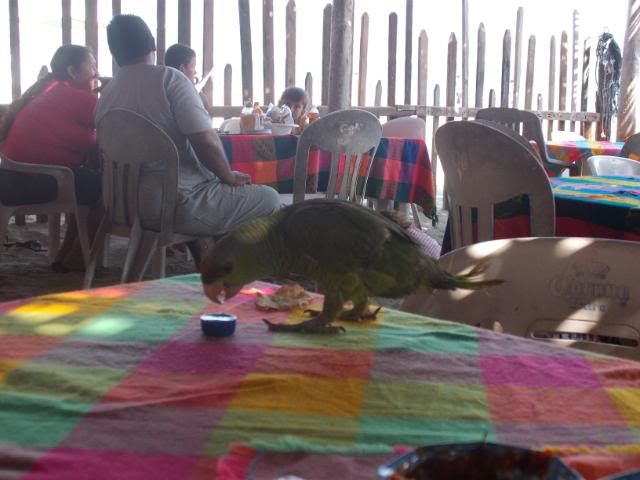 Whew, enough for today.