My Teenagers, Kianna (17), Annaliese (14- yup she is younger), and Adrianna (11)
I like the title because it reminds me of the first question I posted on here and all the funny comments from everyone.. NO, the we did not let the girls drink at the bars. So no need to call Child Protection Services.. LOL
Thank you all for the wonderful infomation and advice from you all... It truely would not have been as much fun without your help....
So here goes......
Me/Us..... We are a blended family of 5 heading out on our first vacation in many years.. We are sometimes a family of 6 but Josh's son Dakota could not make the trip with us.. We missed him!
With all the H1N1 virus, drug lords and the 4 flight changes we had, we were just glad to be on our way!!! We had a late night flight from Seattle, which worked out pretty good in the end.
Josh and the girls at Seatac Airport for our 11:30pm flight from Seattle to Dallas and then on to Cancun
We were mentally prepared for a rough night, but it really wasnt that bad except I couldnt sleep (white knuckle flyer).. We arrived in Cancun by about 11am on Tuesday.
We made our way upstream to the ADO ticket counter and purchased our tickets... Maybe not the most inexpensive way to travel for 5 people but I was worried about finding a large enough cab for all of us and did not plan ahead for a transfer.. Also, the girls got the experience and saw how easy it was to get around....
It was hot, but beautiful outside... The bus driver would not let us get in the bus prior to departure time... so the teased us by reading the newspaper inside the air conditioned bus....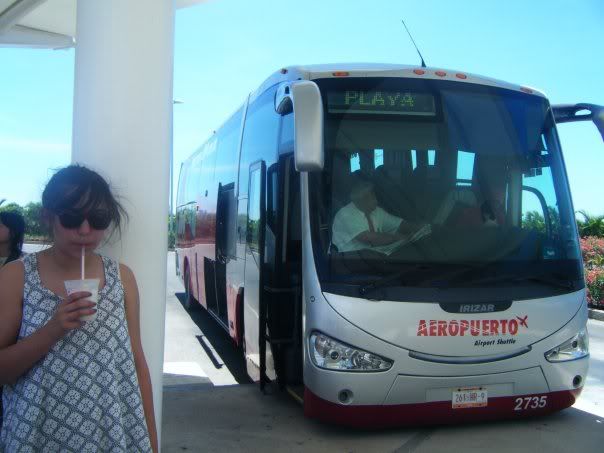 We are on our way.. Adrianna is glad to be inside.. LOL
Next stop is Xaman Ha... Condo #7010