We arrived at the Mimi del Mar and hit the beach.
Here's our little room. We used to pay for one of the big beachfront rooms in the front of the hotel, but it's almost twice the price of a standard room, and we decided that we spend so little time in our room that it just wasn't worth it. I really liked the layout of this room.
the bed: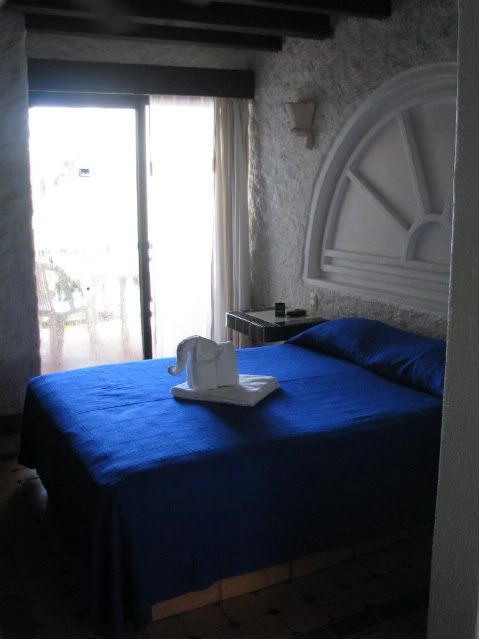 the kitchen area: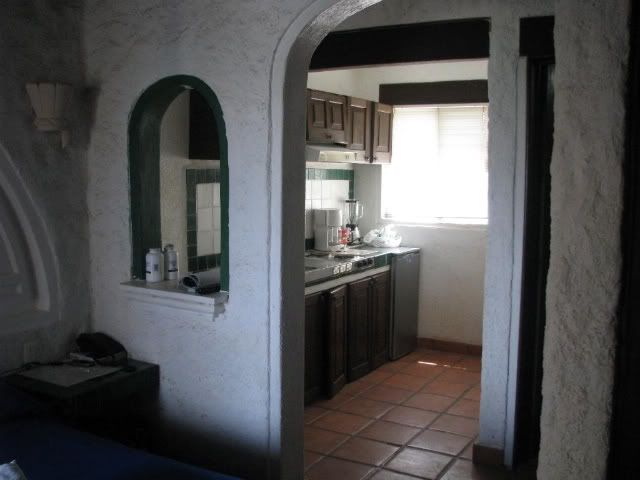 a photo taken from the interior of the hotel:
Here's a picture of the hotel from the beach. I love the Mimi. It's my favorite beach hotel in Playa. Every year we're there in June, it seems like the owner's family comes and takes over a little bit, but it is kind of a treat to see such a huge, happy extended family having such fun with one another.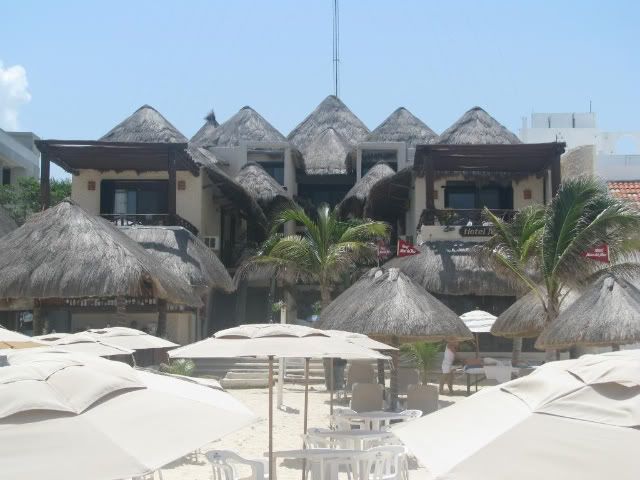 Here's a photo from the beach in front of the Mimi. It's a perfect Playa photo. It shows our waiter, Polillo, as wells as someone parasailing, a pretty woman in a bikini, a ferry at the new pier….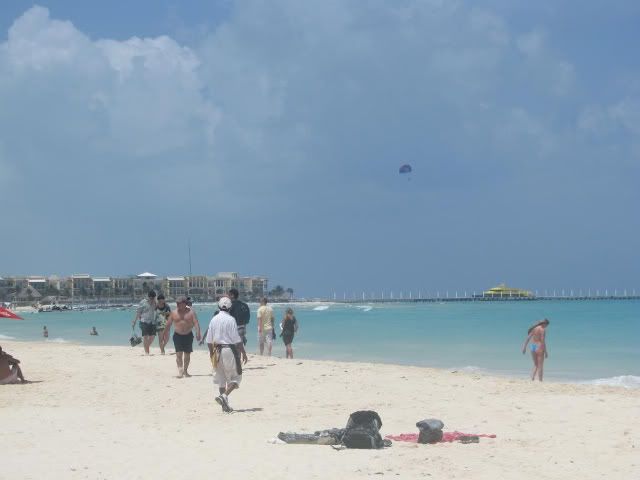 That evening we had dinner at Carboncito's. Delicious, as always. We shared the salsa platter, I had the chicken and poblano tacos and Corey had the coconut shrimp. I've never seen such a huge plate of coconut shrimp before!
We walked around for a bit but couldn't really decide what to do, so we went to bed early that night.
The next day we had breakfast at the hotel (included in the price) and then spent the entire afternoon on the beach. We had some lunch right in our beach chairs and drank a lot of beer!
That evening we went to PG's because we thought it would be Peanut Pet Shelter night there. However, it turned out to be "Canada Day." That was OK though because Andy and Gary were there so we finally got to talk to some friends in Playa. We had been so used to hanging with friends in Puerto Morelos, it was nice to finally find some in Playa.
We went to Scream Ink to talk to Pony about my tattoo before going back to the hotel.
Thursday was a really good day. We had breakfast and then hit the beach. Late that afternoon, our friend Eric, who's living in Puerto Morelos for the summer and teaching English classes there, joined us. After a long day of sun, swimming, beer (and a little tequila), we all went up the room and cleaned up. Then we went to Bad Boys for music! The best thing about it was that friends came! I saw Anna sitting at the bar. I had never met her before but I recognized her immediately. I love her just as much as I thought I would! We drank beer and tequila and talked just a little, little bit about craving cigarettes.
Anna gave me a beautiful gift and also some brownies that Maureen had asked Claire to deliver. They were from Ah Cacao! And they were delicious. The minute I opened the box, this delicious smell of warm chocolate wafted out. And Maureen had enclosed the most beautiful letter. It almost made me cry.
Andy and Jen came, and Jen immediately asked about Sandy!
Andy hinted that he had a special puppy that he wanted us to take a look at on Saturday.
Gary came, and Sharky, too. And people from Puerto Morelos were there, too! Eric was there, of course, and Mike came, and Leo. It was so much fun! Eric kept hitting on Anna but she wasn't having any of it!
A bunch of us went to La Famiglia for dinner. Jez joined us there. I had fettuccini with pesto. It was delicious! We had one last drink with Eric and Jez at La Rana before calling it a night. Eric spilled red wine all down the front of his nice white shirt and I helped him clean it off. That was my good deed for the day.