The next day we spent on the beach and then at Cantina Habanero.
Friday was our 11 year wedding anniversary. Ed had been hinting that there was going to be a bit of party on our behalf. We spent the afternoon, again, on the beach. I kept my Bubba Keg mug filled with what I call Sunshine Punch, which is made of rum, pineapple juice, and orange juice. Delicious!
When we arrived at Cantina Habanero that evening, this sign greeted us.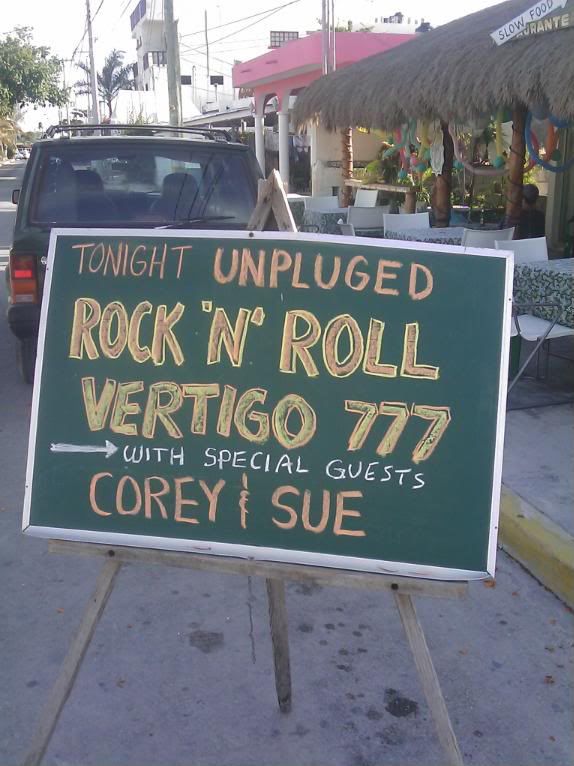 There were also balloons EVERYWHERE.
We ate and drank and had a great time. At one point, the band announced that they were going to sing a special song for Corey and Sue, and you know what it was??????
"I used to love her, but I had to kill her…."!!!!!!!!!
They also brought out a lovely, delicious cake for us, which we shared with everyone at the bar.
Saturday and Sunday were really rainy.
Saturday night we went back to Cantina Habanero and Vertigo 777 played again, this time with full electronic sound. I can't believe how awesome they are. If you are ever in Mexico and see that they are playing, GO!! They are extremely talented, amazing amazing musicians. Honestly, they should be in the US making lots of money. I wish I had some photos of them. That night was sooooo fun. Everyone was drunk and dancing and laughing. It was such a blast. Tom, who owns Cabanas Ixchel and Bar Ixchel, bought everyone friendship bracelets and then Corey and I went back to his house, which is on the beach. Oh, man I wish I had photos of his place.
It is the coolest house on the earth. It is like a huge playhouse. It's a cabana but it's fully built to withstand the elements and it's like one super huge room, except for the bathroom, which is huge and two rooms and the first room is like a huge walk in shower with a sink in it. It is truly amazing. It's got a big conical cabana-shaped roof that goes up sooo high. He's a lucky guy.
We staggered back to the condo (almost next door to Tom's place) at around 4 or 5 in the morning and then I got up at 9 to back to Tom's. We went to the Jungle Spa for massages.
It took awhile to rouse Tom from his spot at his computer and get him going. We were driving through the colonia, on the other side of the highway, and he decided to stop and get some tamales from a woman selling them on a corner. After we got going again, I saw a horse. Tom told me to feed the horse a tamale, so I did. I got out and tried to hand it to him but he wouldn't take it. So I put it on the ground and as I got back in the car, I saw the horse reach over and pick it up!!!! He must have liked the corn husks.
I spent about $45 for an hour and a half massage and it was AMAZING. The tables are set up in this pavilion in the middle of the jungle, and there are "rooms" made from hanging sheets. You go into your own private area and get completely naked and then a woman comes in and you get the best massage ever. At a couple of different points I had two women kneading and massaging me. The woman who runs the place, Sondra, also stands over you with incense and prays to Ixchel. It's really cool.
I finally got back to the condo at 1 or 2 in the afternoon. The weather was still pretty crappy so we sat around in the condo. We were both still pretty hungover from the night before, even WITH the awesome massage.
So – what do you think we did later that evening? Went to Cantina Habanero, of course! Corey had a huge cheeseburger, which he said made him feel a LOT better. I drank beer. There weren't many people out that night. Ed sat at the bar and talked with us. This is an example of talking with Ed:
Ed: I can't get over that guy last night with the steering wheel in his pants.
Us: What? What are you talking about? Was that after we left?
Ed: Yeah, I came back after you left and there was this guy walking around with a steering wheel in his pants. He had a weird accent, like an Englishman or a pirate or something.
Us: laughter
Ed: I finally said, "Dude, is that a steering wheel in your pants?" He said, "Aye! It's driving me nuts!"
Us: groan
I love him. He's so funny.
Monday was beautiful again. I sat out by the pool and watched a guy play with his kids in the water. There was a girl, about 5 or 6, and a boy, probably about 3. The girl kept bossing and bossing around her little brother. It seemed pretty obvious that she was mad that Dad was paying so much attention to him. God, she was bratty. At one point she hurt her foot and cried and cried, but it seemed like she was crying for the attention and not so much because her foot hurt. Anyway, they later went out onto the beach and she got about a foot or two into the water and she started SCREAMING. Her dad carried her up past the pool and I thought, "Here we go again!" Only this time she had blood streaming from her foot and I felt bad immediately for mentally rolling my eyes. I heard her from their condo screaming, "I WANT TO GO HOME!"
Roberto, the manager (who is awesome, by the way), heard her screaming and I told him that she had hurt her foot pretty badly. He ran to their condo and ended up taking her to the local doctor. I saw her later in the pool, calm and quiet, with a band-aid around her toe. It turns out she had gotten stung by a baby sting ray.
I saw her the next day, before we left, at the pool, and she was with another girl who was also staying at the condo. I heard her say, "I have something YOU CAN'T HAVE! MANGO!"
Anyway, like I said, Monday was a beautiful day. I drank Sunshine Punch and we hung out on the beach the entire afternoon.
That night we went to Cantina Habanero to drink and say our good-byes. I bought an ice cream cone just off the town square and it was HUGE. Now I know why he wouldn't give me three different flavors – only two. They wouldn't have all fit on the cone!!!! God, I couldn't eat it fast enough. It melted all over my dress….but it tasted good.
Tuesday we got up early in order to enjoy some time on the beach before going to Playa. Our friend Mike picked us up. It turns out we had to go to the airport first to pick up someone Mike works with. We had a beer there while we waited for him and then we were off to Playa, once again with a cooler full of beer in the truck.
Here are some random shots of Puerto Morelos.
Mike:
flamboyanes, which I decided I wanted to incorporate into my tattoo: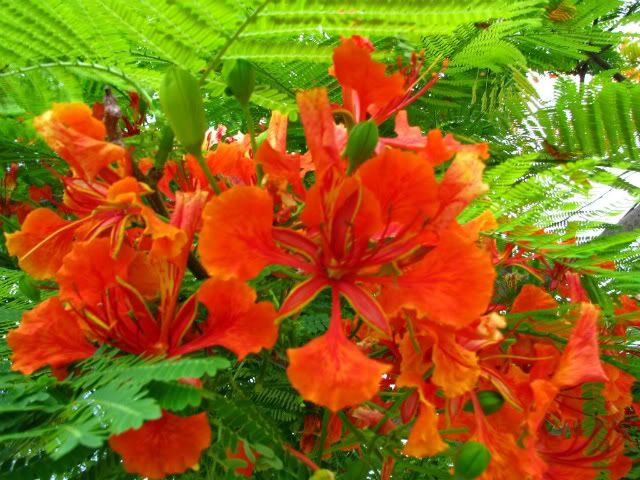 a pretty house: