In other threads I had mentioned "los 4 vientos" (the 4 winds) a road side eatery, finally after dreaming of it for some years, I paid a visit again, with some archeology visit stuffed in,
I wrote just the introduction, so you can do a Google search form more info if you are really interested on visiting.
Xochicalco was a major city near today's Cuernavaca (the city of the eternal Spring) with strong influences from the Mayas and Teotihuacan. It's located in a hill top and is enormous, just thinking about moving the stones up there with no wheels, no cargo animals, etc makes me dizzy and weak.
And back to the main object of the trip, eating at 4 Vientos. Well, I knew the exact place and name, but got a small surprise, they changed their location a bit and so the name, now they are called "Km 107" because that is their new location, in relation to Mexico city's Zocalo (the starting point of highway 95 Mexico-Acapulco, remember, we normally don't use the number but the names of both cities).
Pics are
click-able thumbnails
,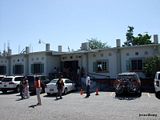 The main attraction here is
Cecina
= Dry salted beef meat.
Is almost as soft as arrachera but a different cut. Is salted to preserve it without refrigeration and is a must in the state of Morelos. In comparison with HC Arrachera (which I had never had the pleasure to eat), this huge amount is just $70 pesos, but has no avocado nor potato/onion and comes with huge tortillas (the normal ones in Mexico city and Riviera Maya are CD sized) this are a bit larger and handmade, yum.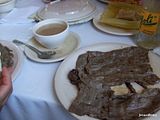 They don't bring any menu to your table, the dishes and prices are posted on the wall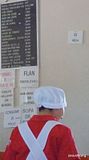 The restaurant holds about 30 large tables that seats 10 persons, like a camp place, and they were completely full this Sunday at lunch time, so we had to share with another family (totally normal here).
There were a lot of waitress and I can't imagine the number of cooks and related personnel, service was fast and efficient, they really know.