Sunday night we hit the hay early (damn humidity!) and so were both wide awake about 7 AM.
We got up and had a nice leisurely breakfast, noticing this little guy under the dishwasher....
I am not sure what that smear is there.... the place was scrupulously clean....it maybe some coffee I spilled just before taking this particular picture.
He was there all week. I am not sure what he was eating, possibly those ants that were all over (and always seem to be everywhere). I brought him a hibiscus flower one day but he did not touch it...I guess that is igunanas who eat those.
I suppose trying to feed a gecko might be akin to feeding a rat or feeding cockroaches to some of you. Oh well.
He was cute!
After breakfast we headed around the corner and down half a block to Pluto Dive shop. They were expecting us, of course and we quickly got introduced all around and got started.
This is, from left, co-owners Barbara Biasi and Alberto Salvini (he was our teacher) and that is Alessandro/Alex and his niece Jessica who was the third student that week and came with us on all our dives.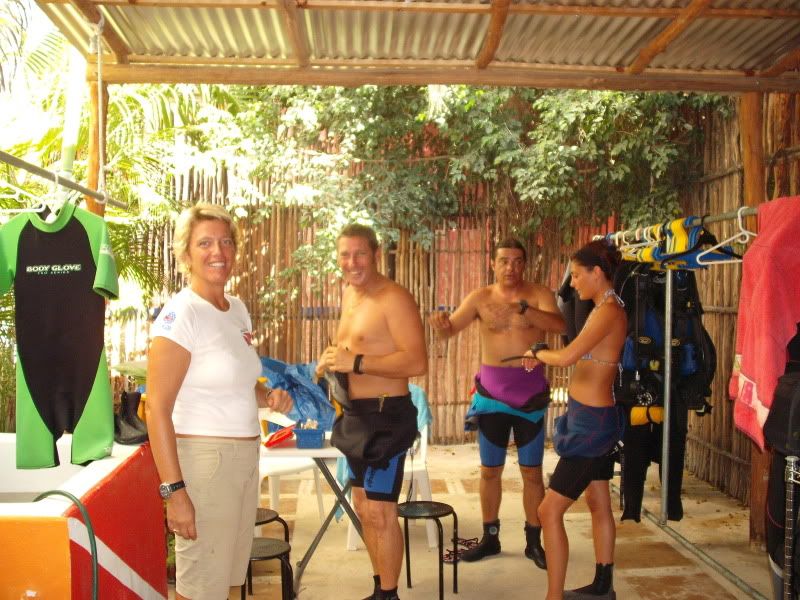 Jessica was a very nice and gorgeous girl of about 20...the first time we met, I asked her "where are you from?"....."Rome." she says (she spoke very little English). I felt like a complete hick!!
Don and I did a Discover Dive course in Playa back in 2005 at Scuba Libre and another 5 dives while we were in Holguin, Cuba, and we also had bought the book a month earlier and read it, so we discussed that and decided we would do all the pool work today in one shot. Good, get it over with!
We got fitted for our BCDs and fins and weights, etc., and suited up and hopped in the truck and headed over to a hotel on Tenth where they use the pool. I wish I could recall the name of the hotel...not Adventura Mexicana, but similar, Villa Mexicana perhaps? It was maybe between Calles 32 and 34 or thereabouts?
We ended up spending about 3 and a half hours without a break in the pool.
It was a lot, but we were happy to do it, and to get it all out of the way in order to have not so much to do Tuesday. Alberto did ask us what we preferred and it was our choice- he was very flexible.
The only problem we had was for some reason I was having airway issues when it came to clearing my mask when I had to do the flooding and taking-off-and-putting-back-on exercise. I could not seem to properly blow out through my nose to clear the mask very well!
Frankly, I think I had psyched myself up to have issues about it
-it was the one thing I was worried about and I had been fretting over it for ages.
I am very nearsighted (contact scrip is -7.50) and I wear contacts, and I had been nervous for years at the thought of removing my mask, and either losing the contacts and being helpless, or losing the mask and not being able to find it.
Turned out I merely closed my eyes when I had the mask off and before it cleared, easy peasy lemon squeezy.
After a few tries of fairly terrible results with the mask clearing, I traded my mask with Don's which had a purge valve and it worked much better. Alberto was professional and calm and patient throughout, which helped a LOT.
After that LONG time in the pool, we were right pooped out! When we got back to the shop, he just told us to do the first 3 quizzes and report the next moring at 9:30 again, and we were free for the rest of the day.
By this time it was around 2 or so, and we were starving, so we freshened up and headed down to First Avenue and walked downtown to El Pirata at the Costa del Mar hotel. Don LOVES El Pirata, it is his idea of Mexico, a rustic, toes-in-the-sand, beer-in-the-bucket kind of place.
I had the Azteca soup (more like cheese soup, here, but REALLY really good) and Don had a clubhouse. We moved to the loungers after eating and spent the rest of the afternoon there.
Later, about 6:30, we met Stewart G and Kelly and their kids Iain and Adrienne for dinner at El Fogon (the one across from Mega).
We had tons of great food and far too short a visit, (although it was a really nice visit!)- it was smoky from the grill in there and SUPER sweaty, and the Stewart Gs had to travel back home tomorrow, so the party broke up early and we all headed home- us to do our quizzes and them to finish packing and saying good-bye to Playa!