OK...Here I go. Not my first trip to Playa, but my first trip report. Let me start by saying that I have no photos of airports, food, menus and food prices!! For the food stuff - it's because I completely forgot to take pictures - and really, I'm not a foodie - frankly, I'm good with a bowl of cereal - ask my husband!! So...a quick synopsis of the airports - we (Me - Devon, husband Troy, Sister Randi and my daughter Aly) left on July 7th from San Francisco, CA on a red-eye...our first. Can't even get out of SF without a glitch...my daughter's bag gets the security inspection...she brilliantly had a pocket knife in her backpack - claimed she completely forgot about it as she always has it in her backpack - well, I'm not paying to send it home - so yeah, just throw it away - Lesson #1 for Aly. Duh!! You're at the airport, going thru security, hello!
All I'm thinking is great, now they're going to go thru all of our stuff, but we were safe. Luckily, that was the only problem. Dispose with the knife...on with the trip!!
Red-Eyes....Great IF you can sleep. Unfortunately, none of us sleep - too excited, except Aly, who I swear can sleep anywhere, anytime - especially when a moving vehicle is in the equation!! We all kind of cat-nap, but not real sleep-sleep, you know what I mean! This being said, I would still recommend a red-eye - just because you don't waste a whole vacation day flying...you can always sleep on the beach when you get there!!
Gotta throw in a word about the Mexico City Airport. This place is a freaking maze. If you smoke, like my husband and I do,
(I know...I don't want to hear it!!) then you actually look forward to these lay-overs - gotta have that darn nicotine, ya know. First, it's hard as he L L to find someone who speaks English - thankfully, I have enough spanish to get by - but if you don't speak Spanish at all - well, Good Luck.
Second, it's about a 5 minute walk to get out of this place (no biggie), but about a 30 minute walk to get back in to where you need to be, and VERY confusing.
INSANE, I tell ya. So either don't smoke - or get a map of this place. It was even worse on our return flight!! Does Mapchick have a map of this airport?
Sorry....on to the actual trip - arrive in Cancun at 10:30 a.m. 7/8/09 - a bit of rain - not much.
Not alot of people there, everything very smooth and quick, health screen (somewhere in there is an automatic temperature thing, so you don't even know they do it). Thankfully all get the green light - and I do mean thankfully - with my husband and I going for 3 weeks, we had ALOT of stuff - way, way too much -let me rephrase that and say I had alot of stuff - but I'll give you my tips on packing later! We had a private car pick us up at the airport - they were there waiting-quick stop at the closest 7-11 for a 6 pack of cerveza -
Vacation has officially started (not counting the free, yes free, beers on MEXICANA Airlines) because now we are here...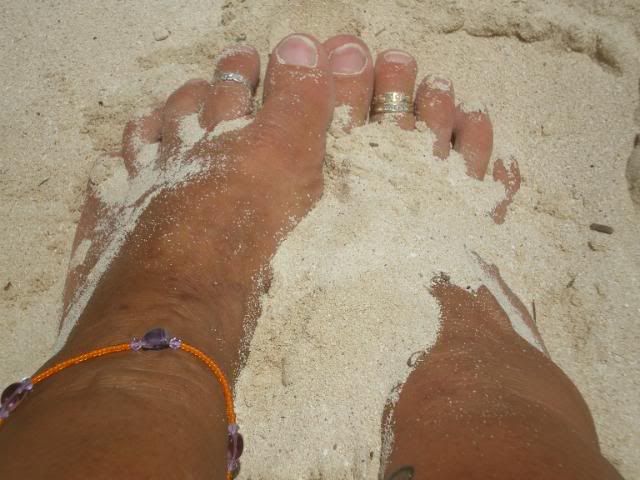 On to the hotel. Sandos Playacar Beach Resort and Spa. We actually own the Royal Elite timeshare (I mean, vacation club) here, so we already know what to expect. Except, we finally get to our room at about 3:30 - after leaving our luggage at the front desk, changing into our suits, and heading to the beach for quite a while...and, uh-oh. We are NOT happy with our room. We had a bottom unit, ocean-front. Absolutely no privacy, room showed signs of wear and tear - not what we signed up for when we signed up for Royal Elite. We get moved the next day - to the north 40 (about as far from anything as you can get) - room 9330 - in the Riviera Suites - which are newer and very nice - but it's quite a ways from the main area, beach, etc. We are ok with that.
Our (second) room #9330 King Bed (pretty comfortable), sofa makes into a bed. (My sister and daughter had a separate room!!)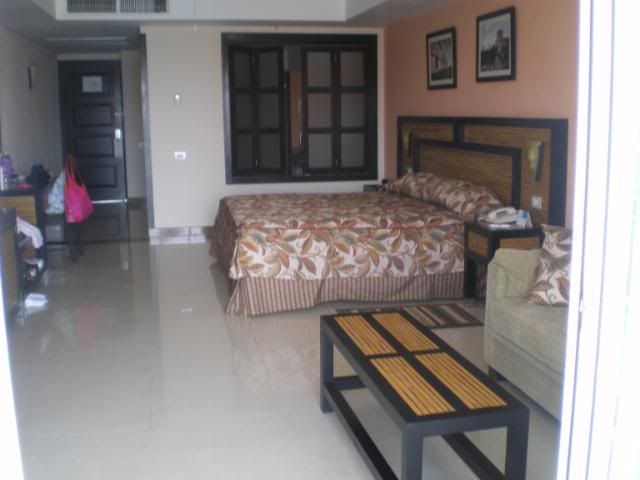 The jacuzzi tub in the bathroom - window opens up into room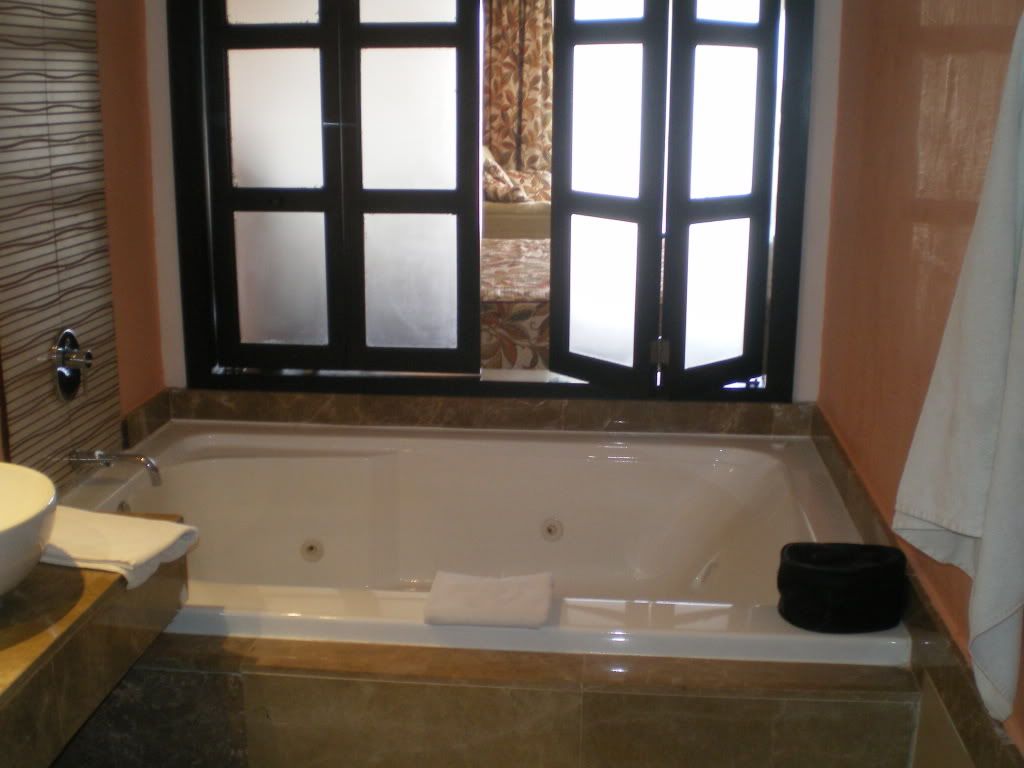 Our balcony view - Riviera pool -swim up bar
The beach - day 1 (I think....) Not a whole lot of people!!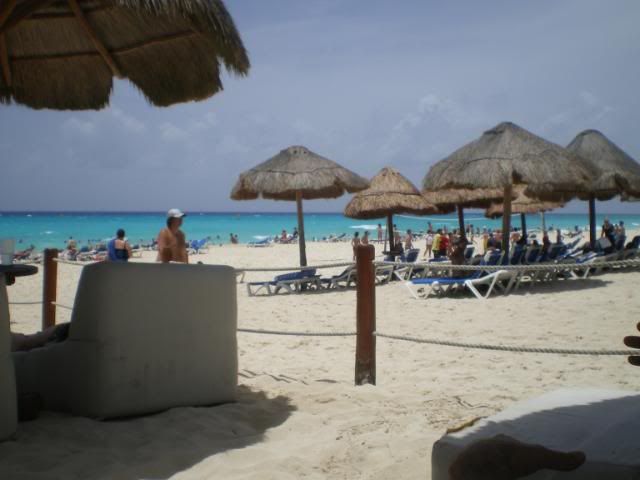 ***THE BEACH AT SANDOS - 2009 vs 2008 IMHO... The beach was GREAT. Compared to last year (Sept 08), there has been a bit more erosion, but I didn't think it was too bad - at one point I had seen photos of the beach all the way back to the volleyball net - that was NOT the case when we went. There are a few more sand whales - especially more toward the Iberostar side, but no one seemed to mind. The beach and water were just as nice as last year- maybe a bit bitter last year, but very nice, nonetheless.
However, IMHO, I walked up about three resorts -Iberostar, RIU, etc. and found their beach area to be somewhat ugly (in comparison to Sandos), they had alot more algae and seaweed in the water, more whales -
Here you can see about more of the "darker" water by Iberostar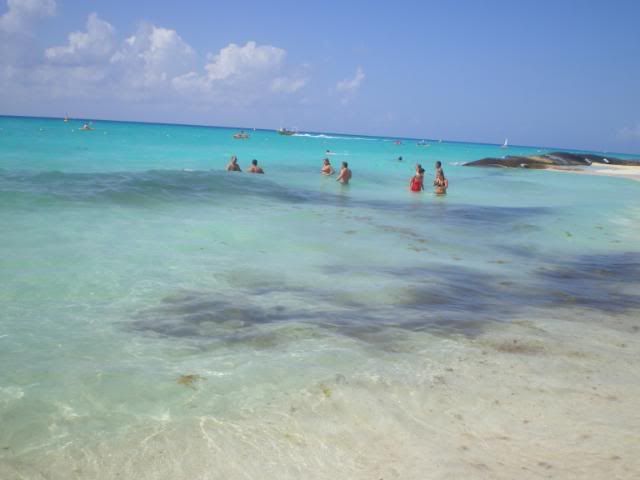 For those of you unfamiliar with the area, Sandos is the LAST resort in the gated area "Playacar" (across from the golf course). It is a 20 minute walk to 5th Avenue, or a $5 taxi ride. I'm not 100% on the walking part, cuz to be honest, I've never done it...personally, I think it's more like a half hour - because walking to the little shopping area in Playacar takes about 15 minutes - and that I have done.
Another thing about my trip report...I had every good intention of being "OCD" with the photos, stealing good ideas from others (like writing what day it is in the sand, taking food pics, etc.). We all know what I'm getting at... NOT. Yeah...sounded good at the time!!
But...such was not the case. Even though I took over 900 pics in 3 weeks!!! I seriously think about NOT bringing the camera next time - we'll talk more about that later!!
OK...let me get back on track again. 22 days is a long time to be at an All Inclusive resort, any AI or "resort" for that matter. Now, don't get me wrong - I can stay on the beach for days and days, and basically do nothing (Oh yeah...that's about what I did!!) - it's a long time because it's the same (basically) food everyday (which BTW is very good at Sandos), the same pool activities, drink all day and yada, yada, yada. That's why next June, we are booked for Isla for 5 nights, and 12 in Playa, in a condo...so we can experience more of "life" in Playa without being confined to a compound. Ever notice how these mega-resorts make it hard for you to get out? Even though we had been to Sandos last year, we still managed to "get lost" on the resort - trying to get out, that is!!
Anywho... so, we spend ALOT of our vacation in the sand, surf, and pool, our choice, we happen to like being lounge(r) lizards! We did manage to get out a few times, Chichen-Itza one day, Cozumel one day, shopping, Wal-Mart, dinner at the home of one of the employees of Sandos that we had met last year (this was a highlight of our trip...the REAL Playa)....
Chichen-Itza Express....Great day trip....Highly recommend. It is a LONG day, especially the drive there and back - 5 hours round trip, and 2 1/2 hours there...no stops at Cenotes or restaurant - begged driver to make a potty stop...
The drive there...did I mention L O N G? View from the van, I have a real problem with the way Mexico (doesn't) handle it's garbage, plastic bottles, etc. just strewn anywhere on the side of the road... Recycling anyone? Boy, what a business that could be.
On the way there: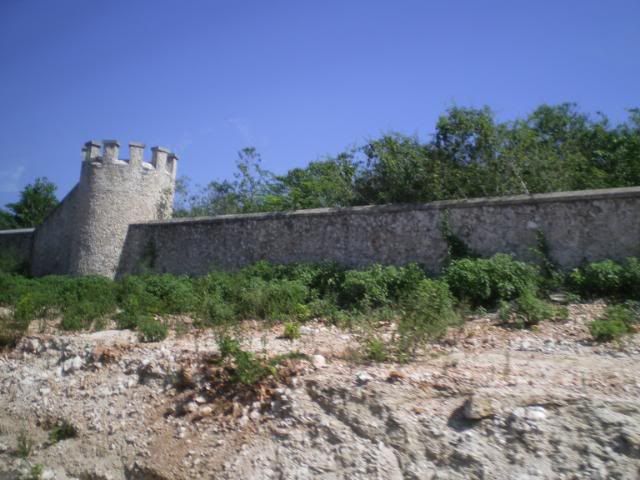 Chichen-Itza (Troy and me, Devon) It was BLAZIN' hot here!!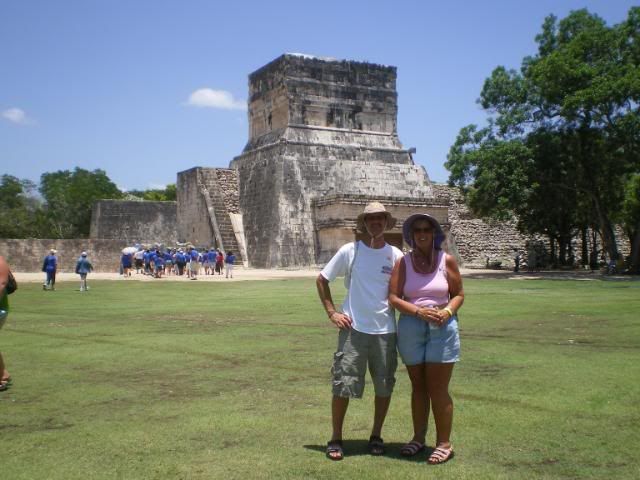 Other Chichen-Itza pics: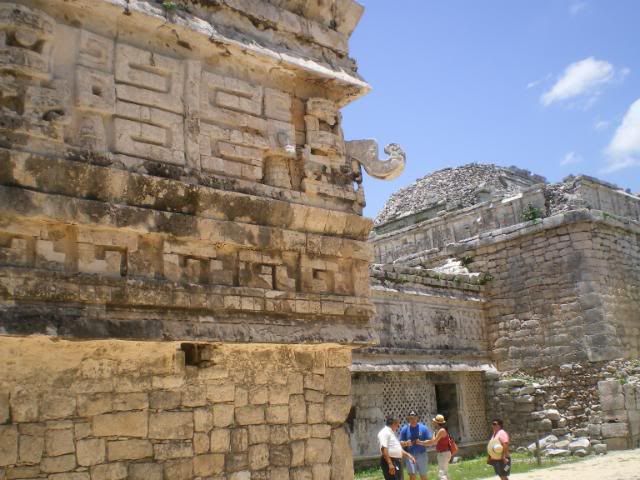 OK..I'm getting a bit frustrated with PhotoBucket. I uploaded a bunch of pics, but now I'm not seeing certain ones. I might have to see if there is a better way than PB, not sure what is going on right now - they were there before, then I uploaded more - maybe there is a limit, I dunno....So...I'll have to continue this trip report later when I can figure out what happened.
Adios for now... I'll report more later, and more pics too
!!
Devon