Sandy & I just returned from an 8 day Carnival cruise to Grand Turk, Half Moon Cay and Nassau. I know many of you don't like to cruise, but out of 12 cruises (9 with Carnival) this was the best yet. The crew was extremely polite and the service was great. Every on of our wait staff and stewards greeted us by name...not so on past cruises.
We left out of Manhattan on Wed the 7th. Driving into Manhattan has never excited me and the thought of doing it on a weekday excited me even less. but, it was an easy drive through the Holland Tunnel and we parked right at the pier.
We were on the ship within an hour of checking in. Very windy day as we sailed out of the Hudson, but the Manhattan skyline and Lady Liberty were on display in all their glory. We were soon under the Verrazano Narrows bridge and on our way.
The first two days were at sea days...we woke the first day off of Hatteras, NC and 75 degree temps, bright sunshine and smooth seas. Spent most of the day topside sunning. Day two we woke off of Cape Canaveral and HOT! We spent this day topside but in the shade!
Day three was Grand Turk. The island is set up so you walk off the ship and everything is right there. Margueritaville is right there with a pool, bar and restaraunt (though with the ship so close, I don't know why people felt the need to pay for a burger there). The beach was very nice, but the bottom was a bit rocky when you first entered the water. We spent most of the day there and were back on board for sail away by 3:30.
Day four was Half Moon Cay. This is Holland America's private Island..but since Carnival now owns them...
this was a slice of heaven right here on Earth! Talcum powder sand and a gentle slope that goes out into the water for about 50 yds. The water was a beautiful turquoise and nice and warm. We rented a cabana for the day that was stocked with drinks, fruit and veggie trays, tortilla chips and dips, an air conditioner, ceiling fan and misting fan (though in a humid tropical climate, a misting fan just makes you wetter!). There were also padded wicker lounges and a wamr water shower. The ship's crew comes ashore here and provides a BBQ buffet and waits on you for drinks.
Day five was Nassau. We've been here several times and don't care for this stop much. So this was a short shopping trip along bay street. Sandy got her Dunkin Donuts Caramel Latte fix and I got my "FiveBucks" Mocha Espresso fix...then back on board.
Day six and seven were at sea days with the weather getting progressively cooler/wetter as we headed North.
We were back in Manhattan on Thursday and were home in 3+30. not at all bad. When we left, I decided to use 9A North along the Hudson and across the George Washington Bridge so I didn't have to contend with the down town traffic.
And now some pics
Sandy against the Manhattan Skyline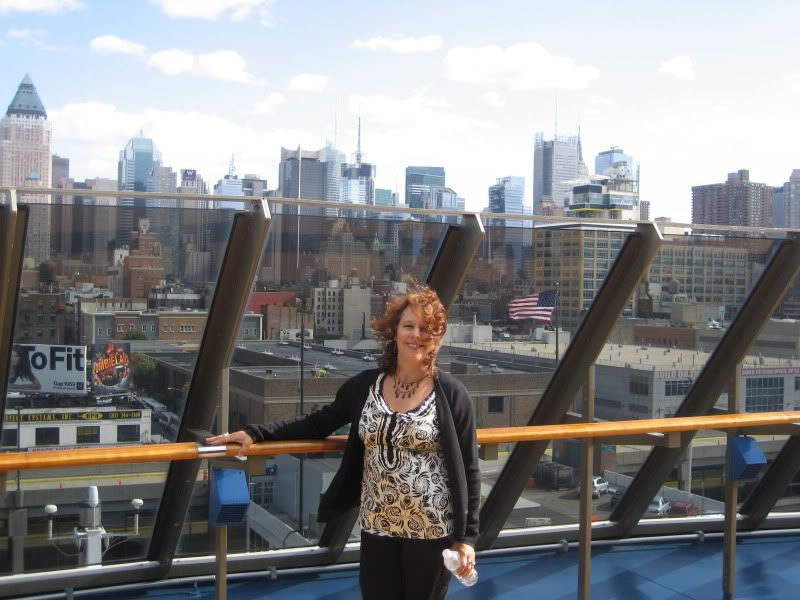 Empire State Building
Lady Liberty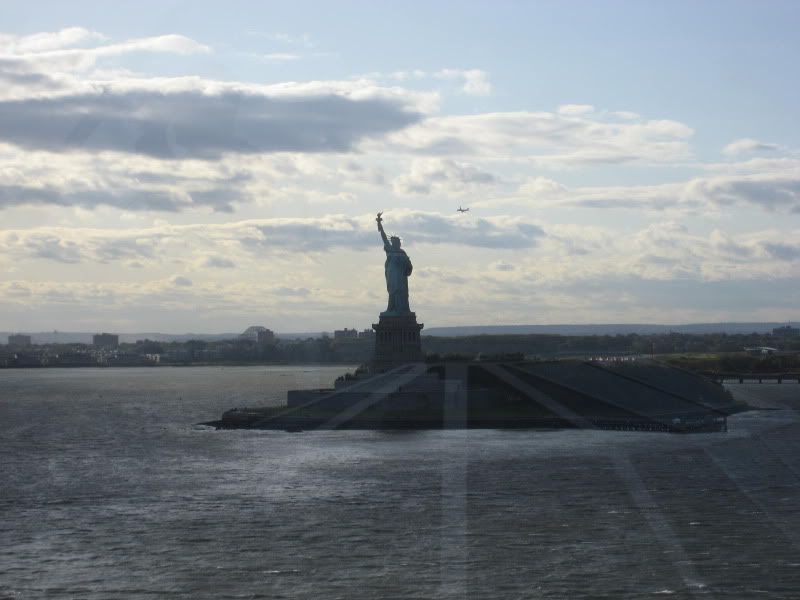 Verrazano Narrows Bridge