They had known it was going to be secluded and quiet at this house and it really was. They both said it was a bit TOO secluded, in fact. After the first day they were a bit bored. There was a TV but no English stations.
The first four days were basically, get up, go out fishing until about 1 or so, then come back and have lunch, laze around the pool, then wander down the beach and try some surf fishing. Don was hoping to catch a roosterfish surf fishing but no dice.
When I dropped them at the airport I asked Seth how many books he had brought along...none. I told him that was a bad idea.
Luckily Don had brought two and they traded when they were done.
They also saw hundreds (literally) of dolphins one morning. Seth took some video and then accidentally deleted it that night. But he took another clip the next day, there just weren't as many of them in the pod. It is hard to try and catch them on video but here it is!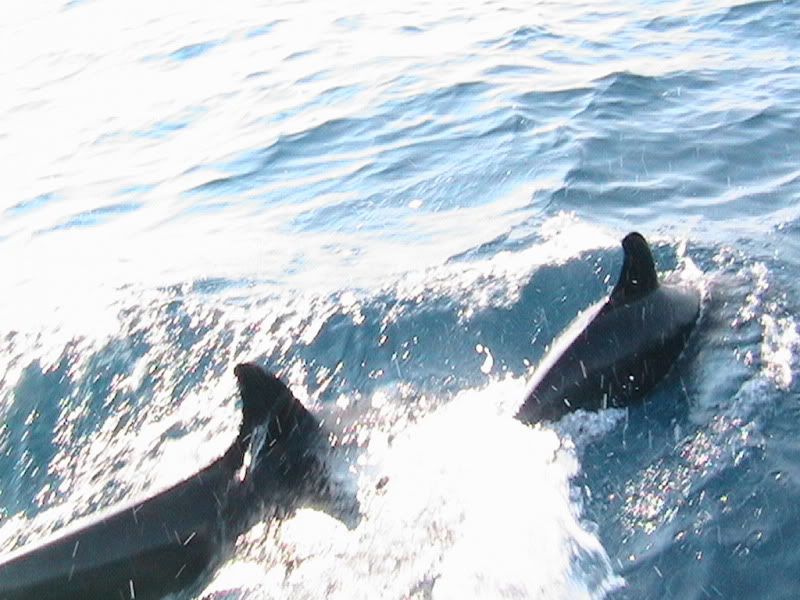 The second morning about ten or so they were doing inshore fishing and had an interesting experience. They saw smoke rising from behind a hill close to shore. They just assumed someone was burning garbage or maybe some crop that had been recently harvested.
But then they went farther along and saw a lineup up cars on the highway. The smoke was coming from the highway, just farther up and hidden. They thought it was some sort of accident.
The captain found out later that night that a drug cartel had been in a shootout with some federales on the highway near town. Two police were shot, one wounded badly, apparently. Scary.
I have to say this freaked the boys out a bit. Don and I have been to many smaller towns in Mexico, like Sayulita, Barra de Navidad/Melaque, La Manzanilla, etc.
But they were still 'resort towns', really, and we have never felt remotely unsafe anywhere before. But Don said they felt a bit anxious the rest of the trip after they heard about this incident. Especially poor Seth, this was his very first trip to Mexico!
Puerto Vicente Guerrero was VERY poor. In Mexico you get used to seeing sign of poverty but this was extreme and very sad. There were squatters living in huts on the beach, litter everywhere and beggars all over town. The situation and the people seemed pretty grim. We like to go to 'real Mexico', but-this was just a little TOO real. I sure hope that things turn around for them there. People seem to think the border states and the Baja are the only places with drug related violence in Mexico, this is not so.
Before the police/cartel incident they had booked the captain for fishing Thursday morning, too. They did not have the house after Wednesday morning so they had to go into town and get a room. The captain warned them to not walk around town at night.
Don asked him why and he just said it was not safe, not much other explanation. When they went to dinner they saw their waiter do a line of coke in the kitchen after he brought them their menus, like it was no big deal, right out in the open. They also felt very unwelcome and nervous that whole evening in town. Don said he has never felt like that before, anywhere. Needless to say, they took the captain's advice and went to the room and played cards until they went to sleep.