DAY 4 ~ SUNDAY ~ THE FUSION
The beach early in the morning. You can eat at the tables in the sand or just lounge on the chaises.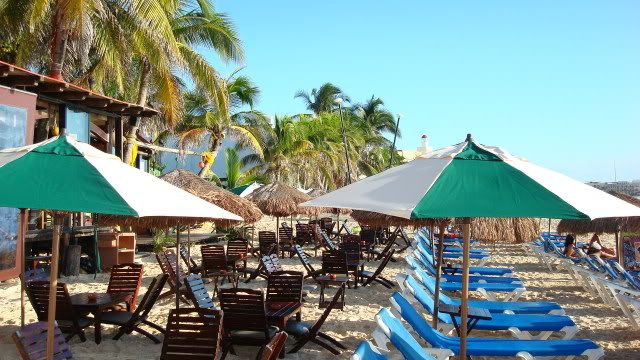 so beautiful ...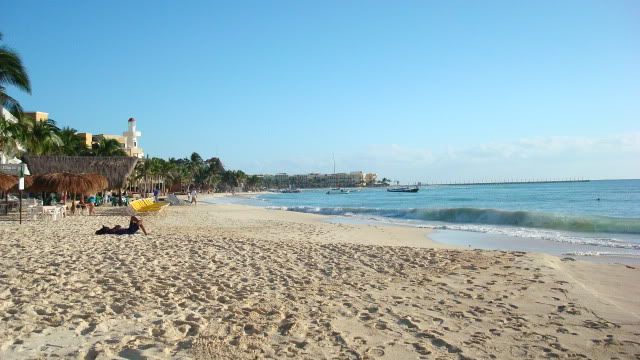 Officer Friendly and his pal ...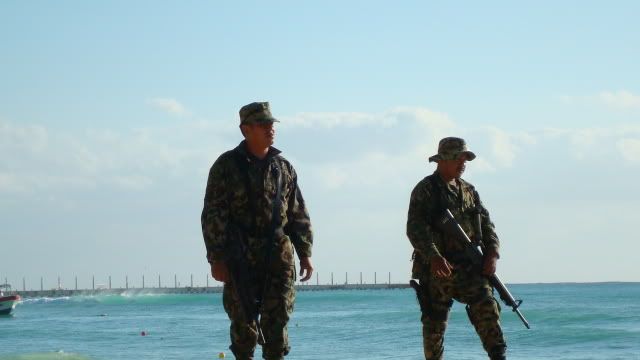 Norb and I walked down 5th Avenue for breakfast ...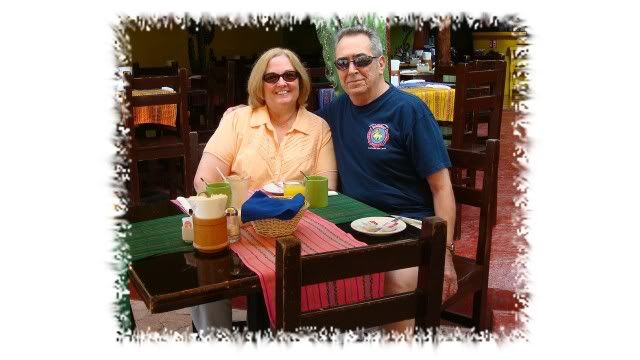 DELISH!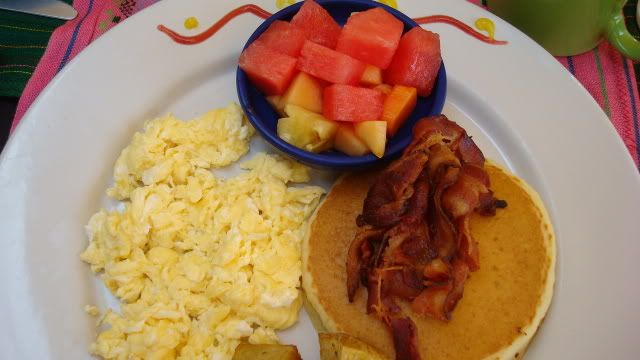 Mike gets a massage ...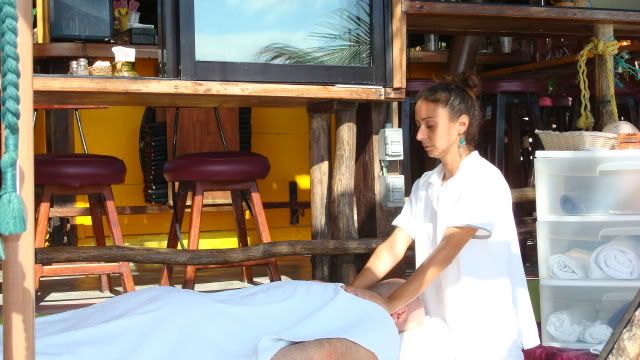 Sheila relaxes ...
There are a lot of BEACH BUMS in Playa ...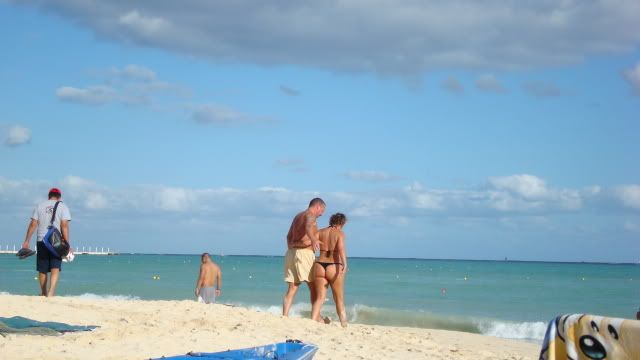 lots of 'em ...
Norb at the bar ...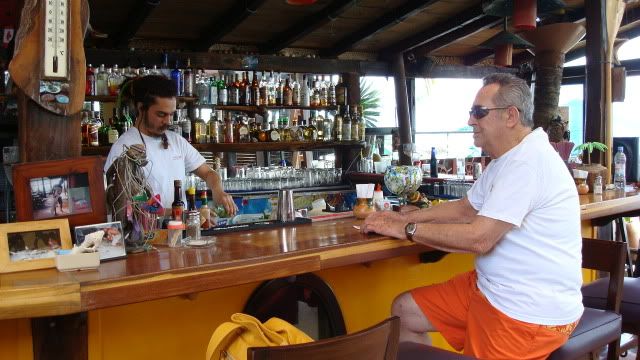 The mixed drinks at the Fusion were 80 pesos, which I thought was reasonable.
They certainly had alcohol in them!
Drinks on the deck ...
Time to check-out and say GOODBYE FUSION ...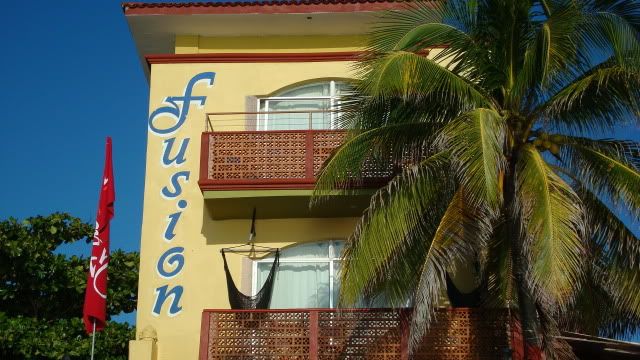 Would we stay there again? YES, but I would request a room waaaaay in the back, away from the bar and the band.
The FUSION is a great little hotel, it's conveniently located off of 5th Avenue, it's clean, the staff is excellent, the food is very good, the room rates are very reasonable, I walked around barefoot for 4 days ... and we all loved Libby!
We have been booked at the Gran Porto Real four times, but we have never stayed there. Each time we checked in we were asked if we wanted to upgrade to the ROYAL for $40.00 per night per room.
Of course, we always say YES!!! The Royal is higher rated, adults only, it has a better beach, nicer rooms, better food ... all around BIGGER and BETTER!
This trip Sheila didn't want to take any chances that we wouldn't be upgraded, so she and I walked up to the Gran Porto on Friday and asked at the front desk. First the clerk said it would cost between $80 and $100 a night to upgrade. Obviously he didn't know who he was dealing with!
I then explained that we were returning guests and last year we only paid $40.00. So he checked in the computer, read the dates that we had stayed there in the past, and VOILA!, of course we could go to the Royal for $40.00!
Then I mentioned my friends, Ellen and Ron, who would be arriving on Monday ... can they go to the Royal, too, since we are all traveling together? Yes, he said ... YAHOOOOOO!!!!!
So on Sunday we checked out of the Fusion, and got a taxi to our favorite resort, THE ROYAL!!!
At check-in I requested a room close to an elevator and close to the lobby, pool and restaurants.
They apologized for not being able to give me an ocean view room, but we were fine with that.
We were in room 200 with a street view, but we never sat on the balcony anyway.
Here's Mike and Sheila at check in ...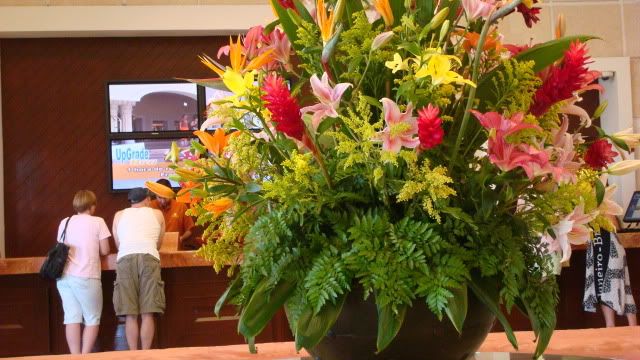 We got our Royal bracelets and headed to lunch and drinks!
Here's our room ...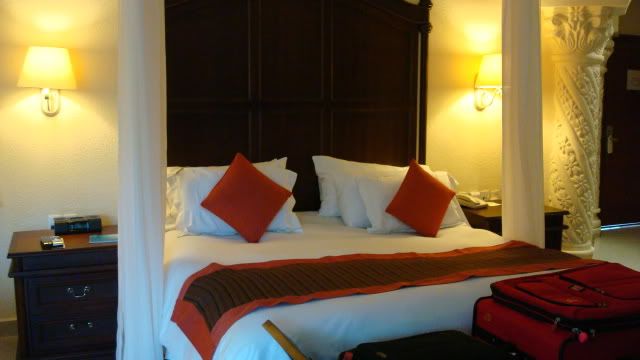 Jacuzzi ...
lounge chair ...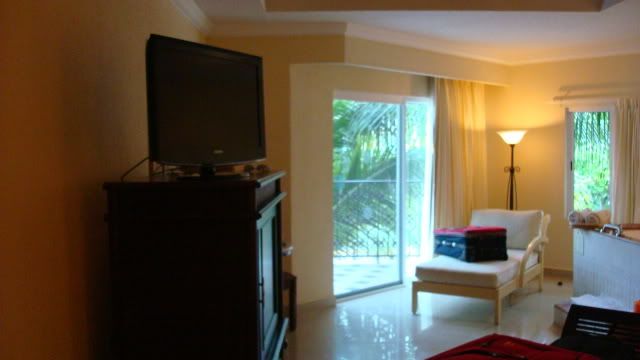 shower ...
Always 6 big fluffy bath towels, mini bar, liquor cabinet (all included), room safe, etc ... all the amenities of a fine hotel.
Beach towels by the pool, take as many as you want, no one asks your name.
Part of the pool ...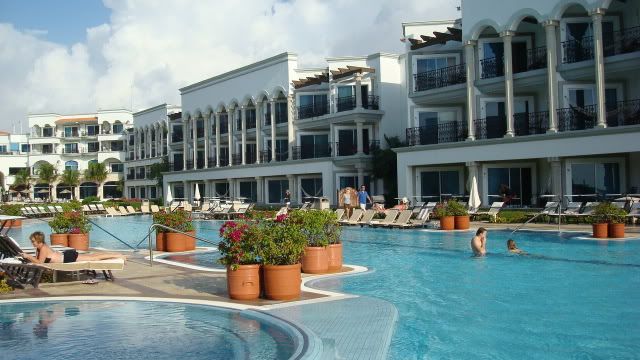 Of course we'll have another drink ...
The gorgeous beach ...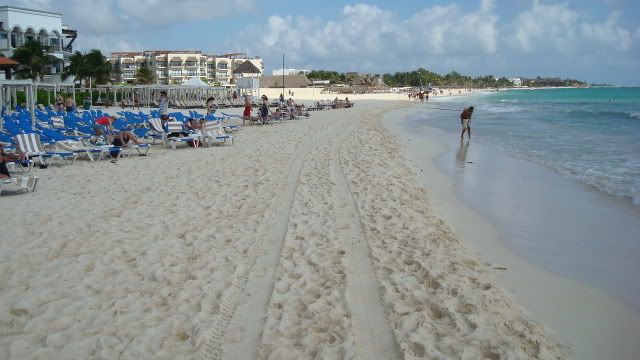 After unpacking we went to dinner at the buffet, Sheila and me ...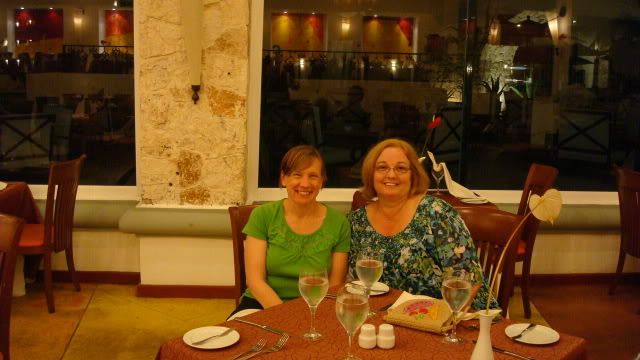 Mike and Norb ...
I don't remember what we ate, I didn't take any notes. But I'm sure we had dessert!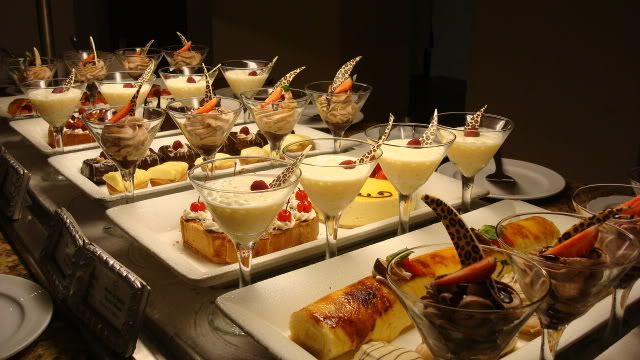 We may have visited the lobby bar that evening or maybe we walked down 5th Avenue, whatever we did we LOVED it!
Went back to our room and slept without a band playing outside our door ... z-z-z-z-z-z-z-z-z
Tomorrow my friends, Ellen and Ron, arrives .... SQUEAL!!!!!