TRIP REPORT ~ 2009 ~ THANKSGIVING DAY
If you've read any of my previous trip reports you already know that we've been traveling to the Yucatan since 1985. This was our 25th trip.
We have no desire to stay in Cancun since we discovered Playa del Carmen a few years back.
We do not like large sprawling hotels, traffic, congestion or cement highrises.
We prefer small hotels where our room is steps away from the sand.
The cast of characters ... Norbie and me ...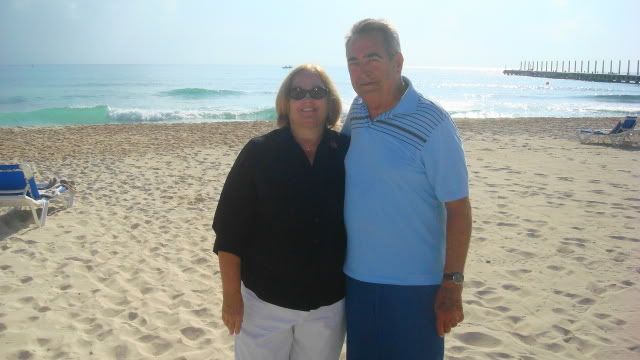 Our friends and travel companions, Mike and Sheila ...
Back in April I saw Delta advertise Pittsburgh to Cancun for $247.00 total per person round trip, so we jumped on it. We had to fly to Atanta, which proved to be a terrible experience.
Our flight on Thanksgiving morning was delayed leaving Pittsburgh. We arrived in Atlanta on concourse A and our connecting flight was leaving from concourse E ... we hurried!
Sheila ran ahead to tell them we were on our way, as they were just getting ready to SELL our 4 seats!!!
We were the last 4 to get on the plane.
Arrived in Cancun and there was our USA transfer waiting with a big smile. Great service, as always!
Got to our hotel in Playa, the Fusion ...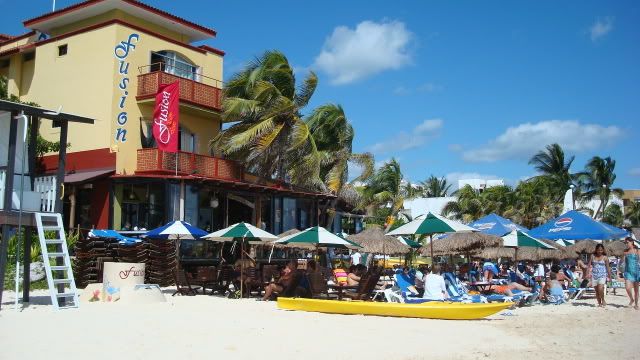 I booked this hotel online for $59.00 a night. I had requested a ground floor room, which we got, room 12.
The hotel is old, but it is clean and right on the beach.
Our room had a t.v. and a refrigerator, no phone, no hairdryer, just your basic bed ...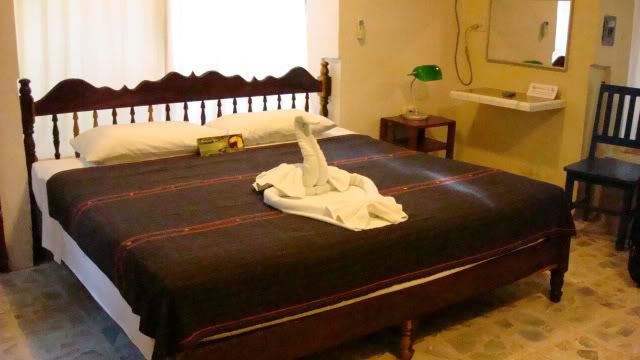 and a few chairs ...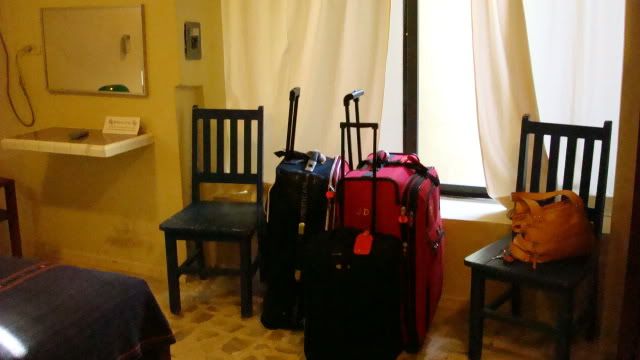 t.v. and refrigerator ...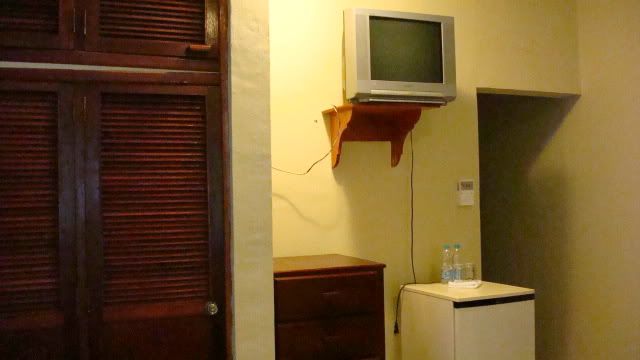 Our room wasn't ready but the front desk said they would put our bags in the room and give us the key.
Okay, let's find the bar!
We walked out to the bar, which is on a deck overlooking the beach, and there was Michelle (Normskid) waiting for us!
Hugs all around, it was sooooo nice to see her again. We all had lunch together, cheeseburgers and fries, because Laura Mapchick recommended the burgers at Fusion ...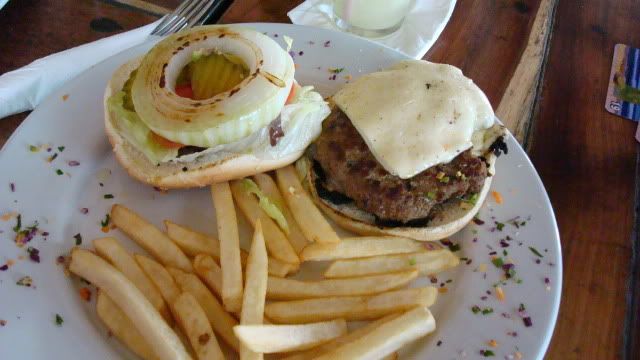 The first of many mojitos made with Havana Club rum ...
After lunch Michelle went back to her hotel, and we went to unpack and rest for awhile, as we really had no sleep last night.
Later Mike and Sheila thought we should go to Walmart and get some water, so we started walking.
On the way we passed El Fogon restaurant, and decided this is where we would have Thanksgiving dinner.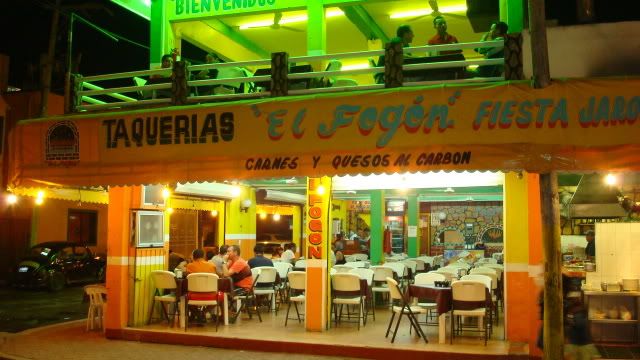 Sheila pondering the menu ...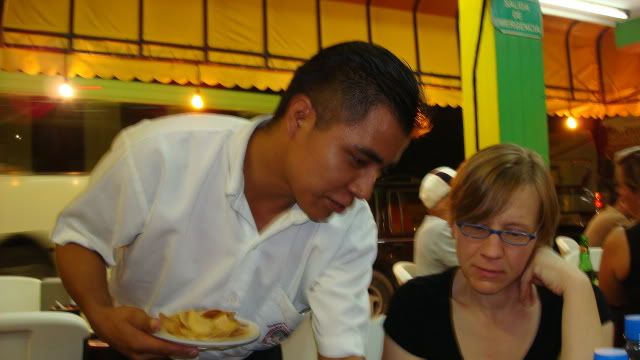 Mike and our wonderful waiter ...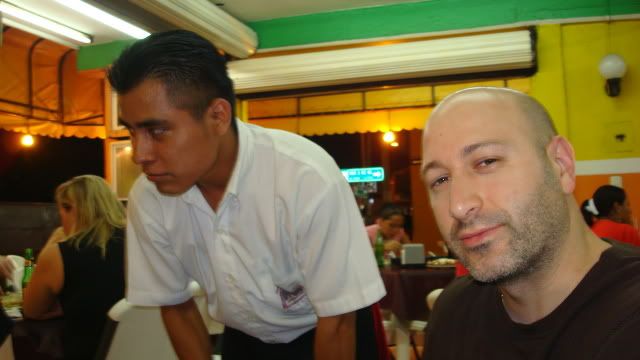 I started with tortilla soup ...
Cactus, radishes, cucumbers ...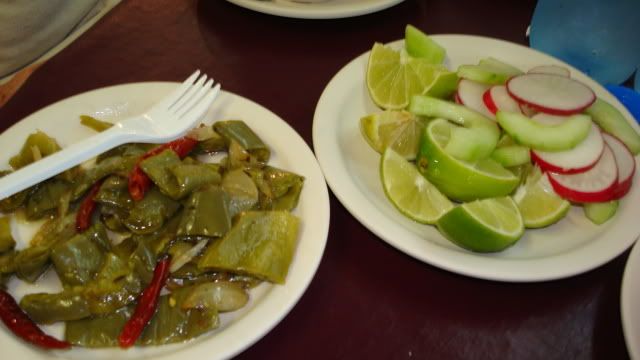 I had chicken fajitas and a mojito, and it was very good!
Norb ordered arrachera ...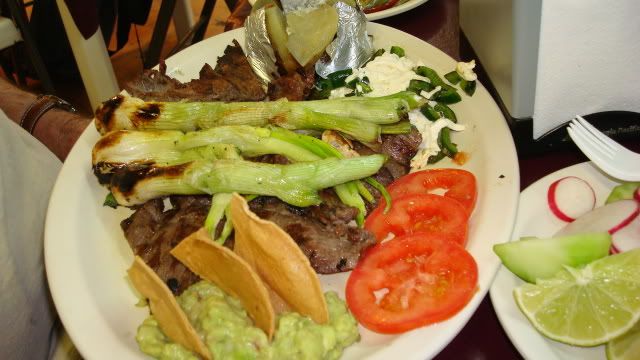 Happy Thanksgiving!!!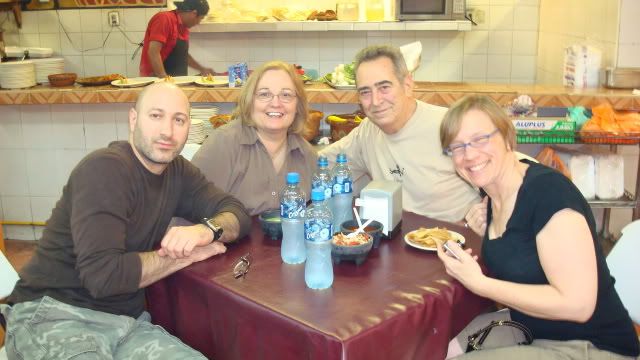 After dinner we went to Walmart, bought some bottled water and a few other things and took a taxi back to the hotel.
We tried to sleep, but ...
At 10:30 p.m. the band started ... OH MY GAWD! It was SO loud, it sounded like it was right outside our door! The band played until 2:30 a.m. ... every night!
Thank God for sleeping pills (for me, poor Norb can't take a sleeping pill with all his other medication, so he just suffered).
to be continued ...