Day 2
I'm diving with Paulo today so wanted to get a nice big breakfast before we headed out. I convinced the girls to get up with me to try out La Cueva del Chango. Another one of those places that has been touted as a must do in Playa. We walk north on 5th to 38th
and turn towards the beach and there it is
- but it's not open yet! I'm supposed to be meeting Paulo at 8:00am at Pluto Dive so we arrive at LCdC at 7am and they don't open until 8am -
. So we wandered back south along 5th looking for something to eat and finally found some muffins and croissants at Au Cocoa - I can't remember the cross street, maybe 32nd? Anyways, the croissants were delivered at about 7:20 and were quite good - they had chocolate and turkey & cheese. They also had some fresh squeezed OJ that was good but not chilled (I know you're going to say "what, you didn't have the wonderful coffee?" Unfortunately, we don't drink coffee). Not exactly La Cueva del Chango but it was good and would just have to suffice.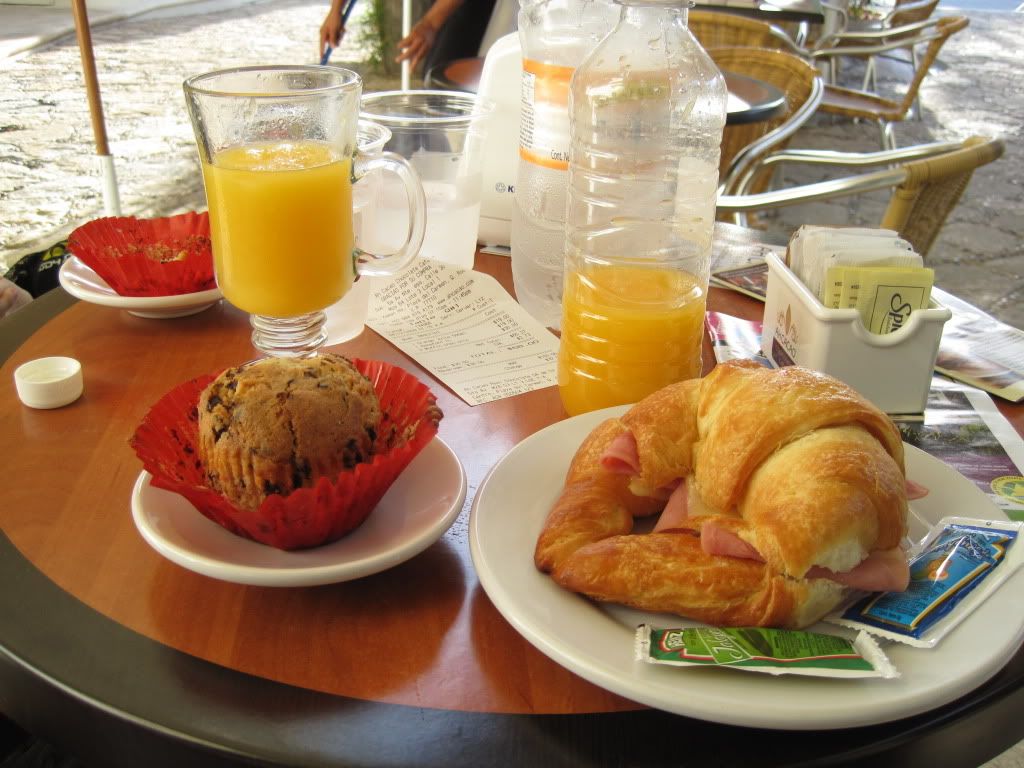 The girls headed for the beach at Mamitas and I met up with Paulo at Pluto Dive. Got our gear and the rest of our group and headed for the water. We started out at Baracuda - here's Paulo and my dive buddy for the day - Jim.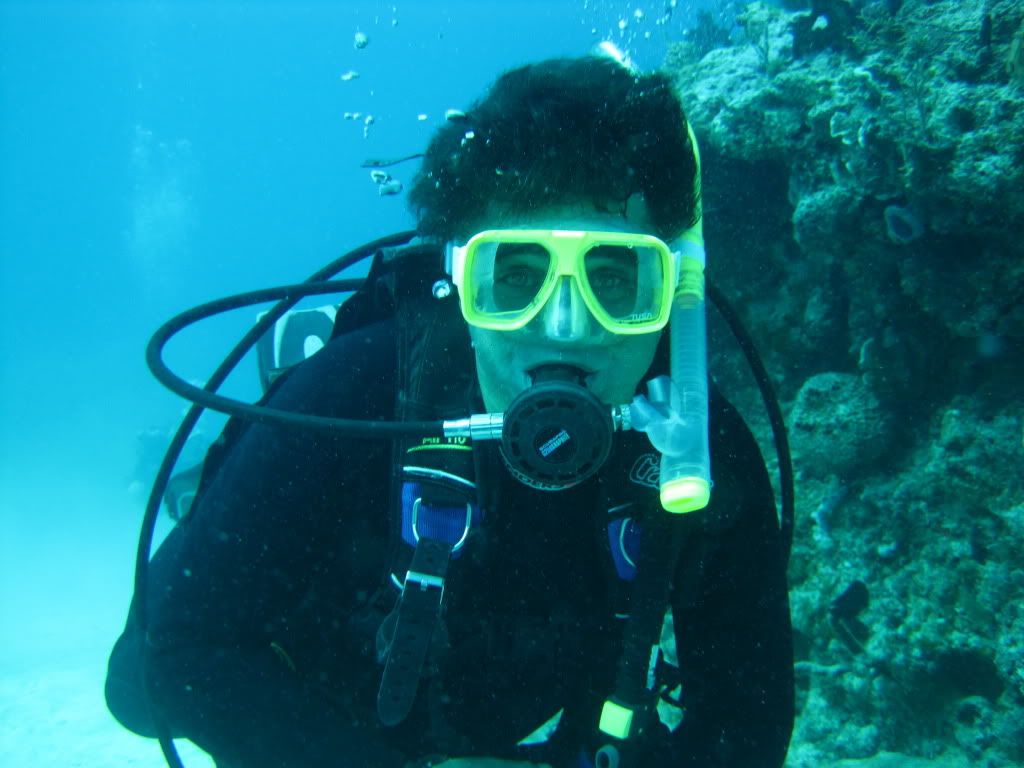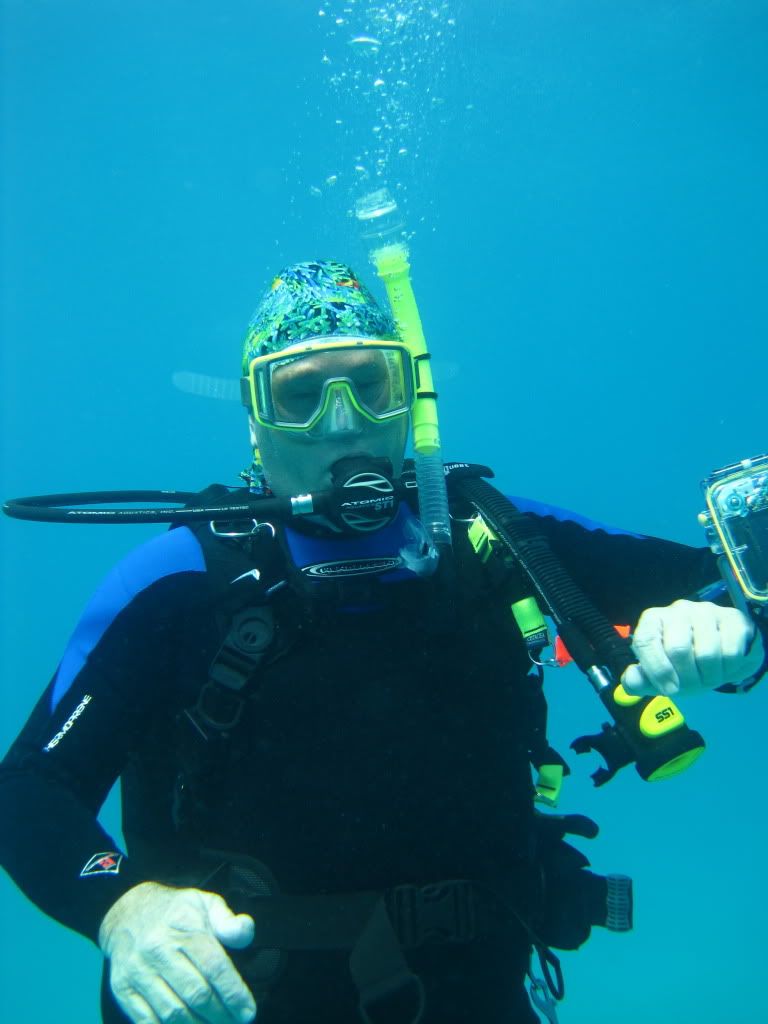 And some underwater shots (I bought a Canon 1200 and the underwater case for it right before we left on the trip. So my first attempt with underwater photography didn't go quite as well as I'd hoped but I did get a few decent shots.)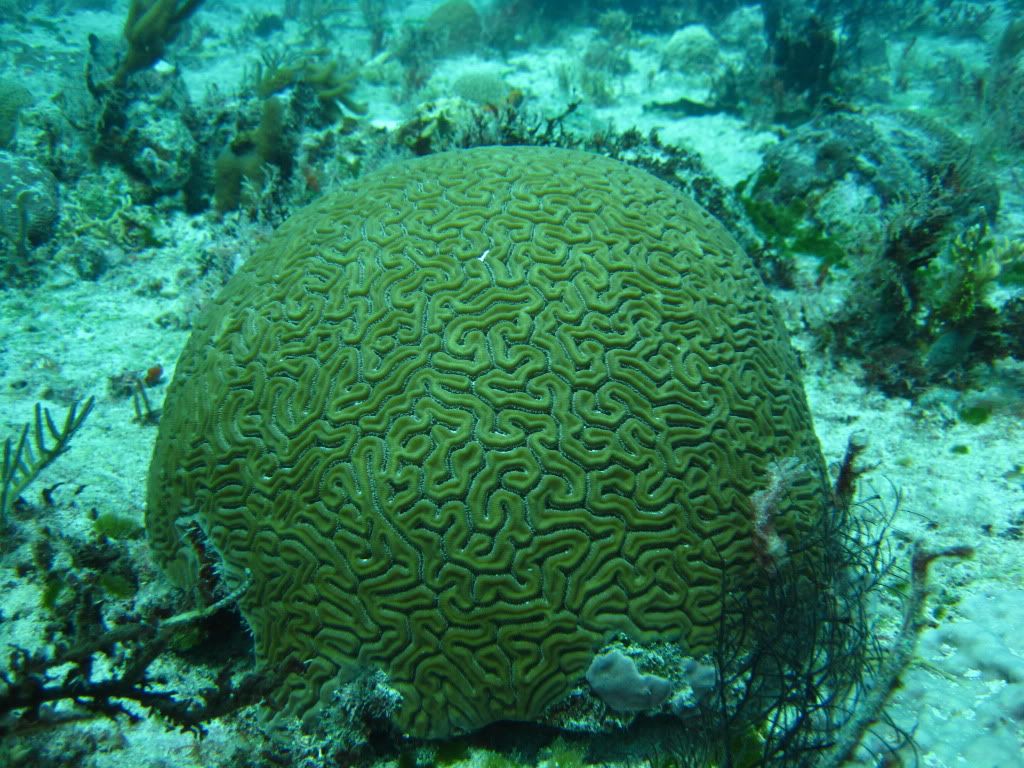 Here's where we stopped between dives and Paulo showing us the plan for our next stop - Sabalos:
Some pics from Sabalos: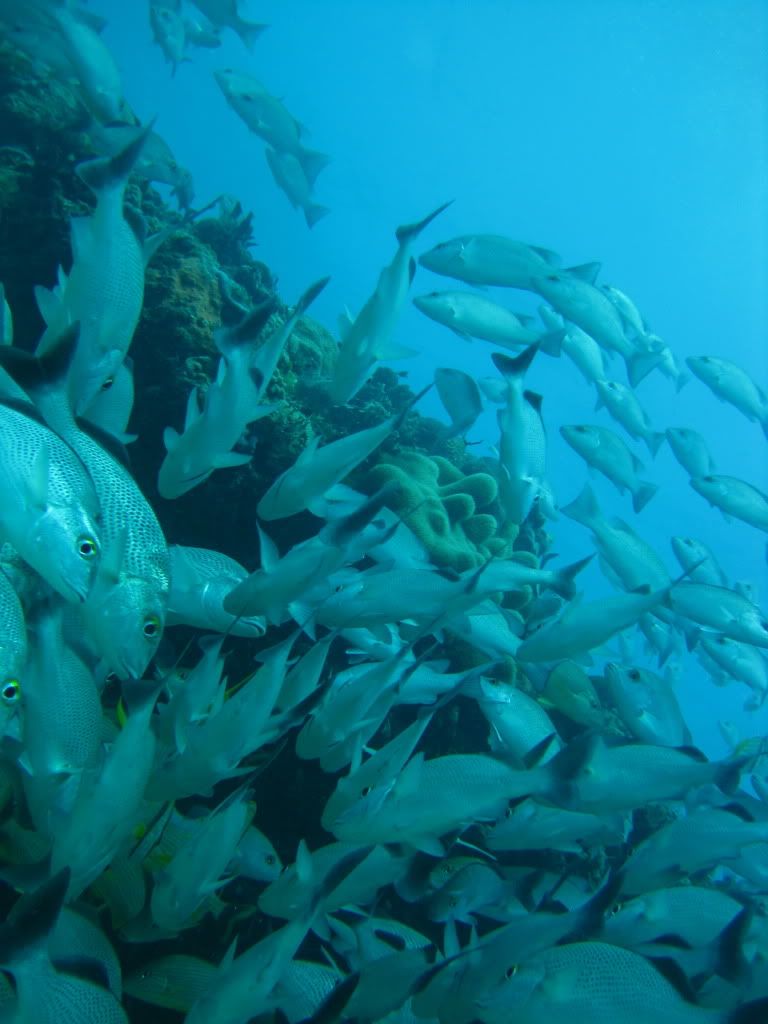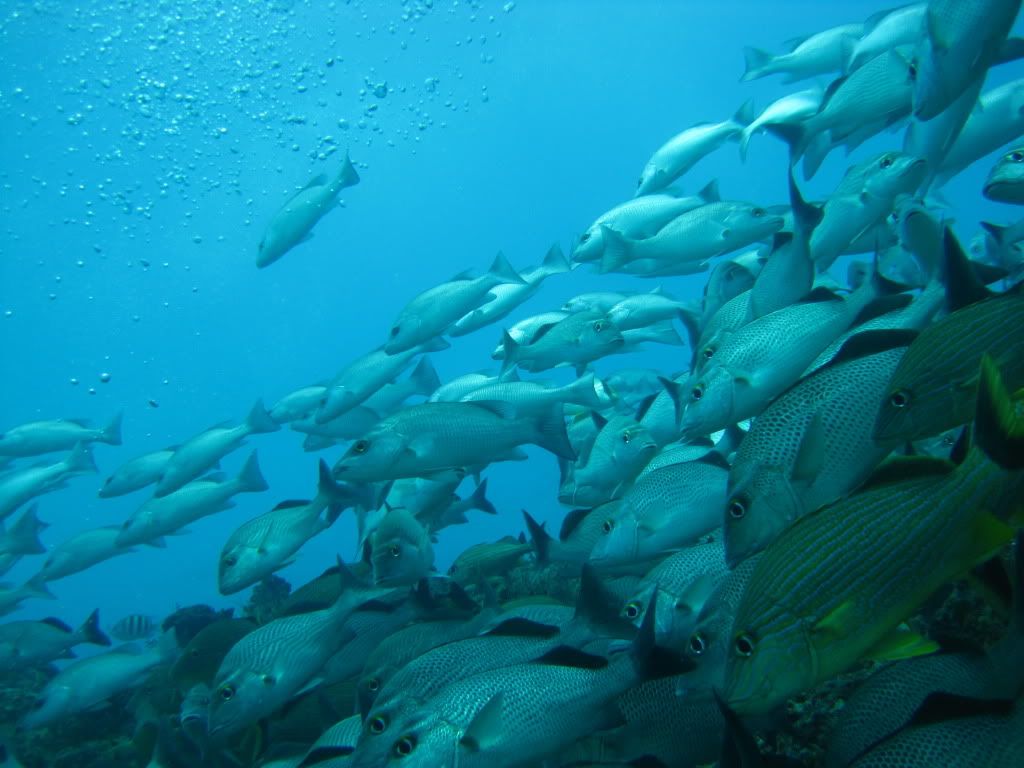 All in all 2 pretty good dives but there were about 7 other boats of divers at Sabalos so it wasn't as good as it could've been.
Got back to the dive shop around noon and then headed back to the condo to change, grab the girls and head to meet up with some friends staying at Fusion. They got really cheap rooms there and were very happy with the place. We ventured north to El Pirata for some fish tacos - can't say the anything else on the menu was noteworthy and the prices were not the cheapest around but the fish tacos there are awesome!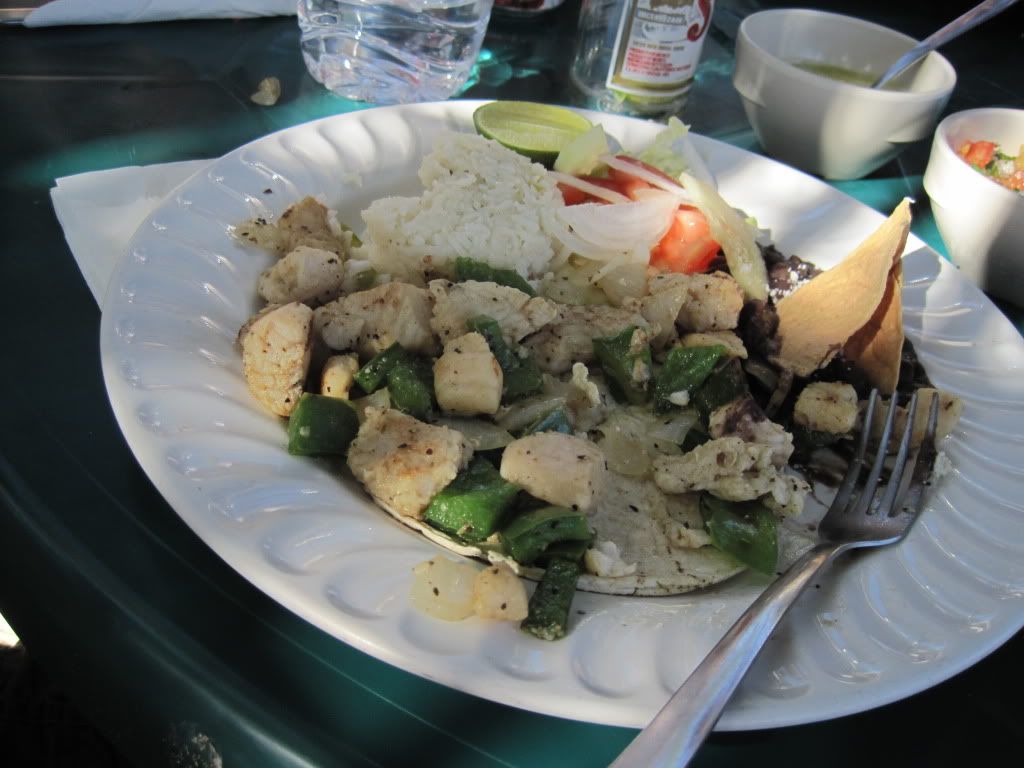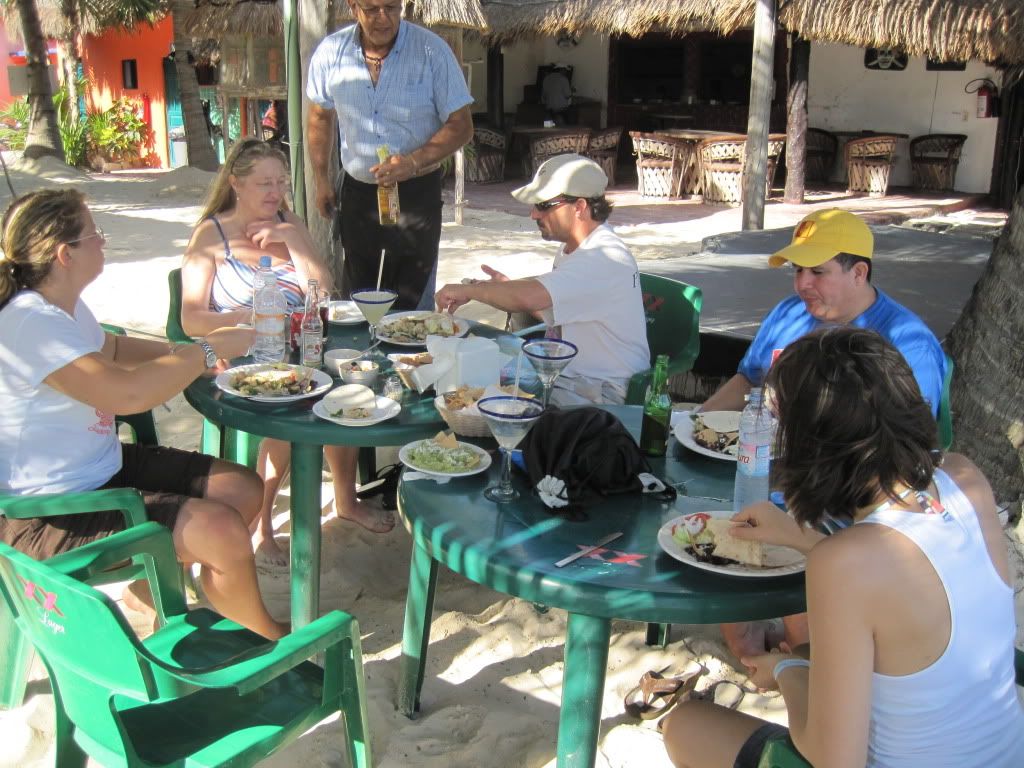 Once again, our bill was wrong. WTF?
How hard is it people? This time they added an extra entree that they claimed was from the table next to ours and was accidentally put on our tab. Whatever - there was only one other table of people in the whole place. At this point I'm trying really hard to remember that I'm in Mexico on vacation and it's probably snowing back in Kansas. Things could be much worse...
So to try and help me calm down further, we opt for some massages on the beach. There are a bunch of places offering massages for anywhere from $17-$25 per person for an hour. I don't even remember where we ended up but the girls went one place and I went to another because the first place we found only had 2 tables so I let the girls have them. The massages were very good (but not as good as the ones we had at Veronica's later in the trip). Definitely worth the $20 plus tip.
We headed back to the condo to clean up and then out to 5th to find some dinner. We opted for Babe's - the one on 5th on the north end. We ate at the other Babe's last time we were in Playa and really enjoyed it. Not so much this time. This was probably the worst meal we had the whole trip. It's not that it was horrible but it was definitely below average. Here are some pics, though: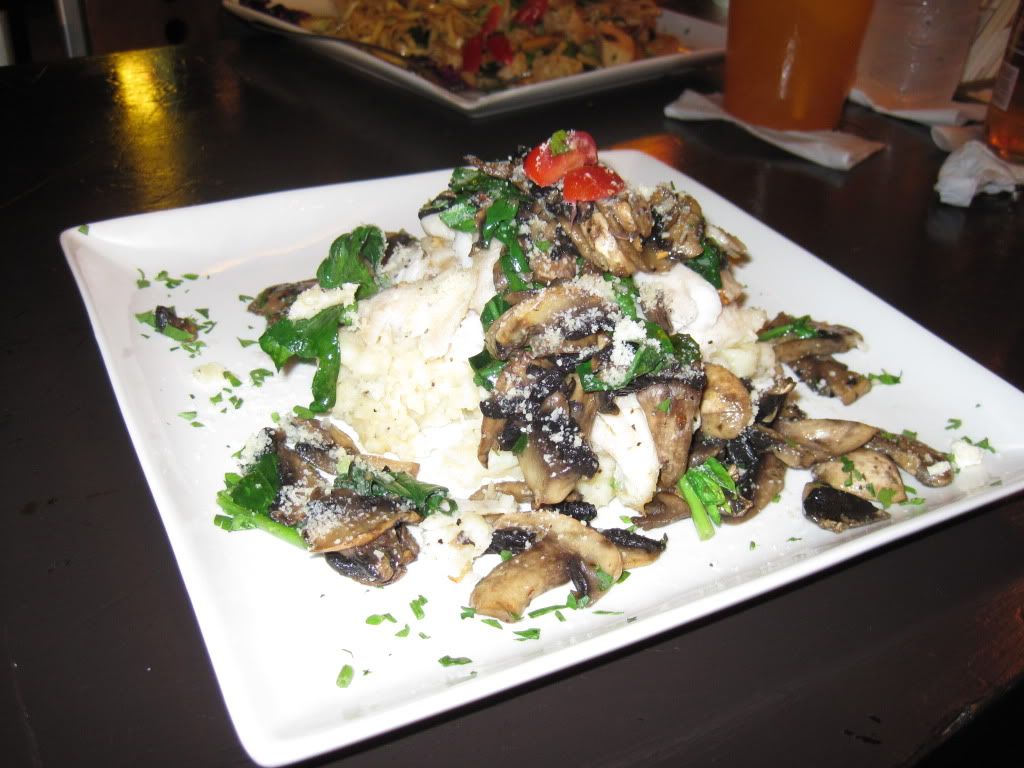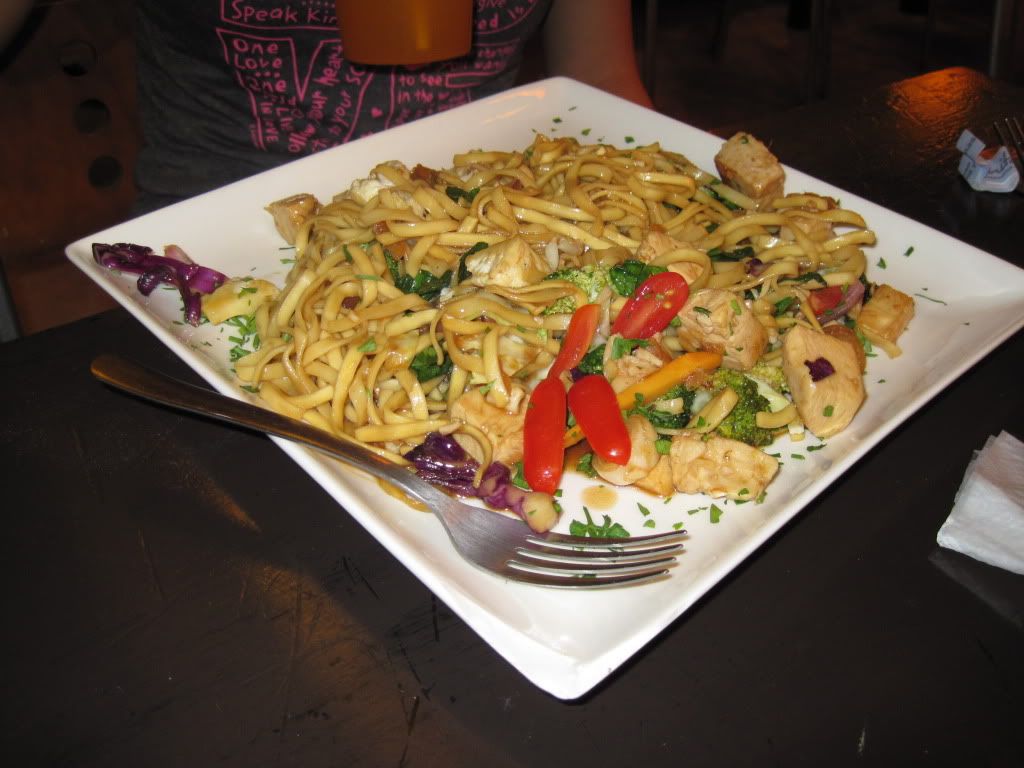 The mango margarita was ok but I couldn't even tell if there was tequila in it. The shrimp and crab rolls were just ok also. The red snapper was pretty good but the best entree was easily the teryaki chicken - it was excellent.
Walked 5th for a while and then headed to Mega to get some beer and snacks and just check it out.
Finally headed home to try and get the computer working with the free wi-fi at the condo. Although I'm pretty computer illiterate, I got it working. As much as I did not enjoy toting the stupid laptop through the airports, it was totally worth it to have internet access at the condo.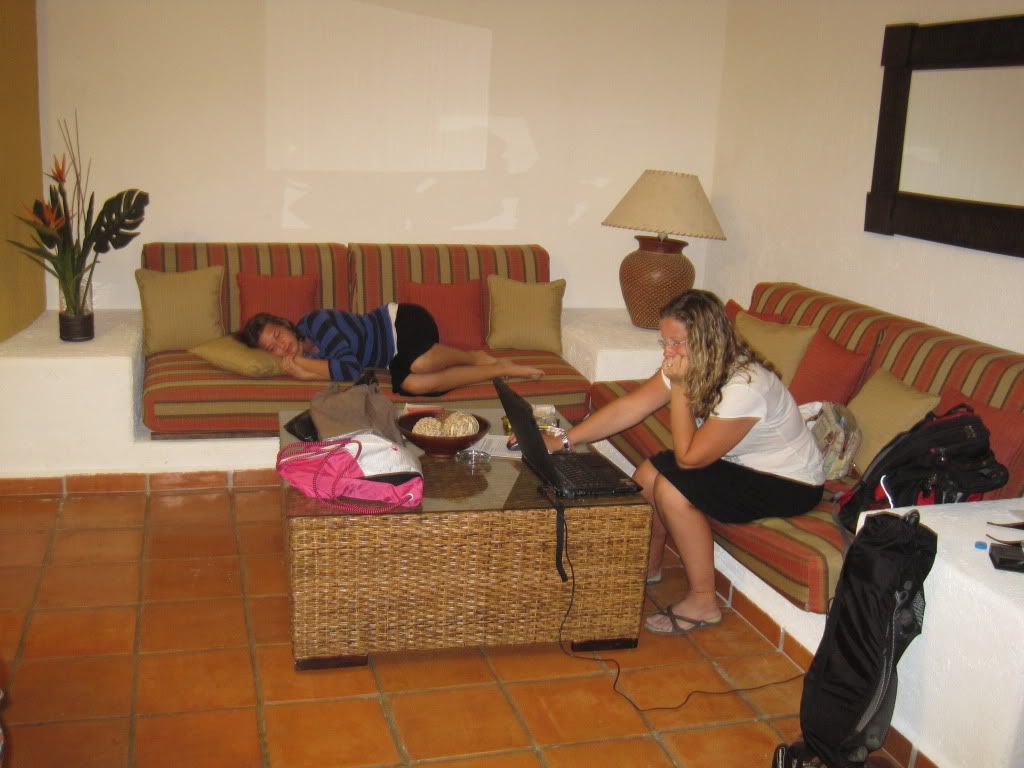 Tomorrow, Tulum!