Tuesday February 23
Off to the get chairs on the beach and then some breakfast. I am feeling push carts, but Josh wants breakfast at El Bistro again…or he just wants a regular breakfast. I think he means American
…well to compromise we end up going to Garden of Eating. We hadn't tried it yet and we only have so many mornings left!
So we stroll over and are greeted by the owner Karen. She is very nice and tells us to sit anywhere we like.
It is a charming little garden area, that kind of reminds me of La Cueva del Chango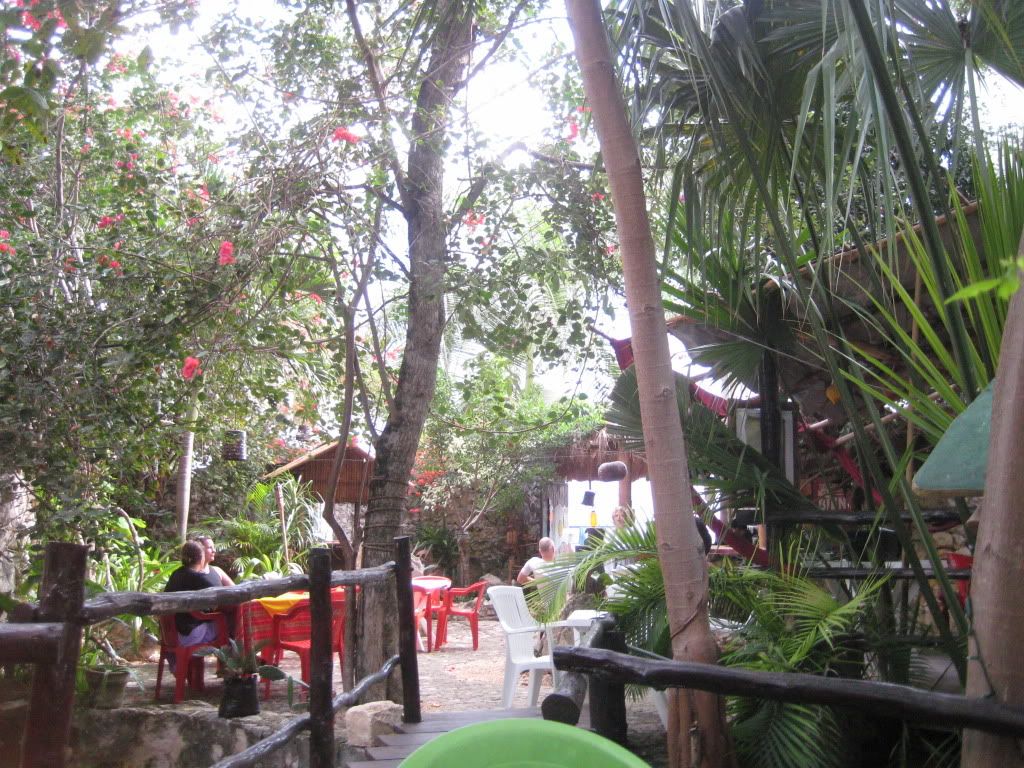 I think it's my new La Cueva del Chango! We really enjoyed our experience there. It is a cute garden setting that you wouldn't expect from seeing it from the street. We were sat toward the back of the garden on the main level by the fountain.
I had the vegetarian omelet (mushrooms, cheese, chaya and onions) it came with fresh fruit and home fries. The omelet was delicious!
The homemade red sauce that came on the omelet was excellent, and the home fries had good flavor, but weren't crispy like Josh likes. I imagine it is hard to get them crispy down here, especially today…it is very humid. Also had a fresh squeezed OJ for only 10 pesos.
Josh had the breakfast burrito with cheese inside and bacon on top. Again came with home fries and a side of that yummy red sauce.
The bacon was a little flimsy, but the burrito was excellent
Altogether the bill was 95 pesos. So crazy how inexpensive it is to eat down here.
Here are some pic of the menu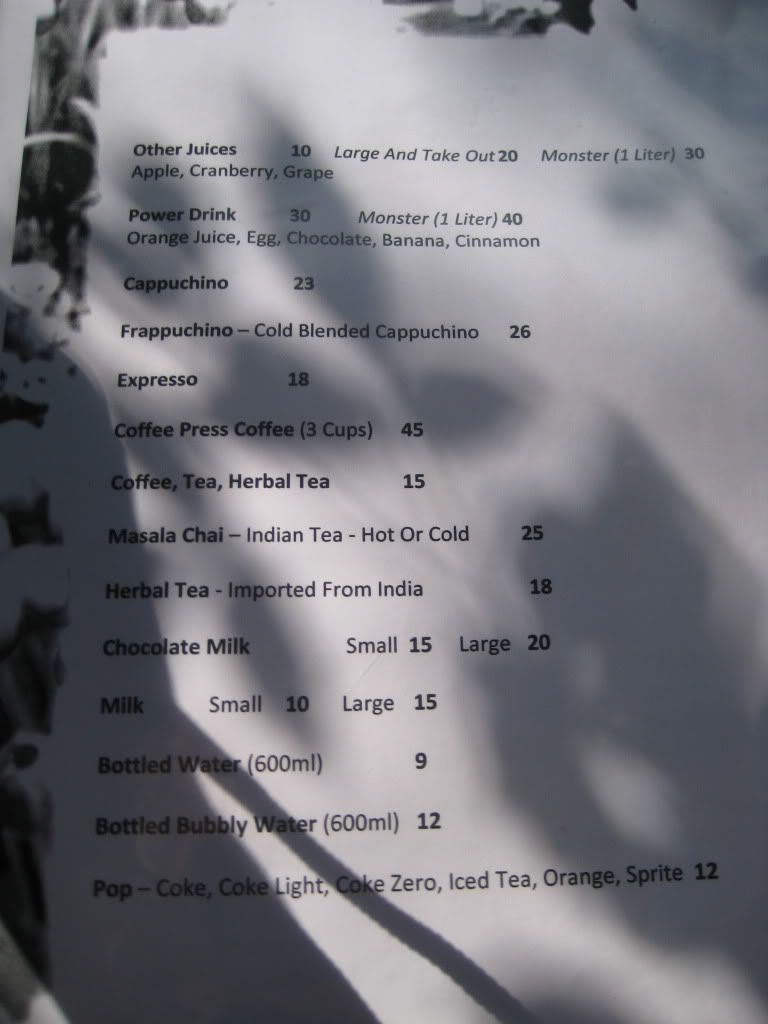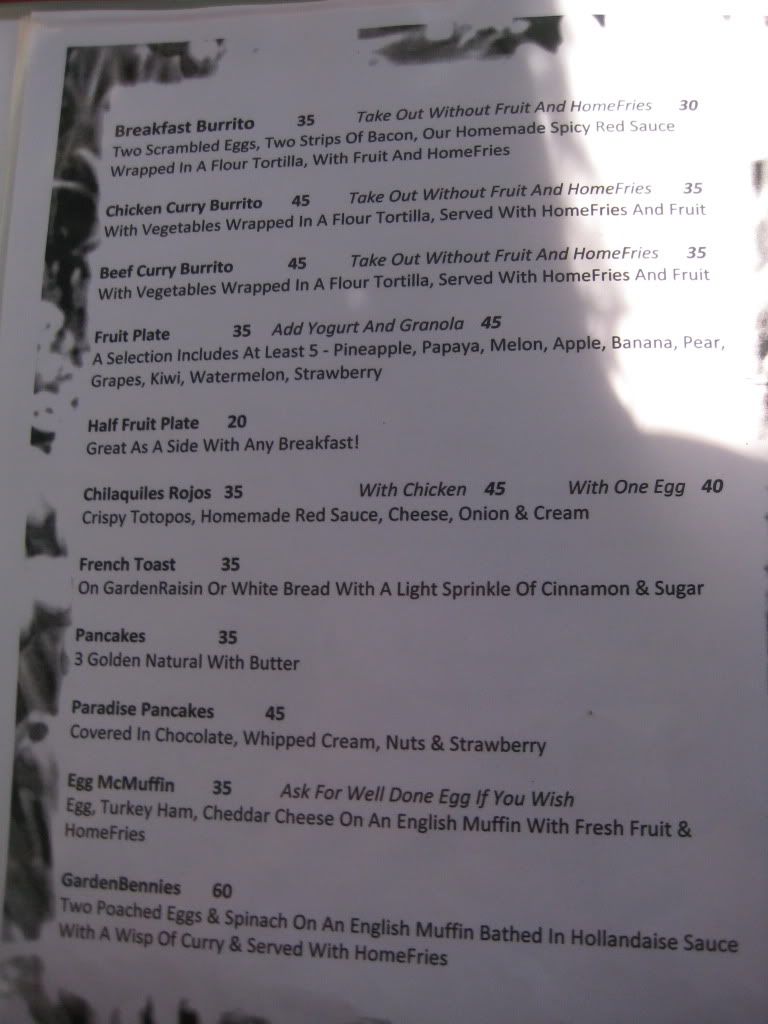 Then off to the beach relax. We hang out under the palapa today we got plenty of sun yesterday at El Paraiso.
Walked the beach a little, saw Jan and her niece and nephew soaking up some last minute rays before they head home. Again, it is so nice to see people down here and get to chat with them! Jan says she will be bringing her newest addition Chuy to Luna Blue later!
I have seen pictures and he is the cutest little puff ball ever-can't wait to meet him
It is pretty hot today, no breeze really. Lunch time comes and I really want ceviche again from Cocktelria Veracruz, but with it being in town and the heat, we opt for La Tarraya since it is close and on the beach
Our view
They still have great prices for shrimp ceviche. We order guac and a couple of shots of Don while we are waiting.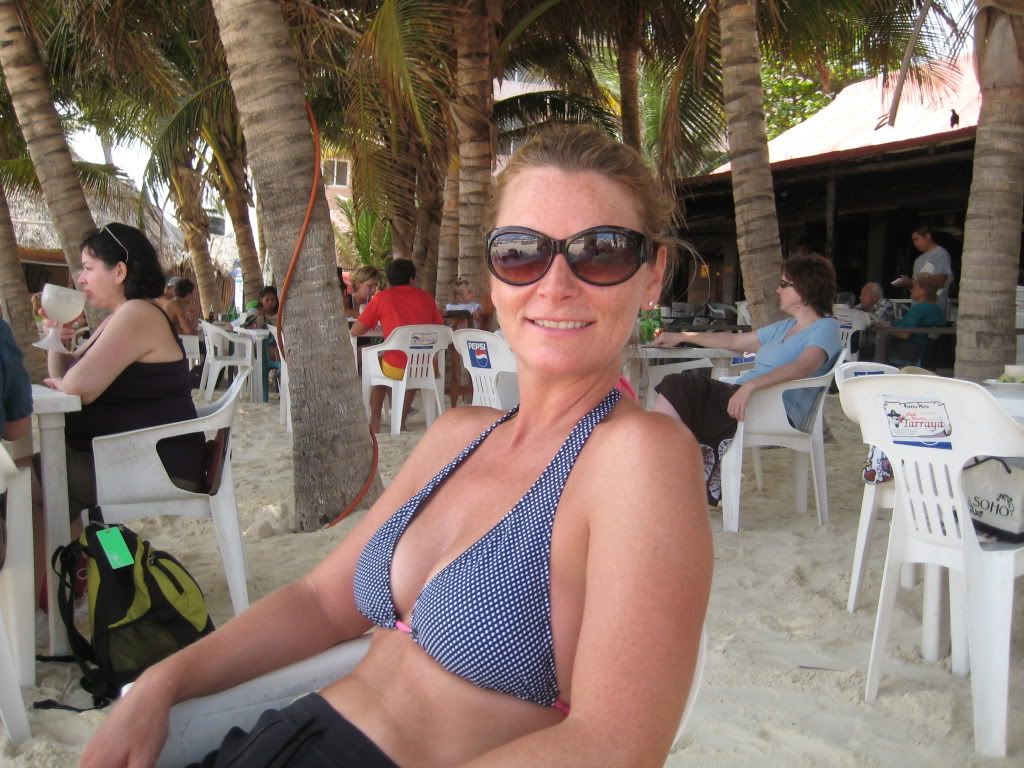 Shrimp ceviche and guacamole
The shrimp ceviche is really good here, the guac is ok. It just seems to go together. I remember last time I had the Fish filet veracruz and it was very good as well and well priced, especially for on the beach.
Back to the chairs for some more relaxation and strolling on the beach. It cools off a little and I decide that wasn't enough for lunch.
Shall we stroll out Util pasta to do come comparison pasta eating?
OH YES LETS!!!!
[/font]
Hoofing it out there are we are roasting. So much for it cooling off a little. Now this place is on calle 30 and avenida 25. I recognize the owner from Stewart G's pics. He is very nice and he helps us with the menu. You can pick your pasta and pick your sauce.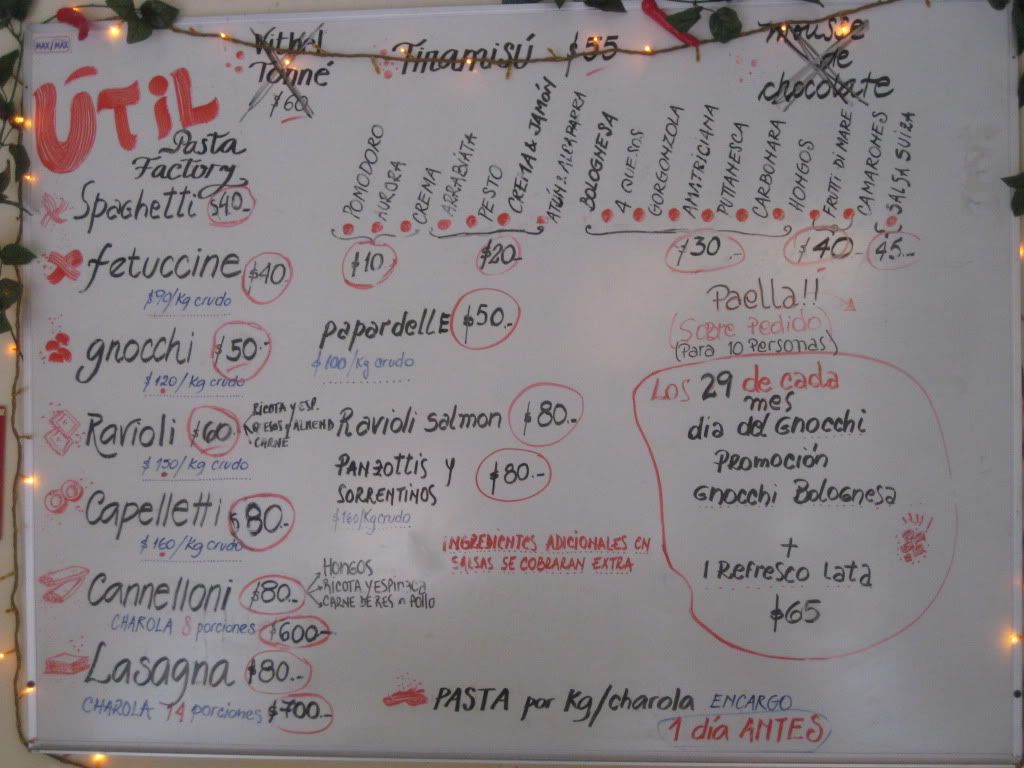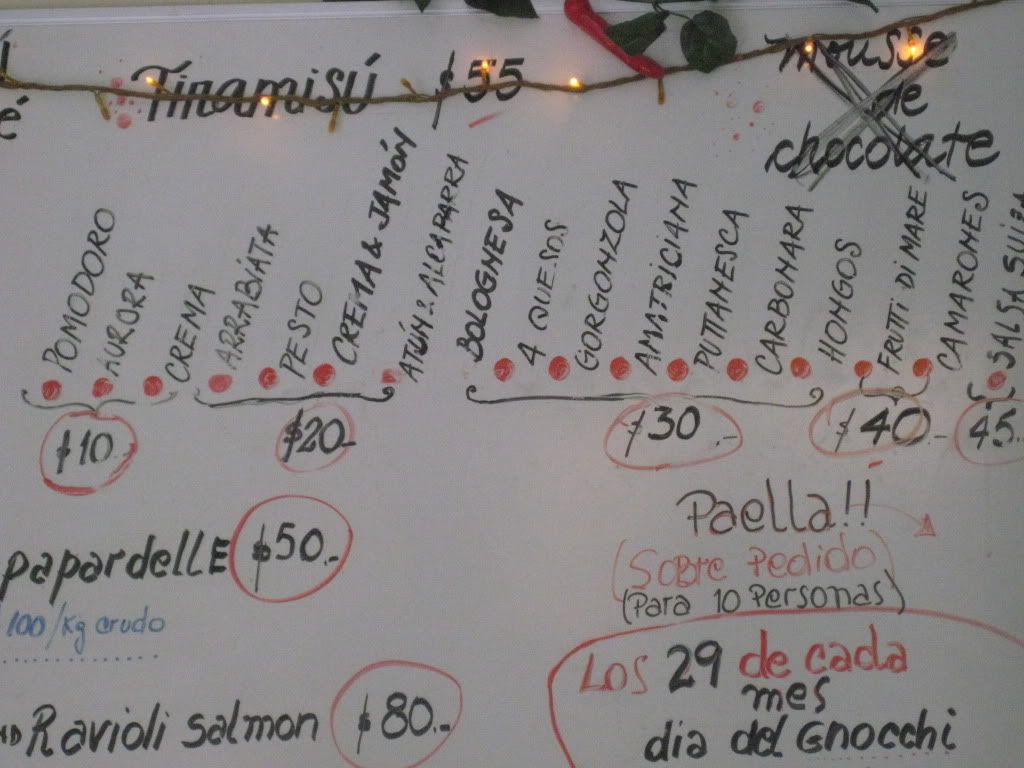 We order the lasagna and four cheese gnocchi or ravioli...I can't remember for sure.
The lasagna is awesome!! Better than the one we had at Antica the other night. One of the best lasagna's I have ever eaten, and at 80 pesos and good value too!
Four cheese ravioli
The ravioli is really good too, but the lasagna won for sure. I would absolutely recommend this place. The only thing is there is no ambiance. There are a few small tables inside, but it was about 15 degrees hotter in there, so we opt to sit outside. I guess they don't get a lot of eat in, cause when we sat down the owner said "oh you eat here?" We said yes, and asked if it was. He said of course! But I could tell it wasn't the norm. While we were waiting there were about 3 different people coming in to get to go orders and they delivered 2-3 different orders. So they do deliver which is nice.
So I am guessing that is the bulk of their business. The owner, the server and the lady cooking our lunch all came by our table to see if everything was ok which is nice. Sometimes in Playa you get your food and that's it for a while. So food and service get big marks, the only thing lacking here is the ambiance. So take that into mind, when you go get the lasagna!!
Don't miss this place only because of that!
Oh, look they have pole dancing lessons!
Might be a good way to work off all this food!!
On the way back to the hotel we walked by a apartment complex and it had a tall concrete wall for security...Josh noticed some extra security on the top of the wall
Back to the get the stuff from the beach and it's nap time once again.
WAIT!!
Not before we go buy some Don Julio for later.
I think this is the first bottle of tequila I have bought in Mexico that wasn't for someone else. I feel like I have crossed over or something.
Actually we did a lot of things differently this trip. Drinking tequila and beer, no HC Monterrey, no mojitos (yet), no caiprihina, and no happy hours…hmmm. It's a great trip, just different
Nappy time…
Wake up and off to Luna Blue. Not before we have a little Don and then I decide we need to have a marg from Posada Freud. I have heard they are great and timing never worked out to have one. SO we stop in and meet Morrix the bartender. We order 2 and I gotta say they are the best margarita I have had in a long time. So smooth, no yucky mix. Just tequila, lime juice and controy. I savor mine. We talk to Morris a little, he is from Guadalajara, planned on being here a year, but 2 years later he is still here. He also DJ's a little too and he plays some music for us. Laid back funky music with a nice beat. and I ask him if he would burn a CD for me. I give him some $$ and tell him we will come back tomorrow or the next day to pick it up.
Here he is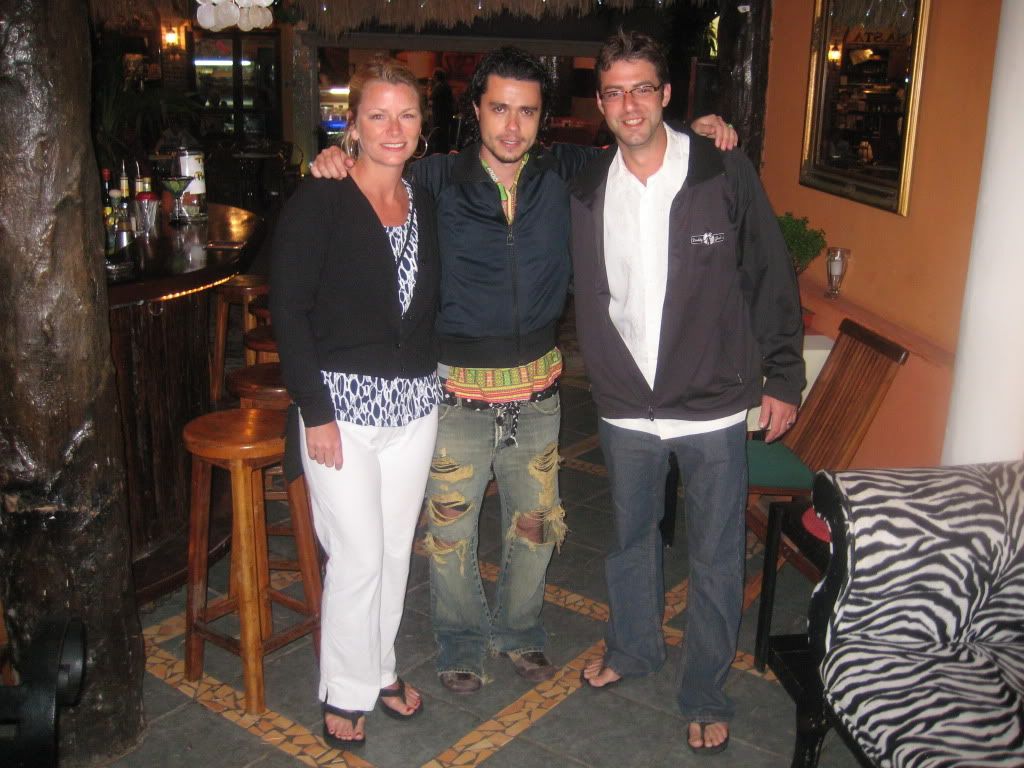 Jellyfish lamps on 5th.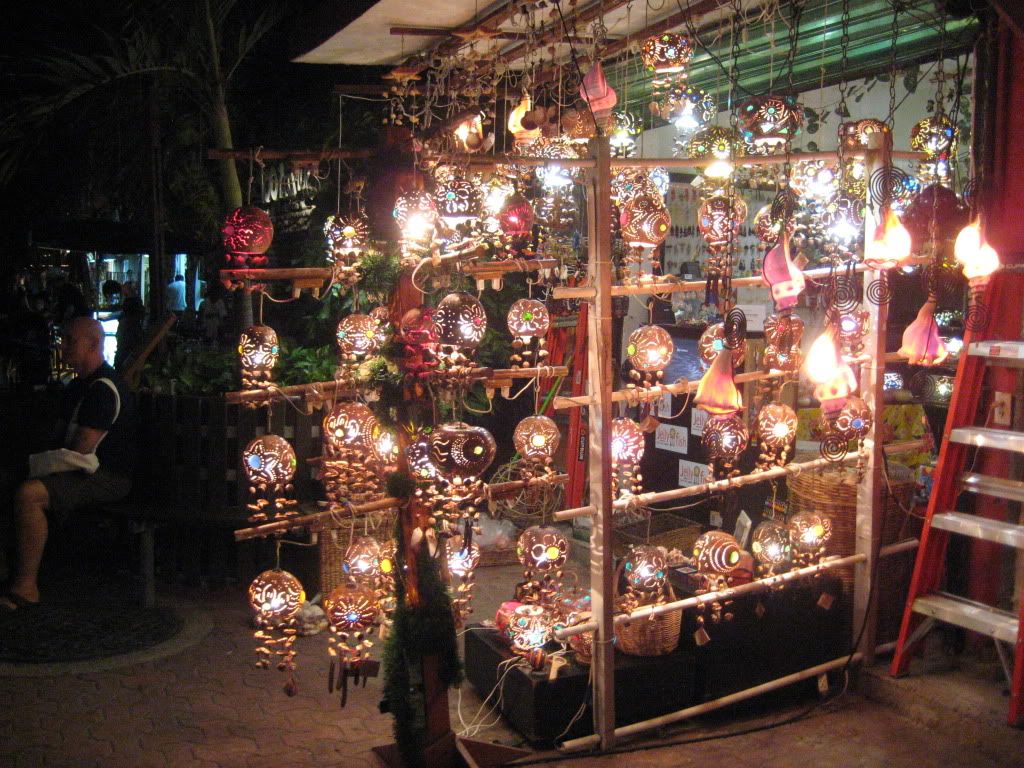 We actually bought a beautiful one this trip!!
Off to Luna Blue. Like Kim said it was a peep-o-rama! More peeps in today so some new faces this trip…faces we haven't seen in years! DavidB, Tammy and Shammy and we see Jez for the first time this trip too. So nice to see some old familiar faces
Snack time. Off to La Pumarola for more pizza! Remembering the tip Tina (kirbyfan's wife) gave me the other day is to order it "well done"
It is yummy once again!
Can't say the same thing for the margaritas…way to sweet. The server comes back over and asks about them and I say they are a little sweet, he said no problem, so he goes to fix it. I think he just added more lime, cause now they are too limey AND too sweet. I couldn't even drink it all. But they look pretty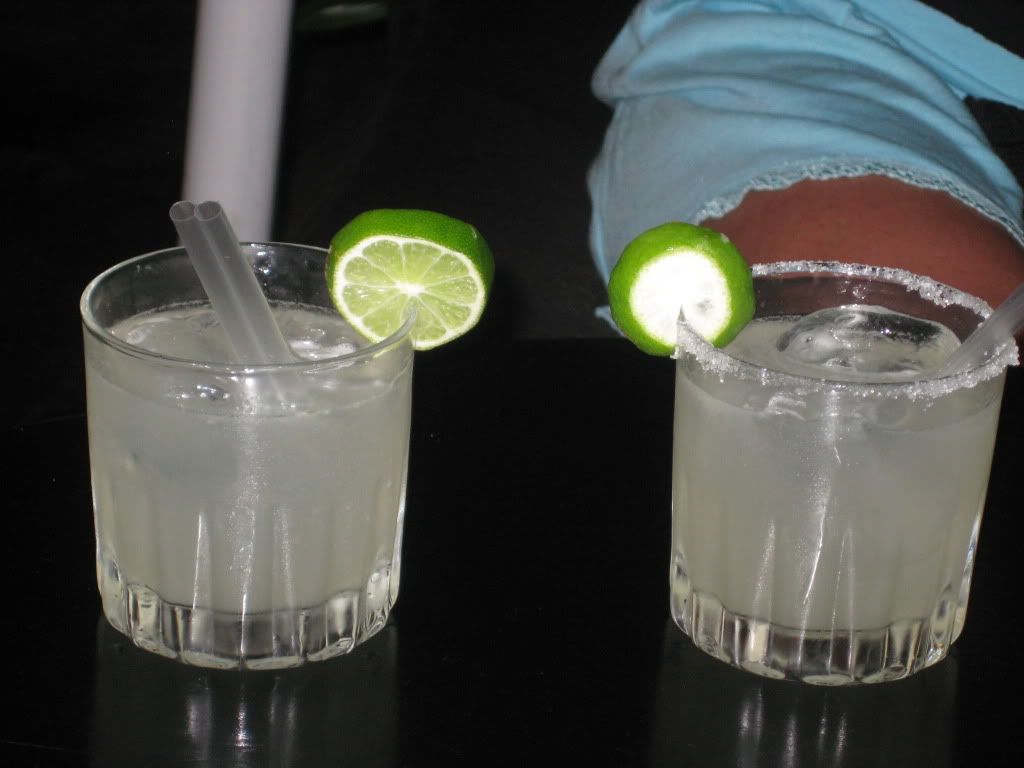 Back to the Luna Blue and more peeps have arrived. And Chuy comes in shortly after! He is so freaking cute I just want to squeeze him! Only he is a tiny little thing, he is definitely one of the cutest puppies I have ever met.
Got to play with Lenny again too
. Dog party and a peep-o-rama!
JimmyMN is here too, so we chat it up a little with him and decide it is time for bed. That last tequila shot turned my tummy a little. He is off to Dirty Martini bar. I wanted to go, but tummy said go home. So we did…