Well it was a travel day so we ended day 1 after El Fogon and a little more exploring. PDC during the day looks like a quaint little worn beach town...PDC during the night is absolutely breath taking. The lights in the trees, all the signs, the candles in the restaurants. Just gorgeous.
--------
Day 2 - A day at Mamitas
Breakfast La Cueva Del Chango (a.k.a. The monkey place with the snake on 38th)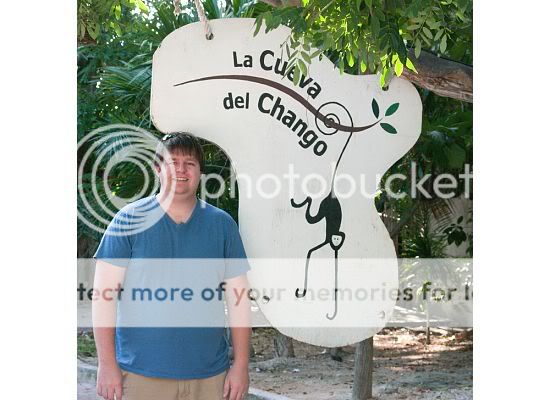 So - let's talk about amazing food. I have this thing for south of the boarder yogurt. The stuff they sell in the grocery stores here is gross compared to the fresh yogurt they make in latin countries, so I ordered the yogurt to start and then the Heuvos Ranchero (totally butchered the name) and Greg got the chicken crepes. Well first of all....waaaaaay too much food, second of all we spent a little more than we should have, but we did order 2 breakfasts each so that is our fault and finally the chicken crepes were the best. I ate as much of Greg's as he allowed. We will be back tomorrow and then the crepes will be all mine!!!
Post Breakfast...
I had never really heard of a beach club before mexico. When y'all mentioned them, it made me think of "Saved by the Bell" when they all worked at the country club every summer together inexplicably and never had to do any work, but that was the only frame of reference I had (also showing my age a bit I think). I had seen the pictures online and I understood it to be a place where you got a chair and palapa (a.k.a. awesomely authentic beach umbrella). I had no idea how nice it would be though. The pool was gorgeous (not that we went in it, because...did I mention the perfect water?) the outdoor showers were super cool, the bathrooms were well maintained and not at all scary and they bring you drinks! Heck yeah! So Greg and I read, played in the water (which was a little rough today and it made me (giant chicken) a little nervous) and drank all afternoon long. We have fun pointing out the Europeans in their tiny swim suits (that will never catch on in the states. If Michael Phelps can't make it happen, no one can).