May 29 – June 1, 2010
Introduction:
So, this trip started out like any other…the cold weather vacation bug bit my butt in late January, and I started dreaming up places for my boyfriend (Dustin) and I to go. Normally, our yearly trip would be to head to Vegas for a long weekend, but we had recently gotten back from our first trip to Mexico and the Riviera Maya in December. We had stayed at the Iberostar Paraiso Beach AI with my family and had a short day trip to walk La Quinta and the beach in PDC. I was hooked. I knew right away that I wanted to head back to Mexico if possible.
Now…the boring details:
The "Who": Dustin and I - my daughter was heading to Michigan with her grandma.
The "When": Dustin can't get off of work easily, so I usually have to plan trips around a holiday long weekend and then maybe tack an extra day on. (which stinks because the holiday usually means higher rates to get anywhere) The last couple of years, the Memorial Day weekend has been our time and it was shaping up to be that way again.
The "Where": I'm definitely the trip planner in the relationship.
I do the research, read the reviews, whittle down the list and then present my findings in a condensed form to Dustin for a final review. He's pretty easy going though so I think as long as it had a bed, a beach and beer; he would've been up for it.
I'd like to say "we" came to the decision to book an AI in Cancun, but honestly "I" decided it and then explained my reasoning to Dustin. "It was going to be a short trip so this way we wouldn't have all the travel time to and from the airport. Our hotel was a short 15 minutes away. Plus, we had never stayed in Cancun, so it'd be somewhere different to explore. It'd be AI so we wouldn't have to worry about $$" Blah blah blah…finally, we booked at Barcelo Costa.
Whoa whoa whoa…hit the brakes
…are you asking yourself why this TR is in the Playa Del Carmen forum? Well… keep reading…you'll find out.
So, now we had to wait. The closer we got to vacation time, the more time I spent looking at google maps, reading trip advisor for restaurant reviews, figuring out where we might want to go, etc.
Also, I occasionally would go to playa.info to look at the beach webcam and drool.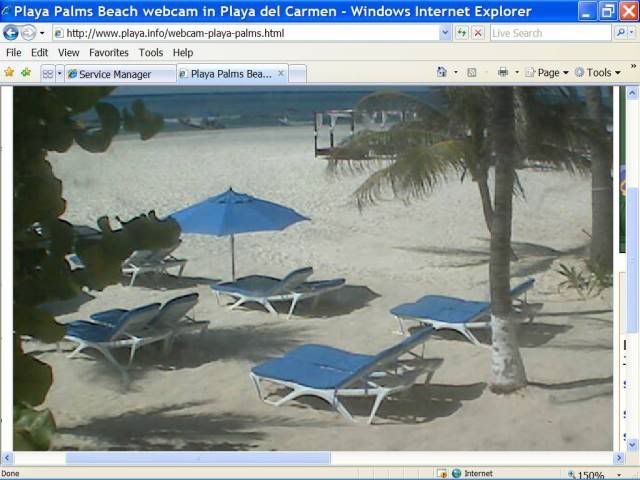 I had originally started reading the forum when all of the beach reconstruction was going on. I went back to that thread almost every day to check out the pics of the pipes across the beach, the sand pumping in, and the beach getting huge! It wasn't until early May that I actually checked out other threads on the forum…and I found the trip reports. I thoroughly enjoyed reading all about people's trips to PDC, checking out where they stayed, what they ate, what to do or not do, etc. Then I started thinking of our AI, the junky buffets with no "real" Mexican food on them, the limited beach we had to walk on, being on a strip of huge resorts and feeling trapped.
I was starting to wish I had booked in PDC, what was a 40 min extra ride anyway???
I kept reading the TR's and shared some of the funny ones with Dustin (ie. The "Drinkumentary") and the "newbie" informative (ie. JG & TG's trip reports) and the food focused (ie. Jimontheriver's Never on 5th).
He enjoyed looking at them and would constantly point out a bar or a restaurant and say "Let's go there!" and I would reply every time, "We aren't staying in Playa this time." And he would say "Oh yah…"
So, Friday May 21st - 8 days before our trip – I had a wonderful light bulb
go off over my head. I said to myself, "Self, why
can't
we go to Playa?" Now, I knew Dustin was going to send me to the insane asylum on this one, so I wanted to have all my details in order before I even presented him with the idea. First, I made sure that I would not get dinged on cancelling at the AI. I had purchased trip insurance through Expedia and the hotel did not charge a cancellation fee as long as you gave at least 48 hours notice…good to go.
Second, I needed a place to stay that was going to be cheaper than the AI since we now had to account for some food and drink money to be spent. I checked out the Luna Blue website (honestly, because of JG/TG's trip reports and that they had stayed there several times). Wow! Rooms as low as $49 a night! I couldn't believe that…but would they have one available on this short notice?? A quick email to the Luna Blue and I had an answer…several rooms were available on our days.
Third, I needed a ride to PDC. Because of all these TR's, I knew all about the bus, where to catch it, what it looked like and it's schedule. Also, Luna Blue said they would arrange a shuttle if we wanted to/from the airport. (I was keeping this as an option in case Dustin wasn't sure about the bus idea).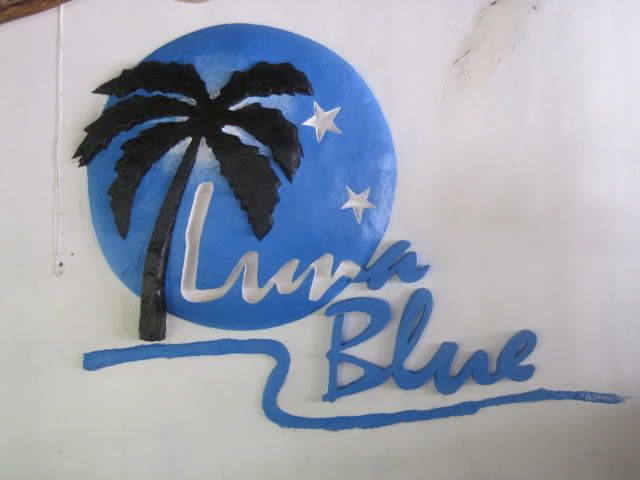 Everything seemed to be very do-able. Now, for the hard part…I'll admit I was nervous as I texted Dustin at work even though he should be used to my crazy ideas and plans by now.
Me: Let's cancel our cunie hotel and bus it down to Playa instead.
Him: Ha. No way dude.
Me: Where's your sense of adventure, senor?
Him: (no reply)
Me: Luna blue hotel. Pretty cheap. Downtown Playa. Eh eh?
Him: No lover.
Me: Not even maybe?
Him: Noper. Love you!
Me: You're killing my buzz lover. Love you!
Me again (later): Best room at luna blue, 79 a night. Bus to playa, 10 per person. Mamitas beach club chairs and umbrellas, free. Yummy Mexican food, priceless!
Him: (no reply, again)
Now, some of you may think that a text
is not the best way to share this information, but I knew Dustin would need time to process this. So, I kind of slipped it in there and then let him think on it the rest of the afternoon until we got home from work.
While we ran around the kitchen preparing dinner that night, he let me know that he didn't like the idea of changing hotels because we had already gotten "pumped up" for the AI and the Cancun area with all the research I had been showing him. So, I laid out the plan
: how much we'd get refunded from Expedia, Luna Blue did have rooms available and how much they were going to cost, how much the shuttle vs. the bus was going to cost, how much leftover cash we'd have to spend towards food and drinks, the differences between Luna Blue and Barcelo Costa, how we'd be able to walk the beach and town and not feel trapped, etc. I'm glad I had prepped before telling him about my idea, because I was ready for any question he had and I think he realized how serious I was about changing our vacation to Playa Del Carmen.
After dinner, we sat down at my computer and I showed him the Luna Blue website, where it was on a map, and some of the beach clubs we would have access to. He was sold on the idea in less than an hour.
He was less than thrilled about the idea of riding the bus to Playa as he was picturing it as an old rundown school bus. I showed him photos of the bus (thanks to all your TR's) but he still put his foot down for the shuttle. Oh well, I could live with that.
The next morning, 7 days before our trip to our Cancun AI, I called Expedia, cancelled the AI and filled out the reservation form online for the Luna Blue. Within the next couple of hours and a few emails back and forth, we had our room and shuttle booked! We were heading to Playa!!!