First off, I want to
Thank
everyone that has offered helpful advice, encouragement and tips through out the past month. Thank you to everyone that has shared their trip reports so I could experience PDC vicariously through you. You helped plan our trip so much!
Finally it's my time to give back a little and take you all along on OUR first vacation. So get ready, it's almost about to begin..
.
I guess I should off start by giving you a bit of background on us, since I'm still fairly new to the boards and It's always more interesting to read a trip report if you have some idea who the person is that's writing it.
Me=
(
*Click on view profile for picture
) 30 years old. I grew up in New York, Lived in Florida for six years (going to school) and Germany (working as an Illustrator for a German multi-media company) for four years. now I work at an art university here in San Francisco and we've been living here happily for about 3 years.
The Hubby =
- 35 years old. Grew up in Germany, met me when he traveled to America to attend college. He is now working as a freelance Art Director/programmer. he'll be contributing to the upcoming trip reports, so you'll get a bit from both sides. The male and female POV.

While I'm most excited about the beautiful beaches, turquoise waters, lounging by the pool drinking coronas, taking relaxing naps in the hammocks and exploring playa Del Carmen.. he is most excited about the prospect of seeing some wildlife in the jungle, snorkeling in the cenotes, exploring the ruins, sketching the scenery in watercolor and seeing some monkeys (
He can't stop talking about the monkeys!
....)

We've been married 8 years now. We've never had a honeymoon, this will be our first real vacation and our first time in Mexico!..
We're so excited!!! We're so close to take off - already all packed and ready to go!
See below picture:
Check list:
Snorkel gear, bug spray, sunblock, immodium (Hopefully it wont be necessary, but figured I'd play it safe..), insulated mugs, drinking straws, Excedrine (hang over remedy 1#) sandals, bikini, bathing trunks, slacks, dresses, shorts, tops, spanish phrase book, Wildlife of Southern Mexico guidebook, sketchbook, laptop, toiletries, and cellphone. (and of course our passports, tickets printed out) naturally our camera will be strapped to our hip.
I've somehow managed to squeeze it all into two carry-on bags. .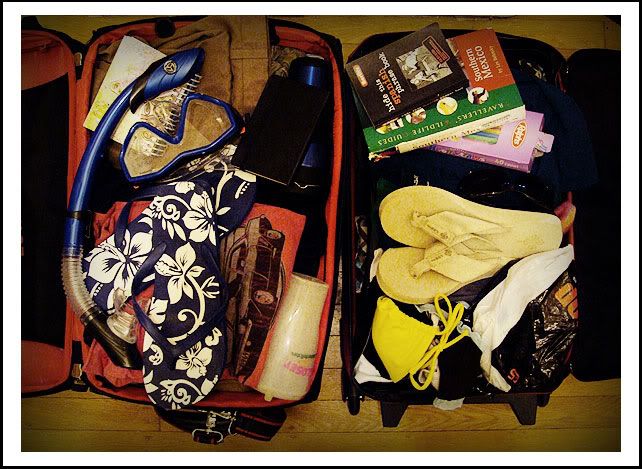 (
my husband is not as impressed with my wonderful packing job and will most likely re-pack it all proper before take off
)
We still have some time to add stuff, Are we missing anything important from our checklist?
Since we're staying at 2 different hotels during our six night stay, (3 nights in the
Occidental Grant Xcaret
and 3 nights at the
Riu Playacar
) I'll be splitting this trip report into two separate threads to make it easier for people to find the hotel they are looking to read about in a search.
I can't believe it's only three days until we fly to Cancun on a red eye flight then take the Playa.info car to our hotel!!

Playa Del Carmen here we come!!!!!!!
Just in time for the 200th year Mexican Independance day!!!!!
3 days and counting....
Things I hope to experience during my trip..
1. see Nasty bastards perform at Bad Boys saturday night, visit Luna Blue, Dirty Martini..etc (too bad there's no peep meets! But if you're in the area, you'll know where to find us) You can find our map here:
2. hang out with Monkeys (JunglePlace on Sept. 16th - for my husband, this is a dream come true)
3. a night of dancing that involves lots of tequila (this one shouldn't be too hard
..)
4. snorkel in a cenote
5. lay on the beach , wade through turquoise blue ocean waters
6. see mayan ruins
7. Experience Mexican independence day in playa del carmen (If we're not too exhausted after our red eye flight)
8. sleep in a hamock
And hopefully
Hurricane Igor
or the
92 L tropical storm
currently developing doesn't join us on this trip...
**************
September 14th, 2010
*****************************
We were so excited about our first real vacation together, that the night before we could barely sleep.
At work, co-workers kept coming up to my desk every five minutes to ask if I was all packed and ready to go to Mexico (of course!) offering last minute advice such as:"
remember don't drink the water!" "Don't buy drugs on the street"
(...huh? ) "
Don't drink too much tequila
" (ha!) "
Take lots of pictures!
" and of course "
Have an amazing time!!
"
When I arrived home, Markus ran down the apartment hallway to greet me. "
We're going to MEXICO TODAY!!!
" Holy crap, our first vacation in 8 YEARS!
We gave our upstairs neighbors last minute instructions regarding taking care of our two cats. Then we lugged our two carry-on suitcases down to the sidewalk, hailed a taxi cab and we were off to the airport!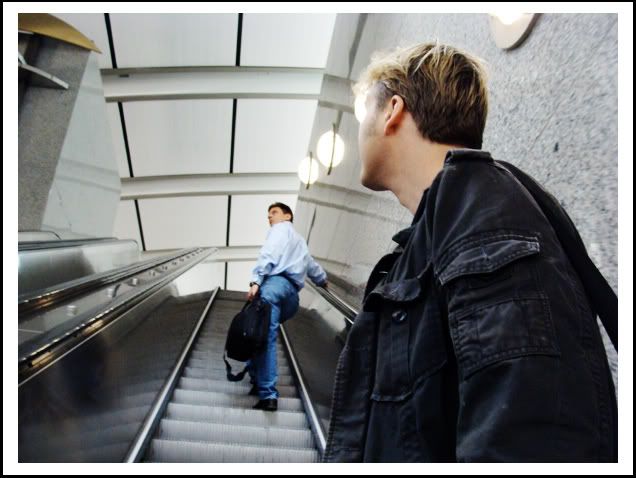 As we boarded the plane, I said "
Isn't it great that we managed to squeeze everything into two carry-on bags?! We don't have to pay extra fees for check ins and we don't have to worry about our luggage being lost.
" I had reduced everything to 3 oz travel-sized containers. I was quite proud.
But of course, there wasn't enough room for our bags in the overhead compartments due to the flight being overbooked. The stewardess came over and said "
I'm sorry, we'll have to check this in. You'll have to pick this up at the cancun baggage claim"
Figures.
"Don't worry" Markus assured me "
If they lose our luggage I can just cut my jeans into make-shift shorts and I'm sure nude bathing is allowed on the beaches. You don't really need your bathingsuit.
"
That was reassuring.
We held hands as the plane took off, I'm one of those nervous passengers that imagines imminent death every time there is a bump of turbulance. You really don't want to sit next to me on a flight.
After a six hour flight containing small windows of sleep inbetween rough air patches, we landed in Atlanta.
We had a 4 hour layover before our flight to Cancun so we got some coffee and wandered around looking at the window displays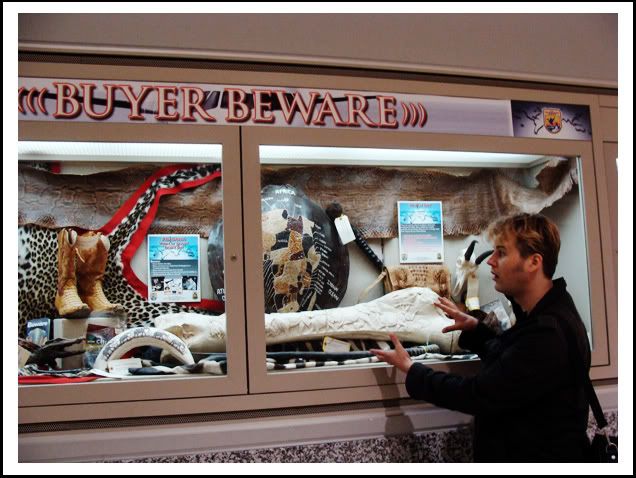 What IS that?
We also exchanged our money from American Dollars to Pesos.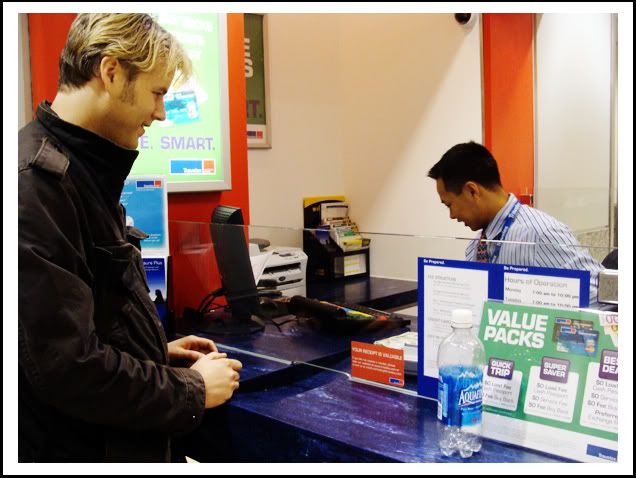 The 300 dollars we set aside for the trip = Thousands of Pesos! We felt like high rollers!
I held this thick wad colorful currency in my hands for the first time. So exciting! (however, now in retrospect, we should have waited, terrible currency exchange rate in the airport. We got jipped)
One hour before takeoff to Cancun...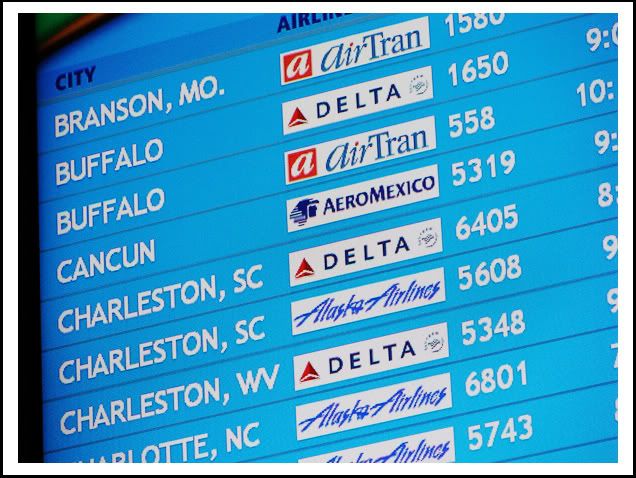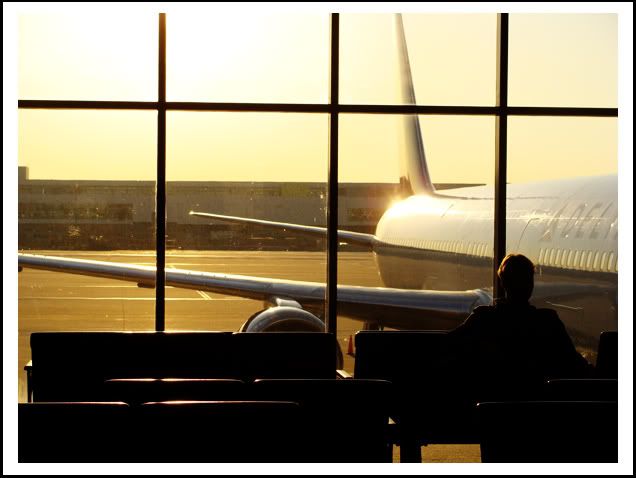 Looking around at the crowd of vacationers heading into the plane, you could TELL this was going to Cancun. They were already in partygear and were inquiring about the price of cocktails in-flight before take off.
the flight was only 2 and a half hours long. We received the custom forms and such to to fill out.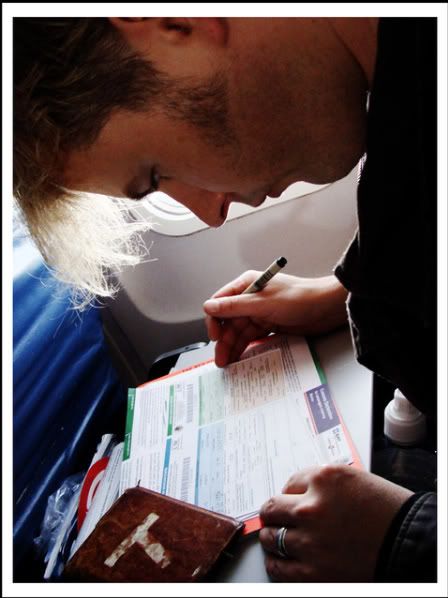 Everyone in the plane was drinking and laughing through out the flight. I overhead alot of speculation about Tropical Storm Karl, which made me uneasy. I expected to fly into stormy weather with lightening flashes and crazy turbulance.
But the skies around Cancun were beautiful, sunshine and puffy white clouds.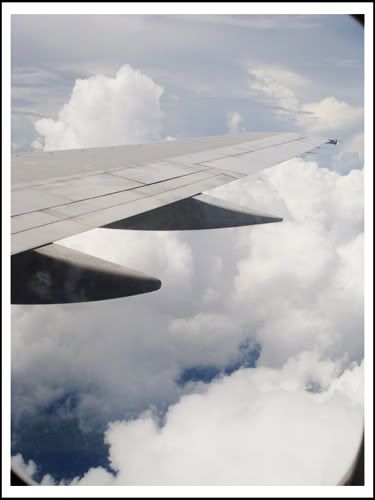 When we saw the turqouise blue waters of the shores and the jungle below we were so excited, pressing our face against the plane window like little kids.
Markus
:
"Look at that! It's Jungle! There are MONKEYS in there!"
Me:
"WOW! look at that gorgeous BEACH!"
It was a gentle landing into Cancun and all of the already-intoxicated tourists clapped. We excitedly exited the plane. We were exhausted but had a burst of adrenaline at the realization that we were in Mexico!
Customs was a breeze, there were barely any lines at the check in points. Our luggage was waiting for us at the baggage claim belt. I was relieved.
When we stepped out, the wave of mexican heat hit us immediately. There were people with signs everywhere, calling out names and offering services. We scanned the crowds for our transfer car driver from Playa.info.
We found him in the masses holding up a sign with our last name ( with an extra "O" added at the end. I guess that would be the spanish version of our German last name. works for me).
The car was comfortable and we were grateful for the air conditioning. Our driver was so friendly! He didn't speak English. Markus tried out his broken spanish and for the most they were communicating. I think...
As we drove away from the airport our driver asked in spanish "
Something..something... CERVEZA?"
Markus and I looked at eachother. Now we know that Cerveza means beer and we wouldn't be opposed to that after such a the long journey. so we said "
Si?
"
We ended up in the parking lot of a Mexican 7-Eleven. The driver opened the door for us. We bought some Coronas, 3 gallons of water and bug spray. Our first purchase with Pesos in Mexico!
Holding our first 2 cold cervezas in Mexico!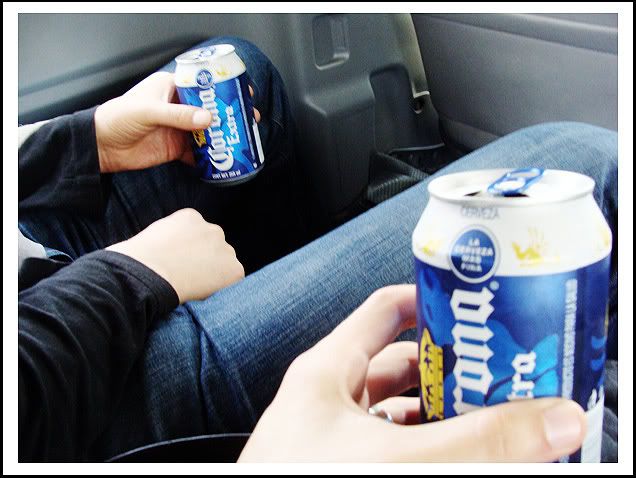 We all chatted during drive to the hotel. "
How long are you married?" "eight years" "babies?" "No" "What don't you have babies?" "Not enough money yet" "You should have babies"
- Note: This conversation is one that we continued to have with many people during our stay. I contemplated responding "
yes, I have 10 babies"
so I'd receive a satisfied nod and the topic could move on.
After one hour we pulled up to our hotel!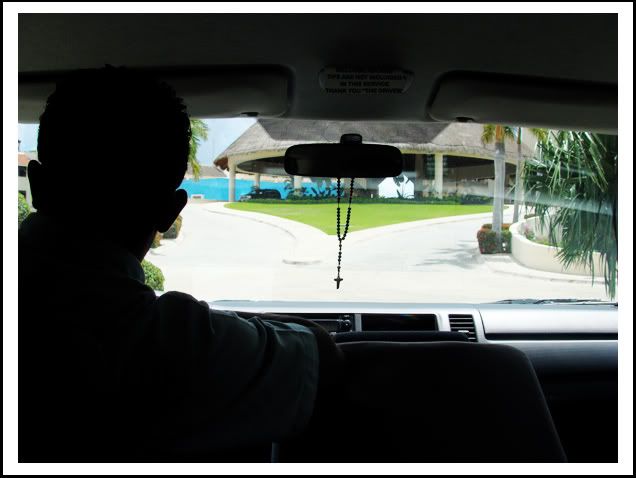 Markus and our awesome driver.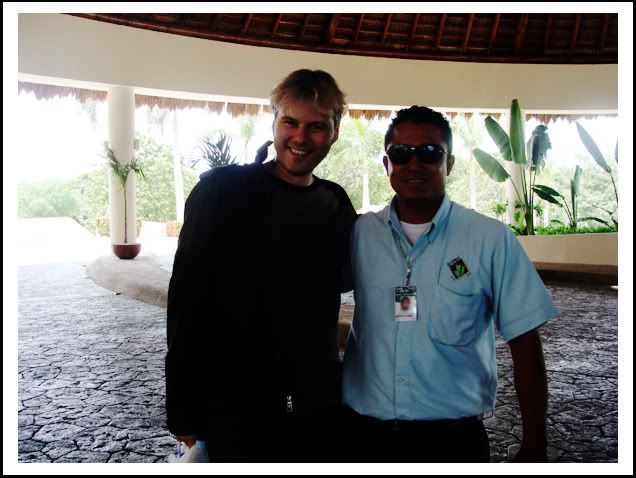 The Occidental Grand Xcaret entrance was huge. It was bigger than I imagined, huge palapa, spacious lobby, so fancy. Someone came up with a tray and immediately handed us drinks.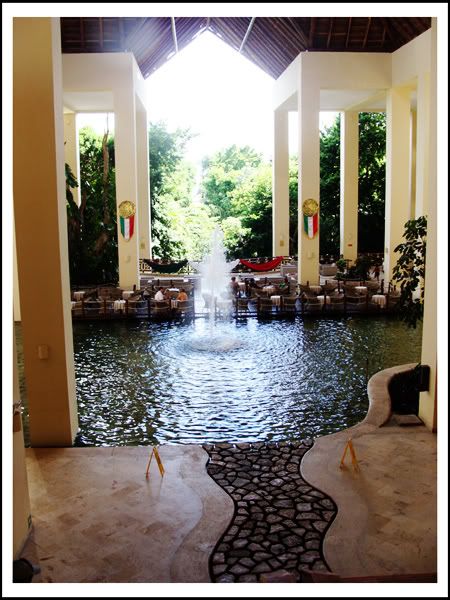 It felt completely surreal, like a dream as we walked up to the receptionist desk for check in.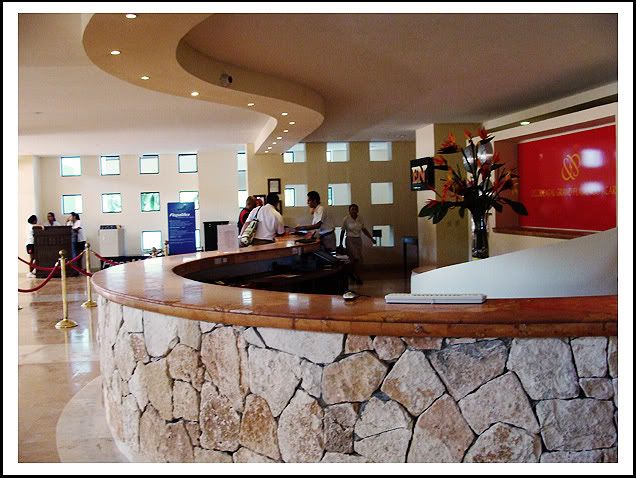 Our receptionist Jadya greeted us with a big smile and spoke english. We checked in and she spread out a map in front of us. It looked like the map for a massive amusement park. Was this really how big the resort was?? I was blown away!
"This is where you'll be staying it's close to the lobby room: 12345"
she explained
"12345?"
Well, that should be easy to remember.
She explained that reservations for the a la carte restaurants had to be made in advance at the receptionist desk, but the buffets were available all day long. There were tons of bars all over that make any drink we could ever want. Pools everywhere, fun pool, adult pool, quiet pool, swim-up bar pool. Man made cove beach at the very end, snorkel equipment available for rent, towel service cards were given and a room key.
Wow.
Someone put our luggage on a cart to bring to our room, and we followed him in awe.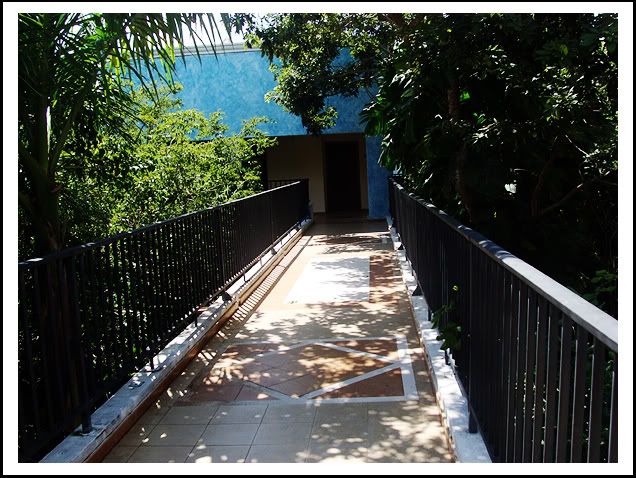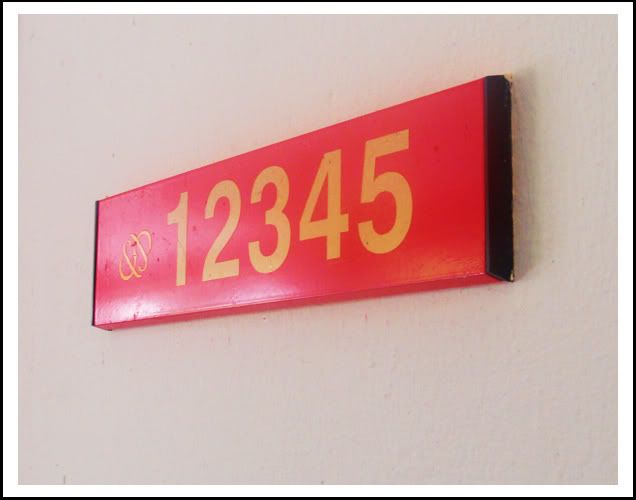 Our room number was
gold
font, all of the other ones were white. we thought that was a special sign
He opened up the door for us and placed our luggage in the hotel room foyer. We tipped him and closed the door.
Markus immediately ran around the room. "
We're in Mexico! We're in Mexico, Honey! We made it!
" - He pulled open the sliding glass doors leading to the balcony and took a big breath of air "
Do you smell that? That's mexican AIR!"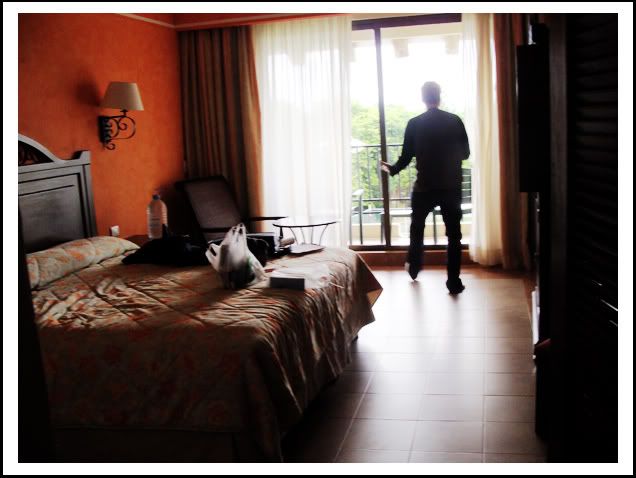 I collapsed onto the soft bed and gazed up at the ceiling fan swirling up above me with a smile.
We made it! We were here! The Mayan Riviera in Mexico!.. our vacation had finally arrived and it was only the first day.
I closed my eyes and I could feel myself drifting off into a peaceful content slumber...
... but then I snapped my eyes open again and sat up. There was too much to do and experience! how could I sleep NOW?
Markus was changing into his bathing suit bottoms, I grabbed my bikini from my suitcase. It was time to change into vacation gear and begin exploring..
CONTINUED ON PAGE 2.