Saturday, December 11th
There was a gorgeous sunrise this day, our 14th wedding anniversary. It would be the perfect day for a road trip…. after a perfect breakfast of those delicious croissants from Chez Celine, some coconut yogurt and Blue Mountain coffee.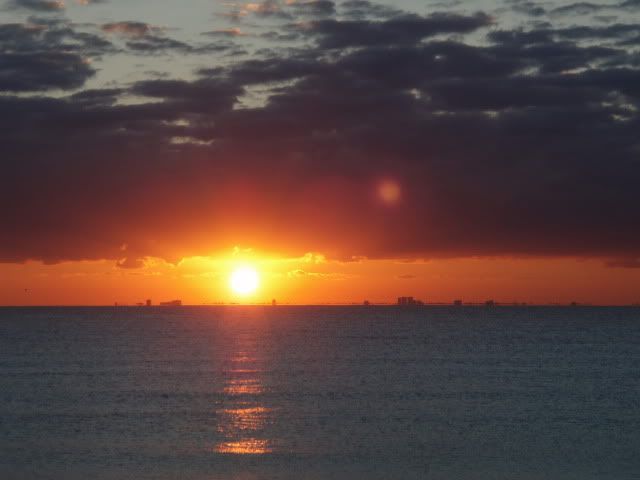 We packed up, checked out of Fisherman's around 9:30 and headed up to pick up our laundry and stop at the bank.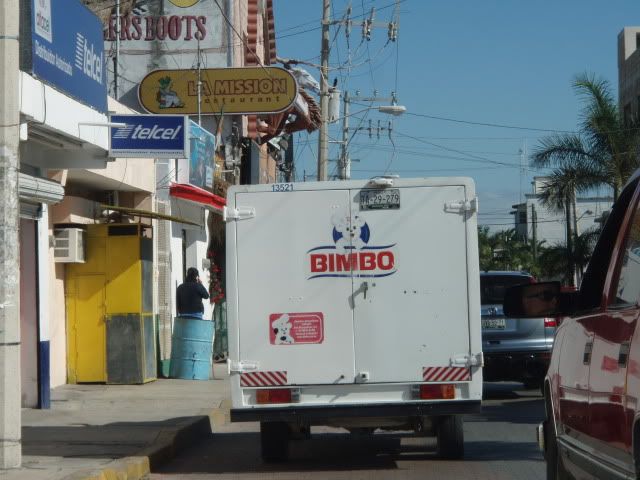 Look who we ran into up there.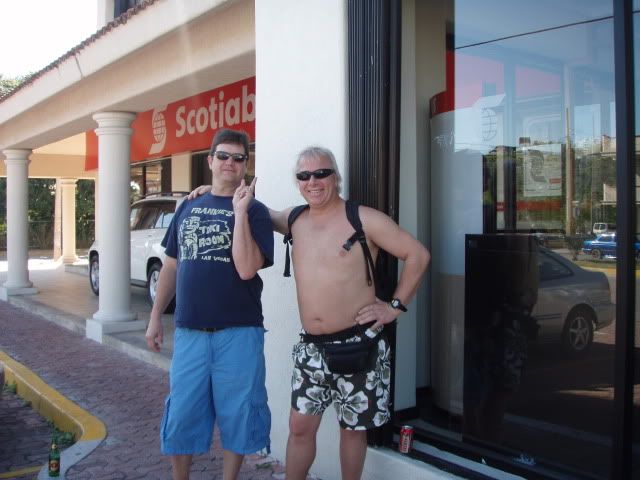 We stopped to check out the new Super Chedraui in Puerto Aventuras and picked up dried chilis and spices and a bunch of other things to take home with us. What a nice store. We also really liked this cool truck parked outside.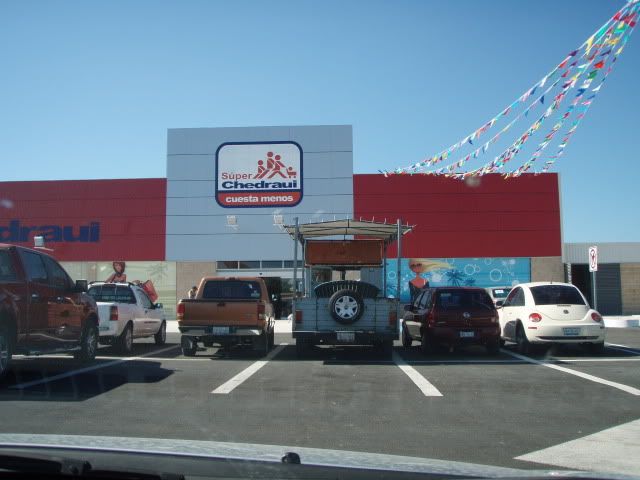 When we set out again I called Harris to give her a heads up of our ETA- they were back from Rio Lagartos and had spent another night at Om on the beach in Tulum. We planned to meet for lunch on our way south and on their way back up to Playa.
Guess where we met?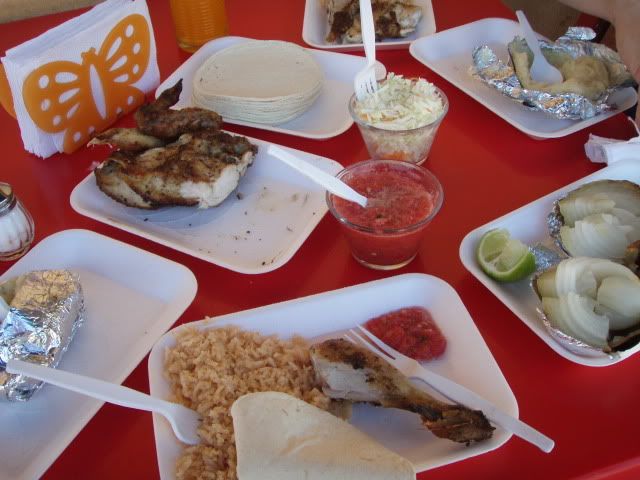 Mmmmm…. That's right!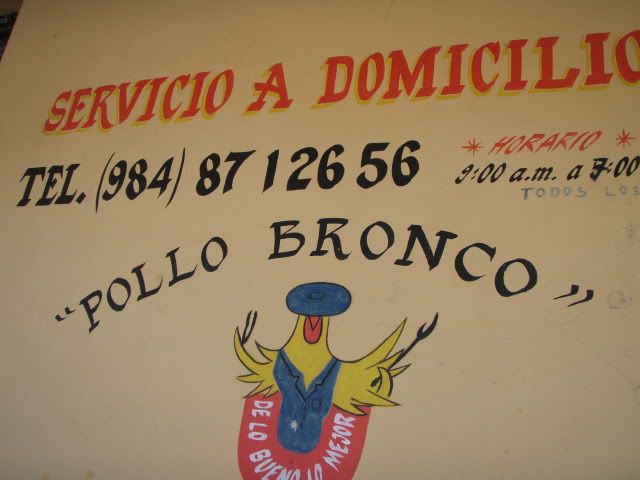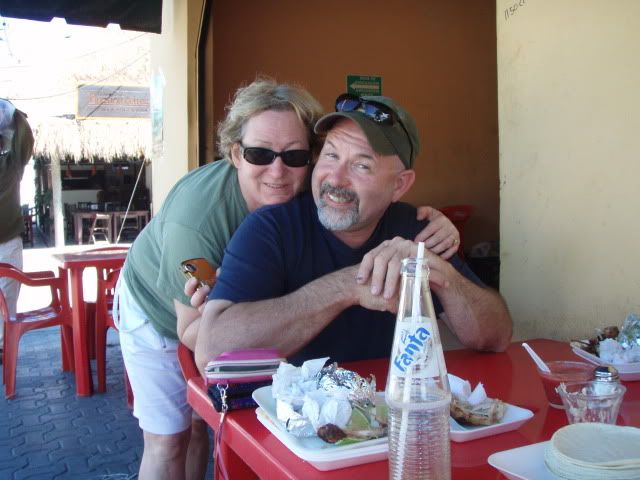 Brian and I shared half a chicken and a grilled onion with two of those scrumptious potatoes. With Brian's Fanta (I unwittingly walked over with a beer which they promptly gave me a cup for as they are not allowed to serve it) the cost was 130 pesos. I am licking my lips thinking of that lunch right now!
We stopped in at Mixic and did a little more shopping before hitting the road. This is a bigger shop than the little one across from Zamas on the Boca Paila Road. They have the coolest artwork there. We bought some copal incense (I love the smell of copal) and a few other odds and ends then said goodbye to Harris and Paul.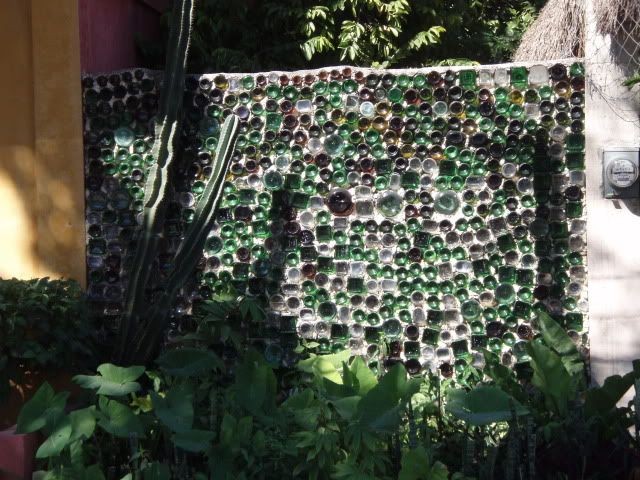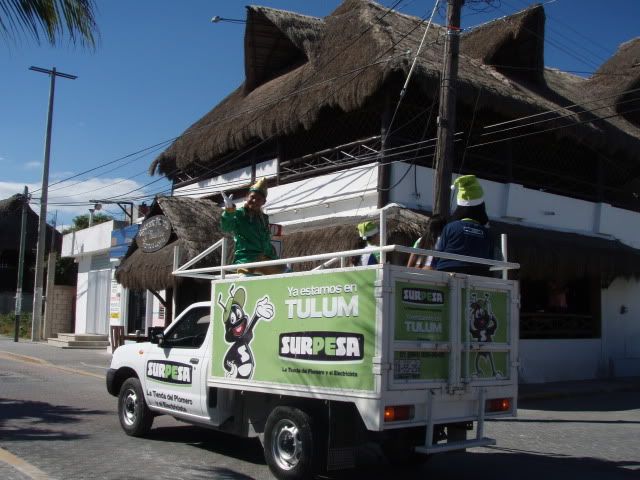 Harris pulled a bottle of champagne out of her cooler for us for our anniversary. She'd been lugging that all over Mexico. We had no room in our small Styrofoam cooler so put it in a plastic bag with ice on the back floor and drove off toward Mahahual. I wanted to keep track of the time of the drive- it was 1:20 p.m.
Lots of pilgrims are on the road today.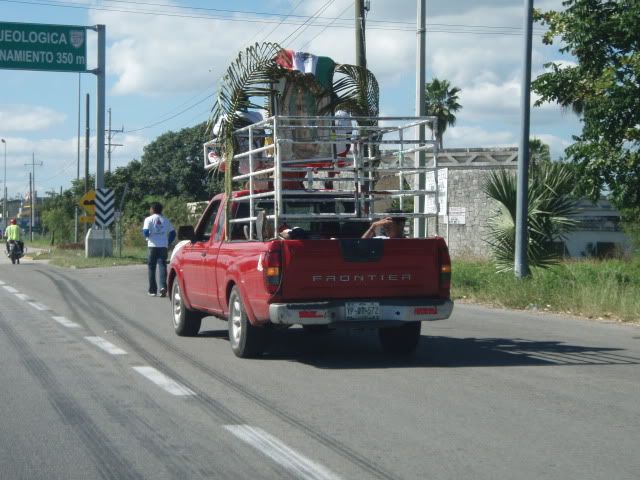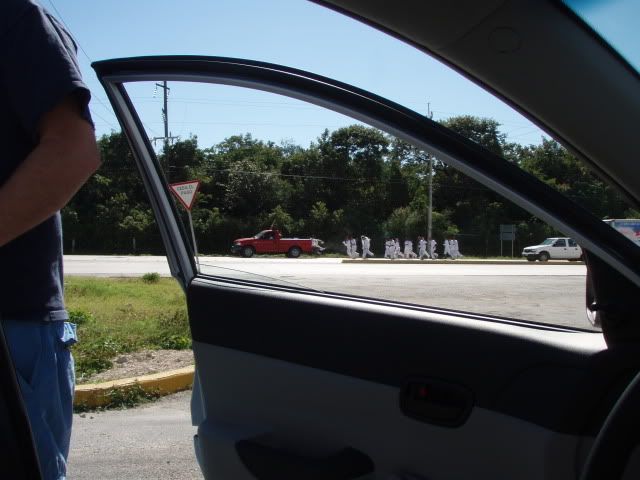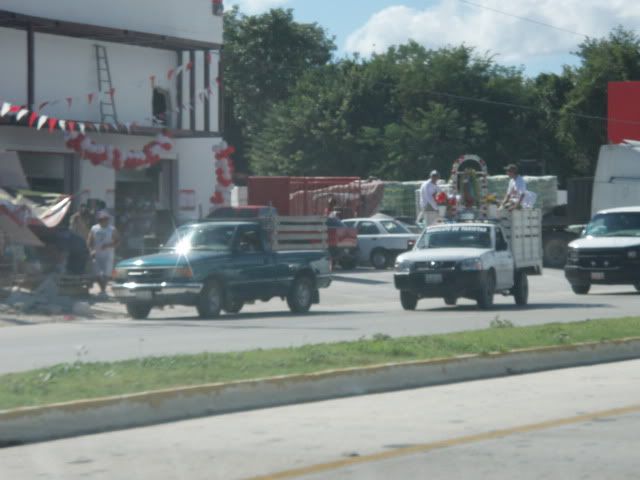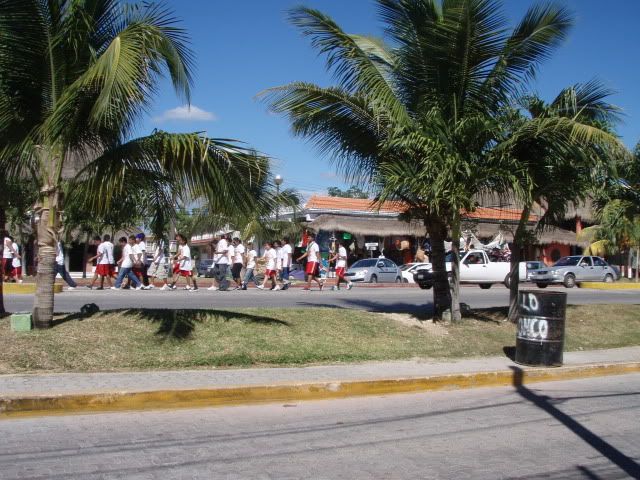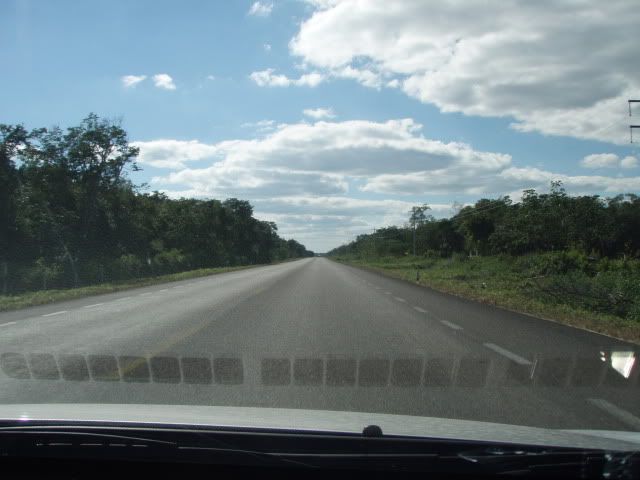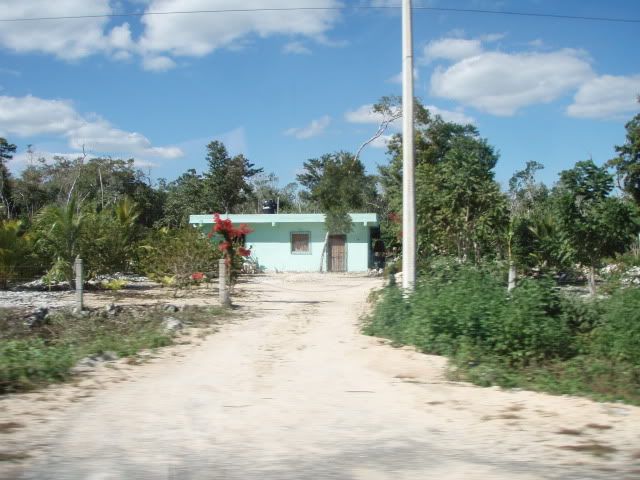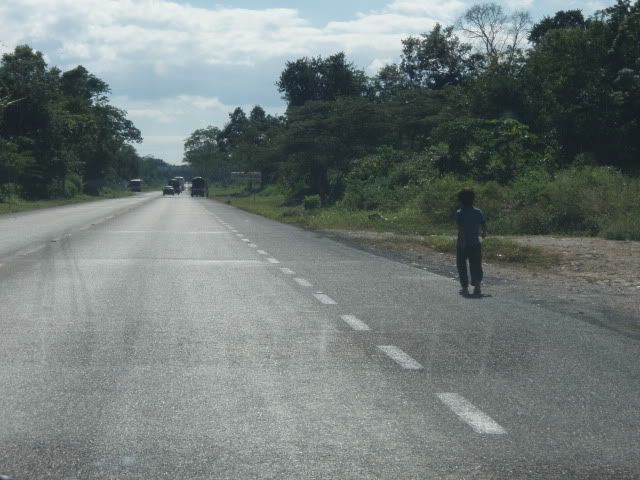 It took about an hour to get to Felipe Carrillo Puerto and about ten minutes to drive through the town, which was the largest town we'd pass. I believe it has about 15,000 residents.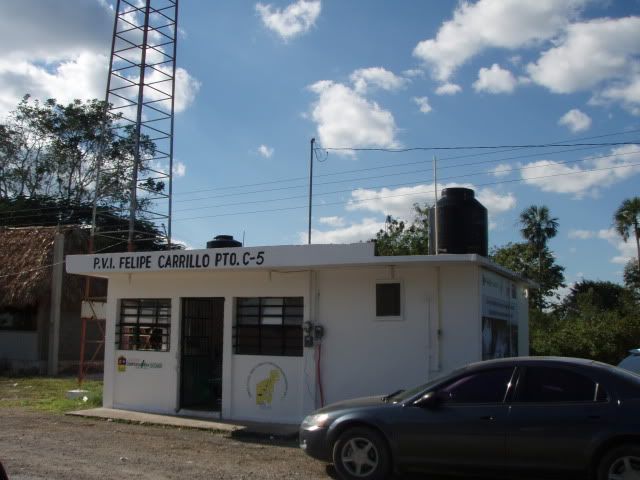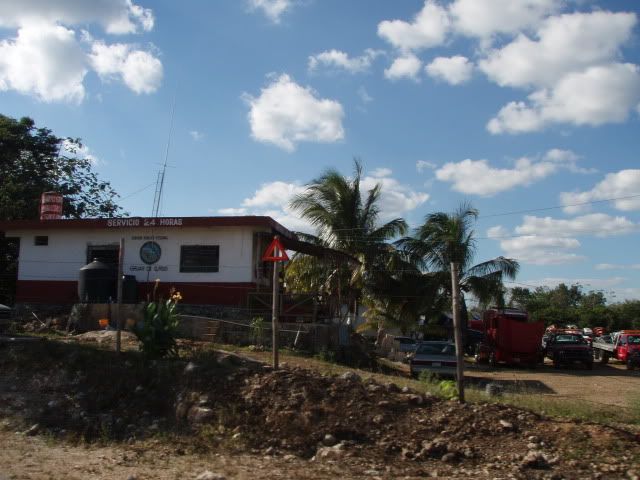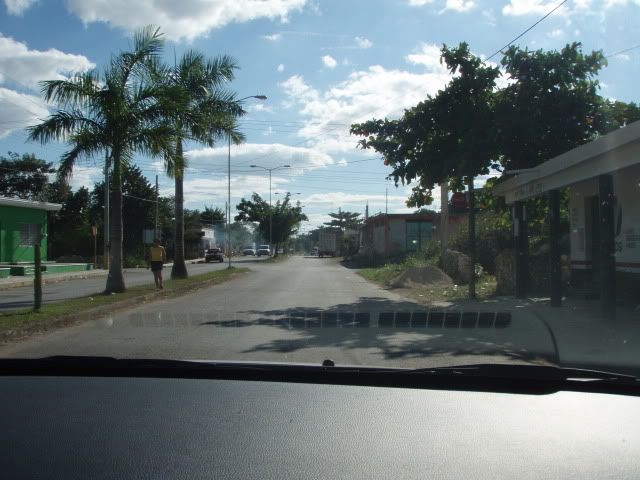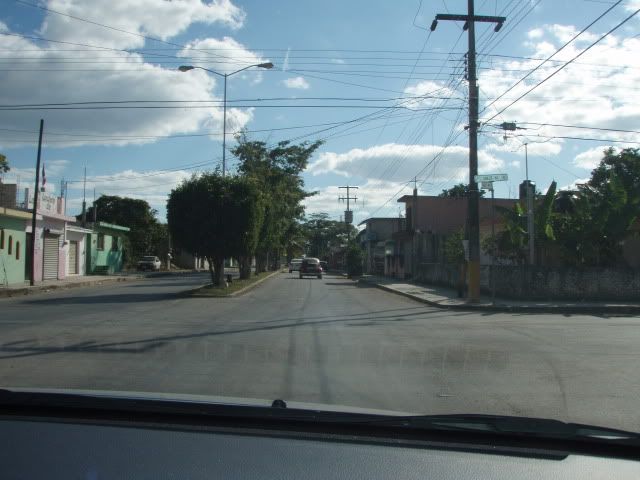 This enterprising fruit vendor caught every driver as they slowed down for the tope.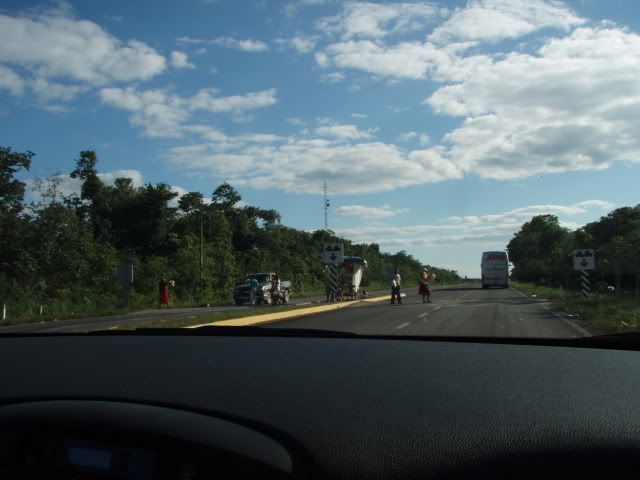 On we drove toward Limones, which is where we left 307 to drive to the coast along a long straight road with gnarly mangrove on both sides.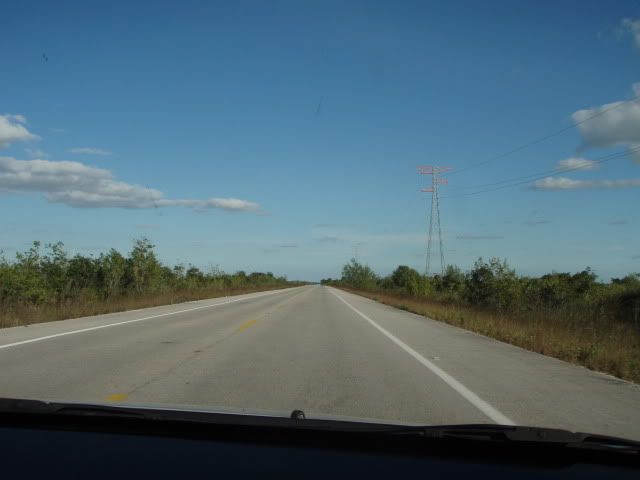 It was a very easy drive to Mahahual, but a bit long, for sure; in fact it was just long enough for us to start getting testy with each other (even on our anniversary). Just in time there it was like a mirage, looming before us- the lighthouse, the sea, and the nicest little beach bar we thought we'd ever seen.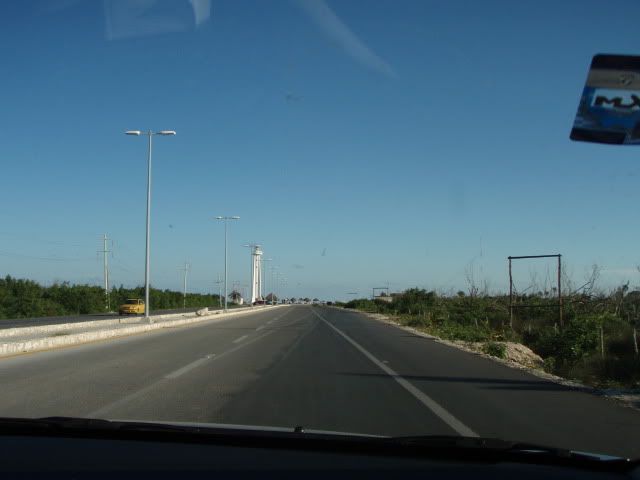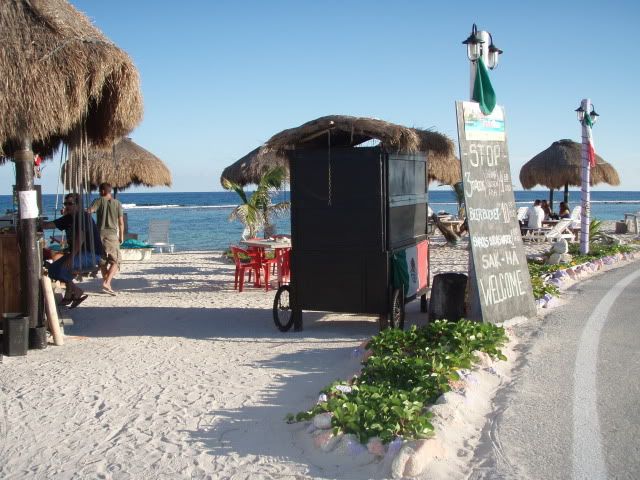 It was now 3:55, so just over 2 ½ hours' drive from Tulum. We parked the car, stretched our legs and pulled up a couple of swings. I wish I'd gotten a photo of the nice couple (originally from Mexico City) who owned the place- they were so welcoming and so nice- we just had the best time chatting with them. A guy came along with several fish he'd just caught and they were promptly seasoned and cooked to order, the aroma of garlic driving us crazy. We'd have to come back here for lunch tomorrow (sadly we never made it back but it will be the first stop we make next time, I know)….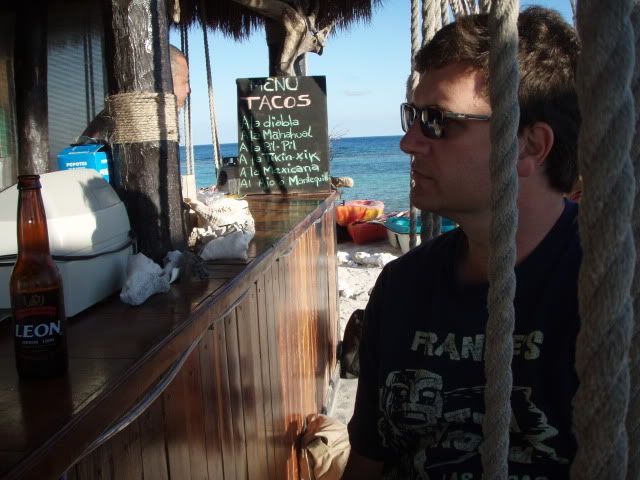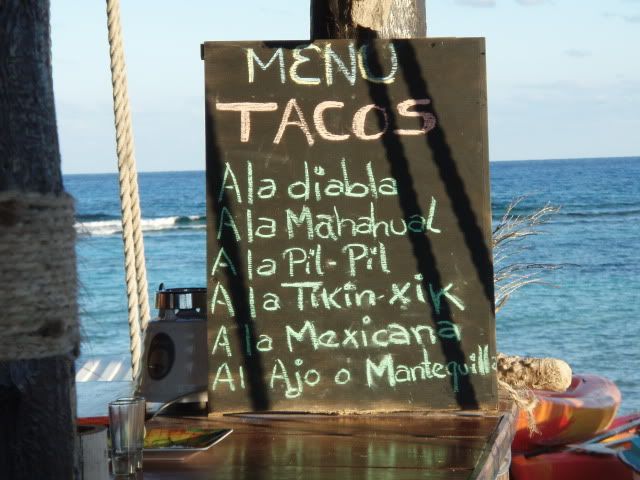 "Mahahual traffic jam"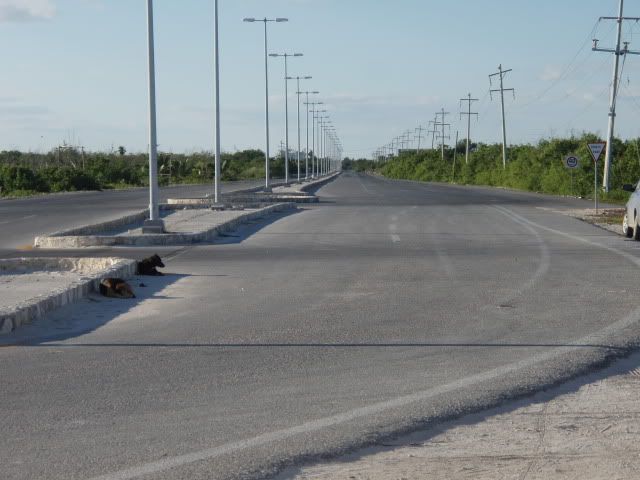 After a couple of Leons and some great conversation we left before we melted into our swings, in search of our hotel, La Posada de los 40 Cañones.
It was plain to see that this little town was still rebuilding from the devastation of Hurricane Dean a few years ago. There was still evidence of downed palm trees and mangled mangroves. Yet it was a totally charming place, and we would only confirm that more as the weekend unfolded.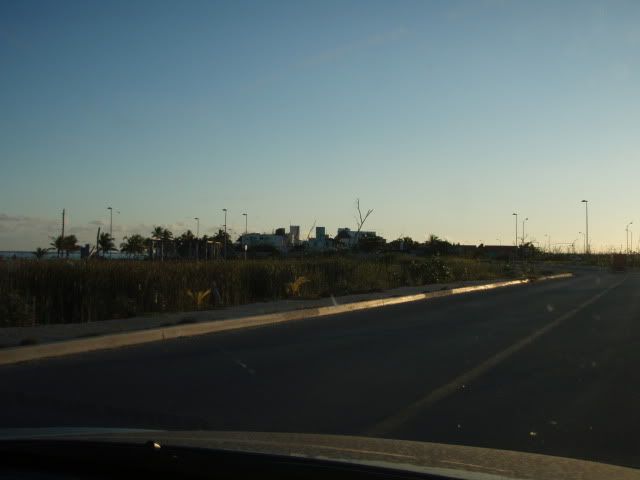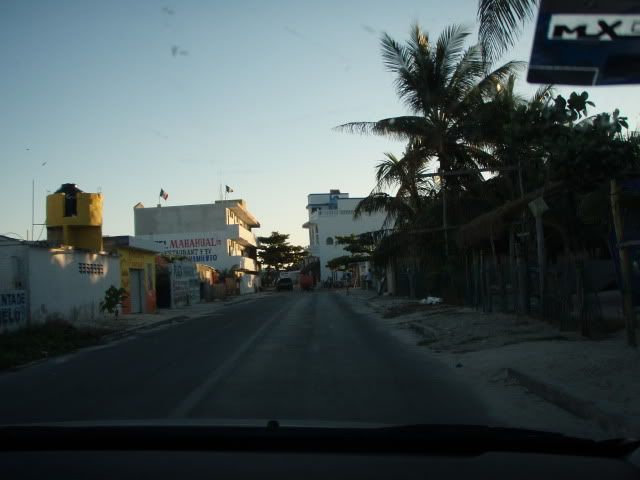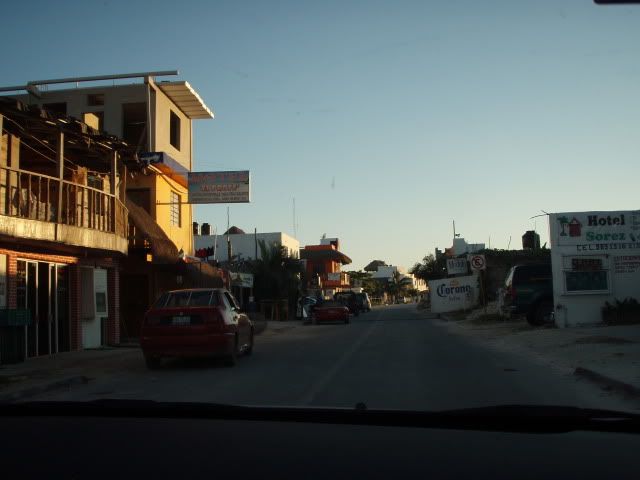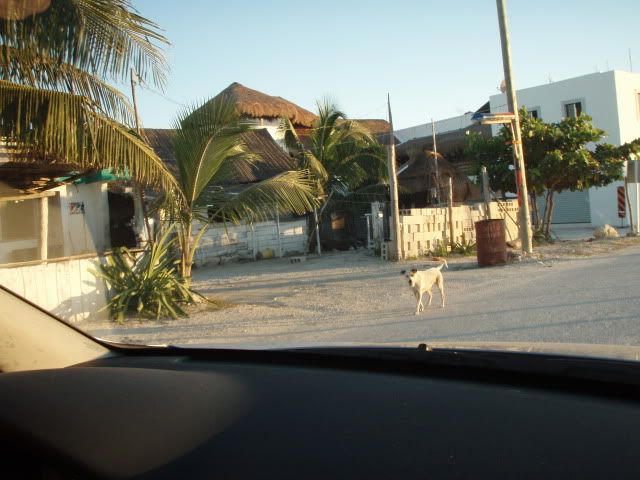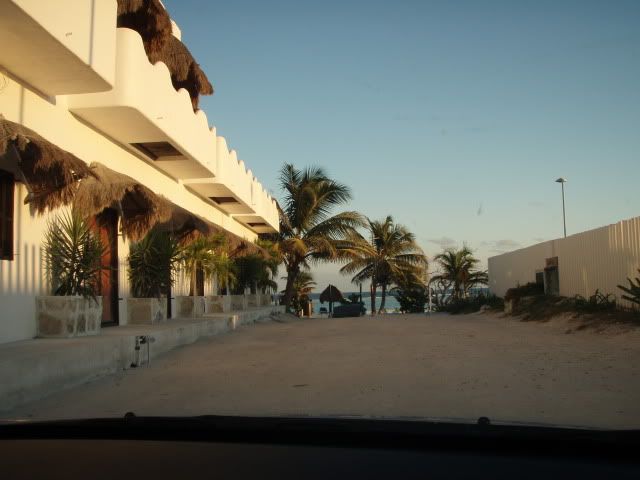 We checked into 40 Canones and were shown to the best room in the house, Suite # 2. Oh yes.… I could get used to this. It had a balcony overlooking the malecon, which was not much more than a wide sandswept sidewalk between the hotels and restaurants and the beach, not like the type of malecon you'd think of in a place like Puerto Vallarta or Mazatlan. This was a sleepy little village for sure…. at least when the cruise ships were not in port, which is typically during the week. We were practically the only travelers staying at the hotel- we saw very few other guests there all weekend. We seemed to pretty much have the whole town to ourselves.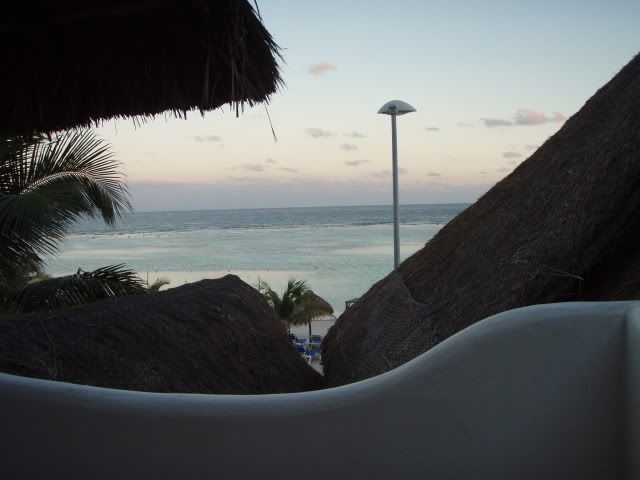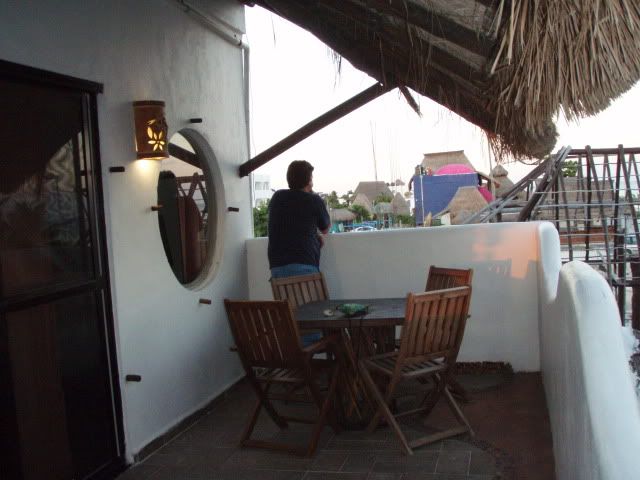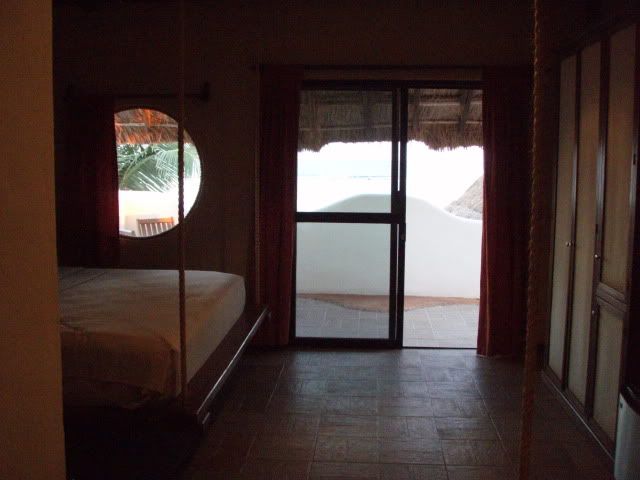 After settling in at our room and checking our email we went downstairs, pulled up a couple of swings at the bar and ordered a couple of margaritas. We were the only ones hanging out and just relaxed, watching the locals come and go up the malecon.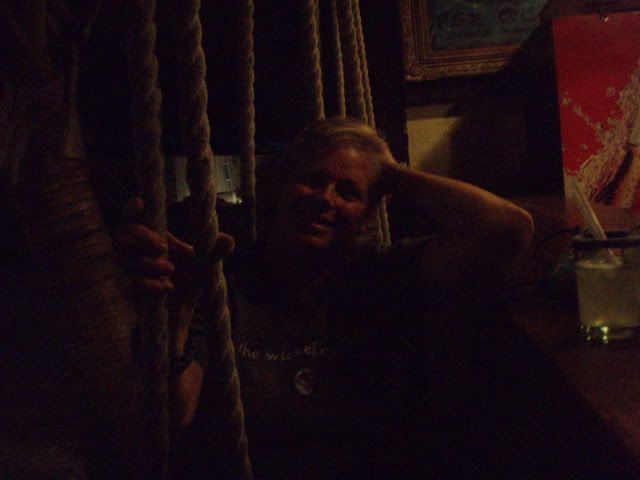 After our drinks we set out to explore, walking a good ways south while scoping out the few restaurants along the way.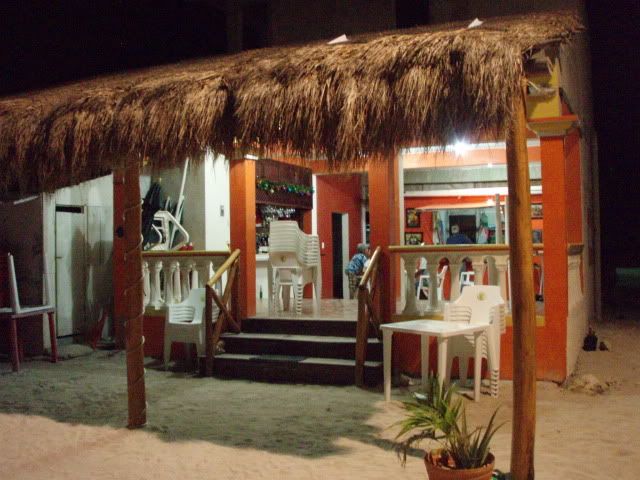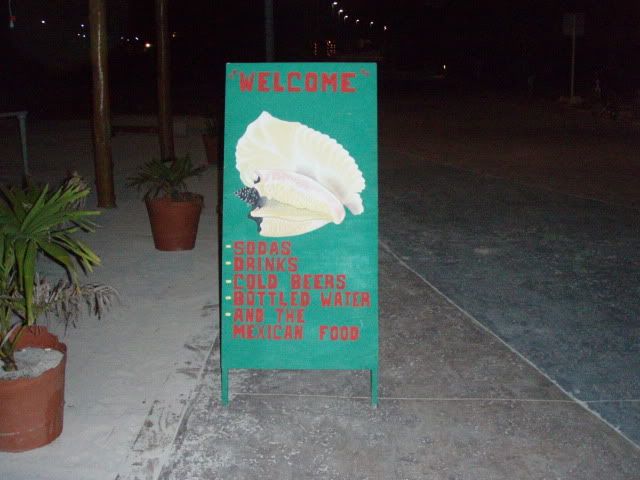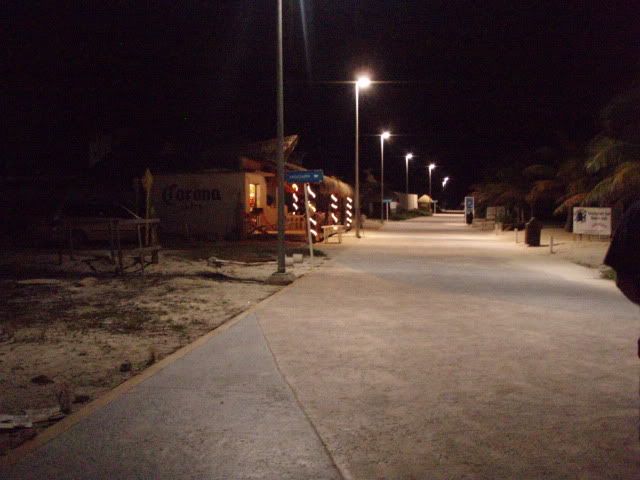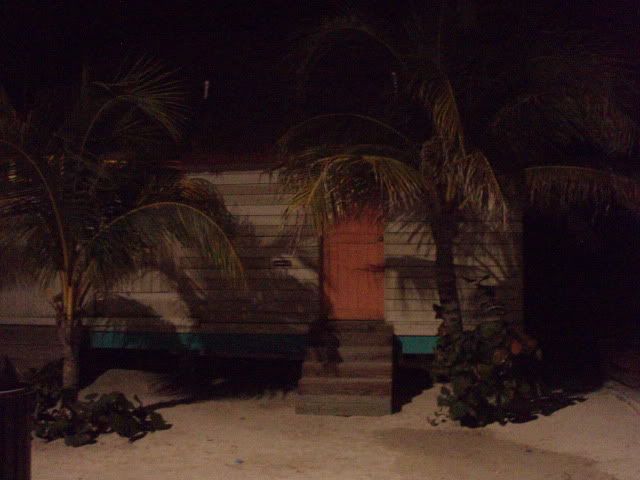 We walked by Nohoch-Kay and saw an older gentleman greeting some patrons who I figured must be Jaime, the owner (formerly of El Oasis in Playa). We'd come back here tomorrow- for now we'd turn around and bar hop a little maybe, and scope out the rest of town before picking out a place for dinner.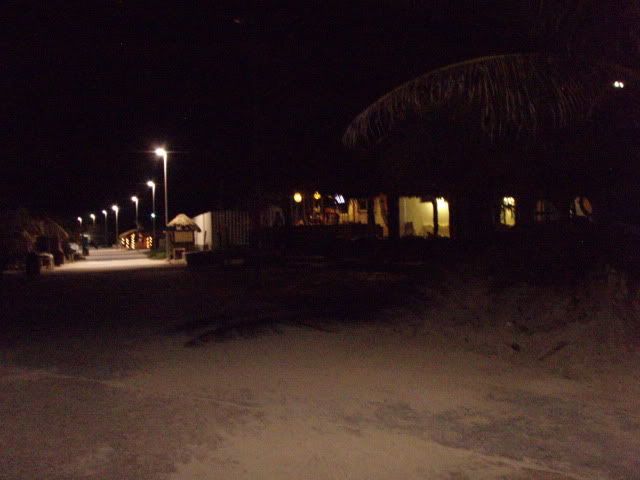 We came upon a lively little bar and were welcomed right up to a table on its deck.
There were probably about 15 people hanging out- a few gringos and mostly all locals, it seemed. Apparently it was a new place, called Barkitos, that had only been open a couple of weeks. There was some great (Mexican) music blaring and two girls were dancing and singing, two little chihuahuas were yipping and the friendly bartender was asking us '…does that margarita taste good? Is there enough tequila in it?' We thought we'd died and gone to heaven and just sat there taking it all in. Friends were laughing, little kids were riding their bicycles up the malecon and playing and just being kids, not shaking Christmas sticks and singing for money- it was just like watching a movie, this little slice of life. There was no need to go any further.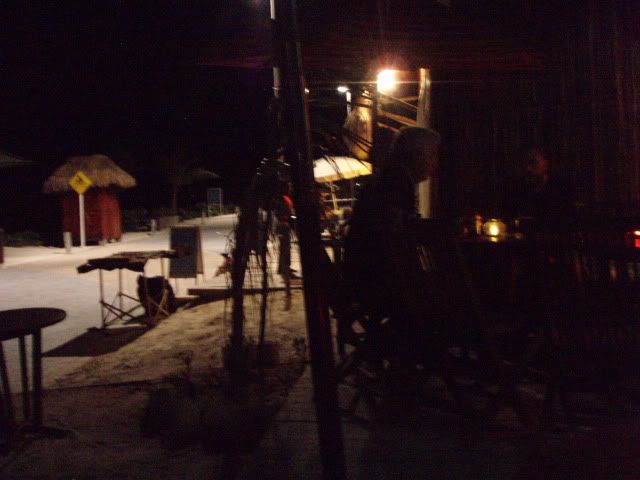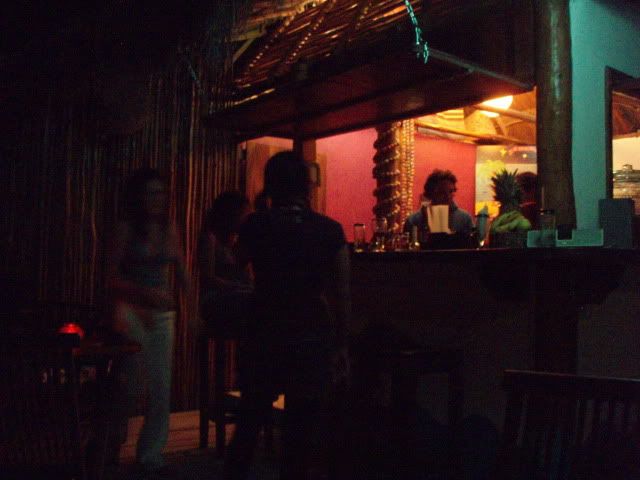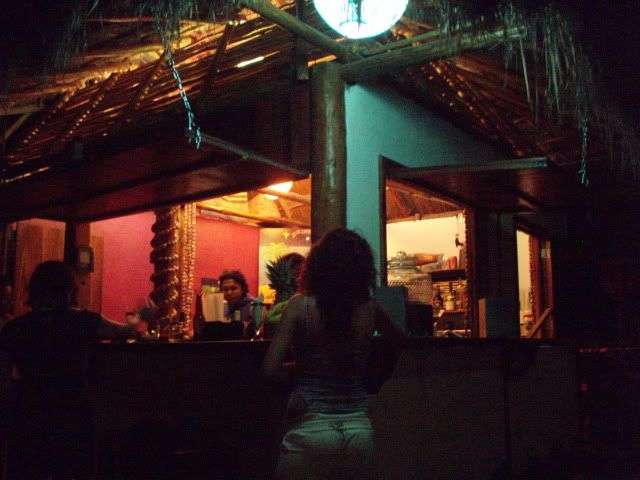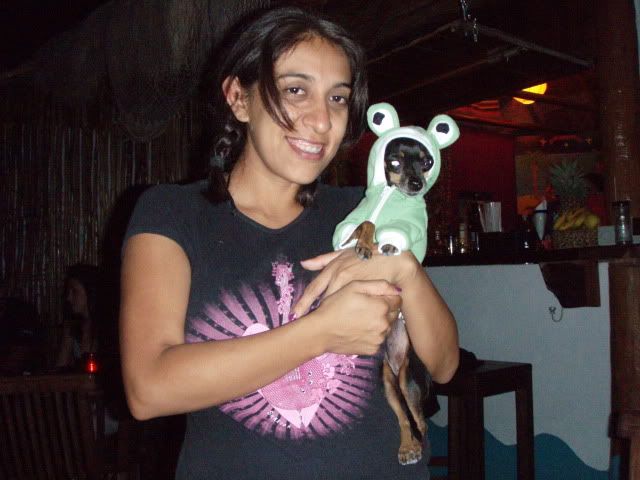 And then, who walks up to the bar but Jez, and pulls up an empty seat. We hadn't seen Jez in Playa for a long time, and had almost forgotten hearing he'd moved here. I called him over and we sat and talked a long time. In fact we were having such a grand old time we'd forgotten that we hadn't eaten yet and the sidewalks would likely fold up at any minute. Jez suggested that 'Fernando's place' would likely still be open and gave us instructions on how to find it. "If you put your skates on you might make it!"
We said good night and darted off down the side street and found it, 100% Agave, just as they were letting the last few customers inside, the door locking behind us. We ordered more margaritas with their own barrilito tequila, and ordered dinner.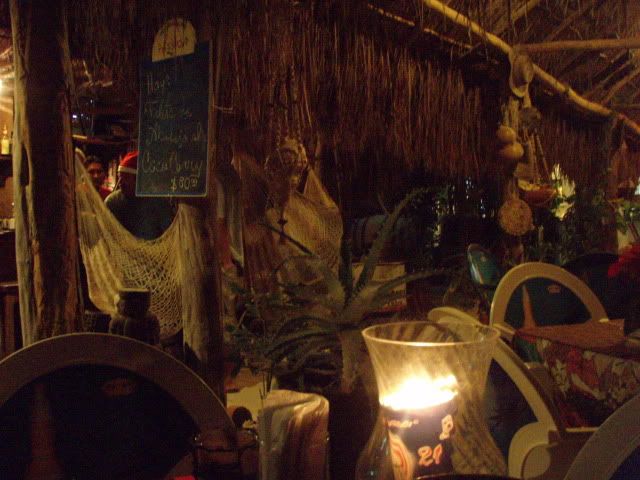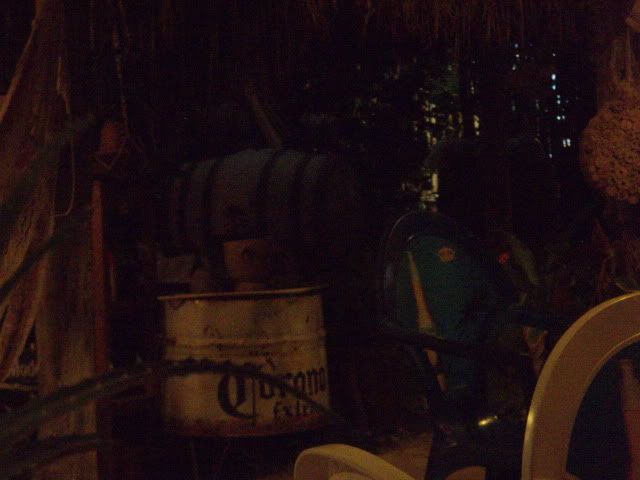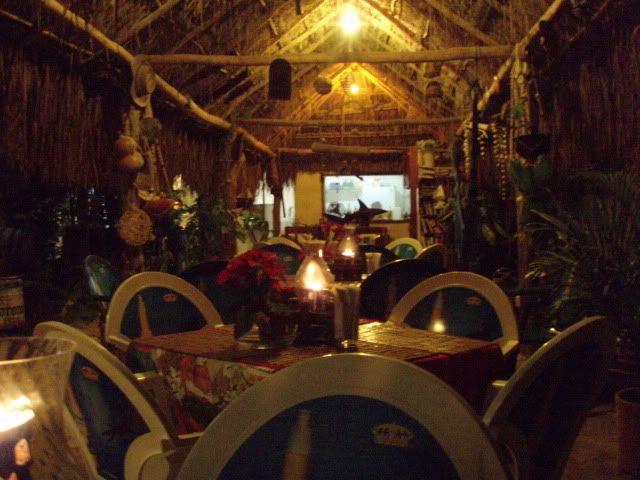 Our waiter recommended one of the specials, steak tampiqueno, which was excellent. Brian ordered curried triggerfish which he thought was good but a little sweet, but which I loved- so we shared.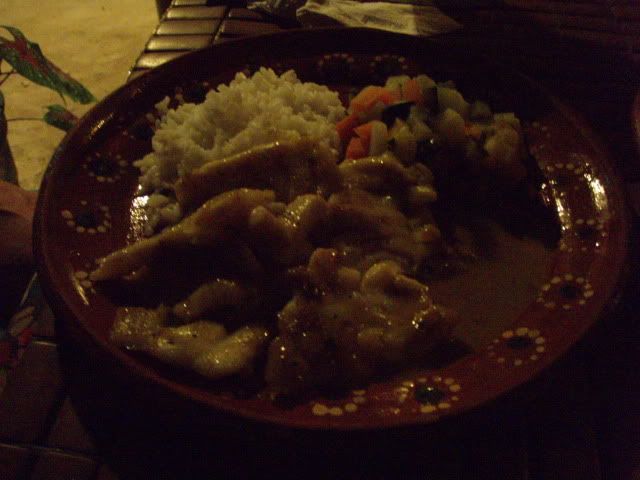 If my notes are correct the meal, including 3 margaritas, was only 260 pesos plus tip.
And so ended our first day in Mahahual, a perfect day indeed.