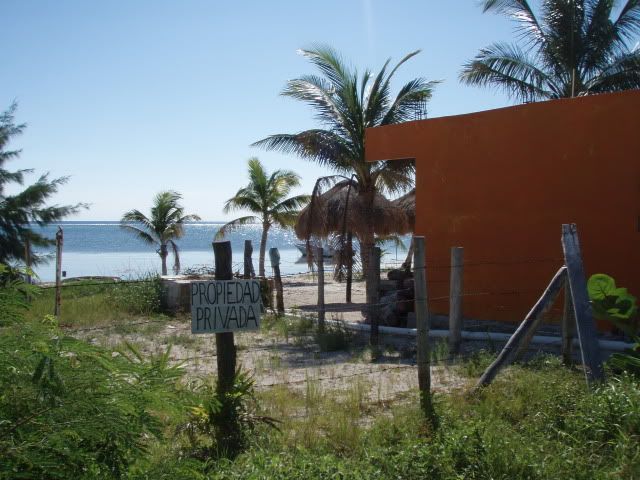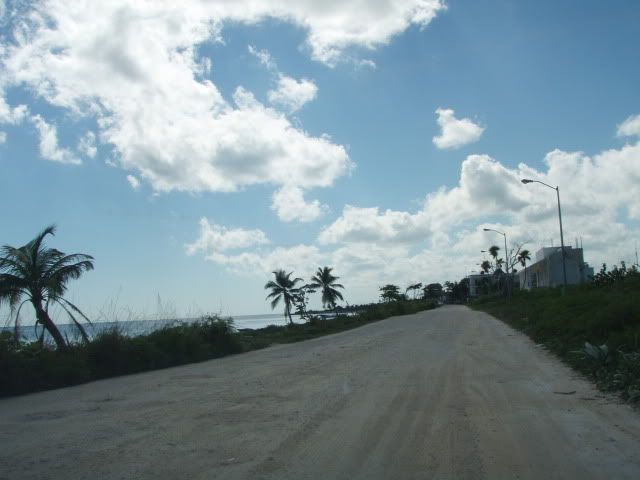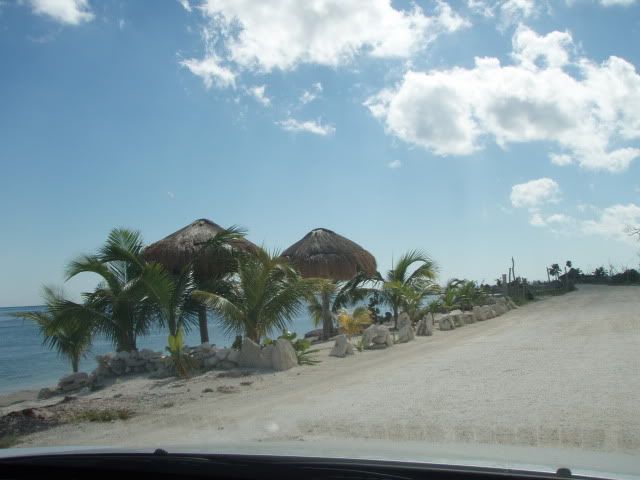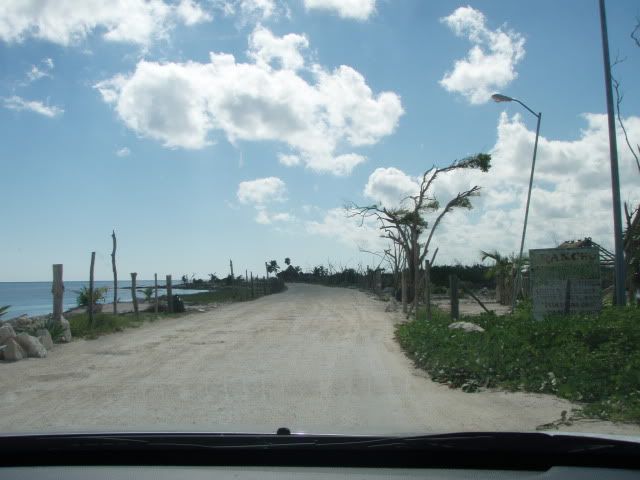 We thought we'd go just a short way when we saw all the potholes along the beach road, but we kept saying 'oh, just around the next corner'…. and then around the next…. and so on, until we'd gone about 10 km or so- just about a sixth of the way toward Xcalak.
Looking back toward town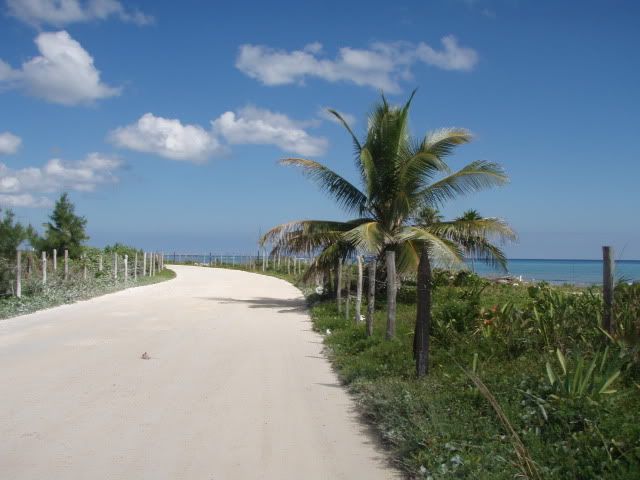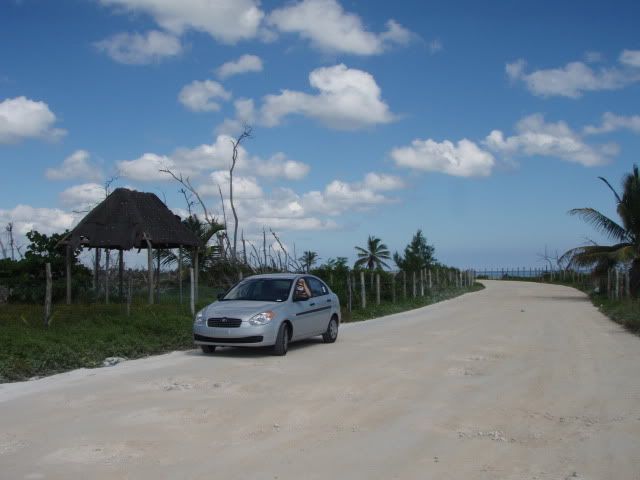 It was slow going, but beautiful scenery. Of course there was still plenty of debris and some demolished houses along the way, but it was still quite beautiful and peaceful- birds everywhere and lots of butterflies and flowers and oh…. just a wonderful ride.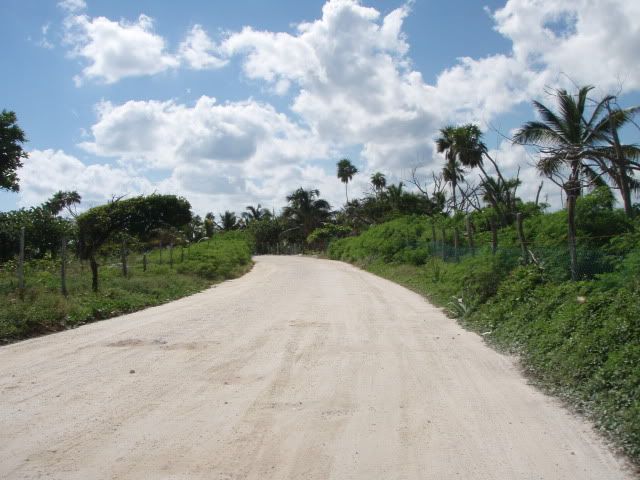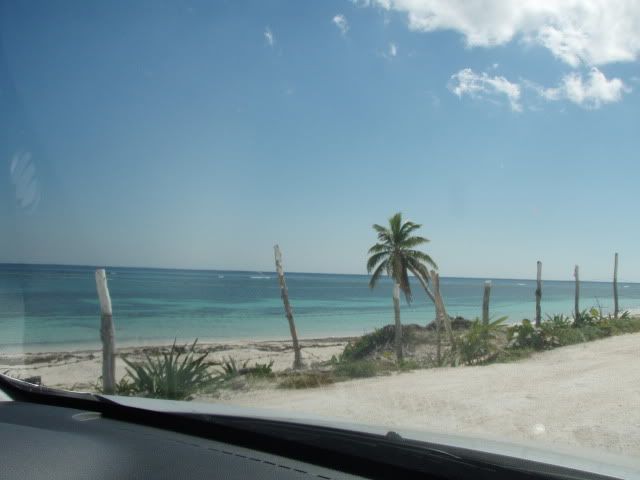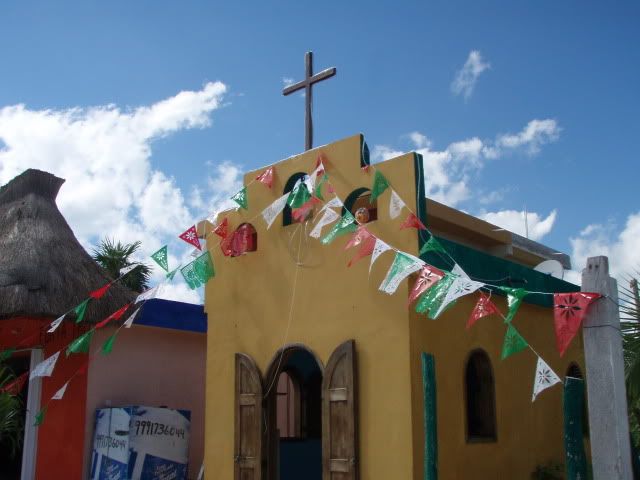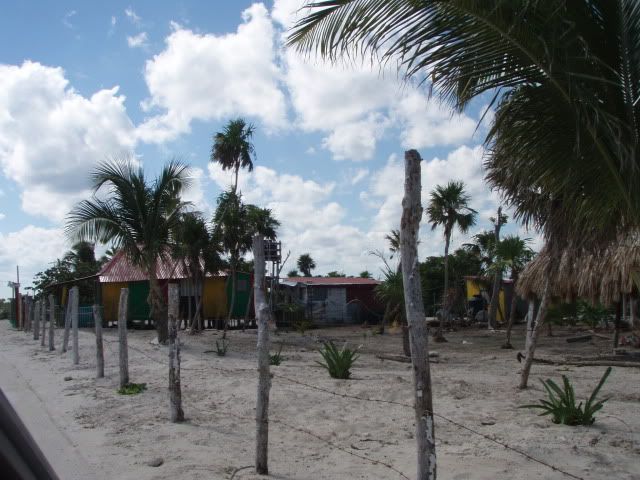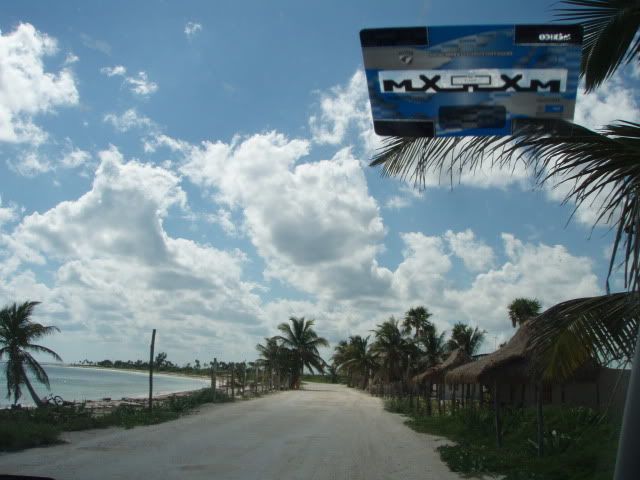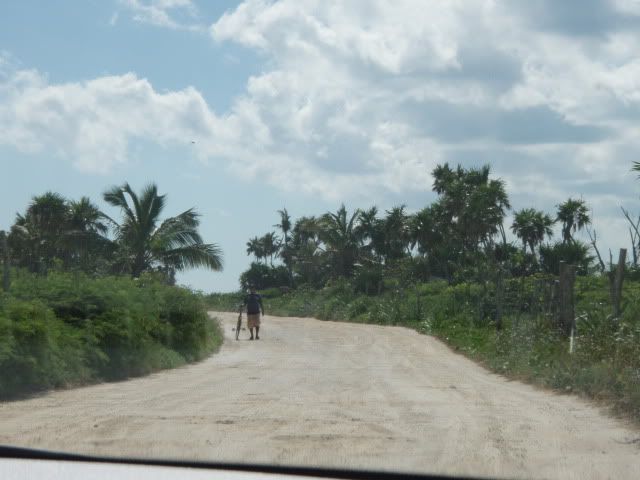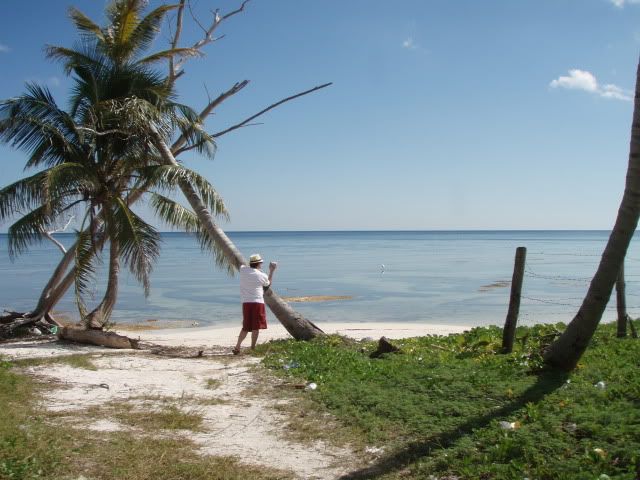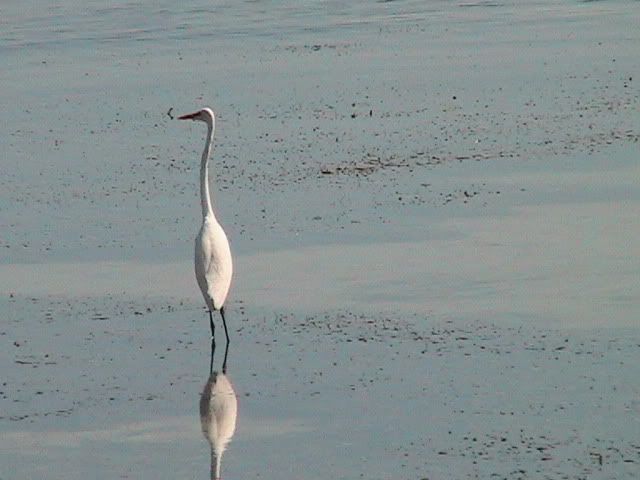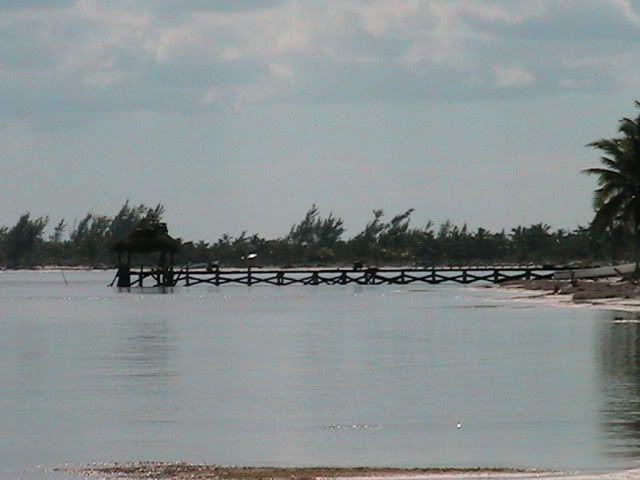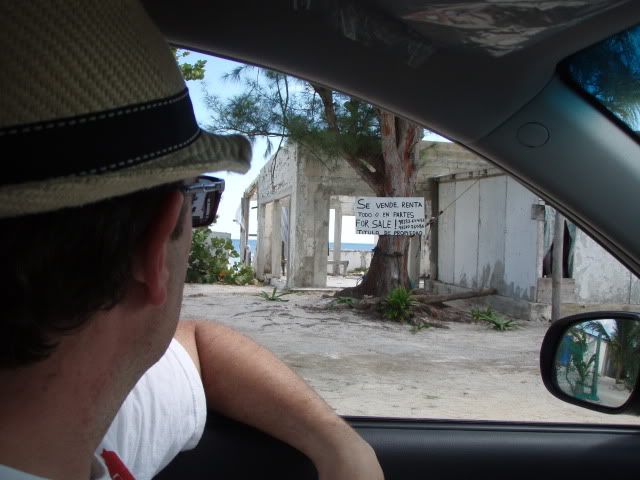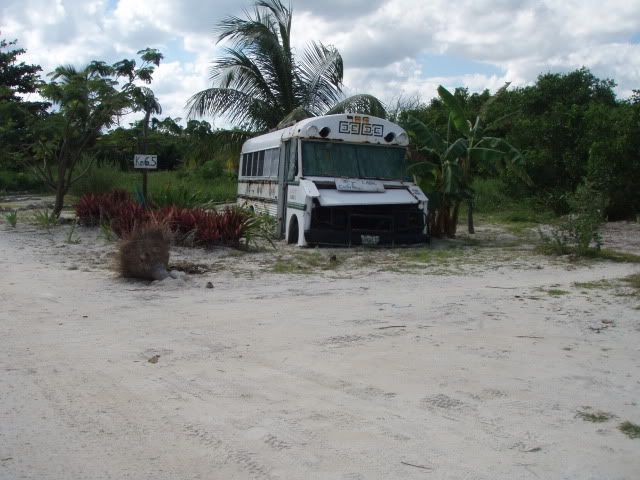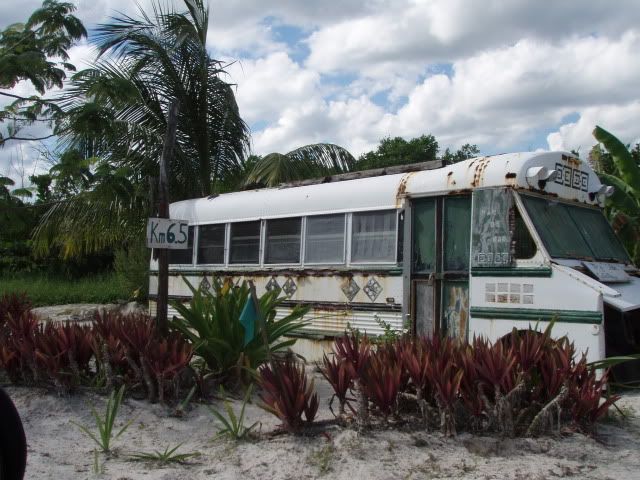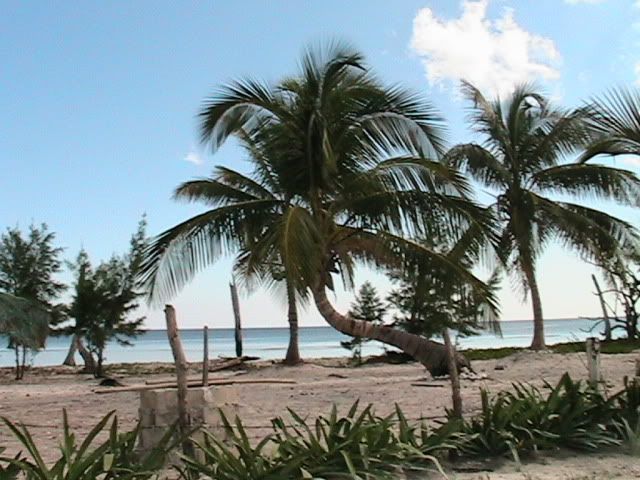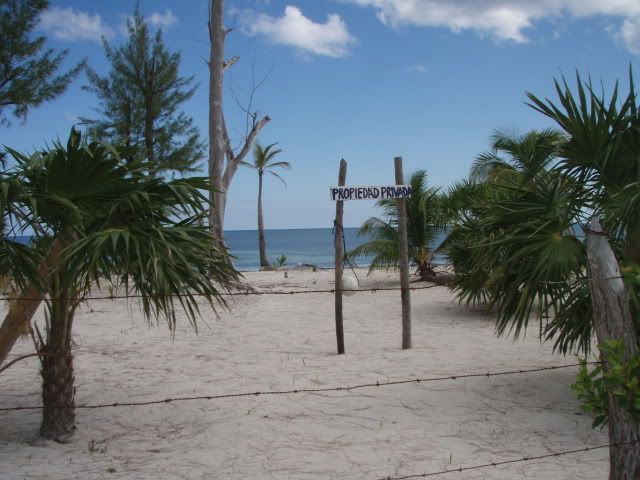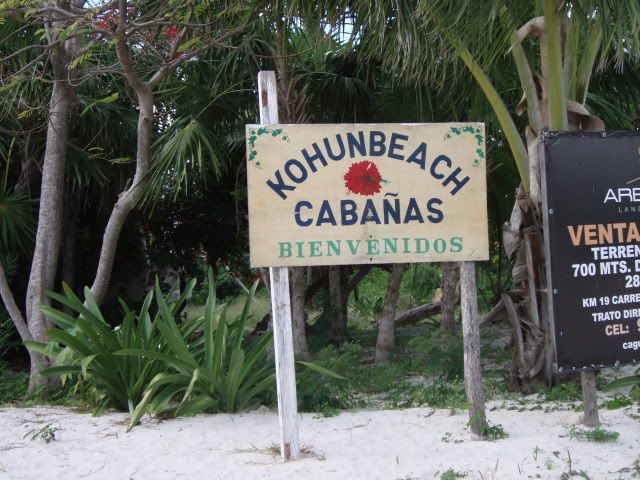 We stopped here and there to take pictures and video and just relished in the natural beauty of this place. We saw a few guys out fishing and a couple of people walking along the road but that was it. The road south was fenced off a good deal of the way, and right before the spot we decided to turn back we saw a lone soldier sitting at his post by the side of the road. I guess it was a checkpoint for those traveling north along the road but he barely paid attention to us as we drove by, I guess because he'd seen us coming from the other direction just a few minutes before.
By this time we were ready for lunch, and we also wanted to go snorkeling, so we headed back toward town. Next time we will make it to Xcalak. There is another, parallel road that you can cut off to in a couple of spots, I think, which would certainly save a lot of time and a lot of bumpy driving, but it was so nice, this scenic drive along the water's edge.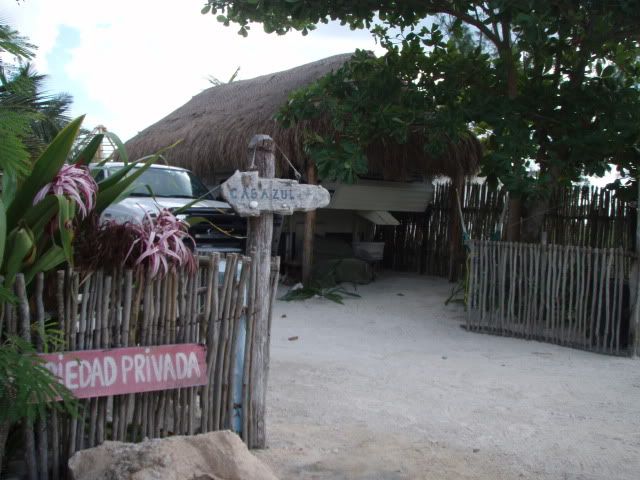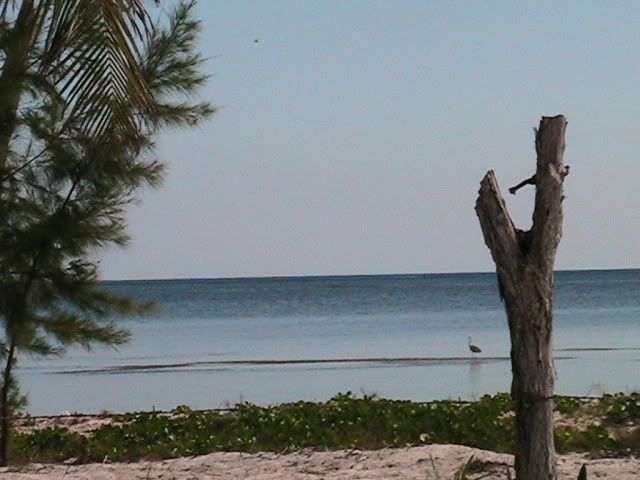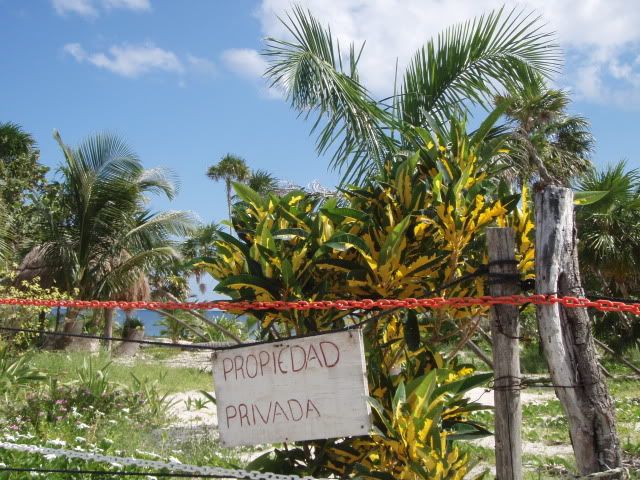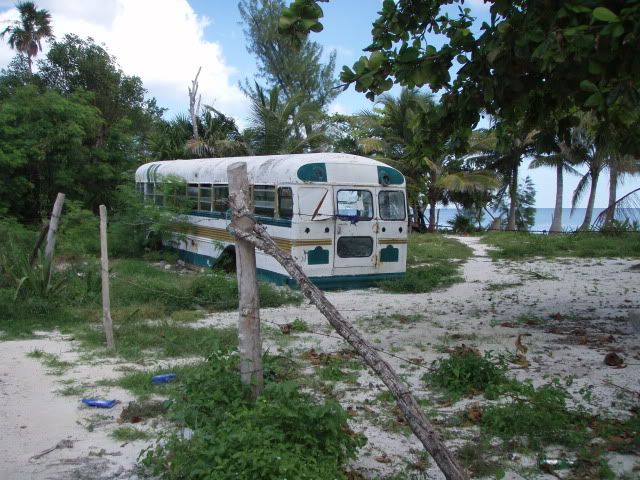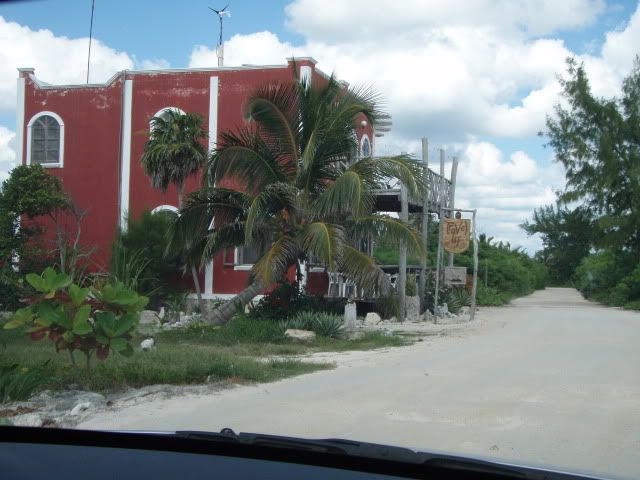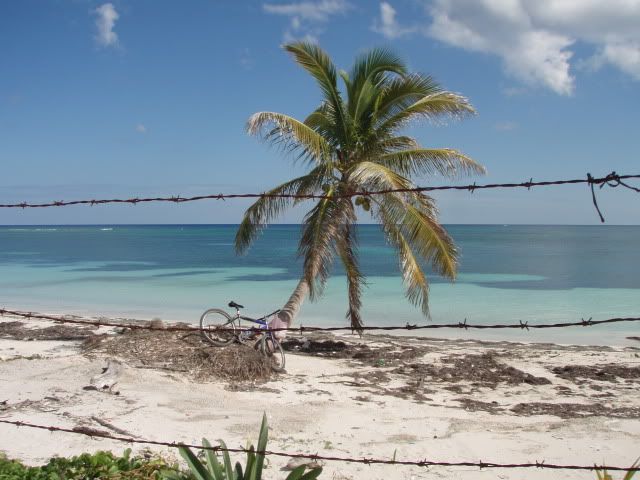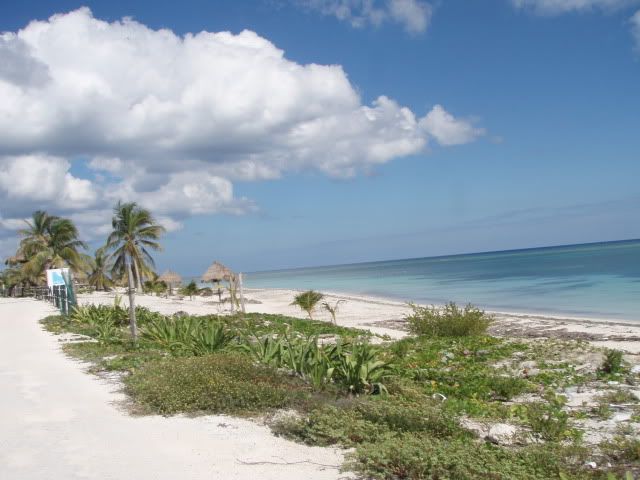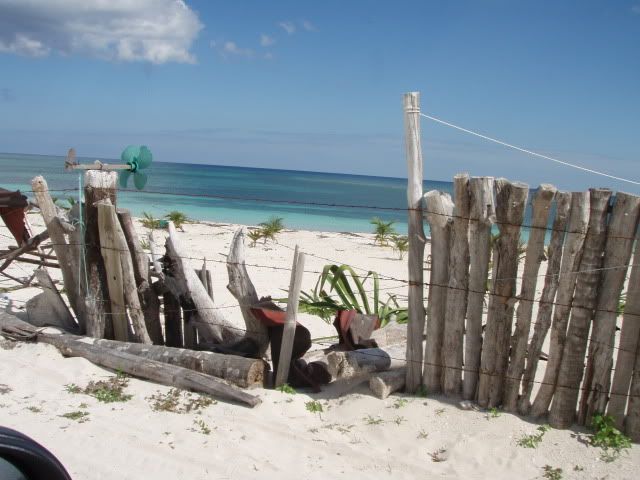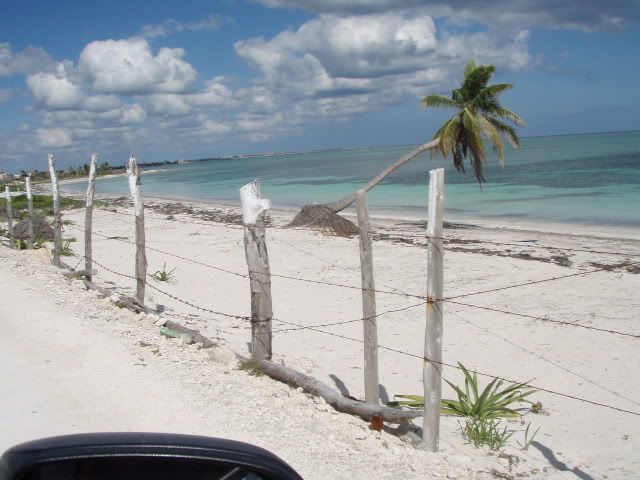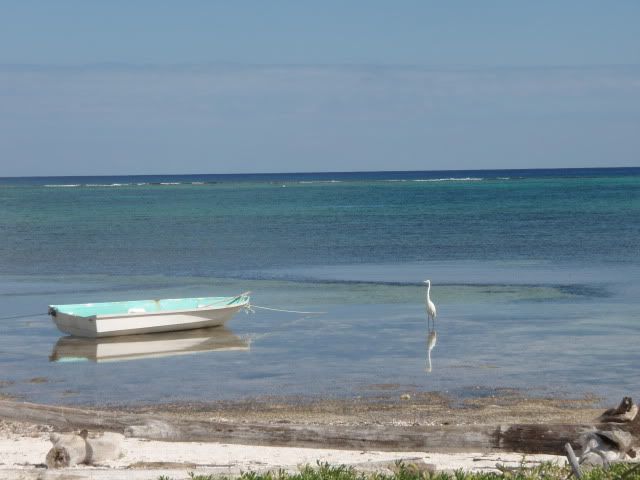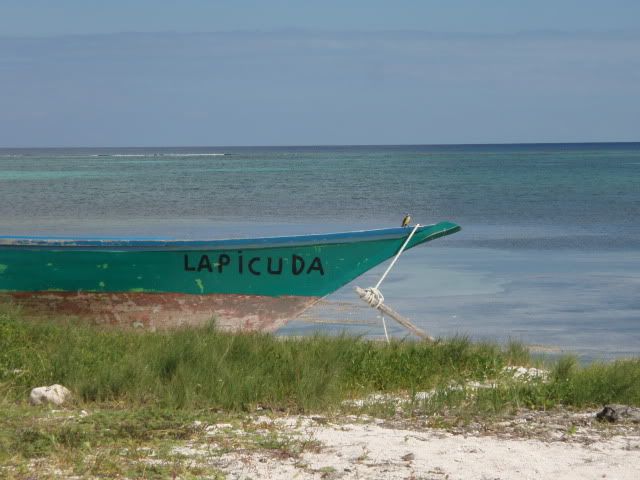 Back at 40 Canones we parked and walked back down the malecon to Nohoch-Kay. I was disappointed that Jaime was not at the restaurant today. We ordered a couple of Negra Modelos and some of his famous shrimp tacos (and fish and pulpo tacos as well).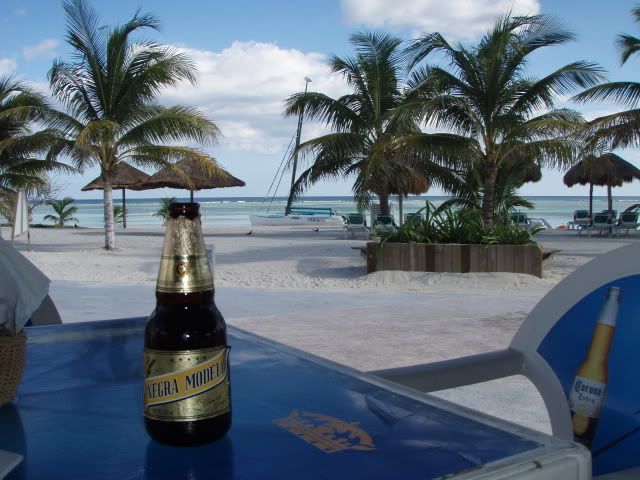 I'm not really keen on fried shrimp tacos but these are excellent, as most former patrons of Jaime's El Oasis in Playa would usually agree. I liked the fish even better, though.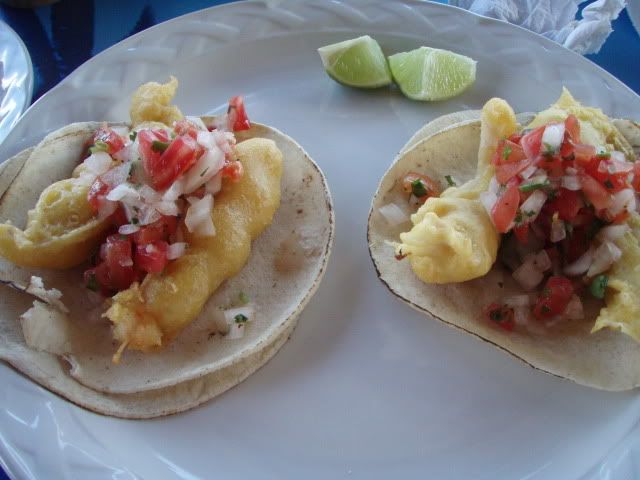 After lunch we brought another beer out to the beach and sat there thinking about going in snorkeling, but then decided to walk back to 40 Canones and go out from there.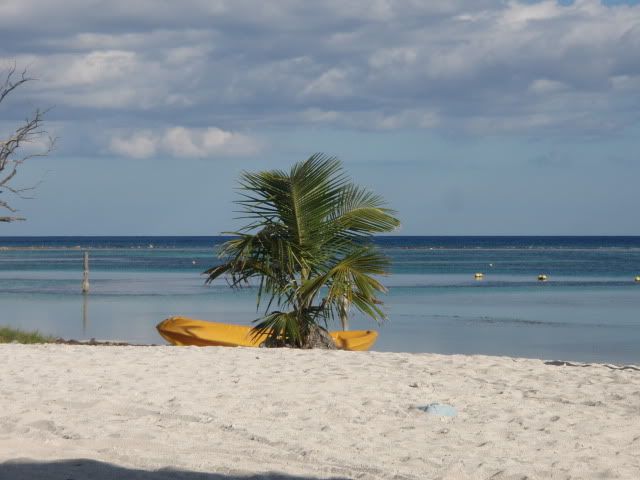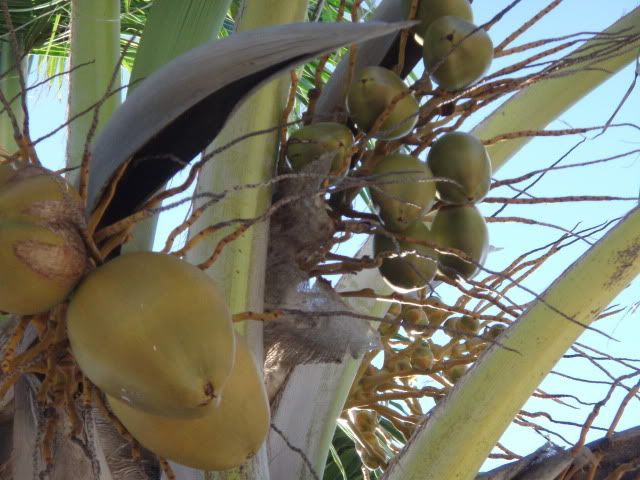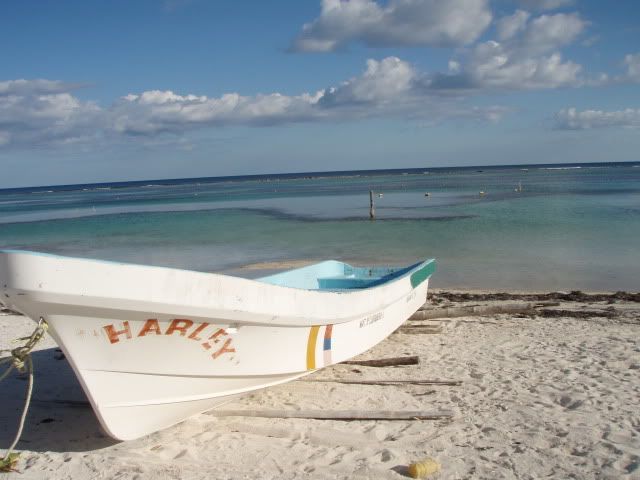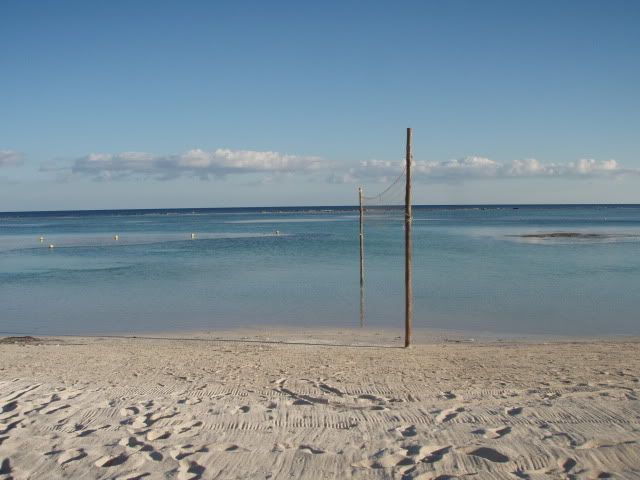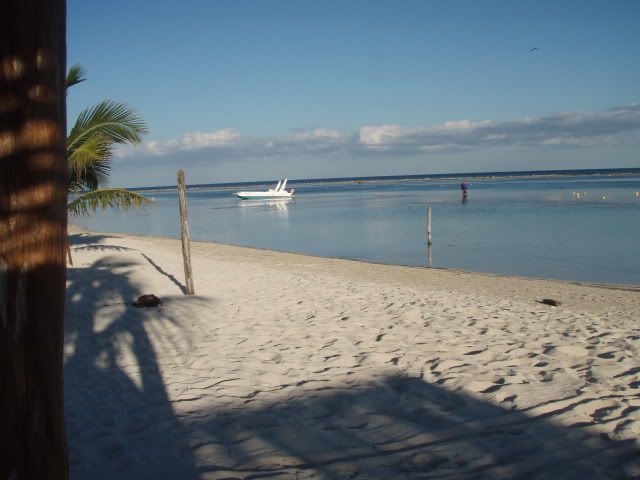 The water was so calm and we saw quite a few fish not very far out, but before we started making our way out further toward the reef Brian started having a lot of trouble with his mask leaking, which ended up keeping us closer to shore and cutting our snorkel time a little short. Next time (I keep saying next time, don't I?) we will do some serious snorkeling here and maybe even take a day trip out to the Chinchorro Banks- the largest atoll in the northern hemisphere, about 35 km offshore.
So back to the room we went, stopping first to chat with Jez, who was sitting in the hotel's public area on his laptop. He told us about Andy and Rick and Sue and maybe some others coming down next week with his new dog from the shelter, and he told us about a few good local spots in town to catch the rest of the Patriot's game, but when we went upstairs to change we turned on the game and cracked open the champagne Harris and Paul had given us when we saw the score- 27, no make that 33 to 0, right before the half…. woo hoo! We sat back and watched the rest of the game and celebrated another win. (We won't mention the sad end to the Patriots' season last Sunday here…. but I guess I just did.)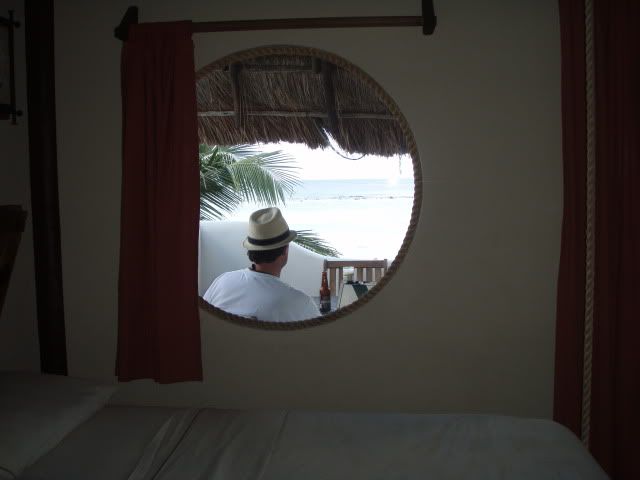 Around 7:00 it was pitch black outside, save for the multitude of stars- what a nice night…. There were supposed to be meteor showers later and we'd be sure to see them in this big, dark sky. We walked down the malecon in search of that Italian restaurant I'd heard was so good. A few dogs were howling and there were few people about, save for the drunk guy walking toward us exclaiming 'This is a very friendly place! If anyone gives you a problem you just tell ME!' Somehow we didn't think that would be necessary but we assured him that we'd do just that. A little further along a couple guys sat on the beach, one swinging in a hammock, laughing and singing loudly out of tune. I do believe alcohol was a factor there, too. A few people were out at the nearby restaurants and at the little Mojito Corner bar we passed. We came upon Luna de Plata, the restaurant we'd been looking for, and we walked up and sat at a table out front along the beachfront/road. We were the only ones there, except for a man sitting and reading in the nearby lobby area (it's also a hotel). We sat and waited for a long time, watching the occasional passersby and getting a little hungrier.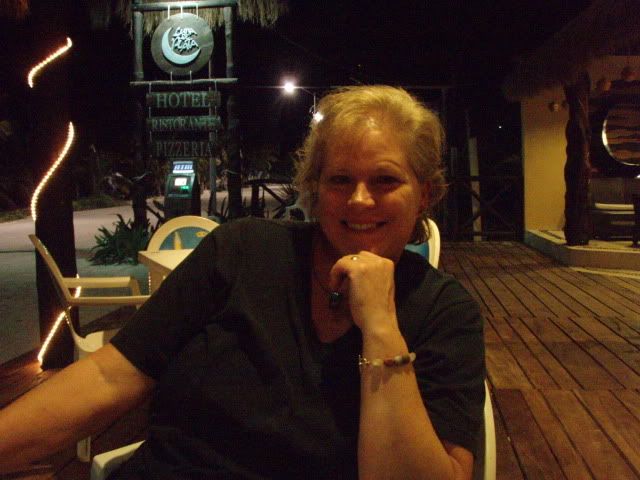 Maybe it's just me, but this ATM machine looked slightly out of place here.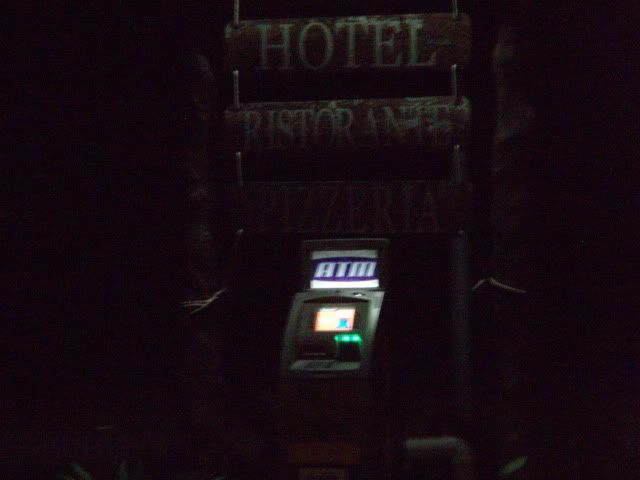 I finally got up and walked over to the nearby reception desk where the clerk was sitting at a computer. I asked if the restaurant was open. "Oh, si!" "Well, do you think someone will be by to wait on us soon?" "Si!" Okay, I walked back and sat down and we thought that maybe someone was late coming to work or hmmm… whatever… I mean, we were in no hurry… We could hardly contain our laughter when a full 15 minutes went by, the streetlights suddenly came on, and the woman from the reception desk – the same woman- came over with a couple of menus and asked if we'd like a drink. Ha!! And THEN, the man- that same man who had just been sitting there for a half hour- got up and went into the kitchen- he was the chef! Of course we just found that to be so hilarious and just shrugged and ordered a bottle of Montepulciano d'Abbruzzo. We also had a delicious eggplant appetizer. I ordered spaghetti with a gorgonzola sauce that was very good. Brian wanted pizza and ordered one with olives. Our waitress/receptionist eventually brought out a huge, square salami pizza, saying they were out of olives.
She also said that that was half of the pizza. Brian's eyes bulged out of his head and asked that the other half be boxed right up to go, then, please. The pizza was tasty, and it was all we could do to keep from laughing uncontrollably at the slightly surreal night we were having. It was great fun, really. After dinner we slowly walked up the beach road toward home, huge pizza box in hand.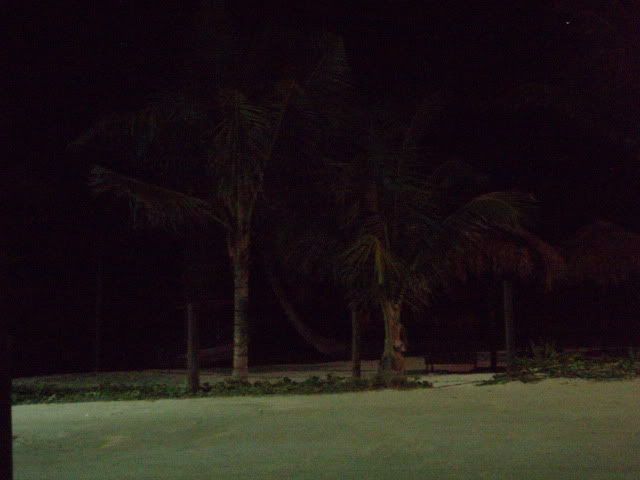 No meteor showers, but we saw a lone shooting star along the way and it was very quiet, save for those guys up ahead still singing away on the beach.