Friday, December 3rd
Brian was dreaming that Caramba was crying outside our window. It was early in the morning and I heard it too.
Not Caramba, but a big white and tan cat twice her size was sitting on the roof outside our room. I let her in, and Oso, as we learned her name was later, sauntered through the room meowing all the way up onto the bed, stretching out between me and Brian. We all fell back asleep for another hour until I reluctantly got up- unusual for me on vacation as I'm usually up with the sun (a full 180 degrees from my lifestyle at home, I'll add).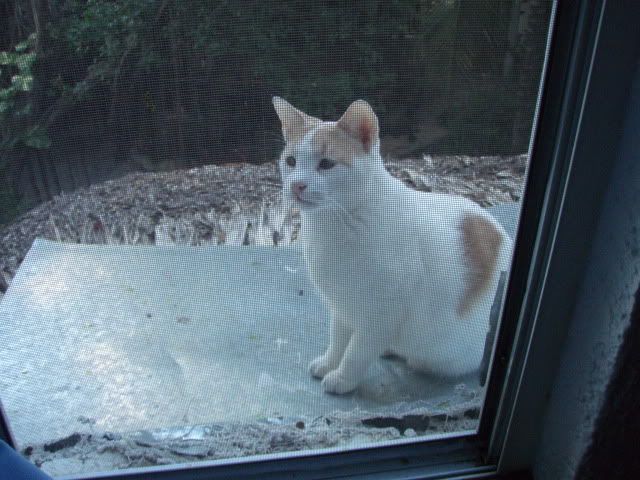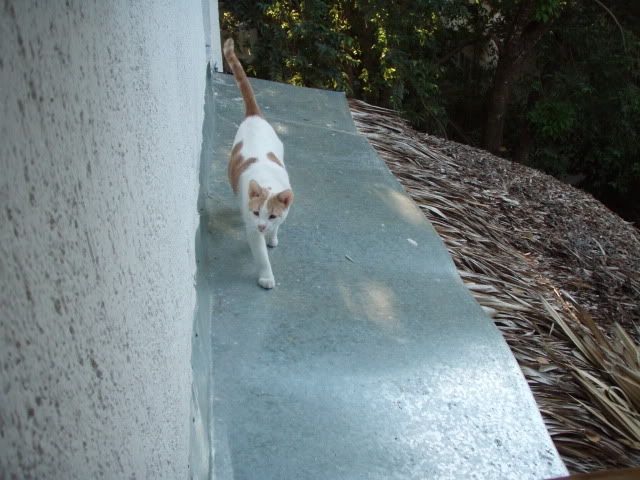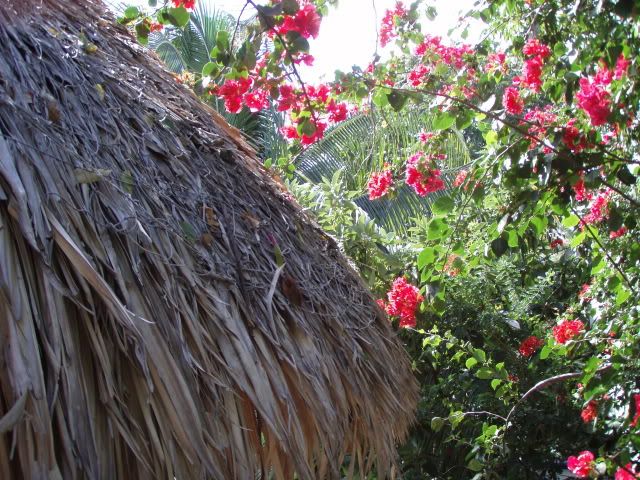 Okay, so, yes- we are hung over. Not too bad, though. Nothing that a good breakfast at La Vagabunda won't cure. After meeting Harris and Paul there we went back to Luna Blue to change and met them again around the corner from Plantation House at Indigo Beach Club. We'd watched the construction at El Taj here last year. What a nice spot.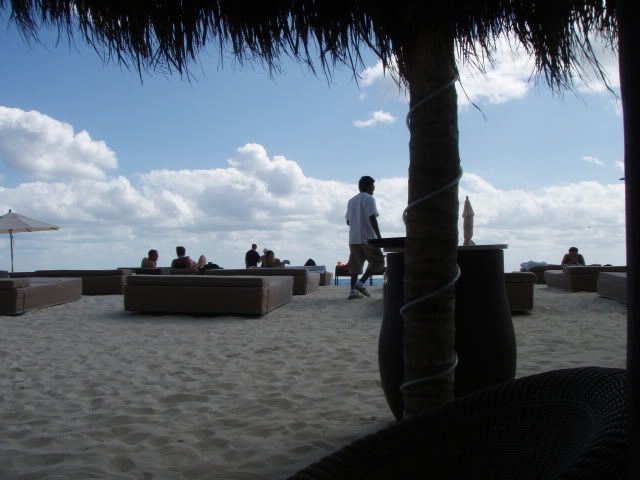 We settled in for a long chill and alternated between beer and water, and finally started to feel human again.
Later we walked down the beach in search of coconut shrimp. I know there is much controversy about the beach reclamation but it was really amazing to see the new wide expanse of sand as we walked south to Playa Maya.
(well, okay, this one is looking north)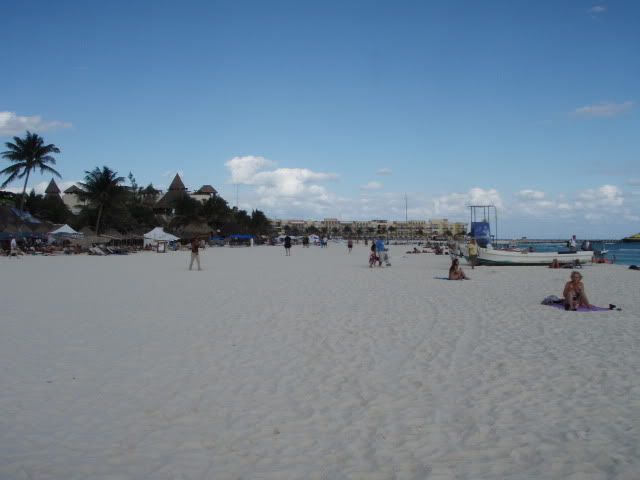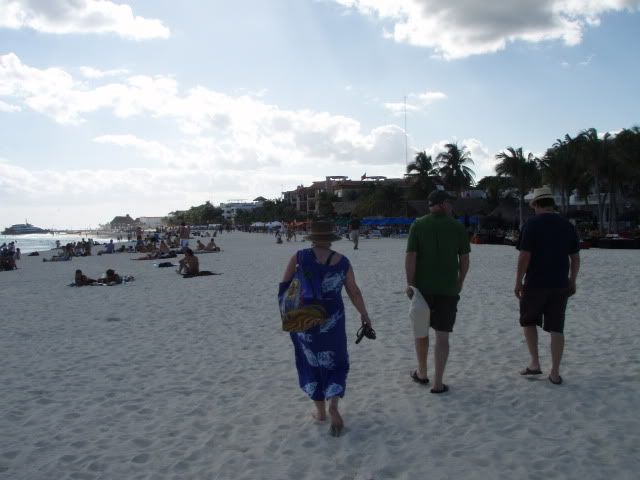 Gluttons for punishment or hair of the dog? Well, those gigante Playa Maya margaritas definitely hit the spot, as did the coconut shrimp. Best of all, though, was the squid with guajillo peppers- muy bueno! As usual, the music and the setting at Playa Maya were hard to beat.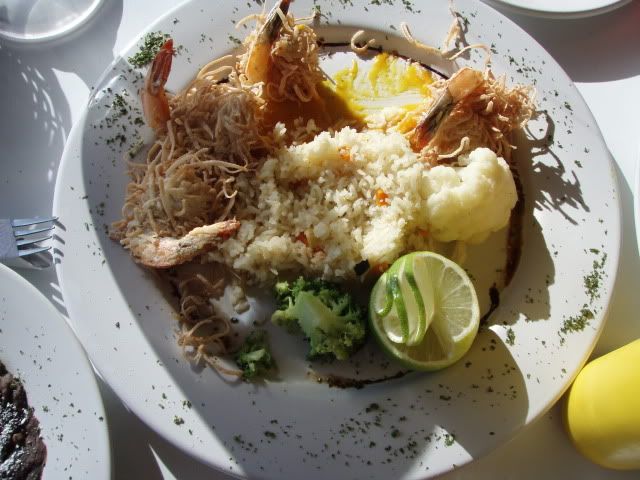 (Sorry, didn't think to take a pic of the squid until it was too late!)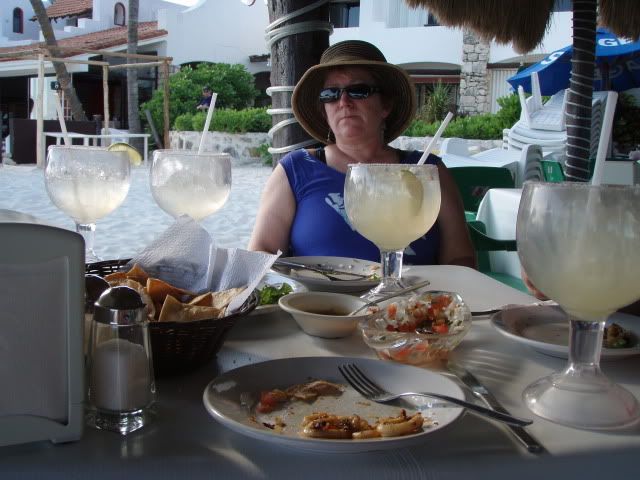 We went back to Luna Blue to hang out for a little while and rest up for the peep meet there that night.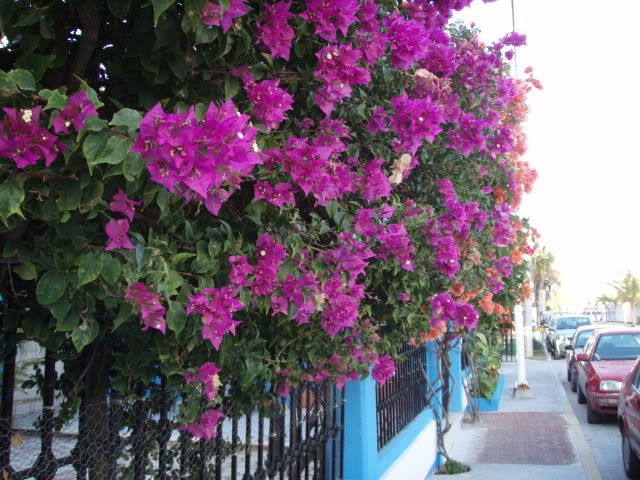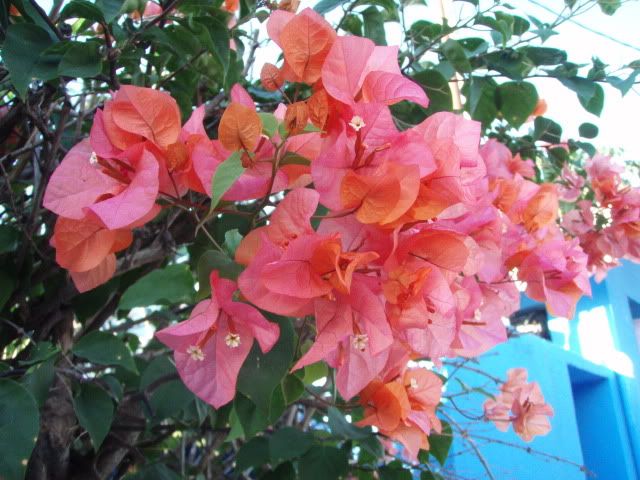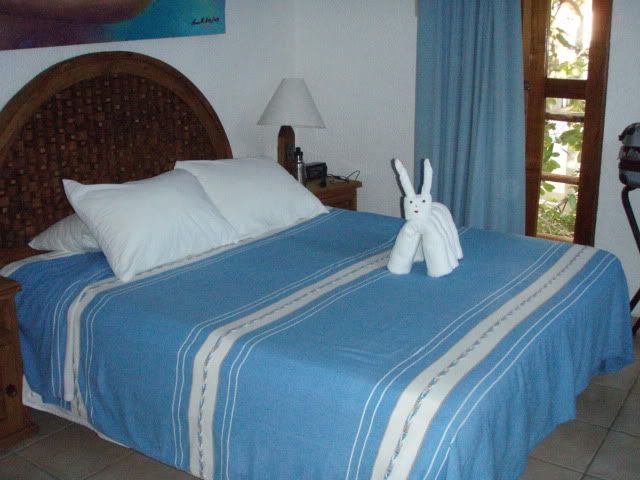 Later we took a walk, ending up at the Beer Bucket for a beer and before we knew it it was time to meet Harris, Paul, Bettyann and Dan for an early dinner across the street from Luna Blue, at Las Cazuelas.
What a charming little restaurant and even more charming hosts. Alberto and Mike treated us like old friends. It was funny to hear Alberto struggle with Harris' name- "it's too complicated"!
We ordered seafood paella for 6 (a huge pan full, and "6 servings for the price of 5") and a pitcher of sangria, which soon led to another (what hangover?). I love sangria and was surprised to find out the ingredients included whiskey and Fanta- this was delicious and I swore I'd be back later in the week for more….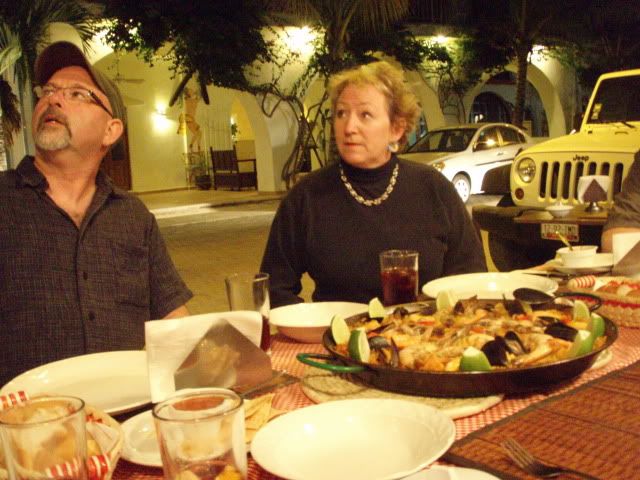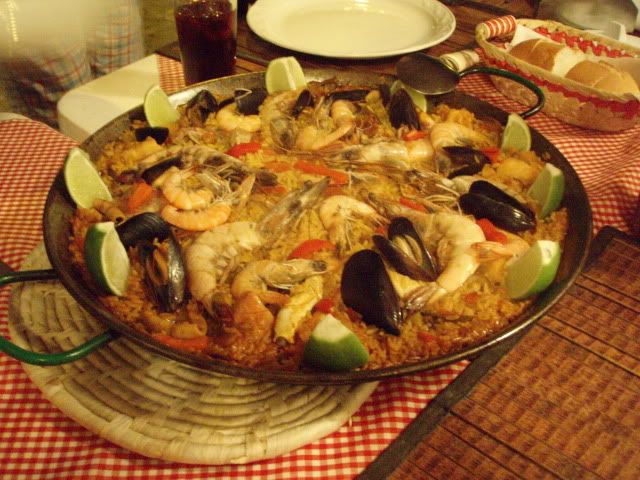 As we were sitting waiting for our paella to arrive I could see a few people starting to gather across the street. I recognized Dave (Transit) pulling up a swing, but then wander over toward us to look at the dinner specials on the board. I re-introduced ourselves (we'd met last year) and invited him to join us.
After a delicious meal, and seeing a bigger crowd of peeps gathering across the street we walked over to join everyone and watch Mike Grabow play.
Now, I love planning parties but am not always a very vocal host…. I recognized a bunch of peeps but was feeling somewhat shy. Harris, however is not known for her shyness and boomed out a request for everyone attending the peep meet to raise their hand, which broke the ice. I eventually made the rounds and was glad to see Andy and Rick (and Lenny) again, and finally meet some new peeps, including Sue (with Barney), Jim (ontheriver) and Donna, Larry (Playalong) and friends, Barbara (barbarayouzwak), Tonya (Tesla 573) and Harold- just back from Merida… I was so glad they made it…, Maureen, Barry (popeye) and Phyllis, absoluteAl, and wow, a forum blast from the past, DeniseA with Keith! That was a nice surprise and I was glad to have a few minutes to chat with her.
We made tentative plans to (what else) have dinner with Jim and Donna, I unloaded a bunch of supplies with Andy for the pet shelter, and had fun watching Lenny running around playing ball (although there was another little dog who tried to keep it from him). Barney seemed a little skeptical at finding himself back in Mexico but he was so cute and well behaved. Andy had another shelter dog with him (Trigger?) who was a real sweetheart, too. Mike Grabow was really entertaining, the tequila was flowing, and it was such a good night altogether. Unfortunately I didn't take too many photos that night, but I'll post the few I have…..
Donna, Jim (jimontheriver), Brian, Tonya (Tesla 573) and Harold
Harris (Tallyho) and Larry(Playalong)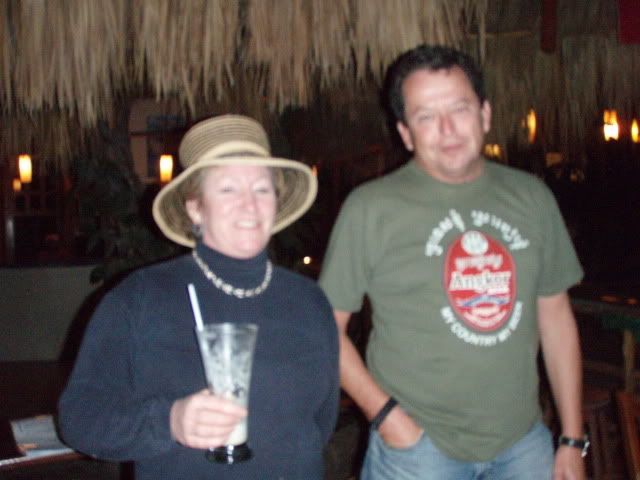 Brian, Dan & Bettyann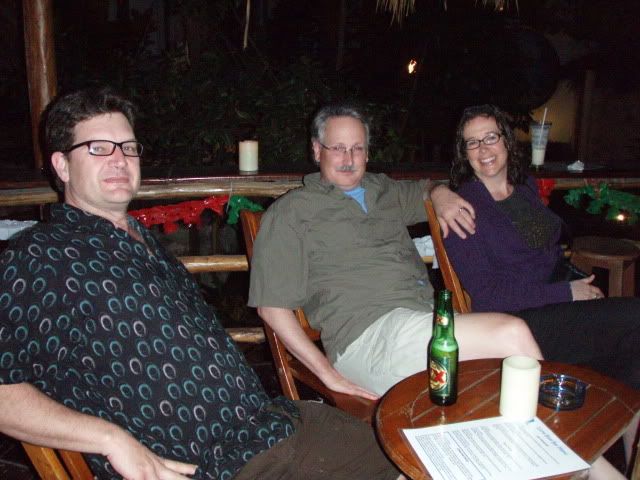 Paul & Harris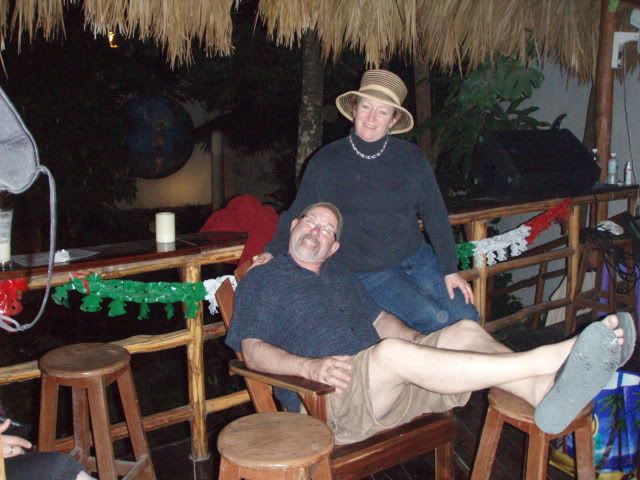 Brian and me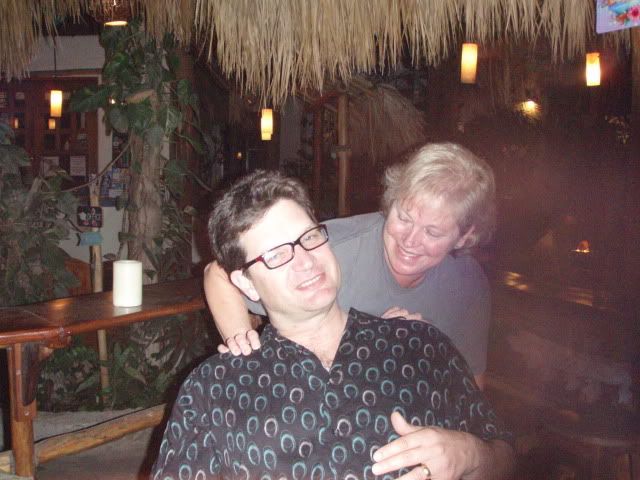 Andy sang a little with Mike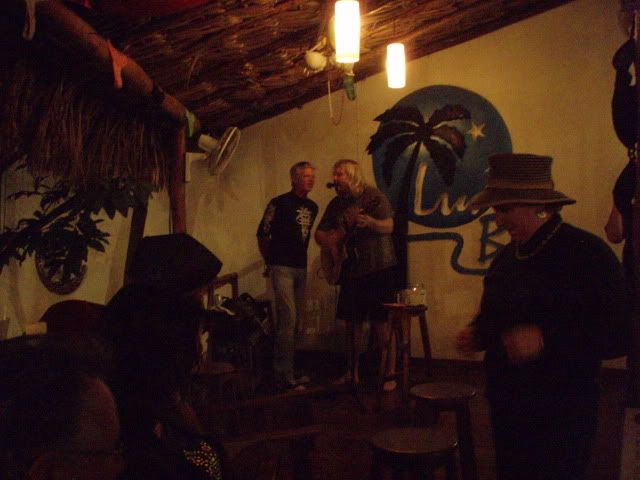 When the music stopped and the crowd dispersed we went up and sat out in the treetops for awhile before calling it a night. The sun had not yet risen when our little visitor was meowing at the window, and I Iet her in to snuggle with us again. It would be hard to leave this little oasis in the north end.