First off, let me thank everyone who takes the time to put together and post a trip report. Itís always fun reading about other peopleís trips and itís awesome that we have so many great reports on this forum. Hereís mine, from my fall trip to Playa del Carmen.
Even though I now live in Sweden, Playa del Carmen will always be
my
town. I lived in this beautiful place for over ten years, from 1997 to 2007, and saw how the town grew from a small beach town that basically ended on Calle 12, to this cosmopolitan world destination. Itís been a little while since Iíve been back, so I had a chance to see my town with fresh eyes.
So many wonderful things has happen in my life during my decade in Playa - James and I met, got married, started Playa.info, renovated a house, had two kids and made some amazing friends. Playa is a part of who we are. I bumped into quite a lot of old friends from the Ďearlyí years on this trip and Iíve had a chance to reminisce and analyse my relationship with the Playa of today. Back then, we all felt like we were a part of something magic and Iím happy to say that I feel that Playa still has that magic, albeit in a different package than when I first visited in 1996.
Let's start off with a couple of photos from the beach and a commercial photo shoot we came across on our walk. Enjoy!
So, here are my observations and experiences in Playa del Carmen, fall of 2010.
Ambiance
The most common question I got, after the mandatory ones, was how I thought Playa had changed these last couple of years. To be honest, it hadnít changed that much. Sure, some places were gone, and sure, some new places had opened up - but Playa has always been a dynamic town with a high turn-over of businesses, so that only felt natural. There were some empty condo and office buildings, but it seems like the investors are on their way back. People have really been hurting with the fall in tourism, due to the swine flu scare, the bad press in the US and the general worldwide economic recession, but I did see hope more than despair.
The cool, relaxed, and welcoming ambiance of Playa del Carmen was still very much prevalent and made me feel like I was back in old Playa. It might have helped that, although I did have quite a lot of work related stuff to do, I also had a chance to be on
vacation
in Playa, something I hadnít done in more than a decade. As any local will tell you, vacationing in Playa and living in Playa are two very different things. Just walking around on the streets with no goal, hanging out on the beach in the afternoon and doing some bar-hopping at night - thereís just no better place than Playa for a fun and laid back vacation! Add to that the opportunity to hang out with some old and dear friends, and I was a happy girl!
Accommodation
I was lucky enough to stay in two amazingly nice properties, La Tortuga and Playa Palms, and I was truly happy with both. Last time I stayed in a hotel in Playa was in a hammock at La Ruina in 1997, so this was in many ways a new experience for me. Iím also extremely flexible when it comes to my accommodation and usually opt for budget rather than luxury, so I donít often find myself in hotels like this - it was an amazing treat!
La Tortuga
La Tortuga has been a favorite hotel of mine for many years now, and we have collaborated with them in various capacities for over 10 years. The owners Laura and Giulio are great people who have become personal friends. We have recommended it for many years and I always knew it was a great hotel, but thereís nothing like a first hand experience so I sure was looking forward to it. And, let me tell you, I was very impressed. With every single detail. Everything, yes, everything was so enjoyable and of such high quality that I just walked around with a big smile on my face every day.
The property itself is centrally located at Calle 12 and Avenida 10, so youíre just a hop and a skip from 5th Avenue which is very convenient. With the free beach pass to Mamitaís Beach Club, with a fantastic beach and a nice restaurant, I was hooked up. La Tortuga also has the nicest pool in town, in my opinion, so just hanging out at the hotel was highly enjoyable too.
The hotel and its grounds are beautifully designed and the staff is highly attentive and friendly. The breakfast every morning isnít some dry toast with weak coffee, but a REAL breakfast with eggs, juice and rich cappuccino. The rooms are clean and large and beautifully appointed, down to the high end faucet in the bathroom, the quality sheets, and the super comfortable pillow. I loved doing emails on my balcony overlooking the pool, sipping my afternoon drink while the sun went down. What a beautiful hotel and what a pleasant stay!
I didn't take a lot of photos of the hotel, but here's one of the amazing pool that I borrowed from Luv2Dance (hope that's ok, Erica
)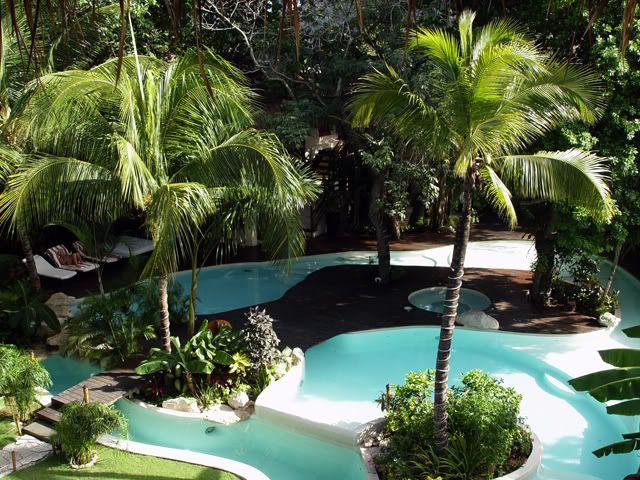 I was lucky enough lure Giulio and Laura out for a couple of drinks one night! Here we are at the Tequila Barrel:
Playa Palms
After the fabulous stay at La Tortuga I moved to Playa Palms, where the manager Helge and his staff took great care of me. Helge is a fellow Swede and I met him back in 1998 when I worked for Jimmy Brown, the jolly Scot who many here on the forum knew and remember fondly. Playa Palms is another property we have been working with over the years and itís also where two of our webcams are located. It is right down town, on the beach between Calle 12 and 14, and itís a true gem. Again, I got to do something you donít really do as a local - stay
on
the beach! It was amazing to wake up with an ocean view and to see the lights of Cozumel at night from my balcony on the third floor. It was truly uplifting to again to experience the lure of the Caribbean, that magic feel that seduced me so many years ago and that made me stay in Playa for over 10 years.
I've always loved the soft curvy design of Playa Palms, and the way nature is integrated with the building. You have to look hard to find a sharp corner anywhere and the presence of wood and shells enhance the beach experience. The pool is surrounded by lush garden and shaped almost like a river leading out to the ocean, and made the transition easy between the ocean, the beach chair and the pool. The round shaped room was, of course, nice and clean with a very comfortable bed and it was well equipped with a small fridge and a kitchenette. Again, I will have to give top ratings to the friendly and service minded staff - I had a highly memorable time here on the beach in Playa!
Eating
Oh my, oh my, it was such a treat to come back to the flavors of Mexico. I re-discovered food Iíd almost forgotten about and I was swept away once again. I had many fantasic meals in Mexico, the more memorable being the Pollo en Salsa Verde that Elsaís beloved maid Tina made for me one day, in reminiscence of the old days. She invited me and my friend Sherie, a Texan girl who used to be a Playa resident back when, to have lunch with her family.
Here we are with Tina, Tinaís mother from Veracruz and Tinaís wonderful husband Eder, who used to work for us as a guide and now worked with Yucatrekís. Anyone would be so lucky to be able to spend a day with him!
So, here I am, back in my beloved Playa, and I can choose exactly what I want to eat, right. So, twice I go to Babeís, of course. Once to each location. Per and Lena are long time friends and man, do I love the food at Babeís. The whole menu actually. This time around I had my favorite soup in the whole world, Lenaís Tom Kai Gai Soup - so deliciously limey and hot.
Here I am with Tina, Eder and their daughter Sabrina, my Mexican family.
On my second visit, at Calle 10, I had a variety of spring rolls with different dipping sauces. Yummy. Their famous drinks made it down famously, too! With Sherie and Jorge:
One of my favorite meals was at El Fogon on Constituyentes by Mega. We ordered a bunch of stuff for the table and just ate and ate. So, so good! We started with some cheladas de Victoria and continued with Alhambre de Arrachera, Gringa, Cebollitas and Tacos al Pastor of course. I hadnít realised just how much I missed those flavors and it almost made me cry, thatís how good it was.
Another highly memorable lunch was at El Pirata , a very local joint on Calle 40 or 42 (I think), between Avenida 5 and 10. Itís a fish restaurant of classic Yucatan measures, with a restaurant part and a fish mongerís part. You can buy fresh fish, you can have it fried up to go, or you can eat there. We ate there. It was classic in every way. Loud music blaring from the speakers, TV on, traffic outside, concrete walls to make sure noise bounces around as much as possible - so Mexican! We had the most delicious Shrimp Coctel, a fried snapper and Ceviche Mixto. Again, just fabulous and so the thing not to miss!
Lunch at La Cueva del Chango was, as always, a wonderful experience. I was lucky enough to be there in the time of the Grito, so I had the traditional dish Chiles Enogados, which are only served that time of year. They were amazingly good and it was such a treat to be back in that magical garden. You can feel the soul of old Playa in that garden.
My last lasting food memory is from Ziggy Beach in Tulum. My wonderful friend Jen, who I met back in 1997, has been roaming the world for a few years and is now back in Playa, so we went down to Tulum and had an amazing lunch and afternoon at Ziggyís in Tulum. Of course the company helped, but that afternoon was another highlight of my trip this time. We had Coconut Shrimp which were just savory and supertasty, a couple of amazing drinks and the most attentive wait staff ever. Service is just on a high level on all La Tortuga run businesses, I guess.
So, all in all it was a wonderful trip and I was so happy to be back in my long time love, Playa del Carmen. Here's a shot of the beach, to round off with: