Meeting Up With My Special Men and My Love
Karen and I woke up fairly early. I think it was about 7:30 or 8. It was a cloudy morning. Zung would have been disappointed not to be able to take a Zungrise picture. Karen was going to check out the exercise facilities. I don't exercise when on vacation (if you're keeping track, I also don't cook or clean, wear a watch or carry a purse), so I headed off to the buffet for breakfast. Karen doesn't generally eat breakfast. She drinks it, but it's not what you think. She called room service for coffee and juice – orange and mango.
I was excited to go to Bella Vista for the breakfast buffet. Not for the food. I was excited to see Alex, my favorite breakfast and lunch waiter. We've seen him for years and it just wouldn't be a trip to the Grand without seeing him. I asked the hostess if he was working today and she took me to his section. He saw me coming and smiled. We hugged and then he asked where Zung was. I told him it was a girl's trip, but the other girl didn't do breakfast. He told me it was his last two days. I gasped and then he said until he was gone for 12 days on vacation. He was going to Vera Cruz to visit family. He had me worried there for a minute.
He remembered I drink English Breakfast tea and brought me a pot of hot water and two tea bags. (I love that. I don't know why most places expect you to use one measly tea bag for multiple cups of tea. It would be like pouring hot water over used coffee grounds.)
When he came back with my tea he said, "Well, since your husband is not here, that means we can go to Coco Bongo." I laughed. I am soooo not a Coco Bongo type of girl. He confessed that he had never been there and neither one of us were quite sure what goes on there.
I kept my breakfast simple – croissant, bacon (I'll work on my high cholesterol when I get home) and fruit. I read the news and emails on my iPad and posted on Trip Advisor. I said good-bye to Alex and told him I would see him at lunch and I would bring Karen.
I went back to the room and slathered on sunscreen and put on my bikini. I figure 50 is pushing it to wear a bikini. But I'll hold out until they pry it out of my dead, cold hands or I come to my senses. Whichever comes first. (When I was a young mother I thought it was unseemly to wear a bikini, so I'm making up for lost time). Besides, I'd had a request for bikini pictures. I couldn't disappoint.
The previous night I had asked Eder which beach waiters were working and where they would be. The awesome Humberto was working in front of Building 71, so that is where I headed. I was excited to see Humberto. But there was someone I was more excited to see. Someone I had pined for the three months I had been gone. I thought about him every day. I had missed him terribly. And there he was, waiting for me.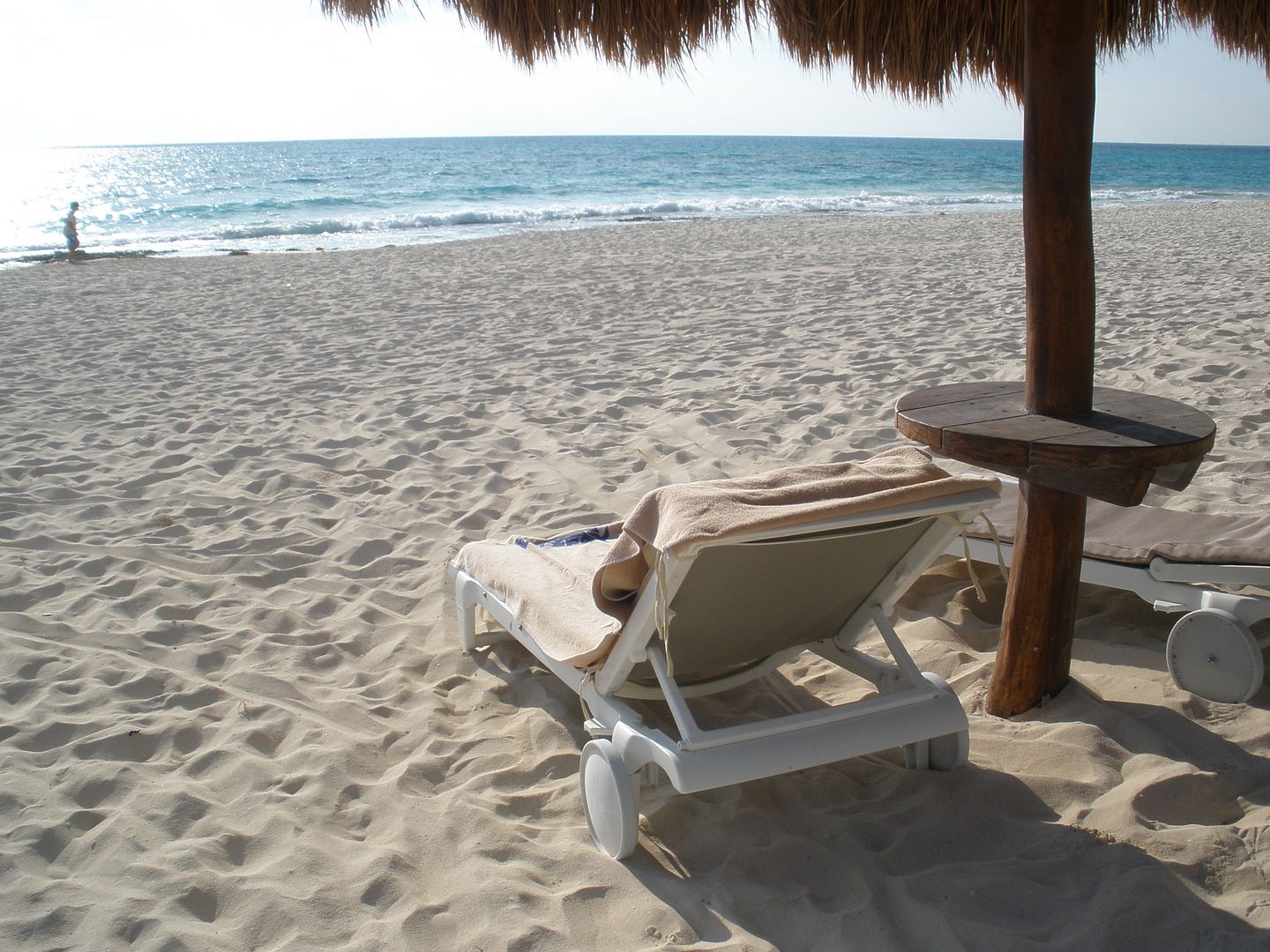 My beloved lounge chair. He was all ready for me.
"Querido, where have you been?"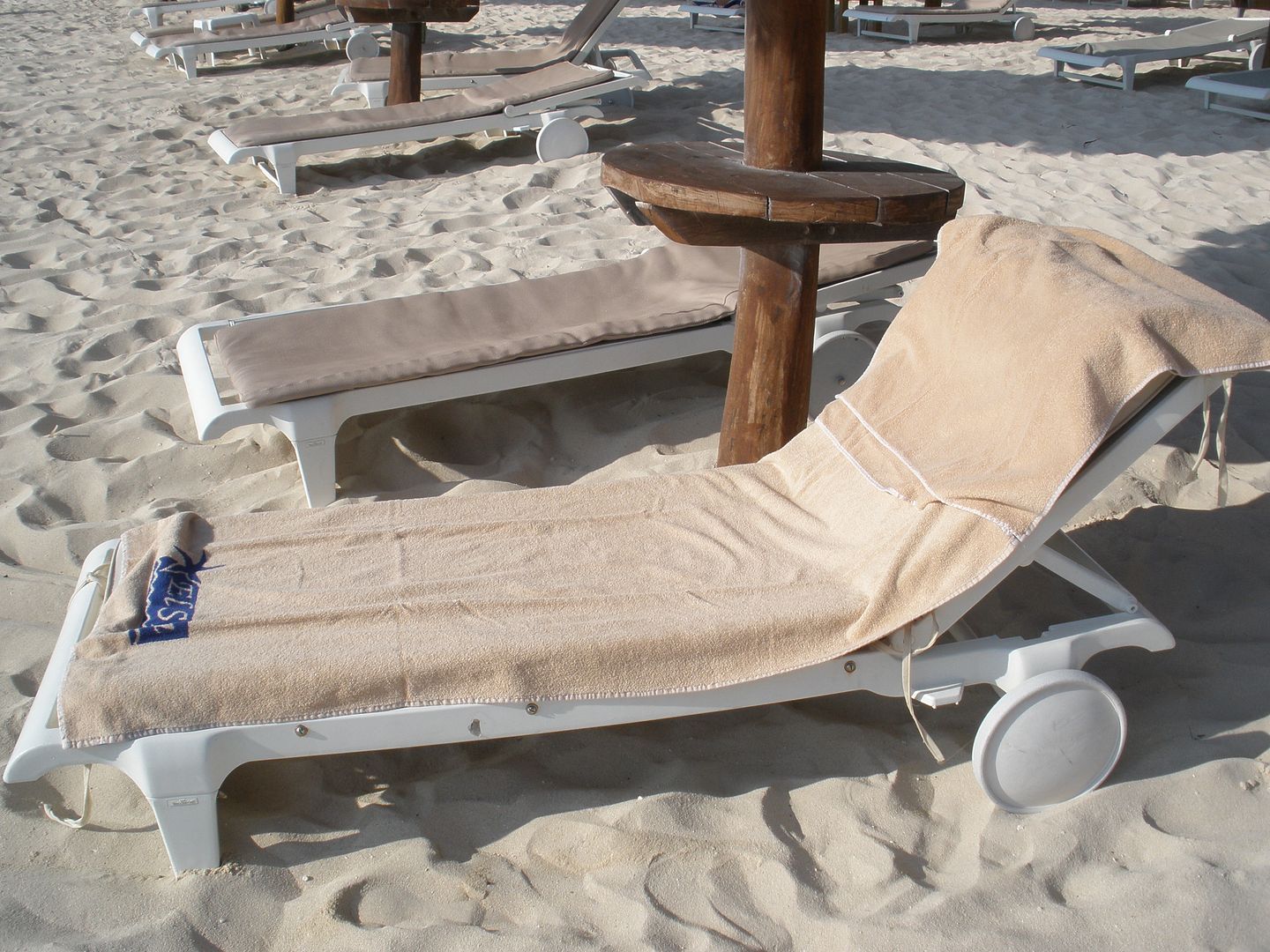 "I missed you so much. Come here. Lay down on me and never leave again." I was happy to see my lounge chair had missed me as much as I had missed him. He gave me a big hug and didn't let go for a long time. Then he whispered in my ear, "Mi amor, have you gained a little weight?"
Excuse me? A gentleman NEVER asks that question. I smacked him and he went back to whispering sweet nothings.
It wasn't long before that other very important man showed up, the awesome Humberto. I asked him if he remembered me from August and he was honest, "I see so many people." He gave me some water and took my order for a Coco Loco.
I took what I thought was a picture of it, but I had accidentally turned my camera to the video button. I would love to include the video, but it's pretty expensive to embed video on wordpress, and the link to photobucket doesn't seem to work, so for now, take my word for it. I ordered a Coco Loco. (If anyone knows how to do this photobucket link thing, feel free to send me a message or leave a comment).
Humberto is the best beach waiter ever. He comes by about every 30 minutes. He's just amazing. All day long. It was fairly crowded. But he always checked to see if we needed anything regularly.
Karen and I took some beach photos.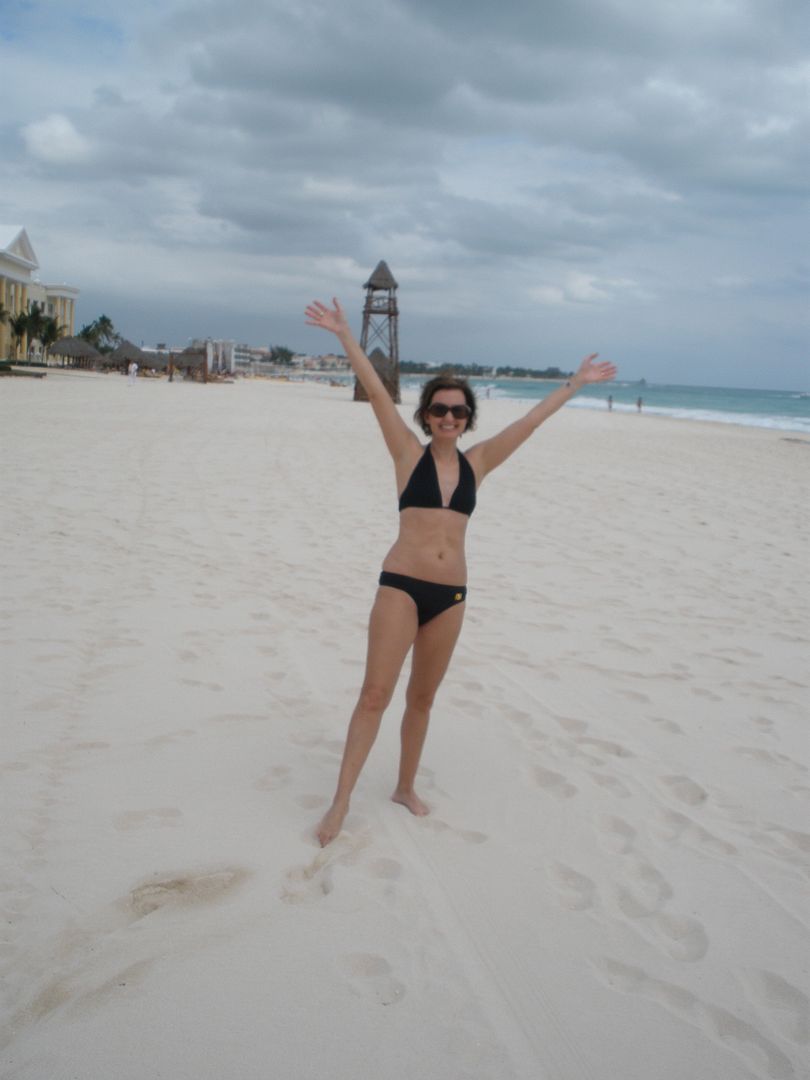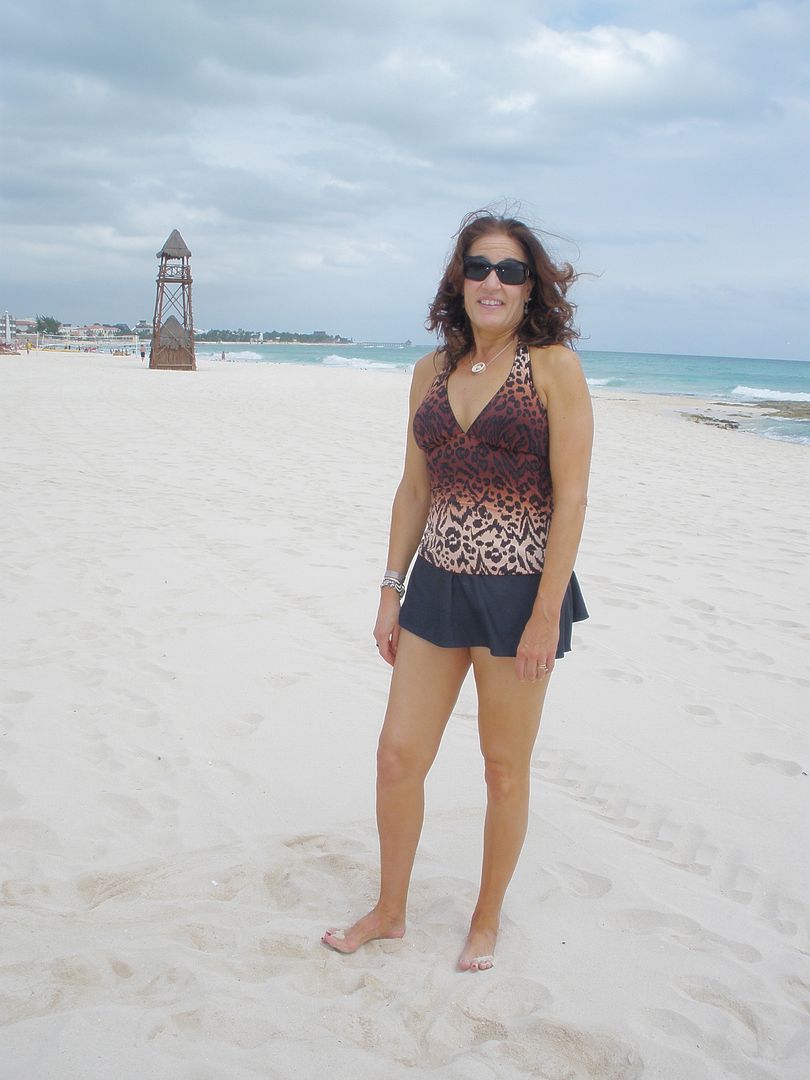 That done, we went back to doing what we do best. We took advantage of having the most awesome beach waiter, Humberto, and ordered drinks. Karen drank champagne.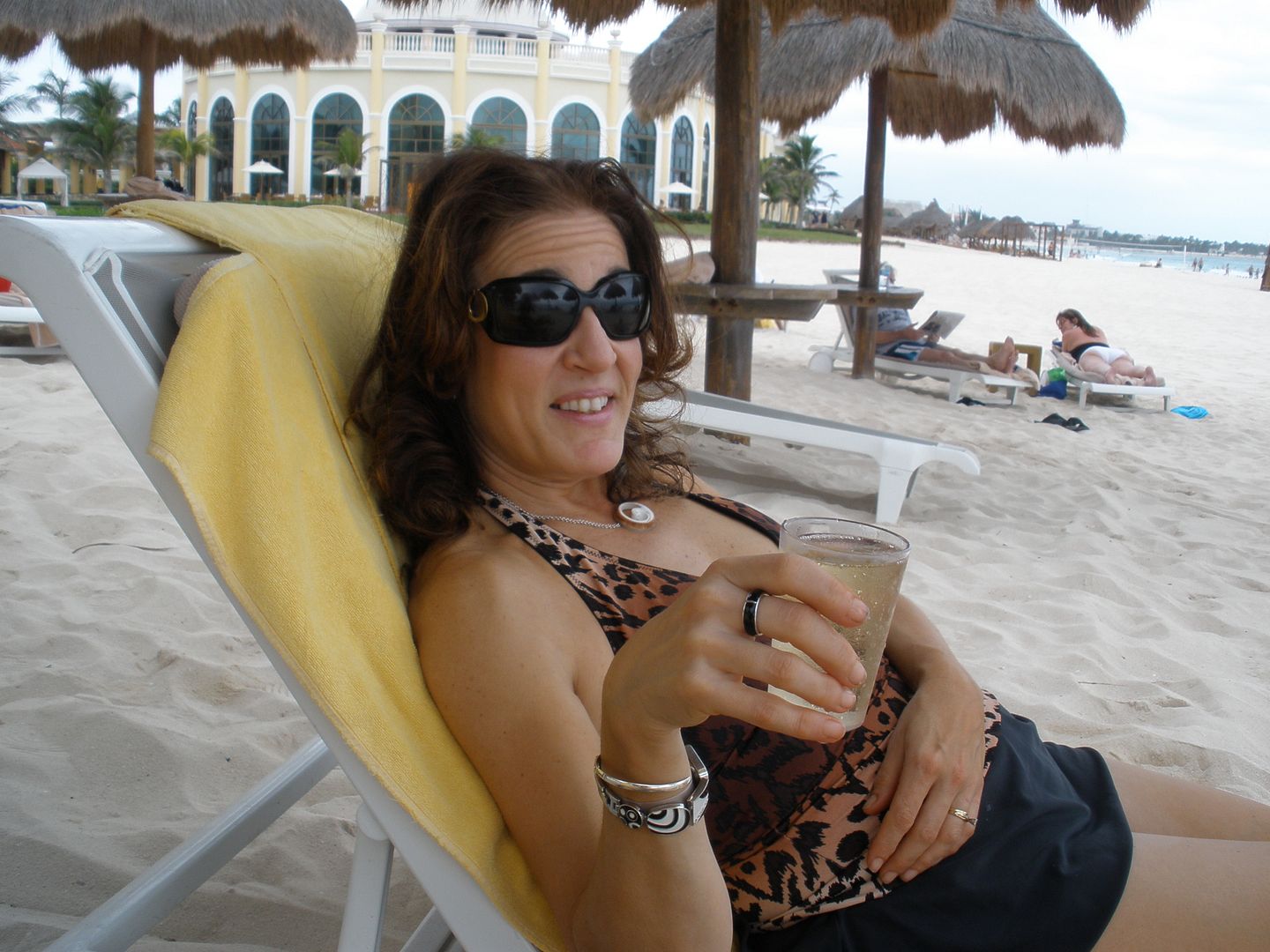 The weather, in a word, sucked. It was the cloudiest, coldest day I have ever spent on the beach. I doubt it was much warmer than it was back in Colorado (which was 67). I had to huddle under a towel to keep warm later in the afternoon. Drinking was a survival move. We had to drink to keep warm. That's my story and I'm sticking to it.
Drinking without eating can lead to trouble. We did not want to get into any trouble. At about one o'clock (when I was sure Alex would be there) we headed to Las Brisa for lunch.
A yummy and entertaining lunch it was.
Bring on the Boom Boom!
(I talk a good game, but it would turn out, I'm a wimp).
Boom Booms and Bike Tours
When we arrived at Las Brisa we requested to sit in Alex's section. I am nothing if not loyal. He was there, right away, with his lovely smile, taking our drink order. I, of course, ordered a Havana and Coke. Karen ordered a Havana Siete with ice. I think the ice dilutes the rum and she thinks the coke dilutes the rum.
I ordered the tournedos with french fries. I told Alex to make sure they were fresh and hot.* I think Karen may have ordered the grilled shrimp or lobster. I didn't take a picture and it's been a whole three weeks since then, so I can't remember (note to self: always take pictures of all food and drink to help with trip reports).
While we waited for our food, we checked out the buffet and chose a few bites to get us in the mood.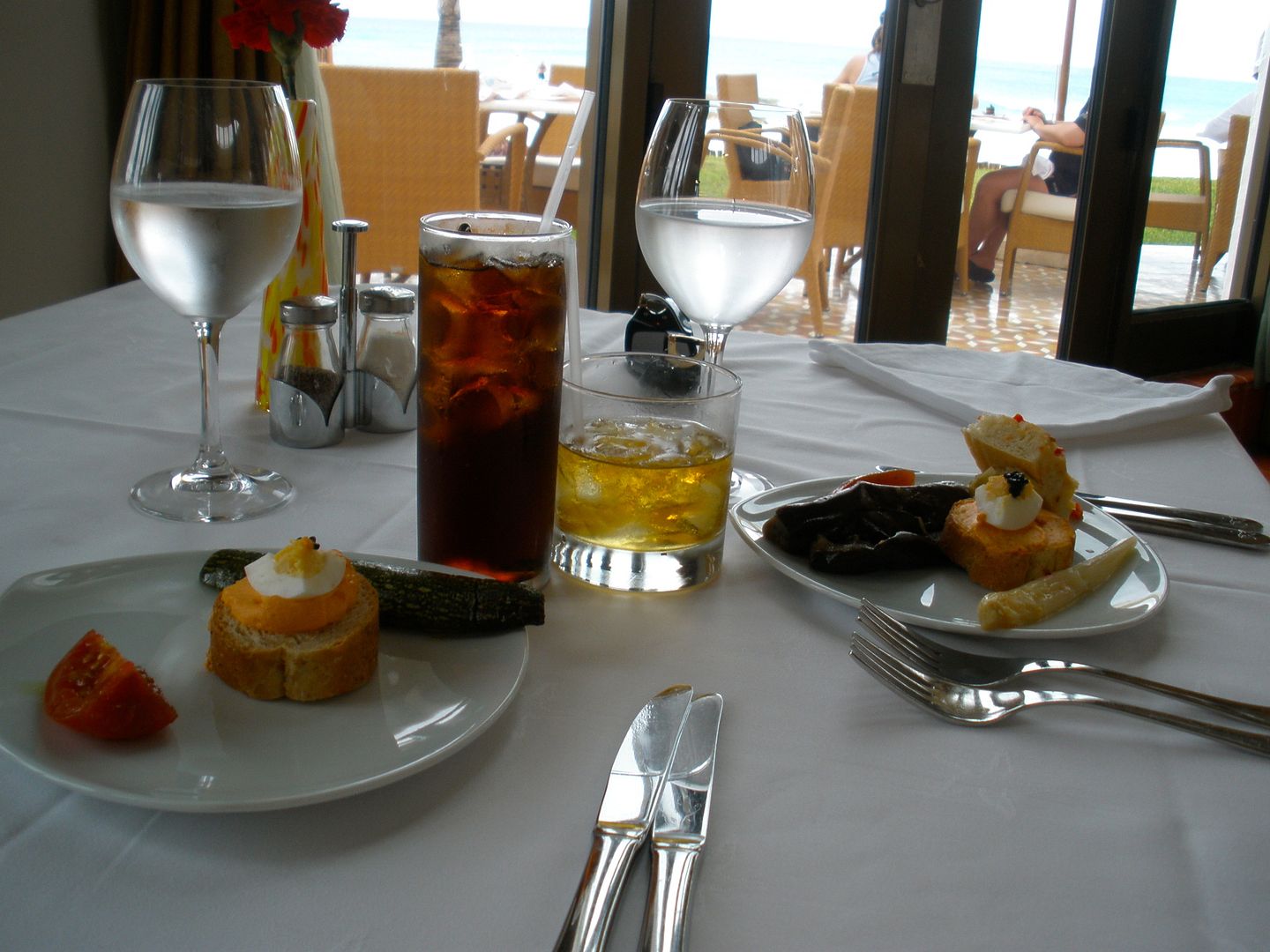 My tournedos was delish and the fries were to die for. I must have been too busy eating* to take a picture. That was definitely one of the major downsides of not having Zung there. He's the prime photographer and I just did not step up the way I needed to. Karen didn't even have her camera, so she was no help (she wasn't slacking, it was broken).
We ate and talked and drank and talked. There was no warmth and sun calling us back to our lounge chairs, so we were in no hurry (shhh, don't tell my lounge chair I said that, he would be crushed).
I asked Alex to bring us* a couple of Tequila Boom Booms.
Karen went first.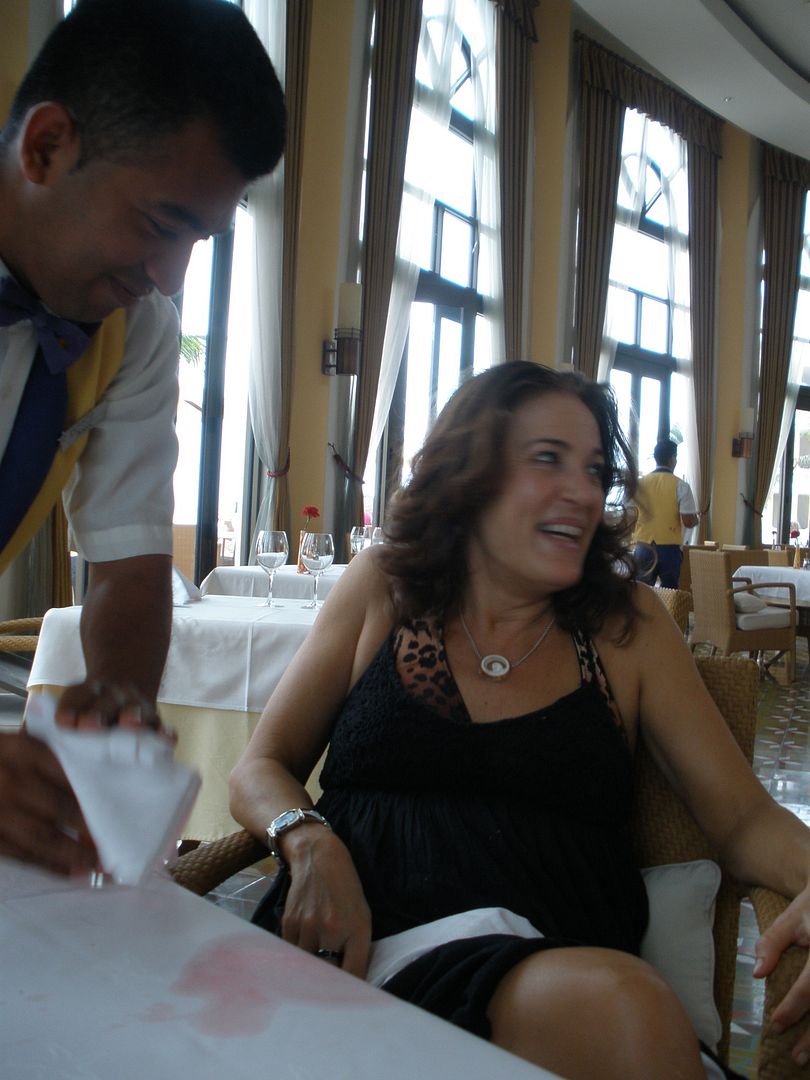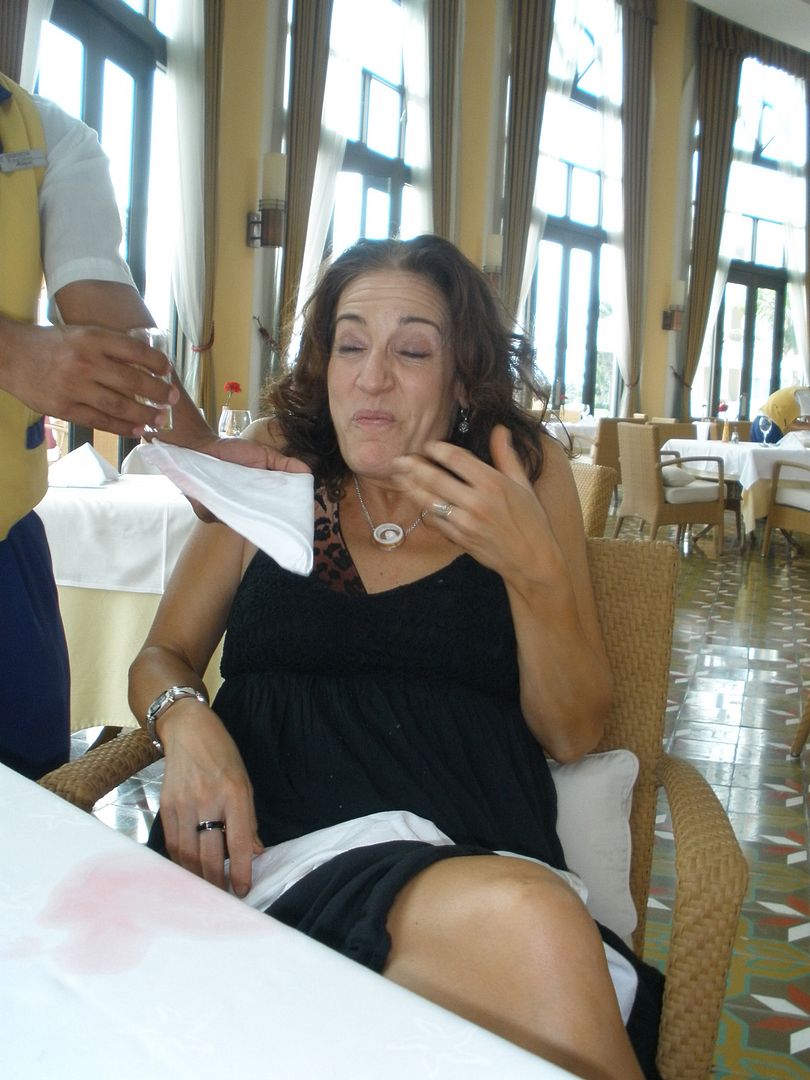 (Sorry Karen, that picture is just too funny not to post).
Karen met the challenge.
Me, not so much. I couldn't handle the whole shot.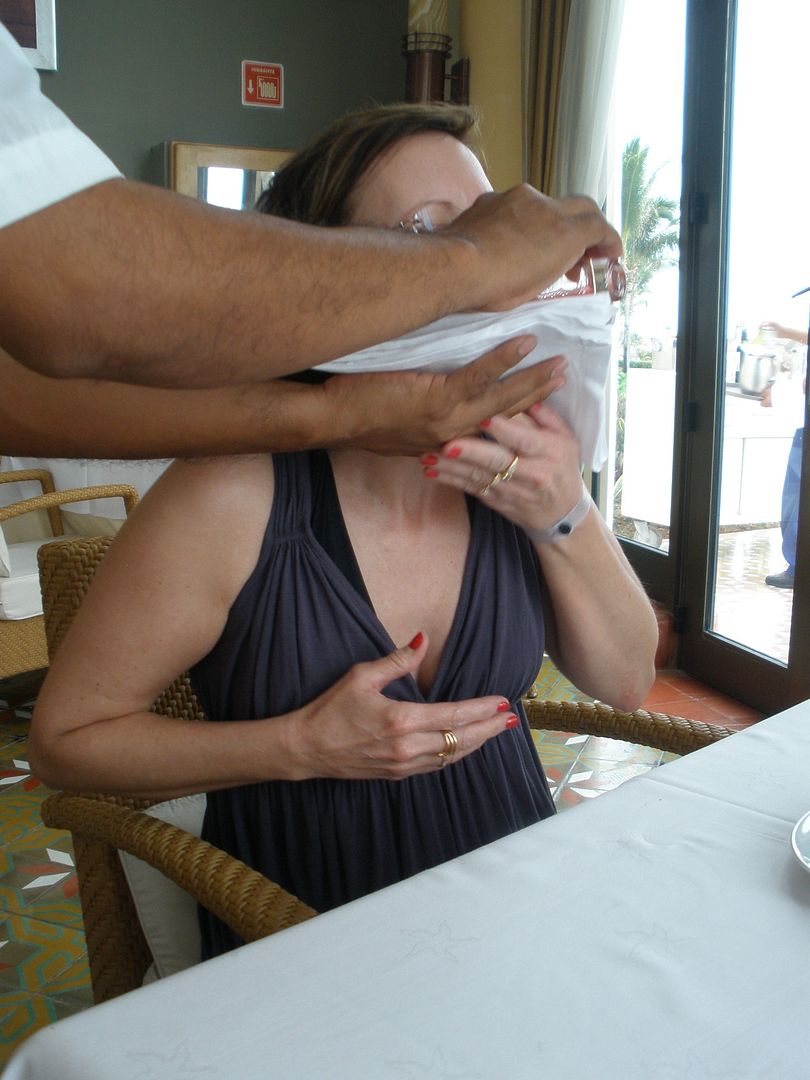 Half of it ended up on Alex's napkin. He was still my friend though.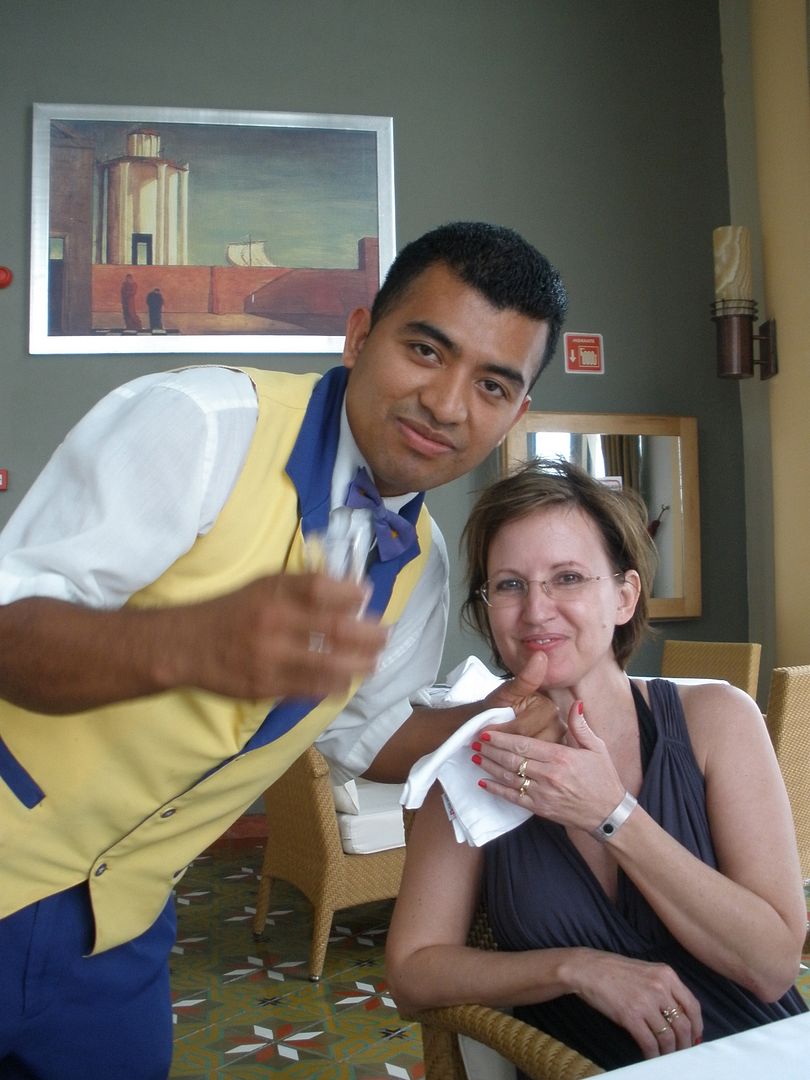 I was embarrassed at being such a light weight.
We went back to our lounge chairs. The weather still sucked. I was huddled under a towel until we threw in the towel and went to the spa. The big pool was nice and bath water warm and the hot tubs were even warmer.
Karen didn't want her hair to get wet, so she put her hat on. This is a great picture of her.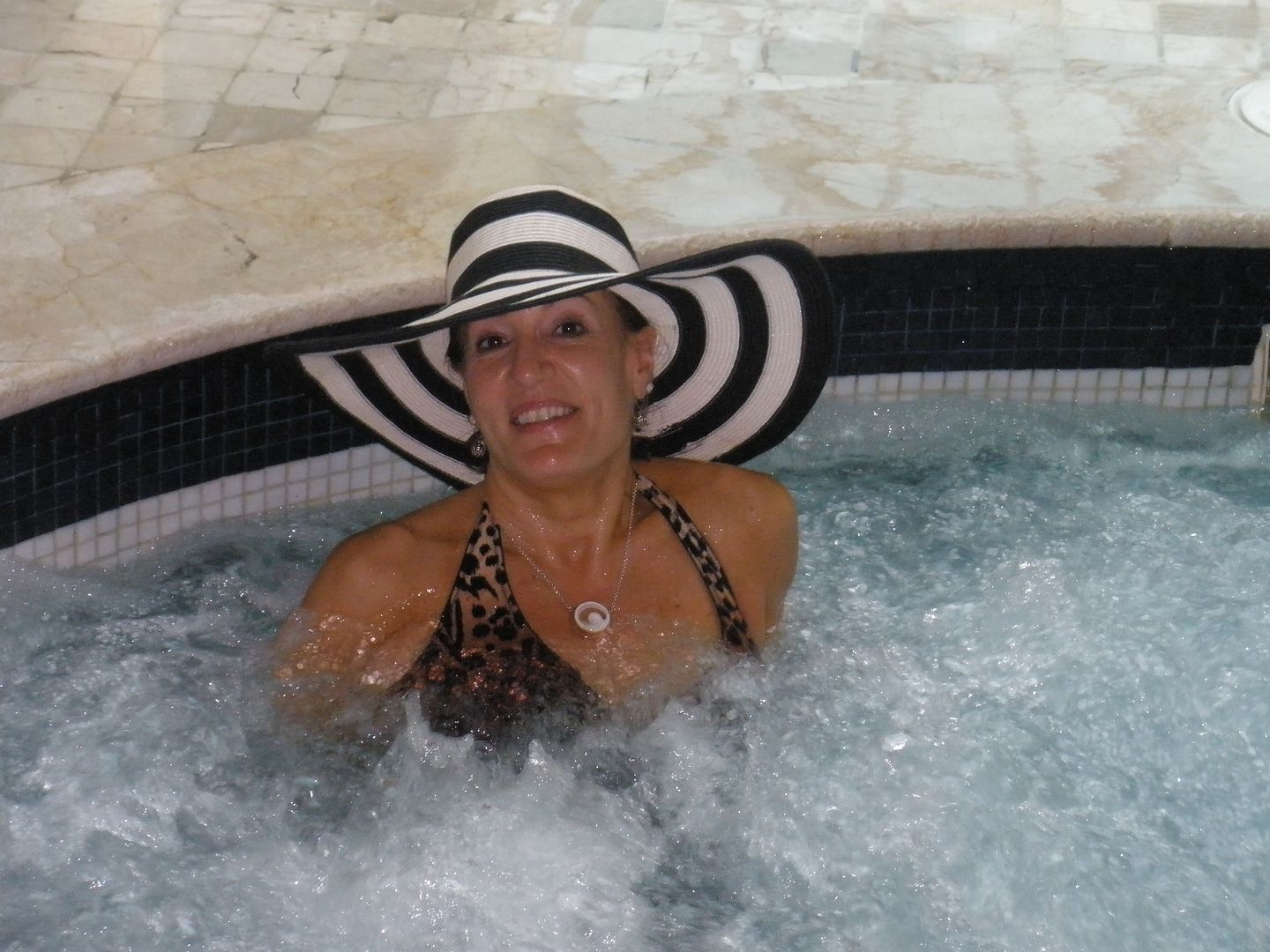 Karen decided we should go for the afternoon bike tour. I am sure I whined and complained and stalled. It sounded an awful lot like exercise to me.
And, one more time, I DON'T EXERCISE ON VACATION.
She was going with or without me, so I grudgingly agreed. I had, in fact, said I had always wanted to do the bike tour. I even said it when we arrived the day before and saw other people on the bike tour. What is wrong with me???? Some people take you seriously when you say those things.
The bike tour meets in the port cochere by the lobby. There were three other guests and a Star Friend who would lead us. We had to sign a waiver (which I signed and didn't read – it can't have been too legally binding because she let me sign for Karen, whom I have no legal relation to and therefore no legal right to sign away her rights). She took us down to the garage underneath to get the bikes. I had no idea there was a garage underneath.
We all were matched up with bikes. I thought mine was a tad big for me, but I knew more whining was coming, so I kept that complaint to myself. There was a big uphill out of the underground garage to begin with. Oh yea, this is gonna be just buckets of fun. Big groan.
Let the whining begin!
My legs hurt, my hand hurts, oh my god – I'm gonna run into that car, get out of my way, can't you see I am out of control here?
Amazingly, I managed to do the whole 45 minute bike ride without crashing into anything or anybody. Truth be told, it was a great day to do a bike ride. It was cool and since they weren't stopping at any bars, that was important. Actually, they did stop at one bar – the health bar at the main spa. The tour takes you by the front of all the hotels and down into the Beach/Del Mar grounds. The Star Friend leader says, 'This is the Maya hotel, this is the Lindo hotel, this is the.." well, you get the idea.
She stopped at the shopping center and we went into the spa and we got waters from the bar and they gave us a tour of the wet areas. This includes a room with different types of jacuzzi's (they are all just bubbly tubs to me), different types of therapeutic showers, the big pool with the giant faucets like at the Grand and an outside area that had stone and concrete loungers that look like torture chairs to me and a pebble path that you walk in that has water sprayers that hit your calves and then water to walk through and it's all supposed to be therapeutic. Karen would check it out another day and said it was awesome.
The Star Friend walked us around the shopping center, pointing out the disco and restaurants. There is a shop there that makes cowboy boots of all different kinds and Karen tried hard to convince me that I need an authentic pair of cowboy boots. I don't know. I told her I would consider it. I have some pink, suede slouchy cowboy boots, but no authentic ones. Anyone want to weigh in on whether my shoe closet needs a pair?
We finally arrived back at the Grand, much to me and my legs relief.
It was time to go back to our room and get ready for dinner.
But wait! What's that? Why, it's the jewelry store. There are sparkly things in there. I like sparkly things. And there is my friend, the guy who works there, who has sold me a couple lovely pieces of jewelry at decent prices. Why, it would be rude not to go in and say hi.
That's my story and I'm sticking to it.