As I'm currently relaxing on my deck, I thought this would be a good time to share some photos of our recent trip to New Orleans. We love that city and had a fantastic time! Most of the pics are of food, but I threw a couple of others in there. Some are blurry, too- I apologize for that. It's hard to tell if the pic came out well on the little camera viewer. Anyways- enjoy!
We stayed at the Intercontinental New Orleans- a typical cookie cutter chain, but we got a hellova deal on bookit- $79/night for a balcony room. It was bookit's Downtown Mystery Hotel, but it wasn't much of a mystery because a quick search of other travel forums made it seem like this was the only hotel it could be
Our room:
Pretty standard, but man was that bed comfy at the end of a long day of walking around the city! We slept well! The hotel was also very quiet, which was great.
The view from the balcony was nothing special, but it was great to sit out there and drink coffee in the am. Incidentally, the coffee provided by ICH was abundant and actually really good! I'm a bit of a coffee snob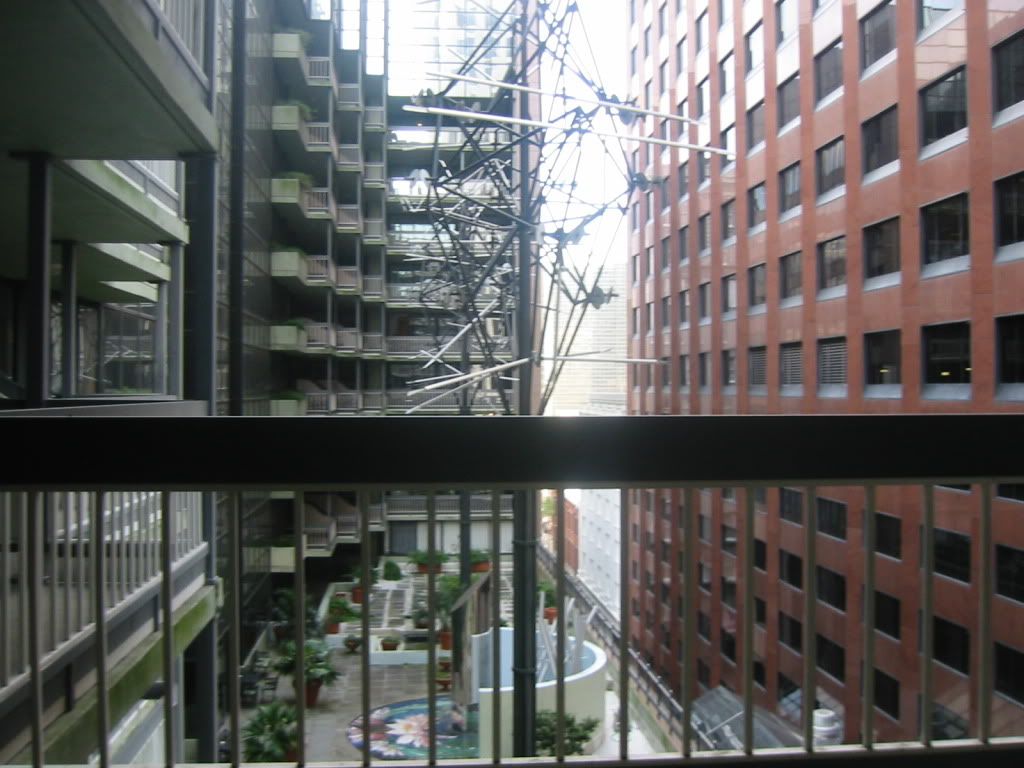 Looking down St. Charles Ave: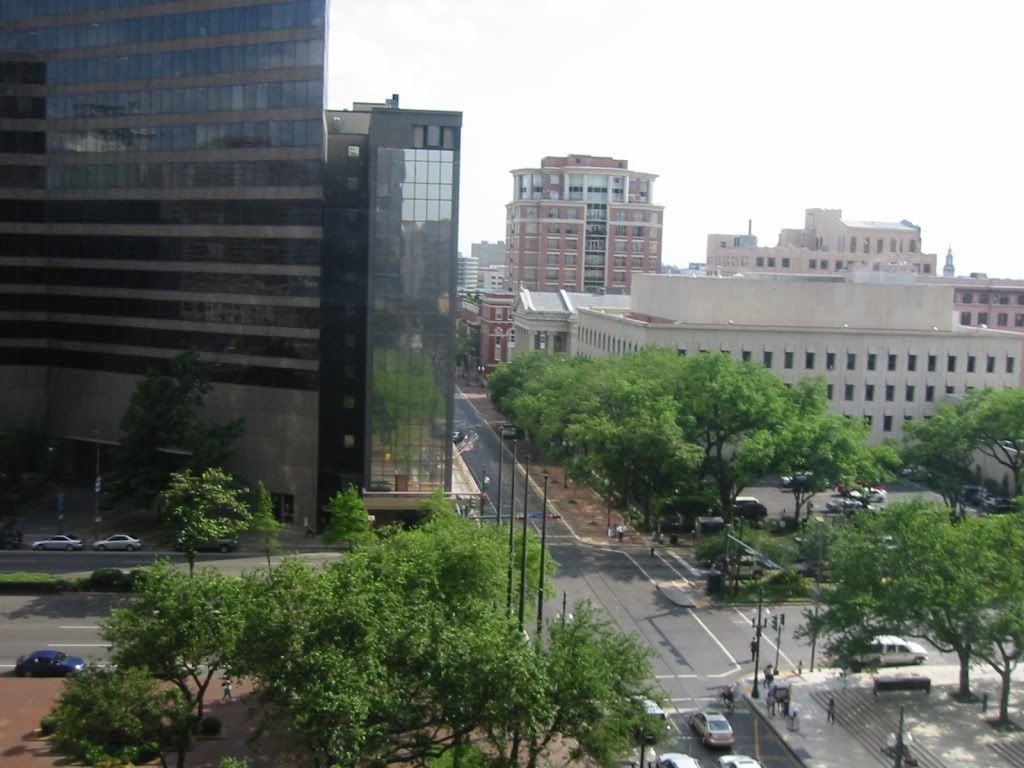 Ok, enough about the hotel. It served it's purpose- we were rarely in the room. We did have a couple of nice happy hours at the rooftop pool, though. No pics- sorry.
Onto the food! In no particular order-
Muff at Napoleon House (warm and delicious!):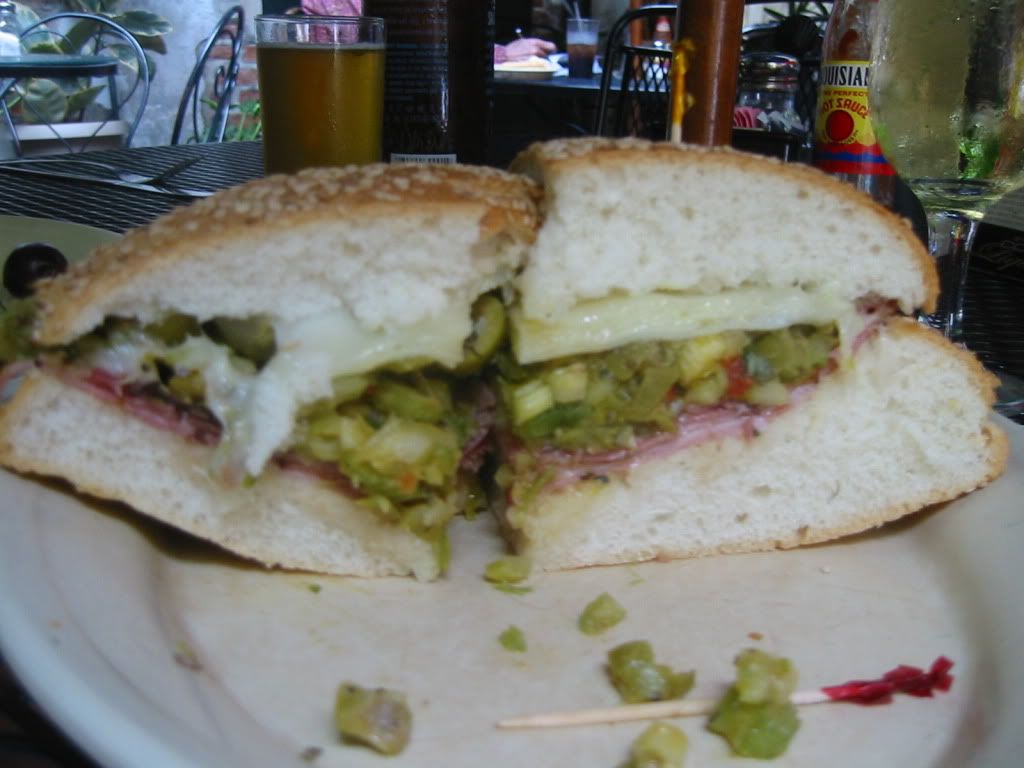 File gumbo and black ham on a homemade biscuit for breakfast at Mother's (so good!):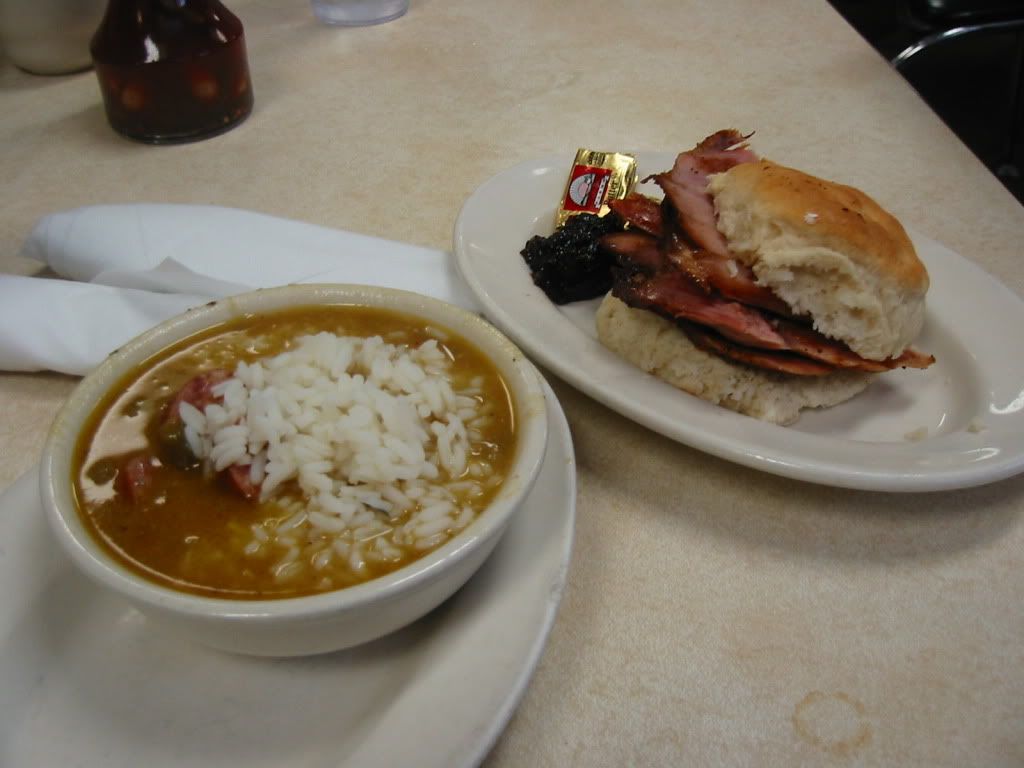 What's left of the best BBQ shrimp po'boy I've ever had- OMG so good. Perfectly cooked buttery, peppery shrimp pouring out of the hollowed out ends of a po'boy loaf. Perfection in a sandwich. This was at Liuzza's by the Track: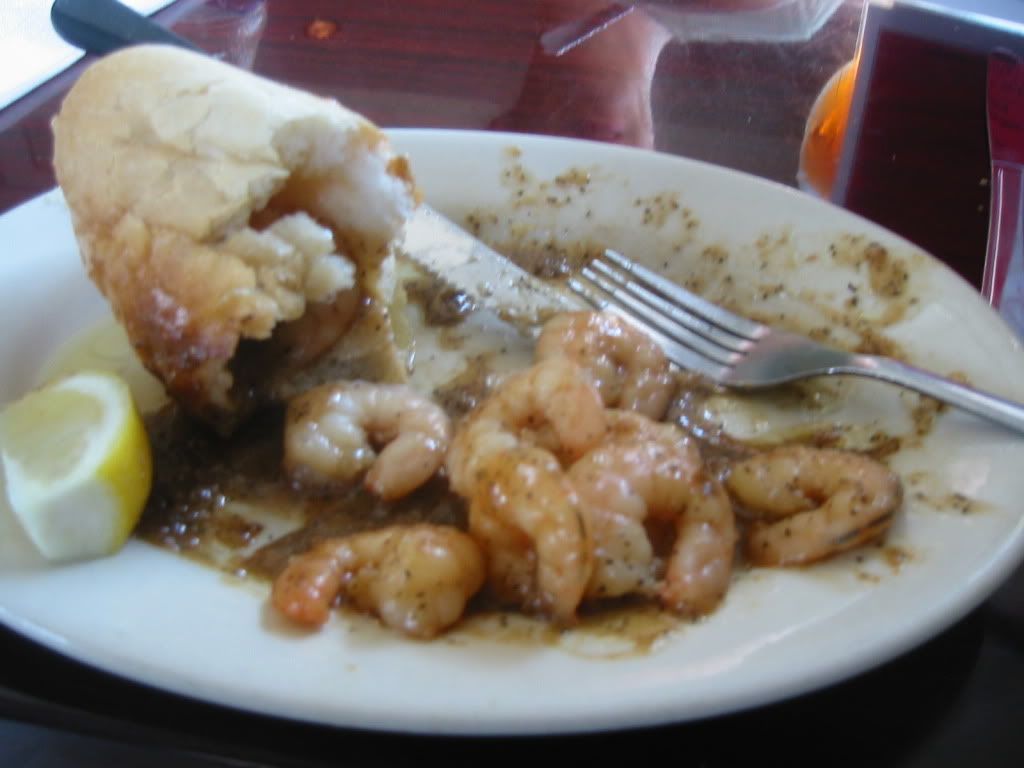 The remains of half a garlic shrimp po'boy and traditional gumbo, also at Liuzza's. Garlicy, moist roast beef and flavorful, rich gumbo with tender chicken, spicy sausage, and shrimp thrown in right before it's served so they're perfectly cooked. Can you tell we liked Liuzza's?
Ice cold Abita Amber and LA 31 at Liuzza's- this tasted awesome after our long, hot walk from the ICH to (and around) City Park: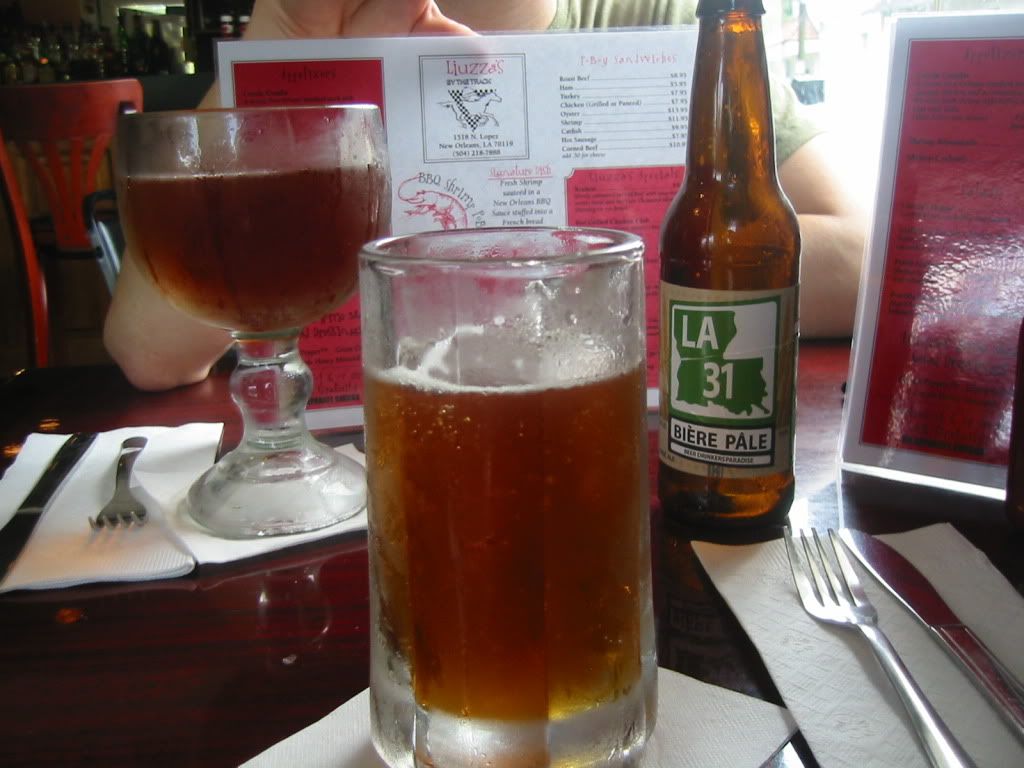 BBQ beef po'boy at Johney's. It was HUGE, delicious, and very difficult to eat
The BBQ was almost like a Korean BBQ- very tasty!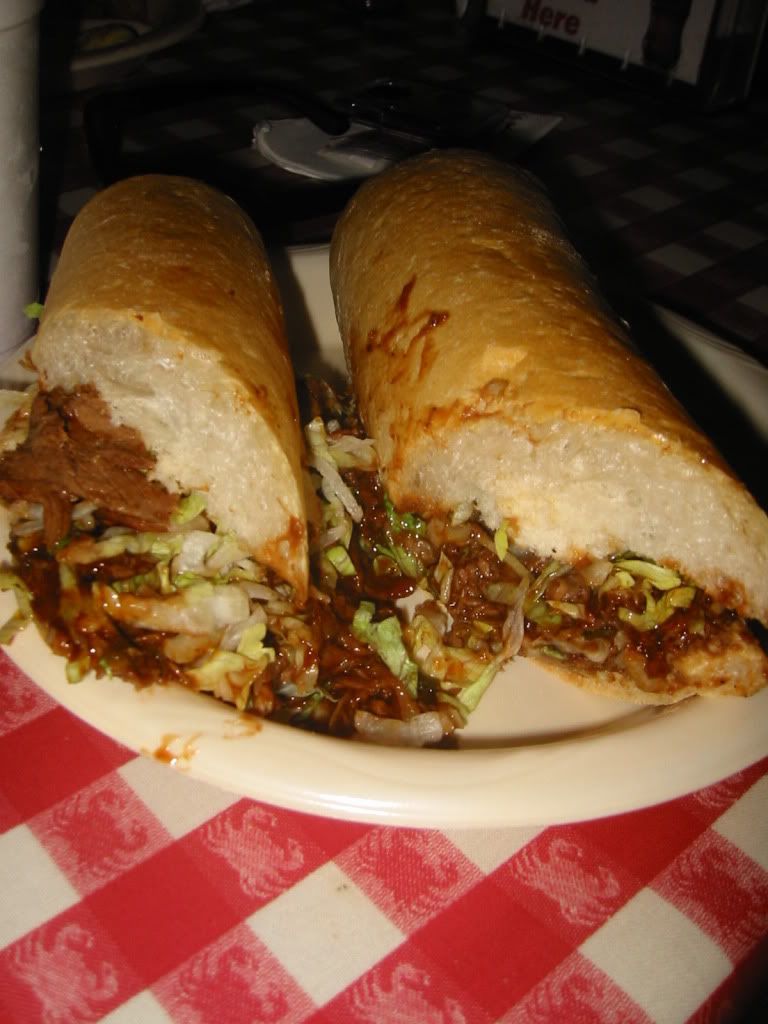 Late night pizza and beer at Reginelli's. The pizza was surprisingly good- we really just went there for a late night snack because they had a special- $2 pitchers of Abita Amber
We didn't expect the pizza to be fabulous, but we were pleasantly surprised.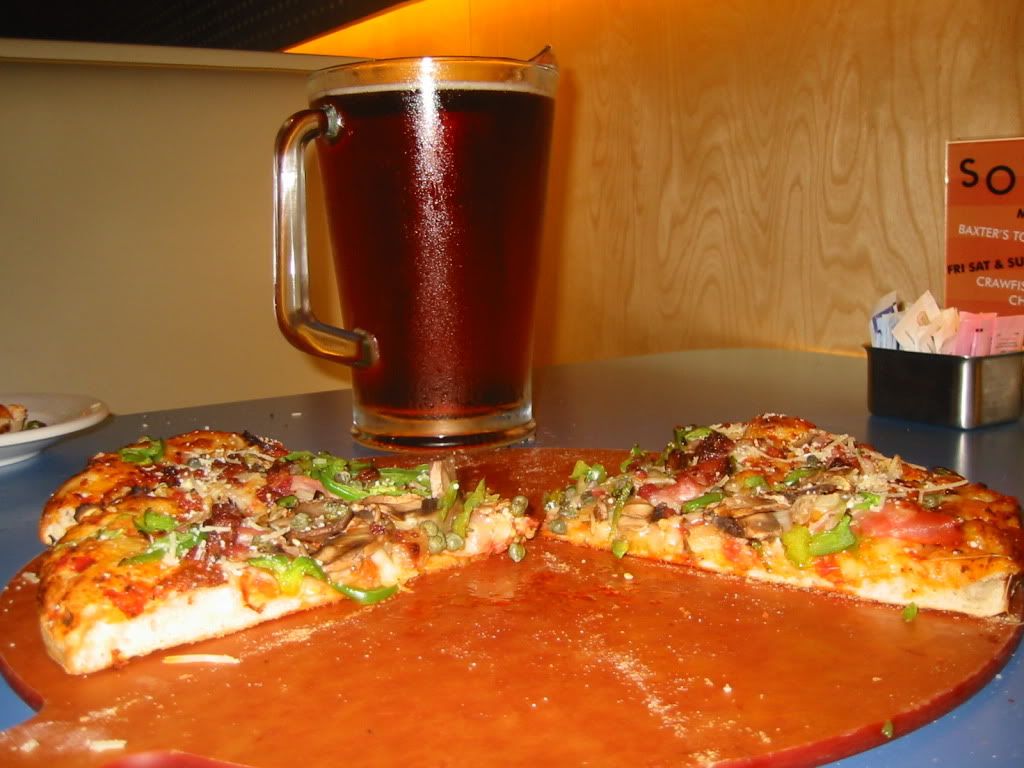 Continuing with the pizza theme (we do love our pizza!)- happy hour pizza at Domenica. OMG- so freakin' good! From 4-6 you can get any of their pizza's plus all beer, wine by the glass, and specialty cocktails for 1/2 price. I would gladly pay full price for that pizza. At $6.50 each, we felt like we were robbing them. We ordered 2 pizzas, knowing that we'd have plenty left over for our flight the next day (ick to airport food after eating in NO for 5 days). It was a hard decision but we chose the roasted pork shoulder, roasted fennel, and apple pizza and the prosciutto and arugula pizza. Most of the meats are cured locally and they were fantastic. Well, our waiter accidentally put in the wrong pizza order and we ended up with the procuitto pizza and one with lamb meatballs, mint, broccolini, and home made ricotta. He apologized profusely and promptly brought out the pork shoulder pizza as well. At no charge. And he kept apologizing. Dude. We now have 3 awesome pizza's (the lamb was our third choice), one free, and you're APOLOGIZING to us?? Really, it's ok- I'll think we'll survive
Needless to say we had plenty of travel pizza the next day
He also brought out some fabulous rustic bread to dip in olive oil. All in all, a fantastic experience. Would HIGHLY recommend this place, happy hour or not. They are very reasonably priced during non-happy hour, as well.
The bread, my passion fruit bellini, and Jeremy's beer: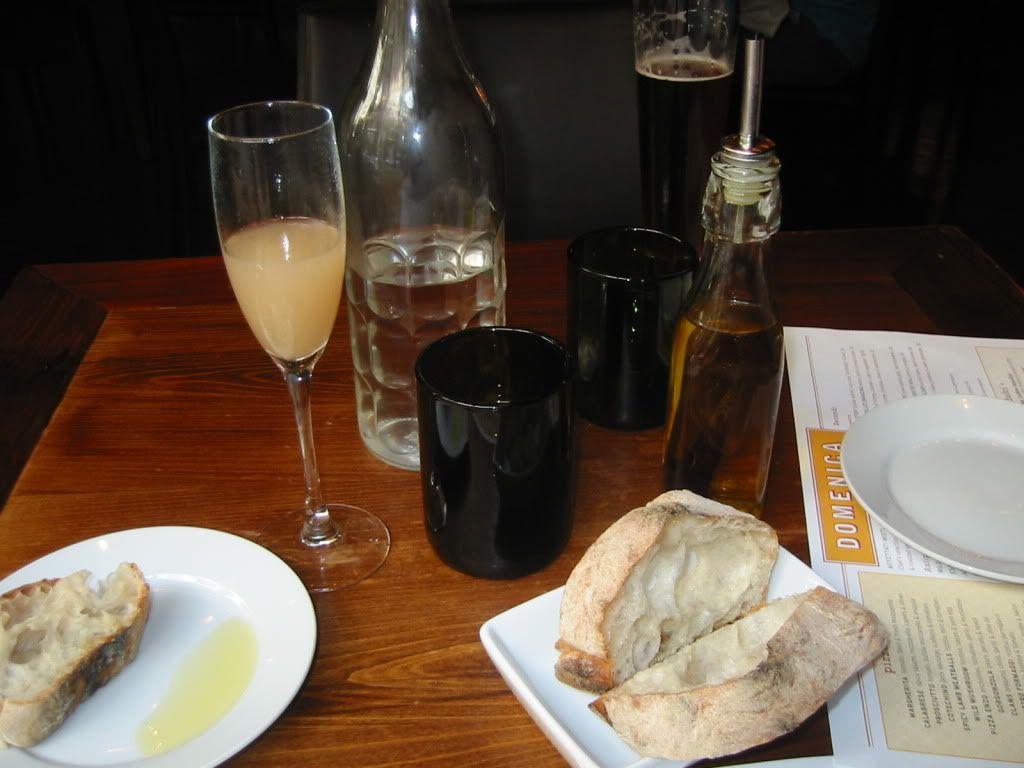 Our 3 pizzas
One would have been enough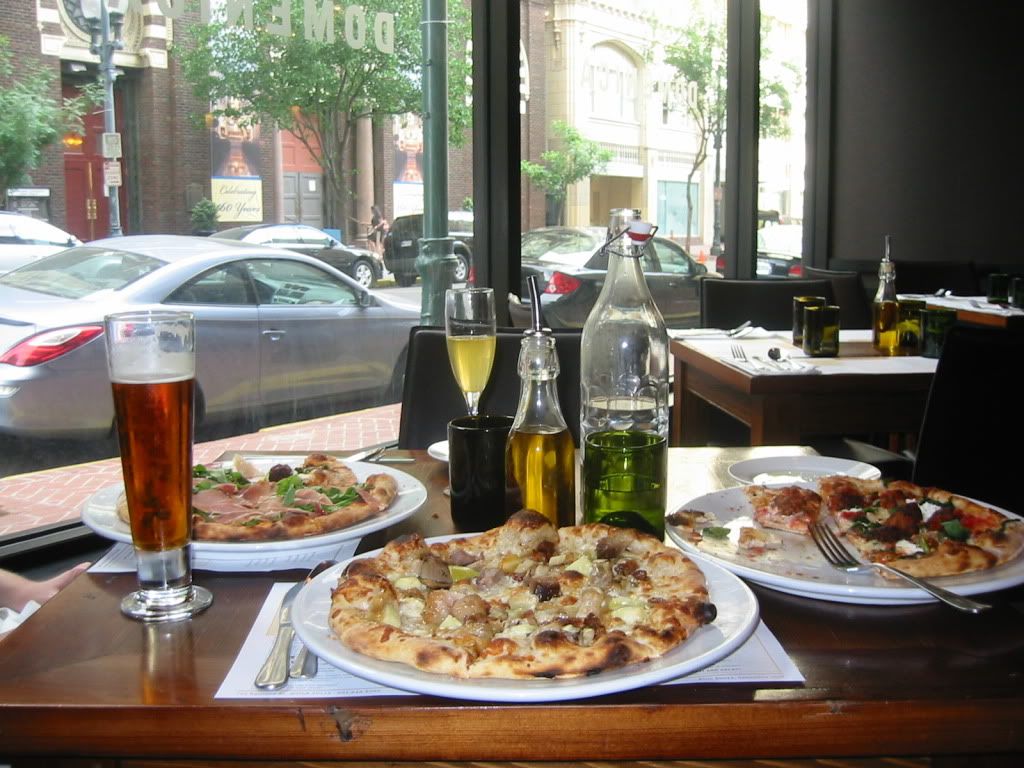 Close up of the prociutto pizza with the lamb pizza in the background
Finally, our last late night snack of the trip- shrimp creole at Coops. Very tasty and hit the spot!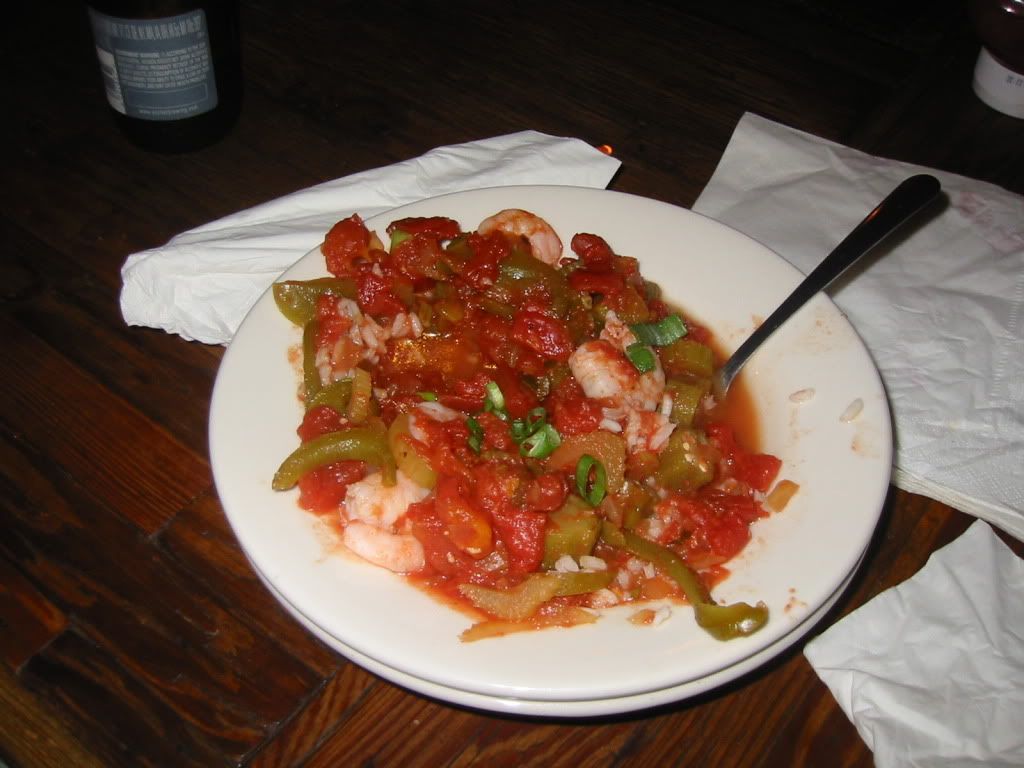 That concludes the food portion of the report- here are a few misc. pics. we took along the way (mostly because they amused us for one reason or another
)
Happy hour at Margaritaville. I really kinda hate Margaritaville, but the one in NO has a killer HH from 5-10 with some pretty ok live music. Mojitos are just $3.50 and they are large and tasty.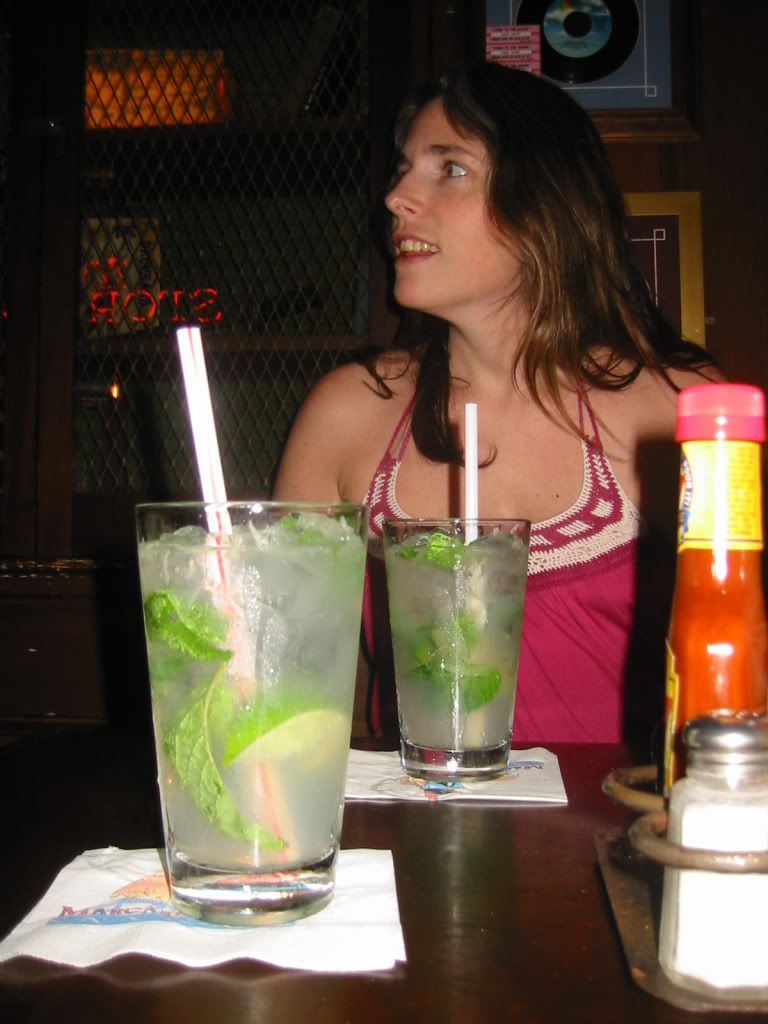 The Degas House on Esplanade: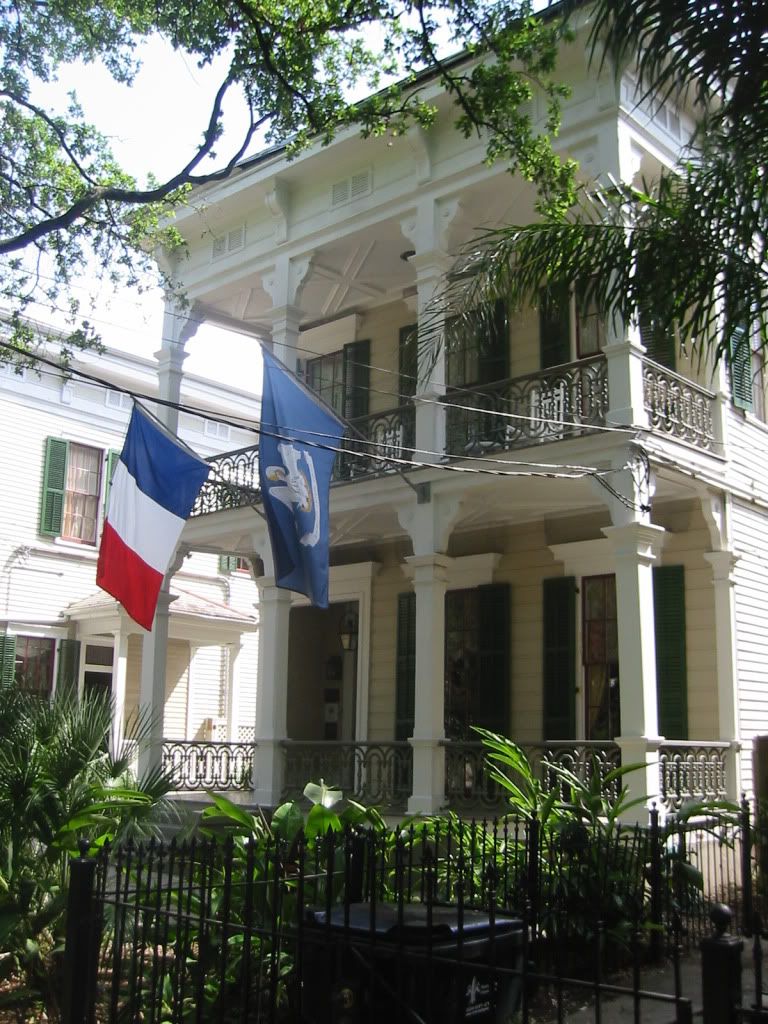 Jeremy looking confused with a large tree on Esplanade
(we walked Esplanade to and from the City Park one day).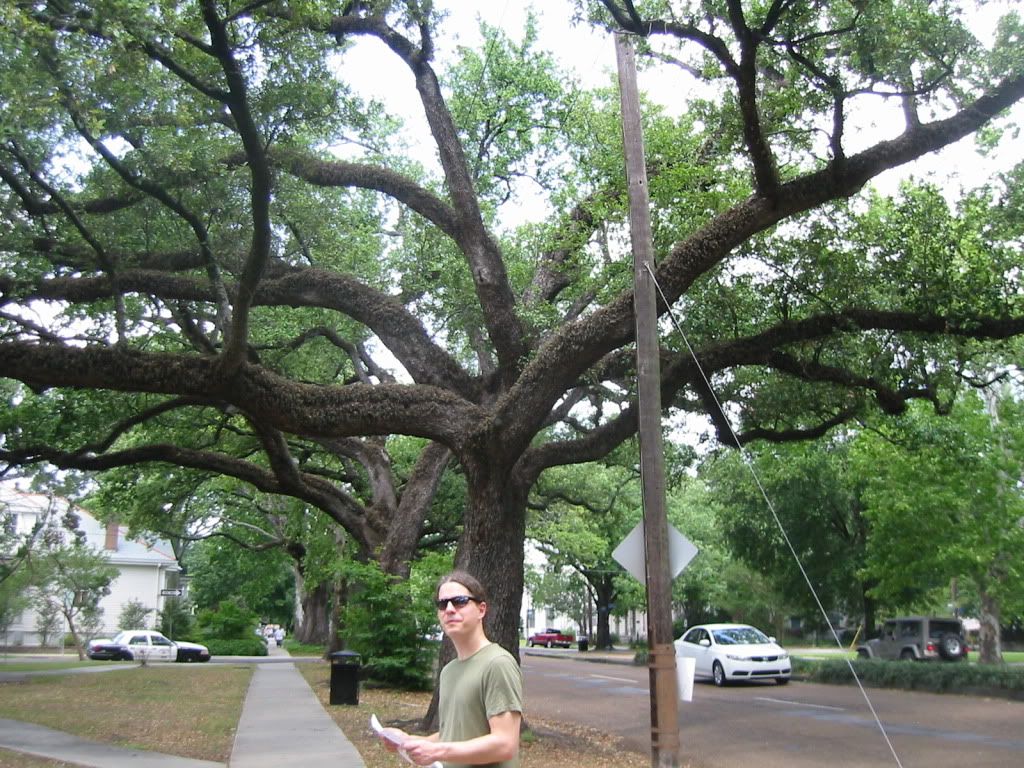 Relaxing in a cute little park (also on- guess where? You got it- Esplanade!)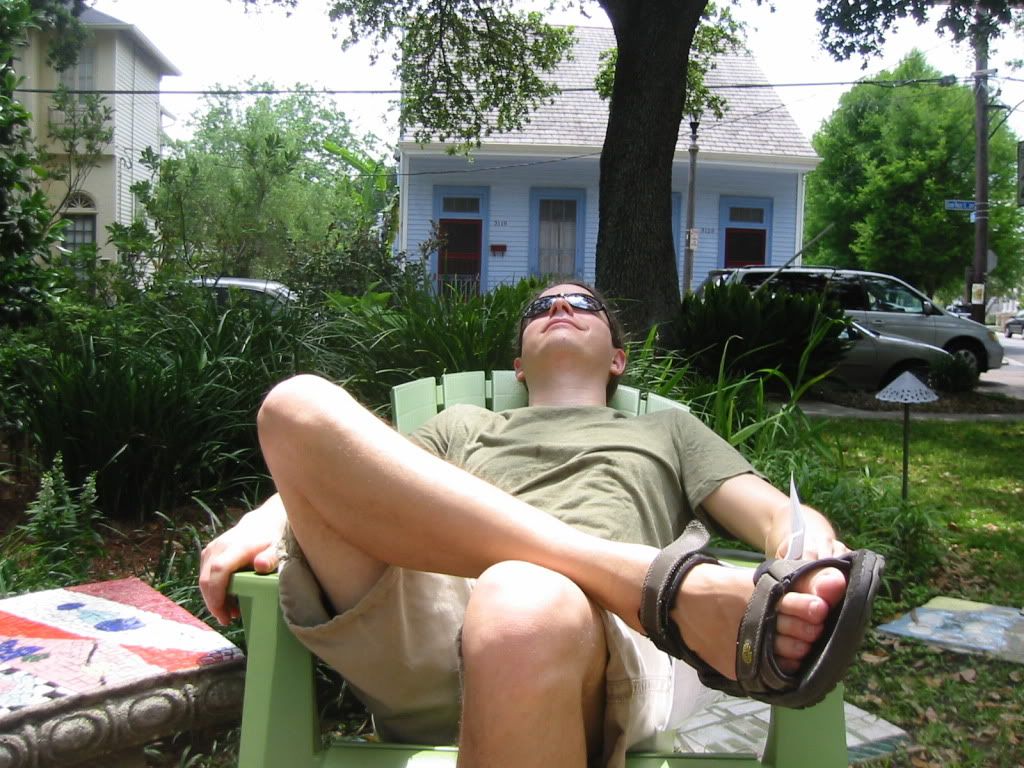 Courtyard and beer at the Napoleon House: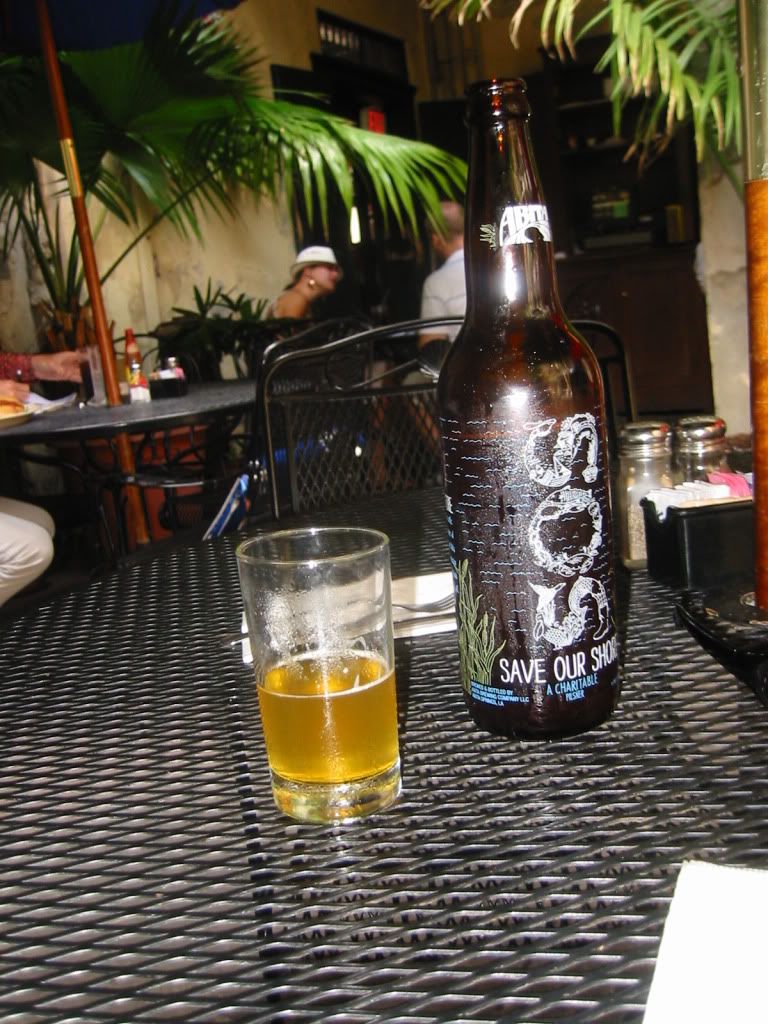 Concert at Lafayette Square on Wed. evening- this was Anders Osbourne. They were a great, fun band- a really fun free event all around. Proceeds of vendor sales go to charity, so we support them by buying a couple of Abitas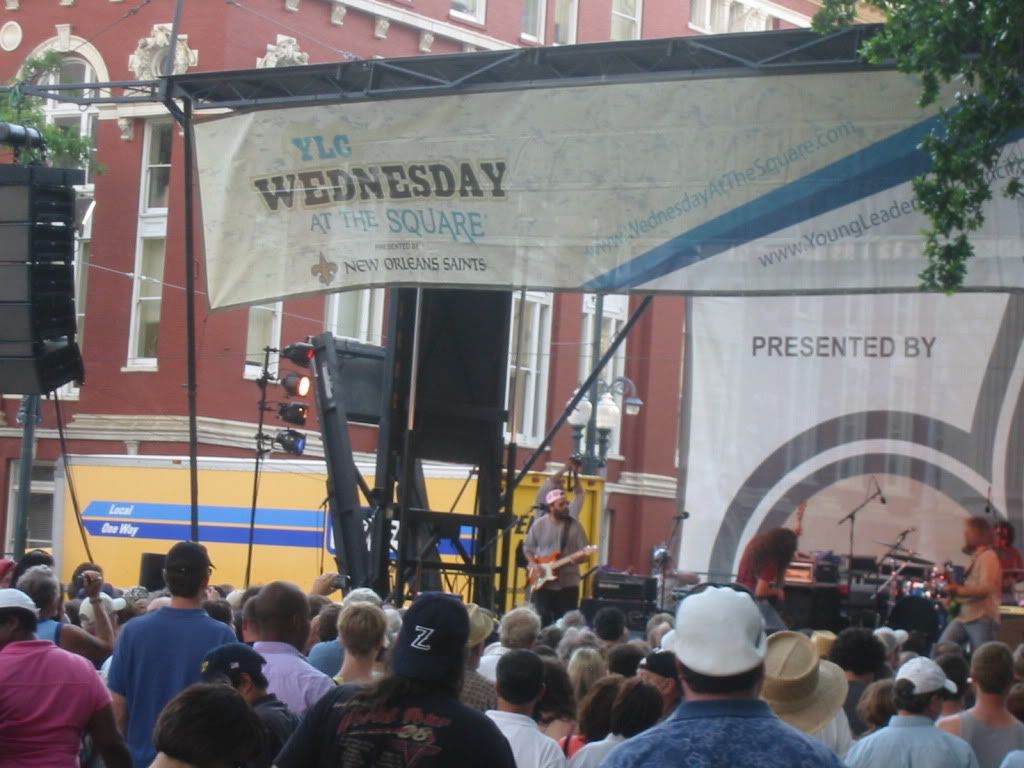 Pirate, of course!
Many people's view of Bourbon Street, I suspect: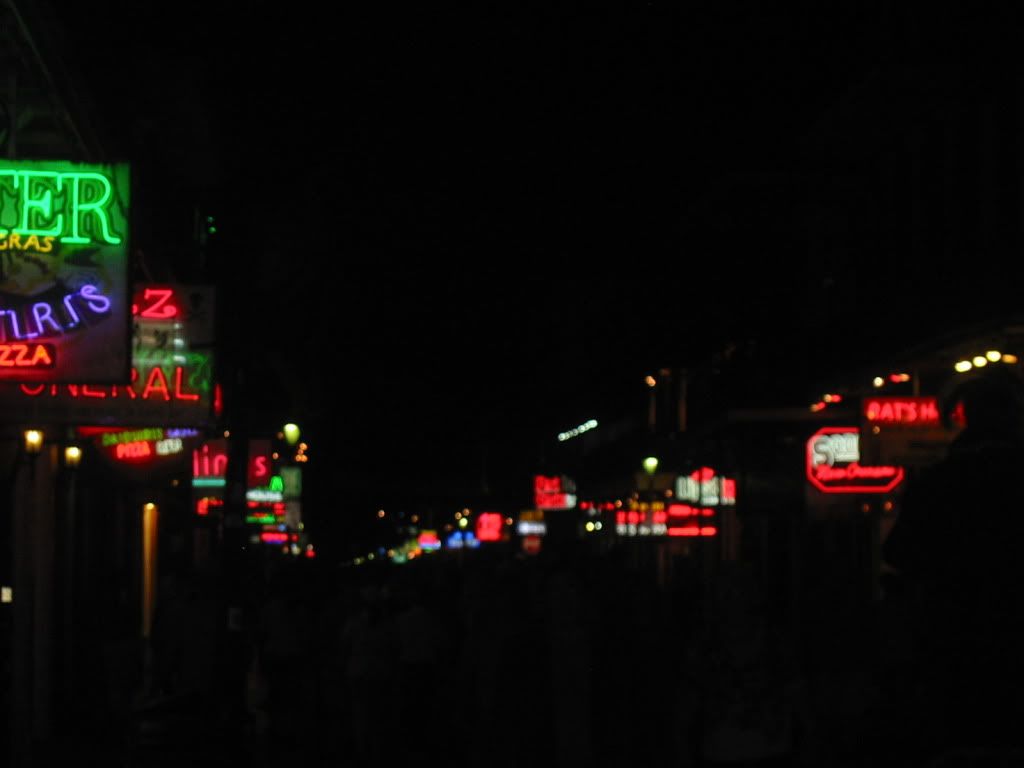 I would kill to see this cop in hot pursuit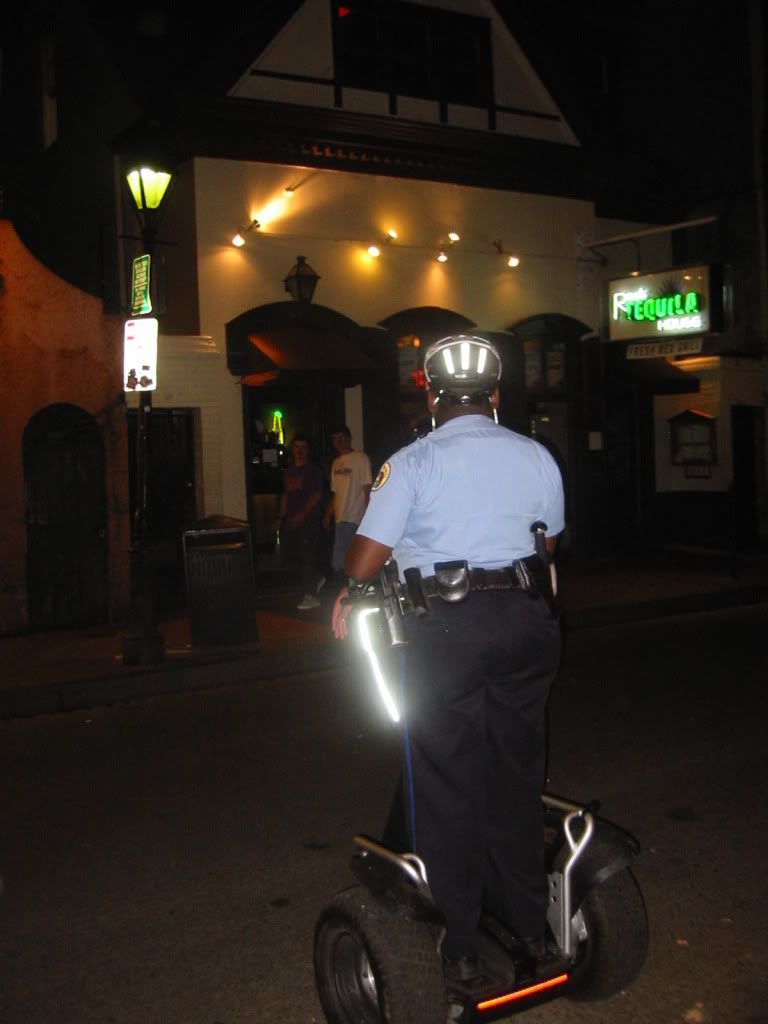 And finally- these were a common sight around the French Quarter. We called them plopty wagons because we were constantly dodging their, well, plop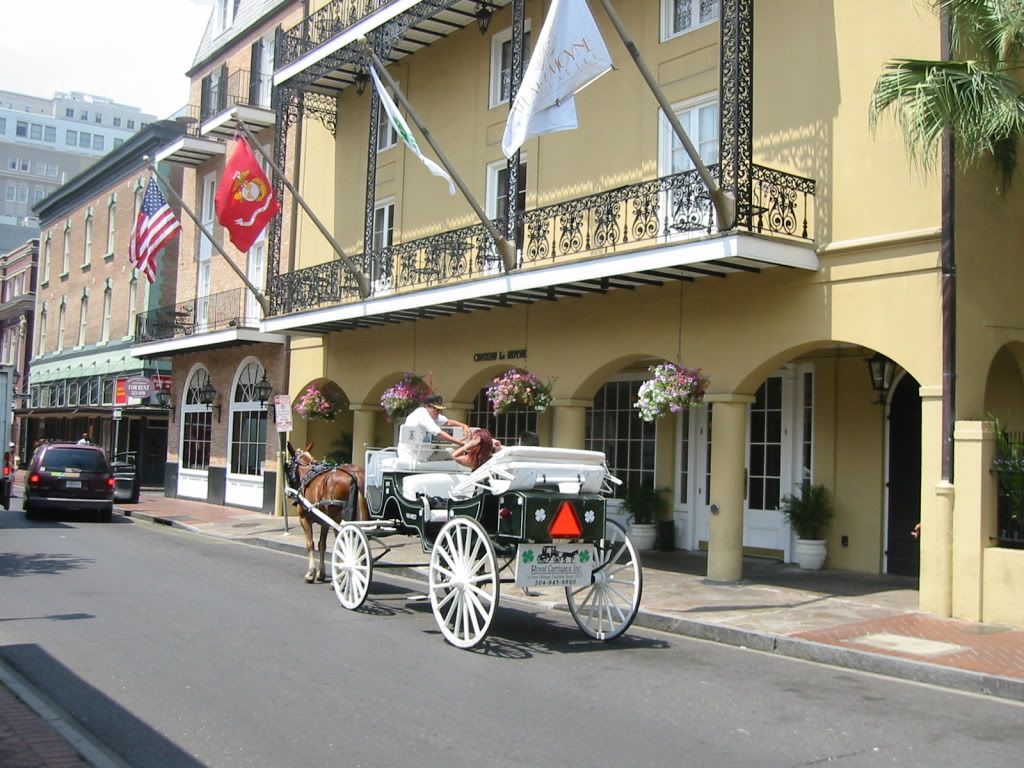 That's all! We had a fantastic trip- wonderful food, friendly people, beautiful weather. We'll be back
We never had any concerns about safety, but we stuck to the French Quarter and Central Business District at night. Some areas of Esplanade I would not feel comfortable walking around on after dark- mostly the part around the overpass. The same goes for St. Charles Ave- I would also avoid the overpass/Lee Circle area after dark.
New Orleans is a magical city- we didn't make any formal plans, we just went with the flow every day and had a great time. I hope you enjoy our (albeit blurry) pictures!