Many of you know that Brian and I lost our dear Saluki Ramses suddenly and unexpectedly a few weeks ago. I posted several photos in the off topic forum at the time. Needless to say, we were heartbroken.
People grieve over their pets in many different ways. For me, it has always helped to have another little mouth to feed, another little puppy to train and take care of, as soon as possible- not to take the place of my last friend, but to take the sting out of coming home to an empty house and to keep the love going to a new, deserving little life.
We always said that some day when we lost Ramses, we'd bring home a dog from the Peanut Pet Shelter, one of our favorite causes in Playa del Carmen that we've supported since its inception.
We were very kindly offered a puppy escort to Boston from Sue Silva, a board member, at the end of June. Problem is, Brian was particularly taken with a puppy called Nita, who, as it turned out, was nearly too big for transport with JetBlue. JetBlue's pet travel policy allows a pet to be carried on the plane in a soft sided carrier up to a certain size with a maximum combined weight of 20 lbs. for pet and carrier.
Aussie Gary from the shelter weighed little Nita at 15.6 lbs. at the beginning of last week, and I was worried that she'd that she'd be too big to travel soon if we didn't find another solution. I calculated that she was only within a pound of being overweight, and I didn't want to chance it.
I found a great deal on nonstop flights from Boston and told Brian I had a crazy idea. We could fly out at 9:30 a.m. on Saturday and fly home again on Sunday at 1:40 p.m. Prices were much higher if we were to wait a day or two longer to come home, so this would be a whirlwind trip. (And yes, a big tease to be in Playa for just one short day.)
It felt like a stealth mission. We told nearly no one of our plans just to be sure we could pull it off.
The plans kept coming together. We were going to grab a bus from the airport, but Steve (snappysammy) offered to pick us up. Sue suggested a pet friendly hotel for about 45 bucks a night.
Callahan Tunnel, Boston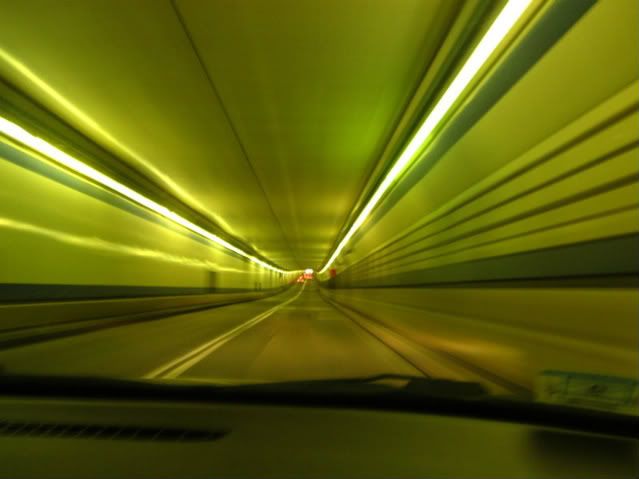 We drove into Logan on Saturday morning- no traffic, no lines at security, our flight arrived a half hour early, we breezed through immigration in a couple of minutes, and Steve was right there waiting outside. It was tooooo freaking easy.
Steve blasted through the airport exit and shot down the highway- that new overpass is pretty cool (if not a little hairy with those on/off ramps). Before we knew it we arrived at the Hotel Playa del Karma (funny, I wrote a trip report once by that name). the hotel was actually in a great, central location, too- 15th Ave., between calle 12 and 14.
We planned to meet up with Steve later and checked in. Nice little place- great room except for the toilet seat cover which, because of its proximity to the tiled sink wouldn't stay up. Brian found that a little, um, inconvenient.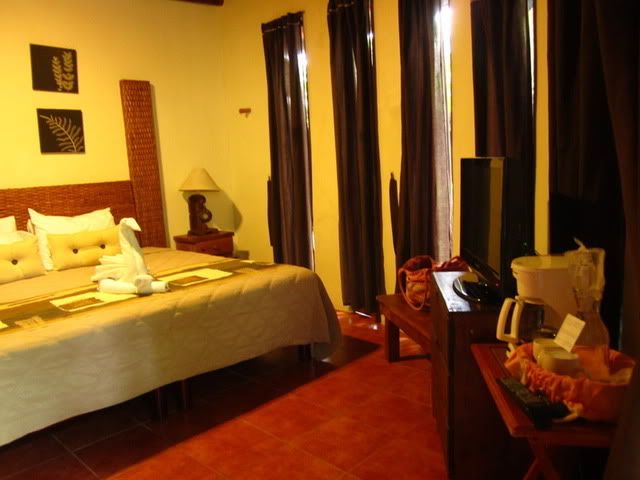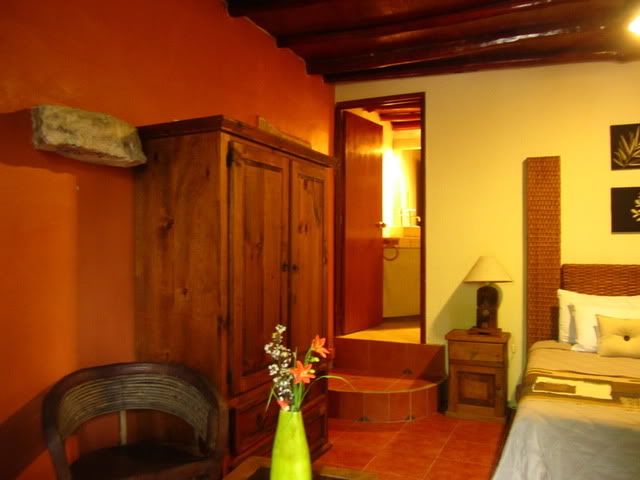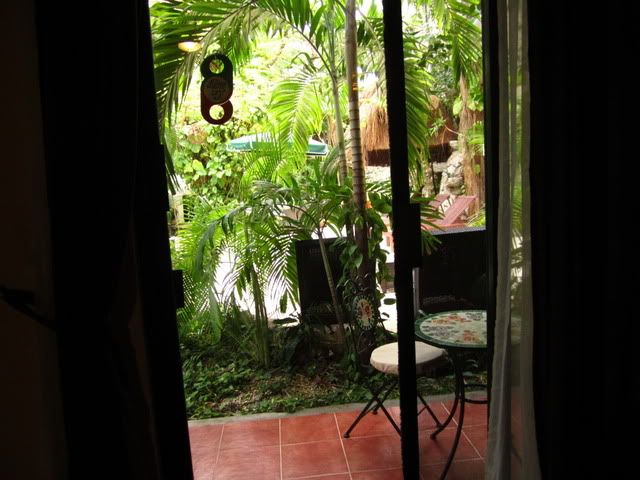 We were starved. I called Aussie Gary at the PPS puppy house to say we needed to eat and would be by to meet Nita (we'd planned to rename her Ixchel if it suited her) in a couple of hours. All was good so we changed into bathing suits, made a beeline to the beach and hung a left, ending up at Indigo Beach Club.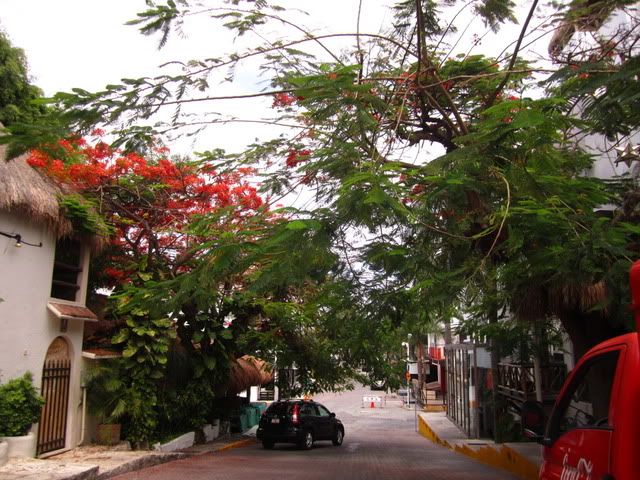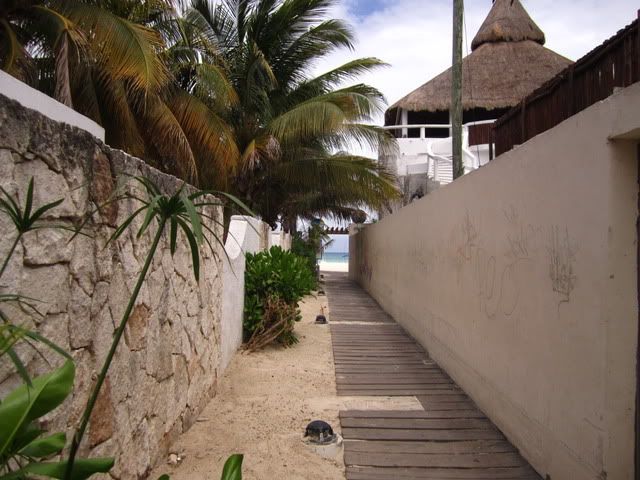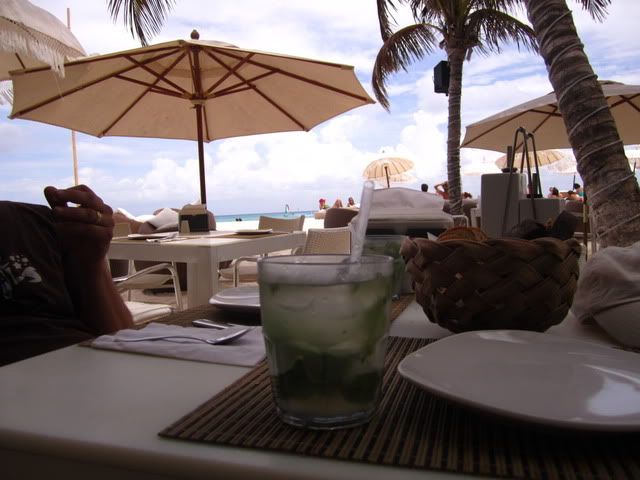 We ordered mojitos (no watered down drinks here!) and an 'Indigo Mexican Tasting Plate' to share. The plate consisted of some sort of white fish ceviche, (raw) tuna tostadas, aguachilies shrimp and guacamole, with some killer salsa on the side.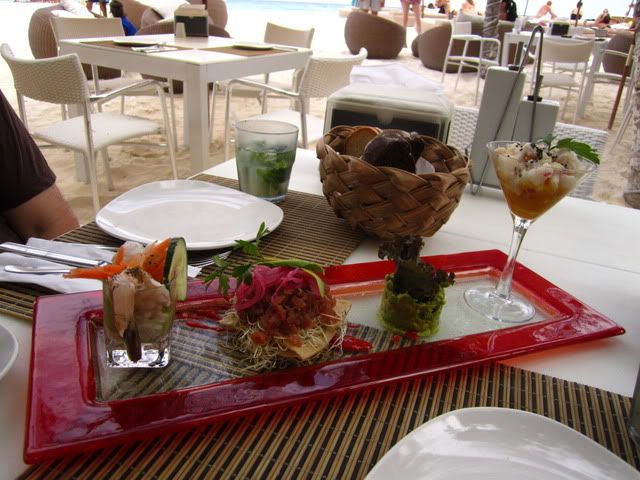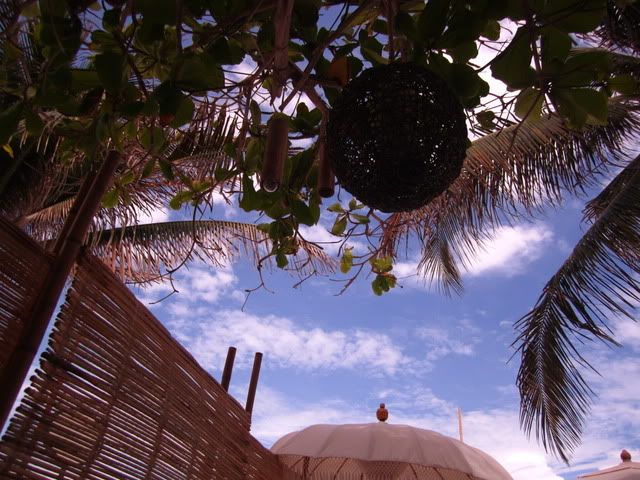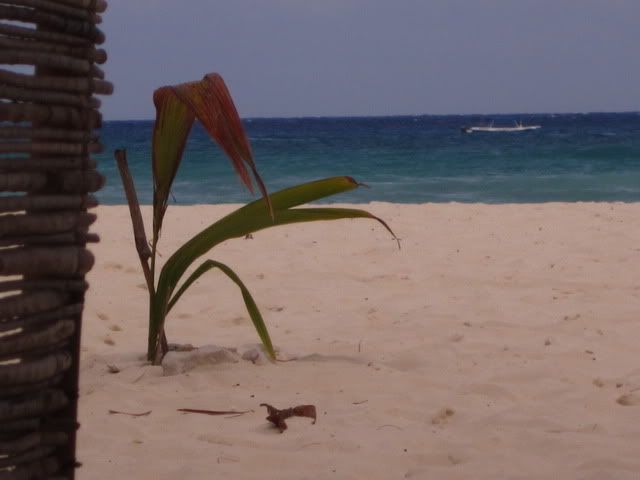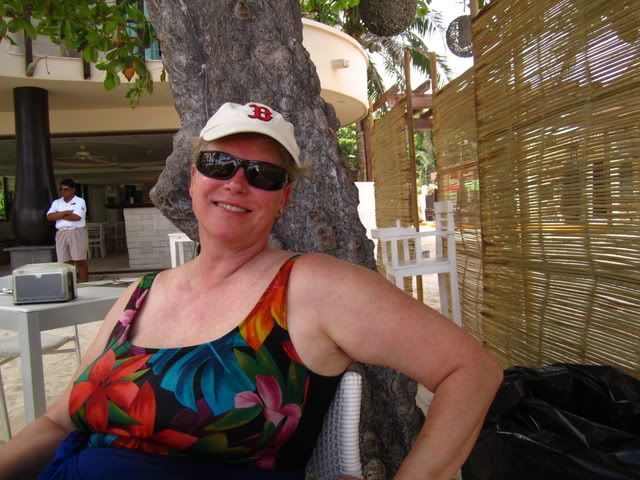 Muy bueno. After another round of mojitos and a quick dip in the sea we were now quite anxious to meet our pup so we went back to the hotel, changed, and flagged a cab to the other side of 307, to the puppy shelter.