Day 3
Woke up to overcast skies, but hoping they would clear. Breakfast at the Albatros, then straight to the pool – we were establishing a very comfortable routine.
But the skies didn't clear, in fact it became darker and darker outside. Here are a few pics at the pool just before the rain hit.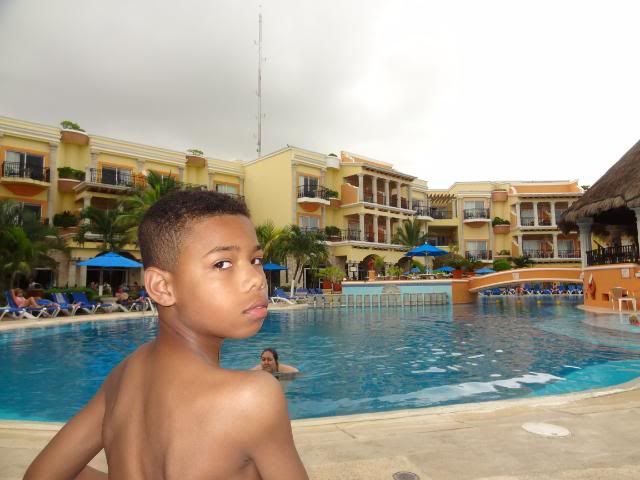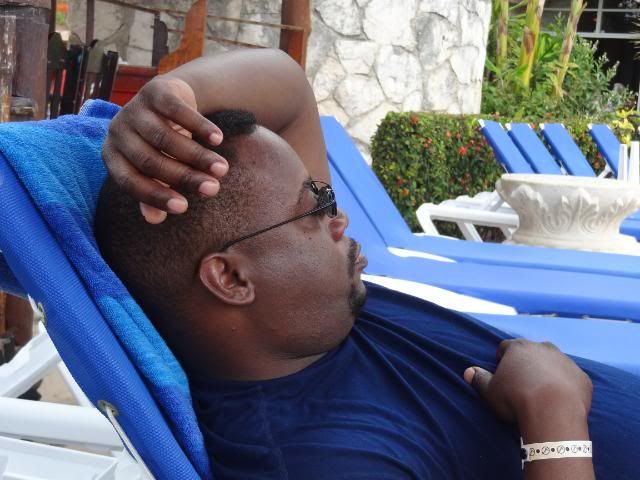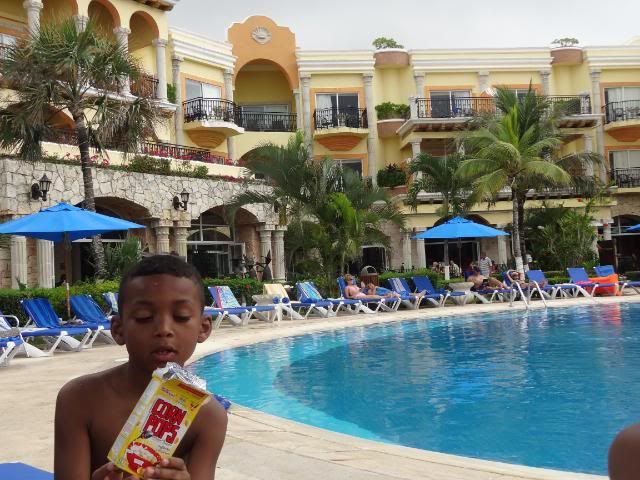 We met the Day's at the pool that morning (more of Shammy's clients), and spent some time singing her praises and plotting on how to get her to come into town for drinks. Great group of people from Texas!
Then is started pouring. And I am not talking sprinkling, drizzling, or anything else…but straight up POURING!
Soaked to the bone we ran back to the room laughing and feeling kid-like again. Something about getting caught in the rain in Playa sorta felt "good" if you know what I mean…
The boys hadn't gotten enough rain and went out to the balcony / beach to do a little rain dance or two. Sufficiently soaked, we all showered and changed and hunkered down under the covers for a bit.
During this time I took the opportunity to unpack a bit and organize some of our things…the boys watched a Star Trek episode…around noon, my mindset was "A rainy day in Playa is better than any day in the office!" I think I even posted that here real-time.
Miles was dozing off
so I took the boys out of the room to let him nap. The entertainment staff had moved some things indoors, and they were gearing up to keep the natives from becoming restless.
The boys made bracelets, played BINGO, checkers, chess and ENDLESS games of Air Hockey. At 10 pesos a game I went back to get change 3 times. I think they played at least 20 times.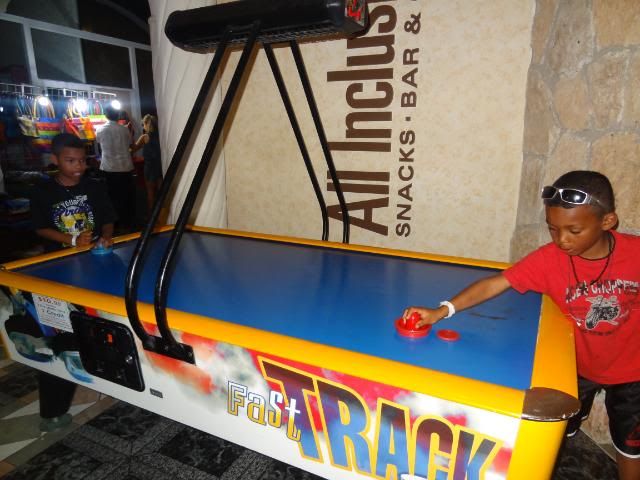 We hung out patiently, but the mood in the Lobby bar area was starting to thicken with frustrated guests and dashed vacation beach dreams.
Getting drunk seemed to be an answer for some
, while wallowing in the depression of the rain seemed to work for others.
I think I was somewhere in between the two at this time - - steadily sipping on my new-found friend, the blended Mojito.
By about 2pm my mood had shifted drastically, and all I could think about was the rain and all of the wonderful things it was preventing us from doing.
I wanted to let Miles sleep a little longer so we hung out, and hung out, and hung out in the Lobby bar area.
A band came in around 3pm and livened things up a bit, good move on the resort's part!
I also have to give it up to the Entertainment staff as every single one of them was engaged with the guests…playing cards with them, board games, etc…In general - - for the whole stay - - they SPOILED my kids with attention, it was really so sweet.
Here is a picture of Karina…
And one of Victor – who goes by the name "Chicken"
By 4pm I decided Miles had slept long enough and needed to get away from the Lobby Bar area, so we headed back to the room. I took a few pics of the rainy day.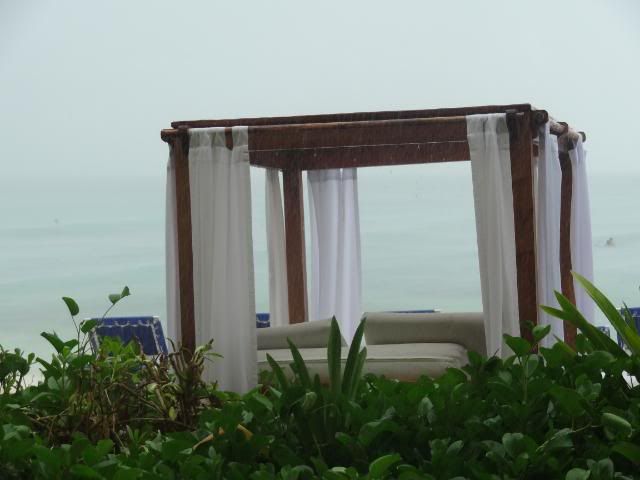 To my surprise, there were many people swimming in the downpour! Check out this one couple in the ocean. I hope my zoom caught this shot ok.
After much more hanging out and watching TV we decided to go to dinner, with the plan we would hit 5th avenue afterward (which never happened, damn rain
).
There was a WILD wedding at the resort that night. There were actually 2-3 weddings a day, but this one had to get moved inside due to the rain. We were seated near them in the Albatros and had a front row seat! They were having a total blast, rain or not. They had all kinds of props too…balloons, masks, glow sticks, etc….they even threw a few things to the boys.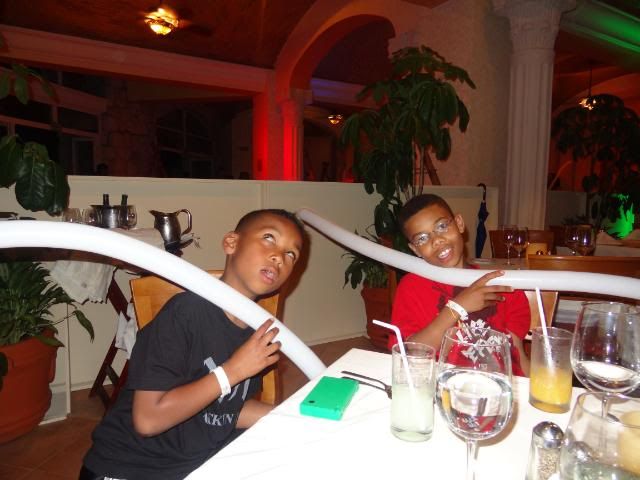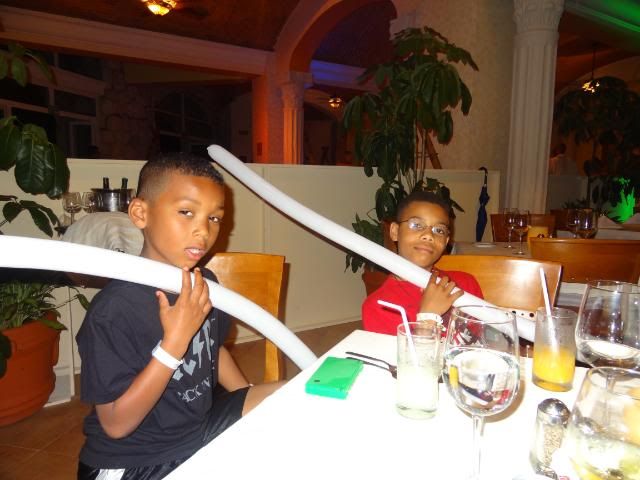 Here is a short video of the wedding guests throwing down…
After dinner, we peeked outside only to see hard, thick, sideways rain and elected to stay indoors. Where else, but the Lobby Bar - - with all of the other disappointed guests and also the crazy wedding party (who all spilled out after the reception).
The hotel had set up Casino night, so many people were taking part. Another smart move on their part.
The Dallas/Heat game was on and there was an enthusiastic crowd engaged in the game. I grabbed my iPad from the room, the boys grabbed their DSi's, Miles watched the game and we just chilled in the Lobby Bar for the night.
Earlier that day I had spoken to the front desk as we hadn't seen one towel animal in our room yet!
The boys were disappointed. This is what we found waiting for us that night though.
Bedtime was early, 10ish. We all prayed that the rain would stop, and went to bed with high hopes for a sunny Day 4.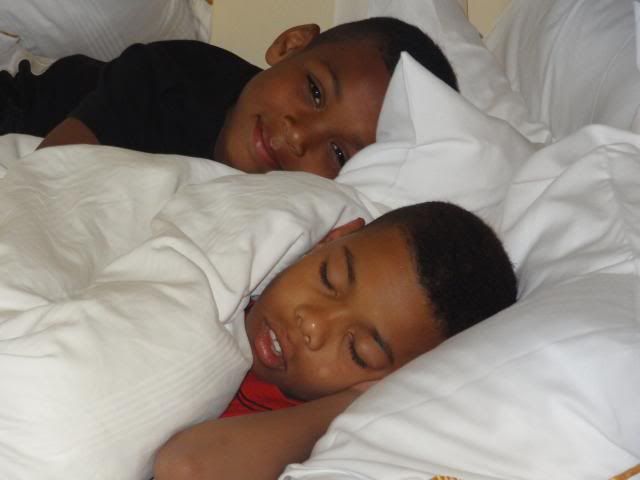 Day 4 did start out rainy, but by about 2pm we were back at the pool! Also coming up on Day 4 – Carboncitos for dinner!! Day 5 we went to Akumal and Tulum. Kaki pays a visit to the medic (appropriately nick-named "Baywatch"
). Stay tuned.