Day 5 continued – Tulum / Cabanas Tulum and Ziggy's Bistro/beach club
I was very excited to head off to Tulum. On our last trip we spent an unforgettable day at El Paraiso beach club. The beauty of this stretch of beach in Tulum is unmatched, and I was so anxious to see it with my own eyes again.
We decided to visit the Cabanas Tulum and Ziggy's Bistro/beach club instead this time, and were not disappointed!
We pulled up to Ziggy's and were very warmly greeted by Lina who said she had been expecting us!
Even came right to the door of the van, asking if I was Kathleen. Wow!
A big, huge SHOUT OUT to Anna Tortuga for setting up the "VIP service / treatment" for us.
Just the personal greeting in and of itself made us feel special and welcomed.
Lina gave us a quick tour of the Cabana Tulum grounds (very nice!) and we settled in at a table at Ziggy's bistro. The boys wasted no time at all getting on the trampoline.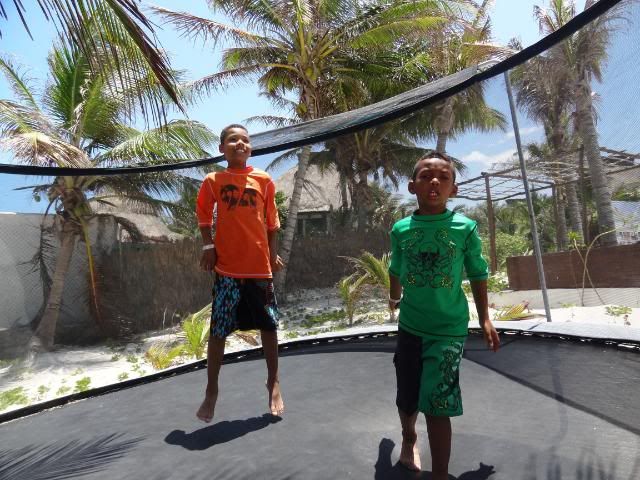 Jackson...always making a funny face
Our views for the day…we went back and forth between the table and the beds. Very nice!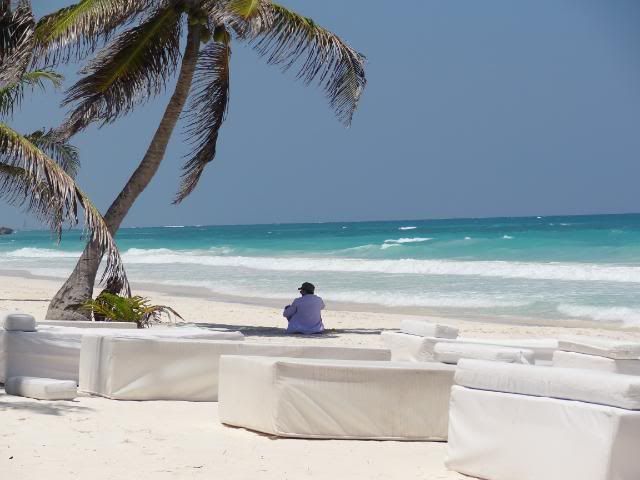 Jackson "checking it all out"....
Is he "checking out" her butt?
Siesta time for Grant...
Sand castle fun...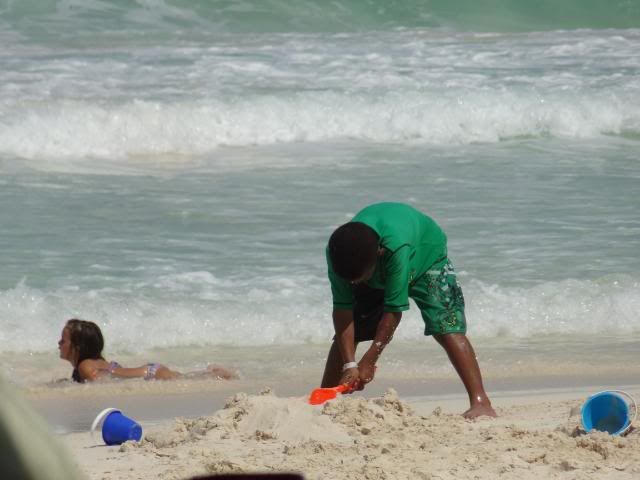 2 for 1 Drinks! Mojitos…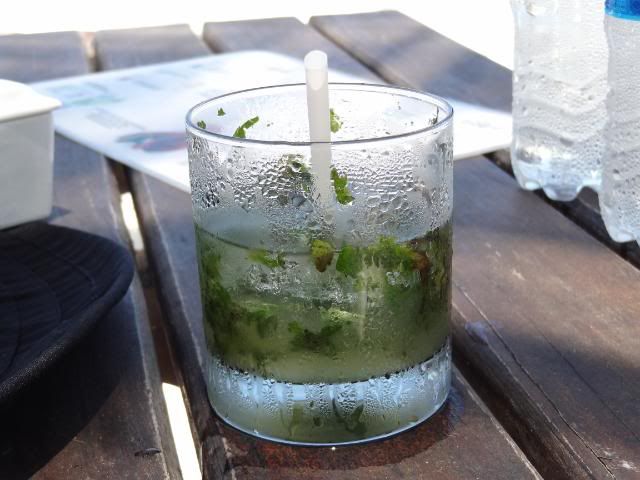 I have fond memories of "riding the waves" last time we were in Tulum, and I was anxious to do it again…after having a drink I rushed to the water to get my body-surfing groove going and "dove" right in.
Unfortunately, I forgot about one little, teeny-tiny complication….
(warning, graphic skin shot coming up! note: this was taken a few days later, but gives you an idea...)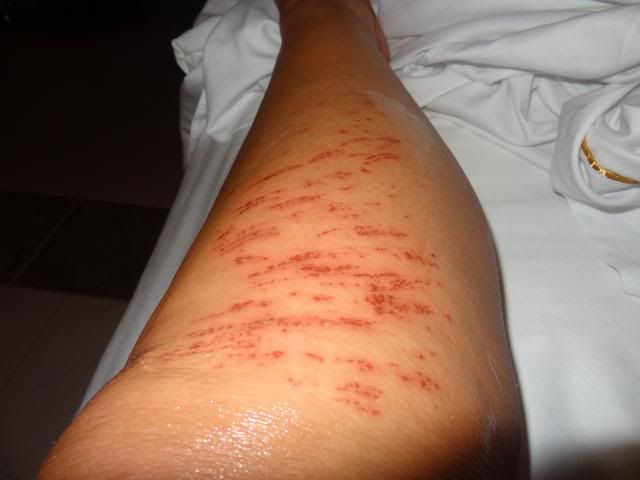 YOWSA!
Talk about pouring SALT in a WOUND!
What the hell was I thinking?
If my shin could have spoke to me I am quite sure it would have called me every name in the book.
The sheer pain of being in the ocean with open cuts was astounding. Not one of my smartest moves.
But I kept swimming, and riding the waves. I had sand EVERYWHERE, in every nook, cranny and crevice - - and I didn't care.
. Of course the 2 X 1 drinks helped.
What a beautiful experience, even through the pain. Love those waves…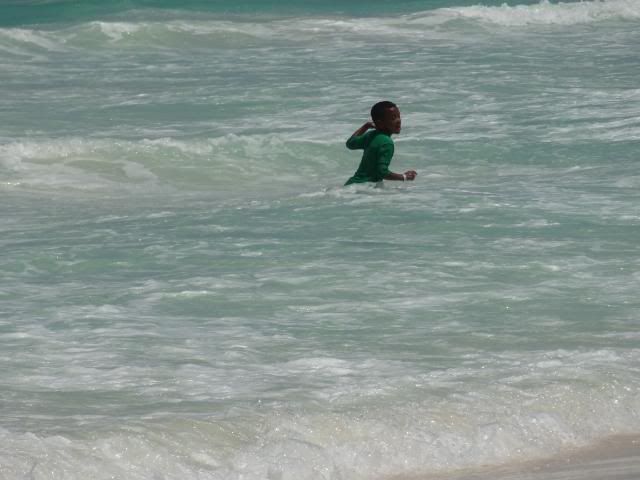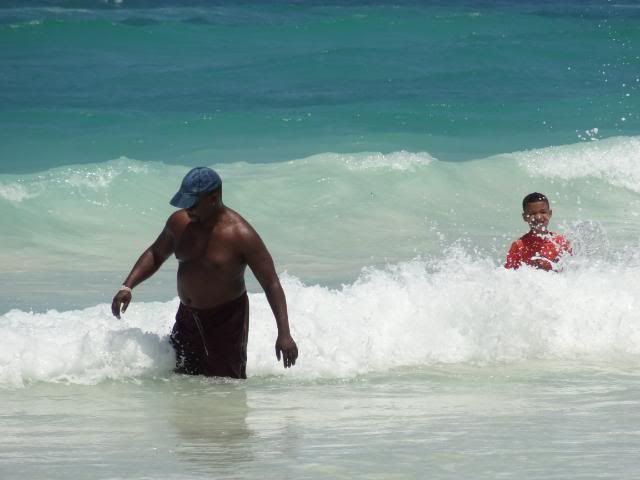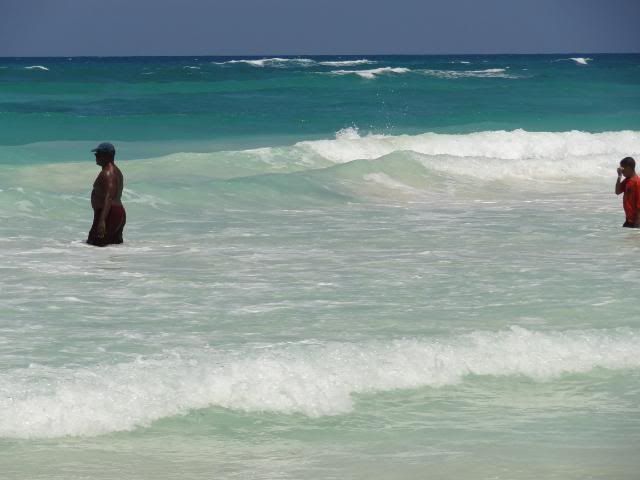 Packing up around 4:30 was hard, funny how fast 4 hours just sitting on a beach can fly by.
Once back at the GPR I was in need of some wound washing and antibiotics, so I explained my need to Anthony in guest services (I think he was really one of those Time share guys, but he knew better than to "pitch" me then and there
). Anthony made one call and Alexis the very cute Lifeguard/Medic showed up with a medical kit as big as a trunk.
(note: Alexis aka "Baywatch" - - nicknamed this by his fellow staff members
)
Now my preference would have been to take this behind closed doors, but noooooooo - - they had to tend to my leg right there in the lobby while I was on the couch. Ok, whatever. We had lots of laughs during the process… Anthony called me a "baby" for my wincing and groaning when Alexis was scrubbing gravel out of my leg
, but it's all good.
I was pleased with the service, response and how they took care of me. Anthony even called the room a few hours later to see how I was feeling…or was it to pitch a Time share presentation to me?
I will never know, I wasn't there to answer the call.
We had dinner at Albatros that night - - it was Italian night. Among many, many other choices, they had a pasta station where you could design your own dish and pick your own pasta and sauce and they would cook it all up for you on the spot. This is what I ended up with. It was pretty good.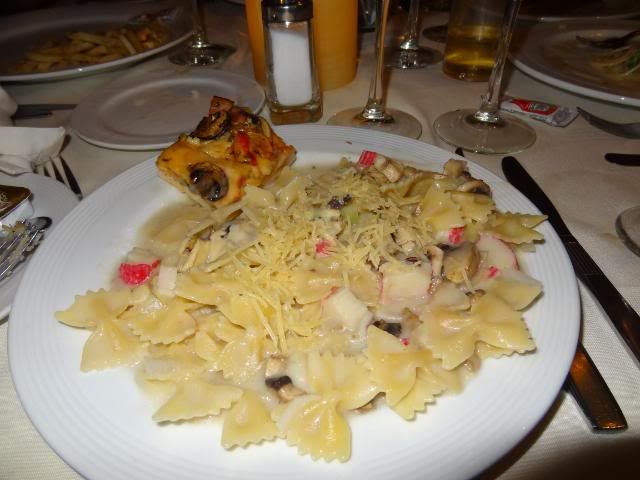 The boys were finally getting used to being served water in large wine glasses…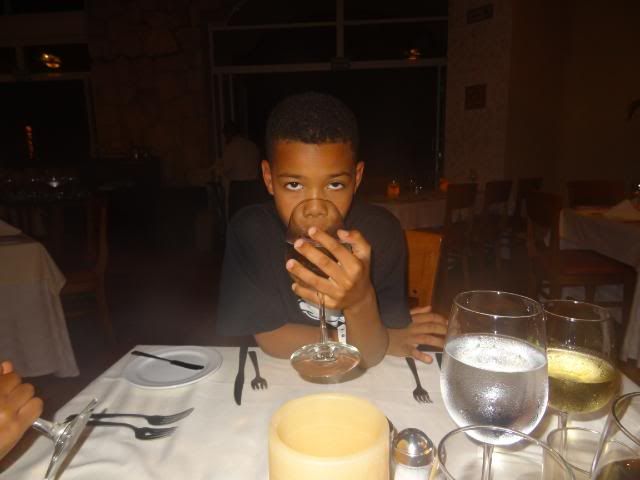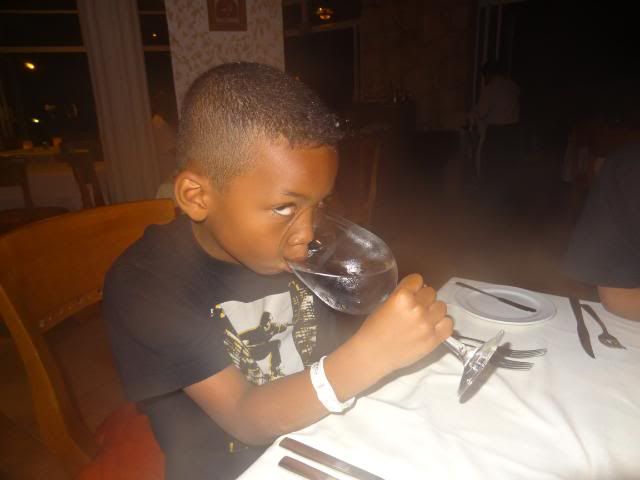 We also caught the "night show" for the first time, which happens every night at 8:30. Grant was called up on stage to dance with a show girl.
There ends Day 5.
Day 6 brings more pool and cabana/beach action, and a trip to ah cacao for brownies, and the Luna Blue where we did shots with some Peeps!
To be continued…