Day 6 – The pool, Ah Cacao and Luna Blue
I am just going to keep on going here…Day 6 involved water, sun, sand, pottery painting by the pool and a trip to Ah Cacao and the Luna Blue swing bar.
Here is Miles at the pool chatting away with new found friends.
He spent a lot of time in the pool and got to know a lot of people! Along with the boys, he also became well known at the resort…many times throughout the week people would approach me asking where my husband or those boys of mine were. I guess I kept a little more to myself, but I did have some great conversations in and around the pool. One person in particular was Marcia from the forum here.
She came down for her daughter's wedding and ended up taking a puppy back for Duck!
She posted about it here on the forum in another thread.
Marcia, we really enjoyed talking with you and Sal, and THANKS so much for the rafts! The boys got tons of use out of them after you left!
The boys on the rafts…
I really like this picture…I would LOVE to know what they were talking/laughing about….
Hey! Who got a hold of my camera?
Jacksoooooon….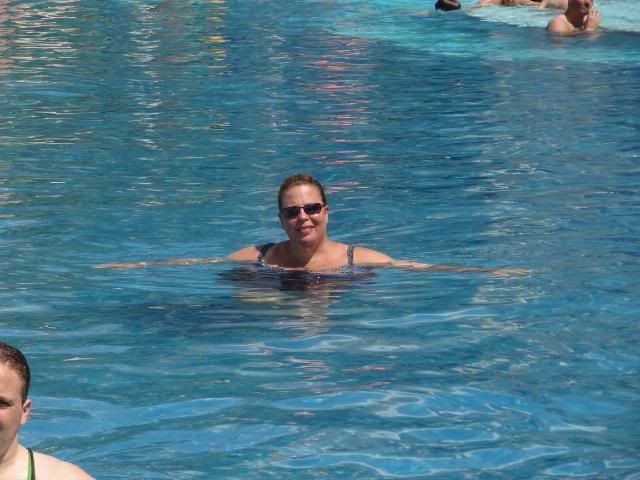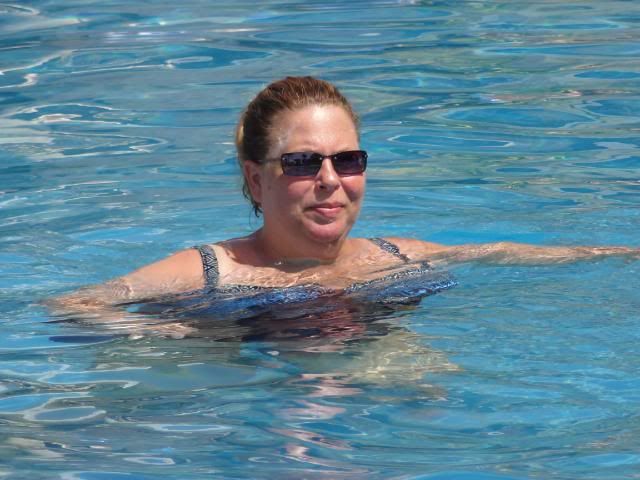 A shot from the balcony as the sun was setting…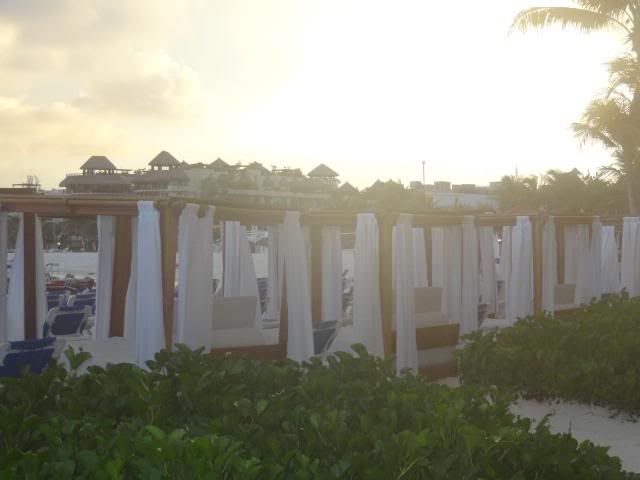 Dinner was forgettable, don't recall what we did, but I know we left the resort afterward in search of Neosporin and Ah Cacao brownies. Also, since it was Wednesday, the plan was to hit the Luna Blue for some live music!
I found my Neosporin at the Farmacia next to Ah Cacao - $20 US a tube.
Sigh. Oh well, better than going to "Baywatch" twice a day to get ointment put on in front of the whole resort.
The brownies at Ah Cacao were to die for, once again. I had been craving them for so long! The plan was to take some back to the resort for snacking later, but none of the brownies made it back alive!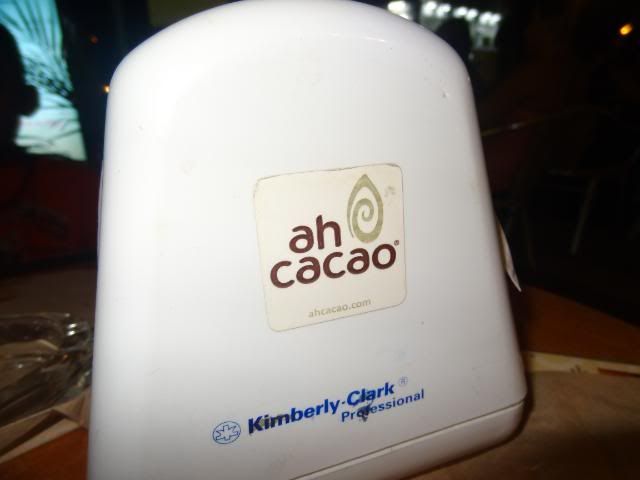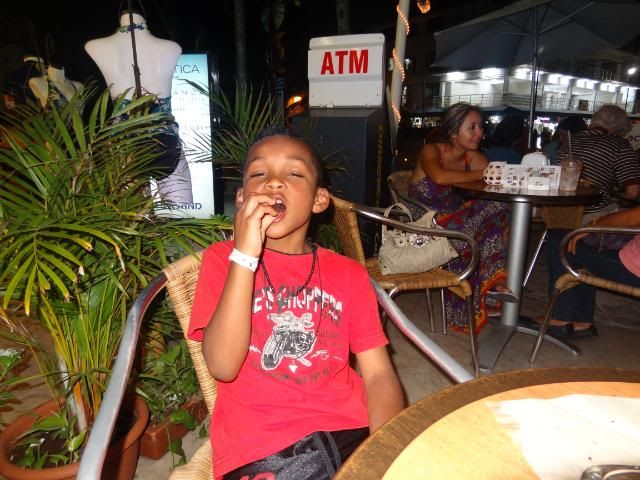 So then, off to the Luna Blue.
There was no music playing, however, we were pleased to run into a Peep-filled bar.
AnnieK was there with her hubby and friend…peeps – she is SO sweet! She was very kind to my boys, took the time to have a chat with them.
(for the record, I hate this pic of me, but Annie sure looks great!)
Shannon (Cocotel) and her daughter Tara were there….Rick (Babaloo) and Sue were there (with Lenny and Barney)….as well as Andy. Great group of Peeps!
We had fun chatting, drinking a few beers
and doing a few shots!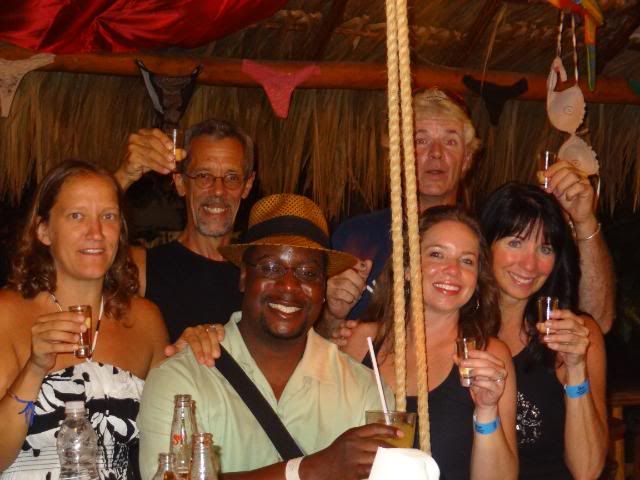 Is Andy trying to choke Shannon?!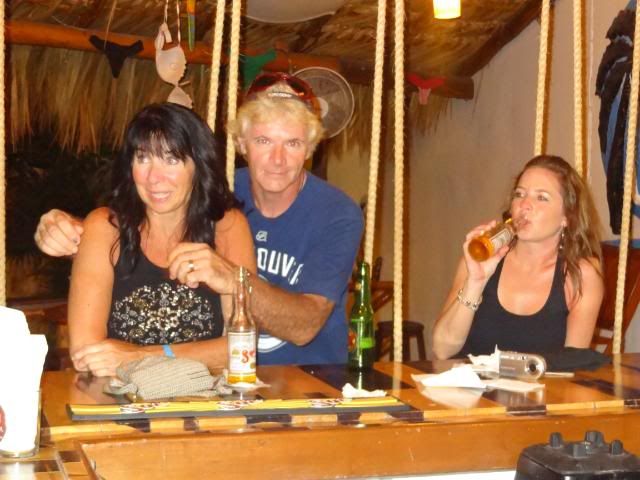 The boys played with Lenny for a long time, Barney wasn't really having it.
They had a blast though!
Check out the look on Jackson's face…
Kids on the swings at LB!
Miles got tired and headed back to the GPR, but I stayed to chat some more.
The boys wanted to stay with me, and were totally jocking me again for souveniers on the way back to the resort. I obliged.
However, we left the LB too late…11pm or so, and everything was closed!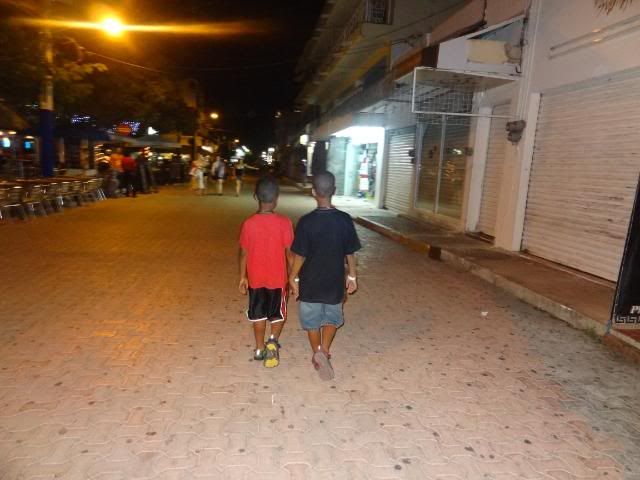 On the bright side, they had vendors selling over-priced items in the GPR lobby that night and two very nice merchants offered to sell us 2 VERY over-priced necklaces out of their already-packed-up trunks. So, the boys picked out some bling (a hematite cross necklace and a dolphin necklace), while I munched on some wonderful cheese filled/phylo dough appetizers in the 24 snack bar. And, oh why not, one more glass of wine!
It had been another perfect day.
Day 7 to come – Cabana hanging, a Peep wedding on the beach, a stroll to the Royal beach area (pics too), and meeting up with some Peeps at Bad Boys! Followed by dinner at Babe's.