Day 1 continued...(changing back to regular font too!)
It's cruel to start a trip report and stop with airport pictures so one more quick installment before I turn my attention back to this work-related report I am working on and head off to Jackson's tball game after that!
We get to the Gran Porto Real and are greeted promptly by the bell captain...I can see on his clipboard that our names are highlighted as Shammy has designated us her VIP guests
. Thanks Shammy.
Check in is quick and easy, complete with a complimentary apple martini of some sorts and we are on our way to our room.
We booked an ocean front walk-out suite which gives us "Royal Service" (more on that later), and also access to 3 restaurants at The Royal (more on that later too). There are only 18 of these rooms at the GPR and only 3 of these 18 rooms have double beds. The odds we would get one of those doubled-bedded rooms right away was slim, and sure enough they put us in a room with a King bed for the first night. I was prepared for this though, and had a plan with the concierge to switch rooms at 11:30 the next morning.
For the time being they brought in one twin size roll away bed, but we quickly realized that there was no way both boys would fit on that one bed, so we had them bring another. I will say they were very prompt with the requests and I was happy we would have our 2 double-bedded room in the morning.
After quickly changing into our bathing suits the next order of business was food and drinks.
There is a palapa on the beach called the Parillada grill that is open from 11:30 - 6:00. It's self serve lunch and snack-type food with Hamburgers, Hot Dogs, Nachos and cheese, Guacamole, Chips, Jalepenos, Fries, etc...I gotta admit that something about food sitting in chafing dishes for hours kinda turns me off (I am very picky about stuff like that!), but they were switching the trays out constantly. I don't think anything sat there very long, and didn't ever get the sense that anything wasn't fresh or good. A hard feat to accomplish! But they seem to have a great system.
This is where we had our first meal. The Hamburgers became a staple for the boys. I never tried one, but found the Hot Dogs, Nachos and Guac. tasty.
Here is Miles sitting under an awning at the Parillada grill. About 30 minutes after we checked in
And a shot of the Parillada grill...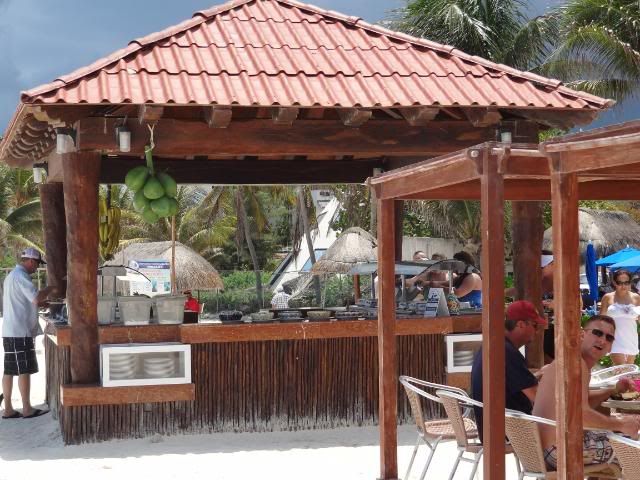 My first shot of Playa from where we were sitting, looking south from the GPR...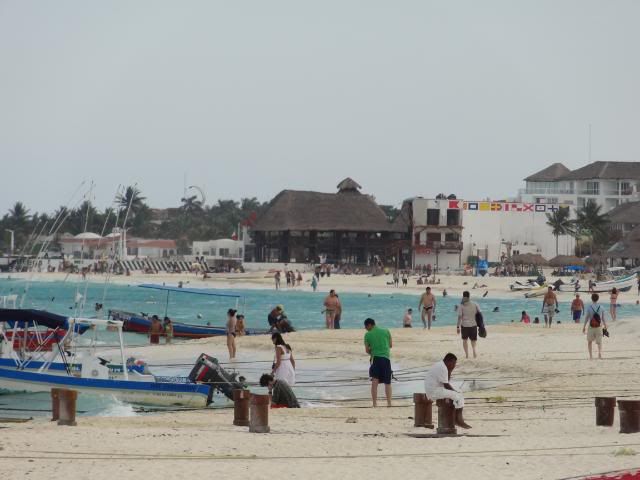 Jackson wanted to get the "feel" for the beach...whaz up buoy?? (pics taken right next to the Parrilla grill, heading north on the beach part of the GPR)...
Wait till daddy sees you with his hat, glasses and phone! Boy you are in gunna be in trouble!!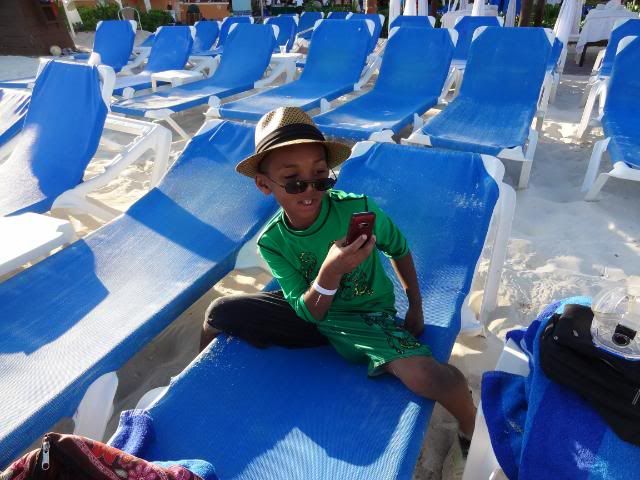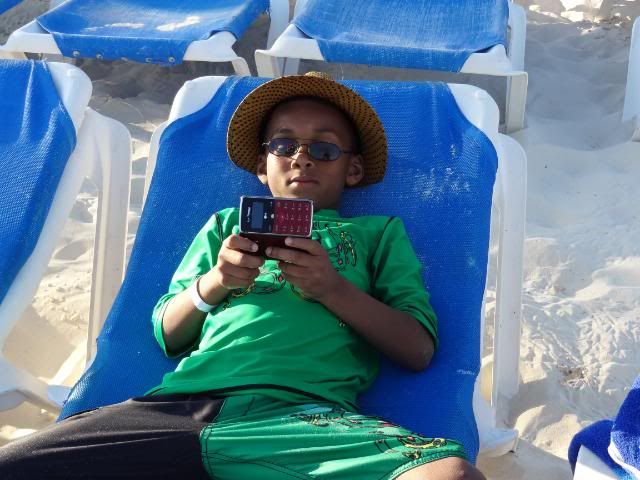 Daddy isn't going to bust Jackson, he and Grant are way too far out in the ocean to see what's going on...
It's about 5pm by now and after many dips in the pool (many pool pics to come!) we decide to get cleaned up to head over to PG's for the Fundraiser.
I will have to continue tomorrow with Day 1 which includes the Fundraiser, a stroll down 5th, and dinner at Il Pescatore!